Reviewed by Colin Jacobson
Special Edition DVD
Columbia-TriStar, widescreen 2.35:1/16x9, pan&scan, languages: English DD 5.1 [CC] & Dolby Surround, subtitles: English, double side-single layer, 28 chapters, rated R, 123 min., $24.95, street date 7/20/99.
Supplements:
Audio commentary by director Joel Schumacher
"Making-of" featurette
Production notes
Talent & filmographies
Theatrical trailer
Studio Line
Directed by Joel Schumacher. Starring Nicholas Cage, Joaquin Phoenix, Katherine Keener, James Gandolfini, Peter Stormare, Anthony Heald.
Tom Welles (Nicolas Cage) is a surveillance specialist - what used to be known as a "private eye" - but his version of the profession is hardly the stuff of which legends are made. He has a modest, home-based practice in Harrisburg, Pennsylvania, where he lives an existence remarkable only for its normalcy with wife Amy (Catherine Keener) and baby daughter, Cindy. Respected but still waiting for a big break that will improve his professional status, Welles spends most of his time on routine cases involving unfaithful spouses and the like. Nothing too dangerous, nor too threatening...
...Until a small, innocuous-looking plastic reel of film turns Welles' life upside down, sending him down a sordid and terrifying path into society's darkest corners.
From the lurid sidewalks of L.A.'s Hollywood Boulevard to the squalor of New York City's meat-packing district, 8MM follows Welles as he relentlessly pursues a bizarre trail of graphic and disturbing evidence to determine the fate of a complete stranger-a girl who begins to haunt his imagination and conscience. Aided in his obsession by a streetwise adult bookstore clerk, Max (Joaquin Phoenix), Welles drifts away from his wife, family and former life.
What Welles learns is beyond his worst nightmares, as he comes to realize how deadly a small reel of eight millimeter film can be.
Picture/Sound/Extras (B+/A-/C+)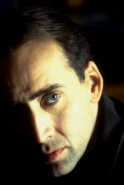 As frequent readers of my reviews may already know, I loved Seven. With less than half a year to go, it remains my choice for the best movie of the 1990s. As such, when I first saw the trailer for 8MM, which touted that it was written by Andrew Kevin Walker, who also scripted Seven, I thought it displayed a lot of potential and really looked forward to seeing it.
When I did so last February, I didn't think it was in the same class as Seven but I thought it offered a fairly exciting and unnerving experience, which is what I wanted from that kind of film. It certainly wasn't a classic, but I felt it largely achieved what it set out to do.
Now that I've seen 8MM again on DVD, I'm not so sure. As I rewatched the film I frankly felt pretty bored with the entire enterprise. Granted, that's sometimes the danger of viewing thrillers a second (or more) time; when you know what will happen, much of the excitement is lost. However, that doesn't seem to be a factor when the film in question is really well-made. Seven still gets my adrenaline pumping, even though I've watched the movie about ten times over the last four years, and even chestnuts like Psycho continue to do their nasty work after all this time.
8MM simply doesn't come to close to being in that kind of company. The first time through, it offered enough mystery and voyeuristic thrills that it managed to keep me on edge for most of its running time. On second viewing, however, the tedium of the film came through more clearly.
I don't revile director Joel Schumacher as much as many people do; yes, his movies tend to be rather shallow and glossy, but they're usually fairly enjoyable, in a forgettable kind of way. Nonetheless, he simply wasn't the proper director for a film of this sort. Schumacher displays the seediness of the world his characters inhabit well enough so that you get an exterior view of it, but there's never any sense of depth or exploration or understanding. With Seven, director David Fincher really got the viewer involved in the atmosphere and created an overall sense of the place and mood; as such, the film really resonated and stuck with you long after it was done. 8MM might freak you out a bit that first time through, but once you watch it again and see just how little actually happens, you'll quickly become tired of the whole enterprise.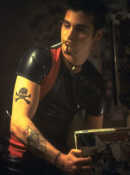 This is definitely not to say that 8MM is a bad movie; I did like it a lot when I initially saw it, so there must have been something there that got me to like it in the first place. I simply mean to relate that when I saw it again, I was better able to see past the smoke and mirrors that Schumacher used to obscure the film's lack of depth. The movie thinks it's gritty and it desperately wants to be gritty, but in the end it's pretty much all for show.
Every aspect of the production is competent but unexceptional. I've been a big fan of Nicolas Cage for quiet a few years, and though it seems to have become fairly fashionable to bash his work, I still like the guy. He doesn't do too much with his role as private detective Tom Welles, however, and he actually seems kind of blah throughout much of the film. One of Cage's greatest strengths has always been the quirkiness he brought to his characters, and while Welles should be portrayed as a fairly down-to-earth guy, Cage seems to try so hard to stifle his usual tendencies that he goes overboard and makes the character too flat.
Still, Cage does an acceptable job, as do the rest of the actors. Well, except for maybe Peter Stormare, who seems to try WAY too hard to make violent pornographer Dino Velvet threatening and ominous. As a result, Velvet comes across as a cartoon villain, something that's not in keeping with the dank, scary world the film has tried to create and some of the movie's climactic scenes seem more silly than frightening.
Despite my misgivings about the film itself, Columbia Tristar (CTS) have done their usual fine job in making this DVD. 8MM is presented in its theatrical aspect of 2.35:1; a fullscreen adaptation is also included on the flipside of the DVD. As is typical for a CTS DVD, 8MM looks very good. For the most part, focus seems sharp, the print appears clean, and colors look accurate; the majority of the film appears strong and clear.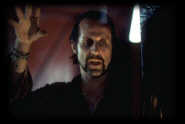 However, at times the image seems a bit soft and murky - some scenes appear too dark, which makes important text difficult to read - and occasional moiré effects mar the picture. I think a lot of these problems have to do with the nature of the film itself, to be frank. For one, it's supposed to be dark and hazy at times. Also, this is one of the smallest looking films I've yet seen. I've always loved letterboxed films and hardly ever does the fact that the onscreen images are much smaller than they'd be in a fullscreen transfer bother me.
I must admit that 8MM was one of those rare instances, though, because so much of it was shot from a fair distance away. As such, much of the action seems smaller than it should, and the resolution drops; this meant that the picture looked softer than it should, and it meant that shimmering effects were more likely to occur. If I had a 16X9 TV, I'm sure 8MM would look much better than it does on my set, but as it stands, it merits only a "B+" for a solid offering that has a few flaws.
I encountered very few problems with the film's terrific Dolby Digital 5.1 mix, however. It's not the most aggressive mix you'll hear, but it's always very clean, smooth, and natural, and it does an excellent job of immersing you in the action. Audio quality is always topnotch, and effects pan nicely across the front sound stage. Use of the rear channels for music is very active and quite effective. While the surround speakers don't frequently issue effects, when they do (for things such as rain or crowd noises), they work quite well and help build a nice ambiance. All in all, the audio of 8MM is quite strong.
The 8MM offers a smattering of supplemental features. Most significant of these is the running audio commentary from director Joel Schumacher. Somewhat to my surprise, I found it to be pretty interesting and informative. Schumacher actually spends relatively little time discussing scenes from the film itself; much of his attention is focussed on the background for the world depicted in the movie and on his own experiences. The latter are especially informative and help give us a better picture of where Schumacher comes from as a filmmaker.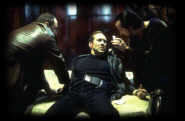 The remaining extras are less compelling. We get the nicely effective trailer plus "talent and filmographies." Those are less well done than usual; very little biographical information is provided as the text mostly lists the person's film credits. One especially annoying aspect of these: the print used is a light blue that's put on top of a grayish background. As such, the text looks faded and can be very hard to read; since the information provided isn't very compelling, I expect many people won't bother with them. Finally, the DVD includes some interesting but perfunctory production notes within its booklet.
As a film, 8MM offers some good thrills the first time through, but it doesn't seem to hold up to repeated viewings. CTS have produced a pretty nice DVD, but I'd recommend this one as a rental rather than as a purchase.
Related Sites
Current as of 7/21/99
Official Site--Well designed, but not particularly interesting. Info on the production is rather in-depth, with details on locations, costume design, and the dark themes of the film. There's also a section on unsolved crimes, such as Jack the Ripper, Jimmy Hoffa, The Zodiac Killer, and seven others.
Roger Ebert--"8MM deals with the materials of violent exploitation films, but in a non-pornographic way; it would rather horrify than thrill."
James Berardinelli's ReelViews--"Strip away the noir veneer from the scenery and the thinly drawn characters, and all you'll find is a generic thriller."
The Ultimate Nicolas Cage Page--Contains a large selection of categories, ranging from the requisite biography and filmography to soundtrack lyrics, news, and much more. Plus chat room and message board for fans to congregate.
The Myth of Snuff Films--"The purpose of this site is to examine and question the possibilities, facts and issues that surround snuff films. This page's main purpose is to explore this urban legend and educate anyone that wishes to know about this subject.  It will give people the chance to share their experiences and knowledge with others."
Filmtracks--A full review of the score composed by Mychael Danna: "Functioning primarily as an atmospheric score, Mychael Danna's music for this thriller is very effective."
Amazon.com--Available to purchase are the DVD at 30% off, the Seven and 8MM paperback by Andrew Kevin Walker, and the original score soundtrack composed by Mychael Danna.
Reel.com--Purchase the DVD at 30% off.
Previous: Brazil: Criterion Edition | Back to Main Page