Picture/Sound/Extras: B+/B/B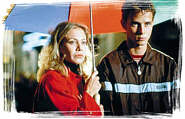 I didn't quite get All About My Mother, but that turned out to be one of the pleasures of watching the film. It's not that I didn't understand what was going on (although I suppose maybe if I spoke Spanish I would have gotten the full idea), but it's just that director Pedro Almodovar presents such an interesting mix of comedy, drama and oddness that the audience becomes engaged just to see what the film will throw at them next.
The film begins in introducing us to the main character, Manuela (Cecilia Roth) and her son, Esteban. A tragic accident takes place soon after the film opens, and the young man loses his life. Heartbroken, Manuela sets off to find his father, and her ex-husband. Along the way she meets a legion of varied characters, from a transsexual to a beautiful young pregnant nun (the excellent Penelope Cruz). When Cecilia finally finds the long-lost father, he now has changed his name to Lola.
That's what viewers can expect from All About My Mother, a group of many different characters including prostitutes, transsexuals and others, but they are all treated here no different than anyone else. They are not shown with any sort of flair or overacting; they just are and that gives the film a sense of humanity and reality. All in all though, the film takes an interesting look at the role of "mother"; these aren't Manuela's children, but, even for the period of time when the story takes place, all of these characters have become like her family.
My feelings about the film are somewhat mixed, though. I wasn't really engaged by any of these characters except for Manuela, who is livened by a fine dramatic performance from Cecilia Roth. At the same time, I was able to appreciate the way these characters were written - all of the characters come across as fully-written, realistic individuals and the performers really do give their all in their roles.
For the film as a whole, it's paced just right. I was never bored by All About My Mother, but I felt that had it slowed down slightly, it may have begun to lose my interest as the film went on. I haven't seen any of the director's previous works (I'm sorry!), but from what I understand, All About My Mother is a slightly more subdued, more dramatic film than many of his previous works. When the film settles in and begins to explore the relationships between these people, it feels honest and real - that's when it's at it's most interesting. On the other hand, when it's quirky, it's funny - but only for so long.
That feeling pretty much illustrates how I felt about the film in general; for the most part, it works to create a number of well-written characters and how they relate to each other. When it loses focus, it's not as enjoyable - but it always seemed to find it's way back on track.
The DVD: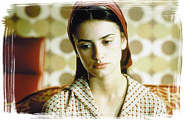 Tristar has long been known as one of the most consistent studios when it comes to DVD production and even their smaller pictures usually recieve the same grand treatment that they give to their big-budget epics. All About My Mother is no exception to the rule. The cinematography from Affonso Beato (The Big Easy) captures the scenery of Barcelona and Madrid with almost stunning warmth and beauty.
As for the elements themselves, the DVD as a whole fares pretty well. Sharpness is very good with the exception of a handful of scenes that seem the slightest bit on the soft side. Detail is particularly good as well, and clarity is never an issue here. Colors are really the most pleasing element of the picture; they look consistently rich and extremely appealing without going too far away from looking realistic. Colors are nicely saturated without any problems such as bleeding. Flesh tones remain pleasant and natural, and black level is very good throughout the presentation.
There aren't too many problems to complain about; a momentary bit of shimmering was all that I noticed while watching the film. There were no instances of pixelation and the print used is free and clear of any marks or scratches. As with the great majority of what Tristar offers, this is fine work that makes for a pleasing viewing experience with no distractions. The 2.35:1 anamorphic transfer is on one side, while the flip side has a 1.66:1 matted version.
The film's Dolby Digital 5.1 soundtrack really doesn't have too much to offer, but it does live up to expectations. The audio remains pretty restrained, but it is presented at a comfortable listening level, and generally remains a dialogue-driven experience. Surrounds are used very lightly, and only really to offer the score from Alberto Iglesias, who has worked with the director before on Live Flesh and The Flower Of My Secret.
This is certainly a quiet soundtrack, but I was suprised by the general quality of the of the sound. The audio has a very smooth, clean feel to it and there are no problems. Dialogue (although I couldn't understand it because I don't speak Spanish) is presented in Spanish Dolby Digital 5.1 and 2.0. No complaints in terms of sound; it gets the job done nicely.
Although Tristar has not given All About My Mother the full "special edition" treatment, they have put together a few extras that are informative and entertaining. The first (and biggest extra) is the "exlusive" interview, "An Intimate Conversation With Pedro Almodovar". Here, the director is interviewed by Annette Insdorf, who is a professor at Columbia Univerity. His comments are quite fascinating to listen to, and although the interviewer does ask a number of questions, Almodovar pretty much takes off from there on the subject.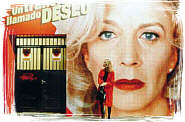 He covers many topics, but much of the discussion sticks with the aspect of characters and story; how he wanted the characters to be played, who he wanted in the roles and also, the casting process are just a couple of the areas that are chatted about. A nice touch is the addition of a screen in the background that shows clips from the film as the director is talking. Occasionally it's a tiny bit of a distraction, but much of the time the clip has to do with what the director is talking about, so it does help. Sometimes, the camera cuts to other angles, or shows another clip from what looks to be a promotional event or a clip of the production at work.
Either way, I really found this interview to be an informative look inside the process and journey that the director took to bring this film to the screen, from the original idea to the writing process to casting to the production itself. This section runs about 25 minutes in all and although it's unfortunate that the director didn't contribute a full commentary track to the film, this is certainly an adequate and entertaining addition.
The rest of the supplements are pretty much the usual features that most DVDs offer. There is an additional featurette that takes a look at the "behind-the-scenes" tidbits of the film, but it only lasts a few minutes and doesn't leave much of an impression. What I considered odd was that this Tristar DVD doesn't offer any trailers whatsoever; you can usually count on the studio to add the trailer for the film to the DVD release and probably, quite a few trailers for similar films. Neither happens here, and that's a bit of a dissapointment.
Rounding out the package is an isolated music score (Dolby Digital 5.1), moderately informative cast/crew bios (Pedro Almodovar, Cecilia Roth, Penelope Cruz, Marisa Paredes) and insert notes. The notes in the insert offer comments from director Pedro Almodovar on the film, as well as his acceptance speech for Best Foreign Language film at the Oscars. According to the IMDB, the running time in Spain for this film was 105 minutes - the running time here is 102. It would have been interesting to see what those 3 minutes are all about, but oh well.
The menus are pretty much the usual from the studio, offering nicely done, although basic menus that have basic images from the film. Navigation is easy, and although some other touches (score in the background) would have been nice, these menus are adequate.
A closing summary for All About My Mother is somewhat tough. As for the film itself, I found it to be a well-done comedy/drama, but not something that I think I'd watch more than once. For those who enjoyed the film though, Tristar's DVD offers very good image and audio quality, along with a couple of strong supplemental features. If you are a fan of the film, you'll enjoy this DVD and I'd recommend it; if you haven't seen the film yet, it's worth a rental before you decide whether or not you want to purchase it.
Menu: DVD Movie Guide | Archive | Top