Picture/Sound/Extras: A/B+/B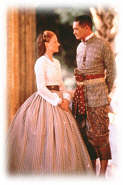 Sometimes you really can't judge a book by its cover. I first heard of Anna and the King when its trailer appeared prior to May 1999 showings of The Phantom Menace. Clearly another telling of the same story made famous mainly through previous iterations of The King and I, this film looked pretty darned uninteresting to me. I'd never felt compelled to check out any of those works and I sure wasn't dying to start now.
As such, I skipped the theatrical engagement of Anna last December, and I intended to pass on the DVD release as well, but ultimately I decided to give it a shot; hey, it was supposed to appear on a slow release day, so I figured I'd try it.
I expected a dull, turgid costume epic that would bore me to tears. To my surprise, I found Anna to be much more compelling than I predicted. No, I won't claim that Anna offers a tremendously scintillating experience, and it actually followed along the lines that I expected. However, I thought it moved fairly quickly and it presented some engaging characters and situations, all of which made it pretty enjoyable.
Anna tells the tale of Anna Leonowens (Jodie Foster), a widowed Englishwoman who treks to Siam to teach the children of King Mongkut (Chow Yun-Fat). Both sides have mistaken impressions of the other, and conflict ensues. Eventually, of course, connections are made, and both factions start to better understand and care about each other.
Though the setting is unusual, there's little about Anna that differs from any of about a million stories in which "opposites attract". Well, most of those tales don't feature male leads who already have boohoogles of wives and mistresses, and they generally end with the protagonists as a couple, so the story isn't perfectly typical, but it follows that general framework nonetheless.
Actually, the unusual cultural setting helps make the plot work. We know it's absolutely inevitable that Anna will end up with the King - he's not about to give up his polygamist ways, and she certainly won't decide that being one of many is hunky-dory - so the tension their relationship brings feels that much more strong.
In addition to the conflict of cultures, the movie features a subplot in which the King has to battle against the attempted coups of others. Clearly the possibility existed for these scenes to feel tacked on and to not blend well with the rest of the story, but I thought the film avoided these pitfalls deftly. Instead, these tensions mesh well with the tale and actually added to the emotion between our two stars.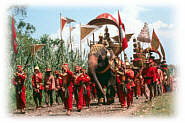 Speaking of whom, both Foster and Chow offered solid turns in their roles. At times Foster seemed a little too stuck in her judgmental mode - which was what I found to be her greatest flaw in The Silence of the Lambs - and she also didn't get the requisite British accent down, but she portrayed a nice range of emotions and created a believable and compelling character. Chow was even better as he provided a wonderfully regal and powerful presence as the King but he also was able to depict the romantic and whimsical sides of the part. The chemistry between the two seemed nicely effective, and their work made Anna a better film.
Of the supporting cast, I most liked young Keith Chin's performance as Prince Chulalongkorn. He's terrifically arrogant and snide early in the film but he managed to smoothly move into the character's more tolerant and human sides. Chin was fully the equal of his more accomplished co-stars, and I thought he made a small but important role come to life.
Director Andy Tennant does little that seems special but he manages to make the film move at a solid pace and he keeps it on track. Tennant utilizes that lovely natural scenery to good advantage but he doesn't appear to "milk" this beauty or to use it in place of actual storytelling. The landscapes complement the tale but don't take over, and they help make this surprisingly-entertaining movie all the more interesting.
Ultimately, Anna and the King functions as a minor treasure. Despite a slew of reasons why I should have disliked the film, I thought it provided an engaging and compelling semi-love story. Normally I loathe "chick flicks", but Anna manages to avoid most of that genre's pitfalls and it emerges as a well-made piece.
The DVD:
Anna and the King appears in an aspect ratio of approximately 2.35:1 on this single-sided, double-layered DVD; the image has been enhanced for 16X9 televisions. If you want to complain about defects, find a different DVD; this one's picture nicely served the film's gorgeous visuals.
Sharpness appeared virtually flawless throughout the movie. Even when we experienced very wide shots - which occurred fairly frequently - the focus stayed tremendously crisp and well-defined with no signs of softness. Moiré effects and jagged edges presented no concerns, and I discerned moderate artifacts from the anamorphic downconversion on my 4X3 TV. Print flaws seemed absolutely nil. I never saw any examples of grit, scratches, grain, speckles, hairs, blotches, tears or other defects; it was a solidly clean film.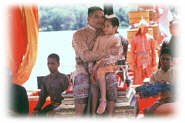 Colors were a terrific high point of the movie. Through the gorgeous scenery, we saw a wide range of lovely natural hues, and the DVD transmitted these with wonderful vibrancy and accuracy. From the lush forests to the bold costumes, the film portrayed nicely deep and rich colors. Black levels seemed similarly dark and bold, and shadow detail came across as appropriately opaque but never overly heavy, not even when we found "day for night" sequences. The latter often cause darkness problems, but they looked fine here. Overall, I found the picture of Anna to seem absolutely fantastic.
Though not on a par with the visuals, the Dolby Digital 5.1 soundtrack of Anna also supported the film effectively. The forward spectrum dominated the movie, as the front channels provided the majority of the auditory information. They created a nicely-broad image in that realm that spread both music and effects convincingly across those speakers. The surrounds contributed light reinforcement for the most part, with the score as their main component, but they came to life well during a few more visceral scenes; for example, one thunderstorm conveyed a solid impression, and the battles - especially the big fight toward the end - also were lively and engulfing. However, those were the exceptions, as most of the soundfield stayed fairly conservative.
Audio quality appeared strong for the most part. At times, dialogue displayed slight edginess, but for the most part speech seemed crisp and distinct with no problems related to intelligibility. Music sounded bright and brassy and displayed fine dynamic range, and effects were similarly clear and accurate; those elements came across as realistic and bold, and all parts of the mix showed positive low end. All in all, the mix complemented the film and provided an acceptably engaging experience.
Billed as a special edition, Fox's DVD release of packs in a nice package of complements, starting with a good audio commentary from director Andy Tennant. Although the track suffers from a few small gaps, Tennant usually provides a fairly continuous discussion of the movie and he manages to present a lot of frank and interesting information. I thought he spent a little too much time on the technical details - do we really care about specific uses of dolly shots? - but he also tells us of various problems and issues on the set plus some of the history behind the story, and he does so in an engaging and compelling manner. Even his frequent complaints about the heat never become annoying. Overall, Tennant creates a very solid and entertaining commentary.
Anna includes a slew of video programs, though we don't get the wealth of information the sheer numbers might indicate. First up is "Anna and the King: A Modern Epic", a 14-minute TV special. This show offers a rather light and glossy mix of interviews and other footage from the set plus film clips. Parts of it are interesting, but it's clearly a promotional exercise and it lacks enough depth to make it truly stimulating.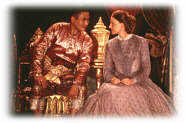 Anna contains five additional video pieces, but these are literally all nothing more than revisions of the 14-minute program. "Advanced Combo" seems to be something that went out to distributors to drum up their orders. At five minutes and 10 seconds, it functions as a shorter edition of "A Modern Epic"; virtually all of its material also appeared in the longer show.
The same goes for the three minute "Production Design", the two-minute and 50-second "Costumes", and the two-minute and 35-second "Elephants"; a few seconds of each may not have appeared in "A Modern Epic", but it's not enough material to be significant. For the most part, this applies to the five-minute and 50-second "Featurette" as well, though it at least provides a slightly alternative look at the same footage; it's essentially just a shorter version of "A Modern Epic", but it contributed a couple of minor changes. Nonetheless, I found the video programs to largely be a waste of time; they're so insanely redundant that they get old fast.
Much better was the section of "Deleted and Extended Scenes". Here we find seven excised segments. Each runs between 41 seconds and five minutes, five seconds, for a total time of 15 minutes and 45 seconds. The clips are generally quite interesting and they provided some provocative material. Most unusual was the "Epilogue" that went unused; it casts Foster in old-age make-up and attempts to wrap up the story after the span of many years.
All of the clips are available with or without commentary from director Tennant. As during his track for the main film, he provides engaging and incisive remarks and he always answers the essential question: why were the scenes deleted? It's a nice addition to the DVD.
The "Deleted Scenes" also included some nice touches. All of the clips are letterboxed, but some have been anamorphically enhanced. The menu states whether the shots are offered in 4X3 letterboxed or 16X9, which is kind of a cool footnote. The listings also noted which of the scenes were extended. I always appreciate these kinds of thoughtful touches from DVD producers.
Lastly, Anna includes the film's theatrical trailer plus a music video for Joy Enriquez's "How Can I Not Love You". The song stinks - it's nothing more than a Mariah Carey reject - and the video offers no innovation; it's just the standard combination of film clips and shots of Enriquez as she lip-synchs and emotes. However, Enriquez is quite hot, and she wears some very sexy outfits during the video. As such, I liked it!
Although I didn't think that Anna and the King was as compelling as shots of Enriquez's cleavage, it nonetheless provided a fairly entertaining and enjoyable experience. The movie isn't a masterwork but it was well-produced and ably-performed and I thought it achieved most of its goals. The DVD provides an absolutely excellent picture plus generally solid sound and a few decent extras. Ultimately, Anna and the King is a "chick flick" that should appeal to many males in the audience as well.
Menu: DVD Movie Guide | Archive | Top