Reviewed by Colin Jacobson
DVD
New Line, widescreen 2.35:1/16x9, languages: English DD 5.1 [CC] & Dolby Surround, subtitles: English, single side-dual layer, 19 chapters, rated R, 110 min., $24.98, street date 2/8/2000.
Supplements:
Original Theatrical Trailer
Cast and Crew Filmographies
DVD-ROM Features:
Access all of the original website contents
Read the screenplay while you watch the film
Up-to-the-minute information on cast and crew members with web links
Bonus Lord of the Rings Web Browser
Change the look of your Desktop
Meet Other Fans Online
Studio Line
Directed by Rand Ravich. Starring Johnny Depp, Charlize Theron, Joe Morton, Clea DuVall, Donna Murphy, Nick Cassavetes.
They were the perfect all-American couple - a courageous, honored NASA astronaut (Johnny Depp) and his beautiful school-teacher wife (Charlize Theron). They were passionately in love, so connected they could sense each other even when he was floating in space and she was two hundred thousand miles below.
And in two minutes it all turned to inexplicable terror.
For two minutes, astronaut Spencer Armacost loses total consciousness while on a bold space shuttle mission, returning home just barely alive and a bewildered hero. The President, the nation and his friends celebrate his safe return, but to his wife Jillian something seems strangely amiss from the moment he returns to earth.
Though very much in love with her husband, Jillian cannot help but question what happened to him out there in the lonely vacuum of space and whether it has changed him - and their marriage -- in some profound way. Especially when she begins having strangely violent dreams; dark, paranoid thoughts; and the strangest sensation that her husband is not the lover, or the man, he used to be. Things only get worse when Spencer's partner in space, Alex Streck (Nick Cassavetes), and his wife Natalie (Donna Murphy) experience their own mysterious ends.
Turning from a NASA career to a lucrative rocket-designing job in the private sector, Spencer and Jillian move to a lavish new apartment in Manhattan. Soon after, Jillian finds out she is expecting - and in keeping with the increase of her new life, she is expecting twins. But something is not quite right with this dream pregnancy, either. As her pregnancy advances, Jillian descends into a nightmare. Is it just pre-partum hormonal craziness, or is there something terribly wrong with Jillian's husband and babies? Is she just paranoid or is there really a conspiracy between Spencer, her doctors and even her closest family and friends to keep her in the dark? And is it just an embittered former NASA employee's (Joe Morton) fantasy, or is she really carrying inside her the end of humanity as we know it?
The Astronaut's Wife is a haunting love story of psychological horror that rides the razor's edge between imaginary terrors and the heart-stopping real thing.
Picture/Sound/Extras (A-/A-/D-)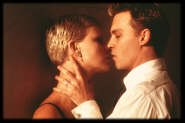 Man, I've gotten stuck watching a lot of faux remakes lately! First I get Runaway Bride which was nothing more than a mediocre combination of classic It Happened One Night and semi-classic Pretty Woman, and now I see The Astronaut's Wife, a mildly spooky thriller that all too clearly redoes Rosemary's Baby.
It's been a long time since I saw RB, but even so, I picked up on a lot of similarities. The most important, of course, the nasty little package growing in the stomach of each film's protagonist (Mia Farrow in RB, Charlize Theron here). I don't want to reveal too much of either plot, but let's just say that things ain't right in utero, and it's the issues surrounding these problematic pregnancies that drive both films.
In addition, a number of other more cosmetic connections appear. For one, Theron sports a horrific pixie-cut hairdo that strongly evokes a similar atrocity atop Farrow's head. (What a crime! Late in the film we see Theron with an attractive hairstyle, and she looks stunning, whereas with the short 'do, she just looks plain and unattractive. Farrow never looked that hot no matter the hairstyle, so her crop-job isn't as great a sin.)
Both films also show the main characters as they move into New York apartments, which is where most of the action occurs. Hell, each film also has a Cassavetes in it! (RB got John, whereas TAW offers son Nick.)
Coincidence? Don't think so, thank you! Clearly the filmmakers wanted badly to evoke the spirit of Rosemary's Baby. Honestly, I can't comment on how well they did this, because it's been a long time since I saw that movie, though I remember not really liking it. On its own, The Astronaut's Wife offers a few mild scares but it suffers from too many faults to be anything genuinely interesting.
Mainly the actors falter. I like Depp but he seems miscast here, especially as he goes for an Elvis voice as astronaut Spencer Armacost. Frankly, I kept expecting him to break into song. Theron makes for a tremendously dull protagonist as the eponymous wife. At no point during the film did I invest any interest in or concern for her character. I dunno - maybe it was just the haircut that turned me off, but nothing about Theron's performance as Jillian worked for me. She just kind of plods through the film and never develops much of a center; Jillian's basically just there and we watch as events happen to her and slowly move toward their inevitable conclusion.
Actually, that slowness isn't really her fault, I suppose, though the blandness of the character contributes to the problem. Unfortunately, the film's almost half over by the time the plot genuinely kicks in, and that simply takes way too long. The second half of the picture definitely seems more compelling than the first, but by the time things start to happen, I was already pretty far gone; the movie's final hour generates some creepiness, but not enough to redeem it. The Astronaut's Wife isn't a complete dud, but it lacks much to make it worth viewing.
The Astronaut's Wife appears in its original theatrical aspect ratio of 1.85:1 on this single-sided, dual-layered DVD; the image has been enhanced for 16X9 televisions. Like most other movies from New Line, it provides a very strong picture. Sharpness seems consistently detailed and clear with little evidence of problems. I saw very occasional, very slight moiré effects and some slightly jagged edges at times - a pair of glasses held by Depp early on showed this edginess - but these issues are rare and minor. The print used for the transfer displayed no detectable flaws, whether in the form of grain, speckles, marks, scratches or other problems.
Colors look nicely saturated and rich, with no signs of bleeding or murkiness; some shots of Depp and Theron in front of some American flags seemed especially vivid and lively, but the whole movie looks good in this regard. Black levels also appear appropriately dark and deep, and shadow detail seems pretty good, though I thought some lower light interiors were a vaguely murky. Nonetheless, this picture offers a very nice image and well-replicates the film.
The Dolby Digital 5.1 mix of The Astronaut's Wife also works effectively. The front soundstage dominates but the overall surround image seems nicely rounded and encompassing. All five channels definitely receive active usage, and they do a good job of involving and engulfing the viewer at appropriate times.
Audio quality also appears strong. Dialogue sounded natural and clear, and I never encountered difficulty deciphering what anyone said. The score appeared very well-defined and dynamic, and effects were realistic and strong. Overall, the soundtrack bolsters the movie and sounds pretty good.
New Line are one of my favorite DVD companies because they've offered so many wonderful special editions; who else could have made a terrible movie like Detroit Rock City into one of the best DVDs of 1999? As such, why they released such a bare-bones edition of The Astronaut's Wife is a mystery to me. Sure, it didn't do much at the box office, but DRC tanked even worse ($10 million gross versus $4 million) and it got a super-deluxe treatment.
Well, for whatever reason, TAW provides exceptionally sparse extras. We get theatrical trailers for the film itself plus Depp offerings Don Juan Demarco and A Nightmare On Elm Street and Theron's Trial and Error. Note: while the TAW preview appears in the main menu, the other three ads can only be found in the respective actor's filmography, which is the only other supplement on this DVD; we get production credits for six of the actors plus producer Andrew Lazar and director/writer Rand Ravich. As noted in the DVD's credits, all of that information comes straight from IMDB, so the presence of these filmographies seems completely useless for anyone with Internet access. I love New Line, but this is a crummy little package of extras, especially compared to wonderful products like Detroit Rock City.
While The Astronaut's Wife didn't need quite as extravagant a complement of supplements to make it worthwhile - DRC was a genuinely awful movie, while TAW manages to be fairly mediocre, at least - it certainly required more than we get here. The DVD offers very good picture and sound but the near-absence of supplements kills this disc because the film's just not good enough to merit purchase on its own. If you like this sort of material, you may want to rent The Astronaut's Wife, but all others will probably want to skip it completely.
Related Sites
Current as of 2/20/2000
Official Site--Information on the story, production, cast and crew are fairly in-depth. Also includes trailers and stills.
James Berardinelli's ReelViews--"The Astronaut's Wife is the latest demonstration of how a good 'high concept' does not necessarily translate into a decent motion picture."
Roger Ebert--"The Astronaut's Wife is a movie so effectively made that it's a shame the story finally isn't worthy of it."
Deppism--A fan's dedication site for Johnny Depp with news, biography, articles, media, and much more.
The Unofficial Charlize Theron Fan Site--Contains more than 150 pictures of the lovely actress with biography, video captures, desktop themes, sounds, articles, and more.
Amazon.com--Purchase the DVD at special discount.
Reel.com--Purchase the DVD at special discount.


Review Archive: #, A-C | D-F | G-I | J-L | M-O | P-R | S-U | V-Z
Previous: Runaway Bride | Back to Main Page