Picture/Sound/Extras: A-/A-/B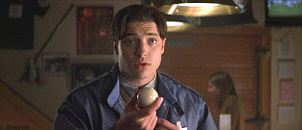 They say sex sells, and sometimes they're right. Would I have been very interested in the 2000 version of Bedazzled had it not featured the sublimely sexy presence of Elizabeth Hurley? Maybe, but probably not; the many stimulating shots of her found in the movie's ads placed the flick on my "wanna see" list.
Hurley fans will definitely not be disappointed by her presence in this film. She's an astonishingly gorgeous woman, and the movie plays up her looks with a seemingly never-ending parade of hot outfits. This flick is almost worth the price of admission just to revel in the glory that is Liz.
However, to my semi-surprise, Bedazzled offers more than just a parade of sexy shots of Hurley. It's also a fairly witty and charming comedy that reinforces the old saying about being careful with your wishes.
Brendan Fraser stars as Elliott Richards, a dork who works as a computer consultant. We quickly learn that his co-workers dislike him and Allison (Frances O'Connor), the girl of his dreams, doesn't even know he's alive although they've worked for the same company for years. From the depths of despair, Elliott wishes that he could be with Allison, and a response immediately comes from the Devil (Hurley). Elliott is promised seven wishes in exchange for his soul, and after a little media manipulation puts pressure on him, he agrees.
Thus starts a series of fantasy episodes in which Elliot gets his wishes - sort of. None of them seem to work out the way he'd envisioned, which causes him a lot of consternation. In sequence, Elliott wishes to be rich, sensitive, famous, and intelligent, with a final dream to be the president. He gets all of these, but with a variety of catches that make the results less than satisfying.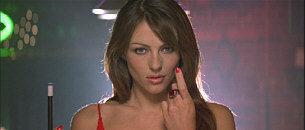 Of course, the film eventually concludes with a message about being true to yourself and not trying to take the easy way to get what you want, but this moral comes across without any excessive sappiness. Actually, it fits the tone of Bedazzled well; it's a light and endearing piece that rarely overstays its welcome.
When comedies work, it's usually because of the performers, and Bedazzled is another example of that phenomenon. I've always thought that Fraser was an underrated actor, and he again shows his talent and versatility as Elliott. The character is placed in a broad variety of situations and personae, and Fraser nicely inhabits each part. He can seem somewhat over-the-top at times, but it's all well within the scope of the film; the roles needed to be done in a "big" manner, and Fraser makes much of the movie work.
While I expected Hurley to look terrific in Bedazzled, I didn't think she'd be so enchanting an actress. She does a terrific job as the Devil, and she provides the character with appropriate amounts of charm and pizzazz. I remember reading a Roger Ebert review in which he seemed to think the Devil should have been dirtier and nastier; he opined that Hurley made the character too smooth and charming and would have preferred Courtney Love in the role.
He missed the point. Elliott needed to be seduced into selling his soul, and Hurley's Satan was the perfect person to do that. She was slick, confident, and self-assured, all the qualities Elliott lacked. Clearly he could not overcome such strength and as such, he was easily bowled over by everything she said and did. A grungier Devil would have just turned off Elliott and not convinced him of anything.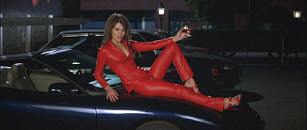 Anyway, I thought Hurley was very good in the role, and the film also boasts a solid supporting cast. Frances O'Connor has to take on a variety of different takes on Allison, and while she doesn't have to go through the huge changes experienced by Fraser, she still works through a number of attitudes and seemed convincing in all of them. Among the other actors, I really liked Orlando Jones as one of Elliott's co-workers. These characters show up in his wish fantasies as well, and Jones shines in his various bits. I especially enjoyed his dense sportscaster in the basketball sequence; both he and Toby Huss make that part fun, but Jones was especially entertaining.
Director Harold Ramis has proven himself to be a competent but unexceptional director over the years, and Bedazzled fits neatly with his other work. He makes the story move along at a fairly appropriate rate; though some of the wish fantasies occasionally drag a little too long, I can't say that I ever became impatient with them. Ramis is good at walking the thin line between sweet/charming and sappy/inane, and he manages to keep Bedazzled within positive territory from start to finish. Even a cynical bastard like me had a smile on my face at the conclusion.
Note that Bedazzled remakes a 1967 film of the same name. That picture starred Peter Cook, Dudley Moore, and Raquel Welch. I've never seen this movie, so I can't say how many similarities exist between the two. Although the basic premise remains the same, I'm under the impression there are quite a few differences between the films. Too bad Fox didn't release this one on DVD as well so we could compare the two.
The DVD: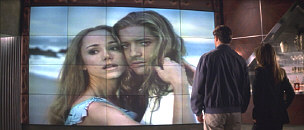 Bedazzled appears in an aspect ratio of approximately 2.35:1 on this single-sided, double-layered DVD; the image has been enhanced for 16X9 televisions. As a whole, this movie looked terrific, with virtually no flaws on display.
Sharpness seemed excellent. From start to finish, the film appeared crisp and well-defined, with few signs of any soft or fuzzy images. Moiré effects and jagged edges were absent, and print flaws were exceedingly minimal. I saw a couple of speckles, but that was it. Otherwise the DVD lacked any defects and it seemed very fresh and clean.
Colors appeared nicely warm and accurate. The film offered a pretty wide variety of situations and showed very strong and vibrant hues at all times, with no signs of bleeding or noise. Black levels were dense and deep, and shadow detail looked appropriately heavy but never excessively thick. Altogether, Bedazzled presented a terrific visual experience.
I expected a strong picture since Fox usually creates excellent transfers, but I was surprised at the quality of the film's Dolby Digital 5.1 soundtrack. It offered a very robust experience that featured a real kick. The forward soundfield displayed a broad and engaging presence in which audio was placed realistically and moved across channels smoothly and naturally. The surrounds added a solid component of reinforcement, as the antics of the different "wishes" came across loudly and clearly; while the gunfire of the drug episode presented the most involving audio, most of these clips were quite compelling. As a result, the movie usually boasted nicely engaging five-channel sound.
Audio quality seemed to be very good. Dialogue was natural and distinct, with no signs of edginess or problems related to intelligibility. Effects were crisp and realistic, and they could pack a serious punch; on a number of occasions the "slam" they betrayed startled me. Music seemed nicely dynamic and clear, and the entire track offered very rich and deep bass; even without a subwoofer, this mix shook the walls. Ultimately, the audio of Bedazzled provided a terrific presentation.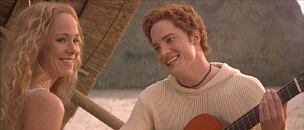 We find a smattering of extras on Bedazzled, highlighted by two separate audio commentaries. The first comes from director Harold Ramis. He's participated in a bunch of other tracks - such as pieces for Ghostbusters and Analyze This - so he's clearly comfortable with the format. However, those older commentaries weren't all that great, so I was a little apprehensive about this new one.
While Ramis' track for Bedazzled isn't great, it definitely provides an improvement over his earlier efforts. At times he spends too much time simply telling us what's happening in the film, but Ramis also adds a lot of details about the production. We learn about various choices made and scenes deleted. In addition, Ramis touches on many techniques used and generally provides a decent discussion of the film. It's not a terrific commentary, but it merits a listen for fans of the movie.
On the other commentary, we find a running, screen-specific track with actress Elizabeth Hurley and producer Trevor Albert. The two were recorded together, though that can be difficult to discern from this piece; they rarely interacted and while it was clear that they were indeed taped during the same session, this element added nothing to the track. As a whole, the piece provided a few moderately interesting details, but it was a fairly dull commentary. Many long gaps elapse between remarks, which means that the useful information pops up very sporadically. I didn't mind my time with the commentary, but I did find it to be disappointingly bland.
A number of video pieces also appear on the DVD. First up is an HBO Featurette called The Making of Bedazzled. Hosted by Hurley, this 13-minute and 50-second program combines interview snippets with the principals, some behind the scenes shots, and lots of film clips. The show is very typical of the genre, but I thought it offered a modestly interesting look at the creation of the film; it's not terribly revealing, but as long as I get to watch more Hurley, I won't complain.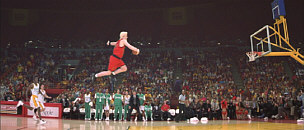 Although Ramis mentions a number of deleted scenes during his commentary - and we get brief glimpses of them during the film's advertisements - we don't see any signs of them on the DVD - at least officially (more about that later). The only listed unused footage we discover is the Extended Basketball Sequence. This six minute piece shows an unedited take of the basketball commentators played by Orlando Jones and Toby Huss. I liked this bit in the movie, and it's fun to see the uncut version.
More behind the scenes information shows up in the Scoring Sessions. In two different clips - which last 95 seconds and 40 seconds respectively - we see the recording of parts of the movie's score. It's a short but interesting look at this task.
During Bedazzling Designs with Deena Appel, we learn a little about the decisions made by the film's costumer. The four-minute and 40-second piece features comments from Appel plus others like Ramis, Fraser and Hurley. I thought it was a superficial view of the job but it offered some interesting tidbits.
In the Stills Gallery, we get three different sections. "DV8" offers 20 frames of designs for the nightclub sequences, while "The Devil and Her Office" provides 13 shots of those subjects. Finally, "Work, Brewery and Fantasies" gives us 17 snaps of designs used for those various scenes. It's a decent little package but nothing special.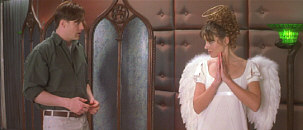 Bedazzled includes two Easter Eggs. When you start the DVD, you have to choose one "wish" from the selection of "Rich", "Famous", "Intelligent" and "Sensitive". Whichever one you select dictates the appearance of the DVD's menus. If you don't like the one you have, just highlight the beeper icon on the main page and you can pick one of the others.
The second egg is better hidden. You have to go to the second screen in the "Special Features" area - the one with Hurley dressed as an angel - and then click to the right from any of the options. That'll reveal Hurley as the Devil on her own shoulder; click again and you'll gain access to a deleted scene.
This 10-minute and 55-second segment depicts Fraser as stoned, abusive rock star. On its own, it can be somewhat entertaining as it satirizes many of the stereotypical behaviors of such folks, but it was a sensible deletion; it wouldn't have fit well into the rest of the film. Nonetheless, it's a cool addition, and at least it explains why Fraser performs two songs on the soundtrack album.
I should note that Bedazzled offers "NUON-enhanced features". This section can only be accessed on players with NUON technology built into them. That leaves me out, so I can't comment on these extras. For a listing of what allegedly you'll get to do if you have a NUON player, check out their official site.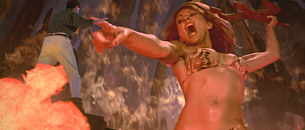 Lastly, Bedazzled includes the THX Optimode program. As also found on other Fox DVDs like Fight Club and X-Men, this is supposed to be used to set up your home theater to best present the movie on the disc in question. Apparently the Optimode is unique for each DVD on which it's included; unlike programs such as Video Essentials; the Optimode should tweak your set-up differently every time. Frankly, I've been very happy with my already-established calibration and I'm afraid to muck with it, so I've never tried the Optimode. If you lack calibration from Video Essentials or a similar program, or if you're just more adventurous than I, the Optimode could be a helpful addition.
Bedazzled will never be considered a screen classic, but it's a fun and charming comedy that largely accomplishes its goals. We find a breezy little tale that works mainly due to some fine performances, and the whole package seems consistently entertaining. The DVD provides excellent picture and sound. We also get a fairly large complement of extras; some of these are a little dull, but as a whole, the DVD includes a nice array of information. Bedazzled is a nice little flick that should be appealing to a wide audience.