Reviewed by Van T. Tran
Special Edition DVD
Columbia-TriStar, widescreen 1.85:1, standard 1.33:1, languages: English DD 5.1 [CC], subtitles: English, single side-dual layer, 28 chapters, rated PG-13, 94 min., $24.95, street date 2/8/2000.
Supplements:
HBO First Look: Inside and Undercover" behind-the-scenes documentary
"Setting Up for the Score" featurette
3 music videos: "Girl's Best Friend" by Jay-Z, "Criminal Mind" by Tyrese featuring Heavy D, "Damn (Should've Treated U Right)" by So Plush featuring Ja Rule
Theatrical trailer
Studio Line
Directed by Les Mayfield. Starring Martin Lawrence, Luke Wilson, Peter Greene, William Forsythe, David Chappelle, Nicole Parker.
Master jewel thief Miles Logan (Martin Lawrence) has a big problem. A $20 million problem. Recently released from prison for the botched heist of a huge diamond, he's anxious to retrieve the hot rock which he hid at a construction site two years earlier.
Unfortunately, his hiding place is now at the center of a recently completed high-security police precinct. Posing as a detective, and partnered with straight-laced rookie Carlson (Luke Wilson), Miles utilizes his criminal expertise and inadvertently rises up the ranks, winning the respect of his fellow "boys in blue."
Powered by a hot soundtrack with music by Jay-Z, Foxy Brown and Tyrese featuring Heavy D, Blue Streak is a hilarious action-comedy from director Les Mayfield.
Picture/Sound/Extras (A/A-/C)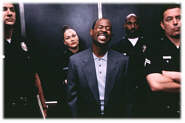 There is little to distinguish Blue Streak from the many cop buddy movies that follow the same trails left behind by the far superior Beverly Hills Cop and Lethal Weapon. The star vehicle of Blue Streak is, of course, Martin Lawrence, whose popularity arises from his now cancelled television comedy sitcom Martin. Lawrence has a terrific knack for improvisations in his comedy routines and his crazy antics in assuming different characters brought much laughters to the weekly sitcom. There is no denying that Lawrence has a genuine comedic flair, yet, I don't see him possessing the same magneticsm as Will Smith or Eddie Murphy that would require to launch him into the Hollywood stratosphere. Blue Streak provides Martin with his first leading role, and unfortunately, the movie as directed by Les Mayfield (Flubber, Encino Man) and scripted jointly by Michael Berry and John Blumental is quite forgetable.
Lawrence plays Miles Logan, a professional thief. The movie begins with a fairly well executed jewelry heist on top of a high-rise. Actually, let me clarify, the execution by the filmmakers is pretty exciting as they wasted little time to set up the plot. The heist, on another hand by Logan and his crew, goes terribly wrong. I won't reveal the reason why it is bungled as that would ruin the movie's early "surprise." Needless to say, Logan is apprehended by the cops, but before that happens, he manages to hide a $20 million diamond in a ventilation duct of an under construction building.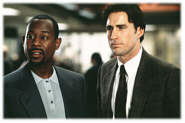 Flash-forward two years later, Logan is released from jail and heads to the building in the attempt to recover the diamond. Much to his dismay, and not loss to a twist of irony, the hiding place is now the center of a high security police headquarter. Proving his resourcefulness, Logan infiltrates the headquarter by impersonating as a newly transfered detective. The chief, impressed by his records (not knowing of the forged documents), assigns Logan to a rookie detective, plays by a very wooden Luke Wilson. The rest of the movie follows this improbable turn of event as Logan tries to maintain his disguise with the fellow cops, while teaching the rookie detective a thing or two about being streetwise, and at the same time has one eye on finding the diamond. This juggling masquerade is compounded when his old crew start to show up and demand their cut of the diamond.
Much of the fun and energy levels of the movie are delivered by Lawrence's improvisation and antic, otherwise, there is not much to recommend. You get the obligatory car chase and shootouts, and if you're in that mood, the film offers a mild excursion. One thing that does irk me is the representation of the white cops. These guys are protrayed as a bunch of imcompetent idiots and just plain vanilla in personalities. While I understand that these protrayals allow a sharp contrast to Logan so that the audience can easily recognize the jokes, I just think that there is a smarter way to approach this, other than treating them as a setup to the punchline. A good dose of reality into these characters and environment would help.
Columbia TriStar has once again done an oustanding job on the DVD. A widescreen and fullscreen version can be selected on the same side of this dual-layered disc. For the purpose of this review, only the widescreen version is watched. Despite packing both versions and the bonus materials on one side, there seems to be plenty of storage space to display a perfect playback . The widescreen picture is pristine without any sign of dirt particles on the print or shimmering on the compression. Images are sharp throughout to reveal terrific details. Colors are well saturated and blacks are bold. Shadow details exhibit strong depth and flesh tones are natural. A striking picture from beginning to end.
Close to matching the impressive transfer is the encoded 5.1 soundtrack. The environment is fully enveloped with aggressive panning of sound effects. During the shootouts, the sound mix puts me right in the middle of the crossfire with bullets whizz by from many different directions. And nothing can engage the environemnt more fully than the sound of helicopers circling overhead as on the police chase during the jewerly heist. The soundtrack also has a heavy dose of hip-hop and rap music to provide plenty of thumping bass to your subwoofer. Even in the midst of all the ruckus, dialogue is always intelligible. If your agenda is to watch a film that actively engages all your speakers, the soundtrack to Blue Streak would fit that bill nicely.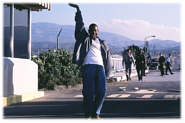 The DVD includes a decent amount of supplemental materials. There is no audio commentary, instead, you get two featurettes, "HBO First Look: Insider & Undercover" and "Setting Up for the Score." Both are very similar piece of promotional materials. You get snippets of interviews with the cast and crew on the set praising how wonderful everyone is and giving some background to the story and characters. Some of the same interviews and comments appear on both featurettes, so it is extremely redundant, with "Setting Up for the Score" provides a longer piece. More entertaining are the three well produced music videos. My favorites are "Girl's Best Friend" by Jay-Z and "Damn (Should've Treated U Right)" by So Plush featuring Ja Rule. There are plenty of nice looking babes shaking their things on the videos. I didn't care too much for "Criminal Mind" by Tyrese featuring Heavy D. While the picture quality is pretty good for the videos, the sound is constrained mostly to the center channel. Other features include the standard production notes, talent files, and theatrical trailers.
If you are a fan of Martin Lawrence, by all means check out Blue Streak as he gives an energetic performance in an otherwise been there done that cop buddy movie. The quality of the DVD is superb with some decent add-on values. While I don't think he will become a mega box office draw, I certainly think he deserves another leading role but with a better script to take full advantage of his comedic ability. Otherwise, Lawrence will head down to the same path as Arsenio Hall.
Related Sites
Current as of 2/6/2000
Offical Site--Includes plenty of information on the movie and on location, with interview clips by the cast and crew.
James Berardinelli's ReelViews--"Lawrence has become involved in a film that makes us acutely embarrassed for him."
Roger Ebert--"Blue Streak ranks in the upper reaches of the cop buddy genre, up there in Lethal Weapon territory."
The Official Martin Lawrence Site--Includes news, chat, bulletin board, photo gallery, biography, and store.
Amazon.com--Available to purchase are the DVD at special discount and the original music soundtrack featuring Jay-Z and various artists.
Reel.com--Purchase the DVD at special discount.


Review Archive: #, A-C | D-F | G-I | J-L | M-O | P-R | S-U | V-Z
Previous: The Sadist | Back to Main Page