Picture/Sound/Extras: A-/A-/A-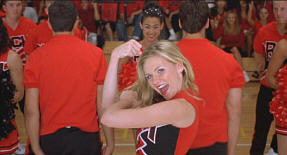 Some movies make a strong artistic statement. Some go out on a limb and attempt to do something different and bold. Some want to comment on the world in which we live and enlighten their audiences.
And some movies just wanna have fun, and Bring It On clearly falls into that category. It reinvents no wheels and doesn't try to be anything more than it is: a frothy and bouncy little look at the world of competitive cheerleading.
The story follows Torrance (Kirsten Dunst), the newly-appointed captain of the five-time national champion cheerleading squad at San Diego's Rancho Carne High School. The pressure's on for her to bring home another trophy, and she falters in her early attempts, though she is able to recruit a tough new cheerleader in gymnastic-buff Missy (Eliza Dushku).
Matters complicate when Missy points out to Torrance that the squad's former captain, Big Red (Lindsay Sloane), had been stealing routines from a predominantly black school in a town near LA. This sets up a rivalry between lily-white Rancho Carne and the Clovers of East Compton, who also boast an excellent team led by Isis (Gabrielle Union).
Many clichés follow, all of which lead to the inevitable showdown between the two squads at the national championships in Florida. Although I won't reveal the victor, rest assured that the requisite happy ending ensues.
As I already mentioned, Bring It On isn't exactly an original piece, especially since a slew of other cheerleader-related movies have hit screens in recent months. However, although it verges on parody at times, it's the only one to treat the subject with any remotely serious tones, and it succeeds in showing the art and excitement of cheerleading.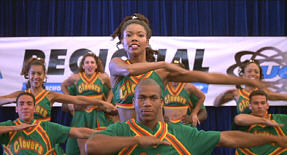 That doesn't mean it's a showpiece for the form, as it mainly exists to provide another teen diversion. Nonetheless, it's a fun piece that's executed in a manner that flirts with excess and absurdity but manages to keep enough of a foot in reality to be entertaining.
Much of this results from the exuberant direction of Peyton Reed. He sees cheerleading and its high school participants for the flashy shows they are, and he brings out the best in the visual areas. BIO fares nicely when it depicts the squads at work; some strong choreography and fine staging makes these scenes surprisingly vibrant.
The actors clearly help as well. Dunst has shown a lot of talent in previous efforts like Interview With the Vampire and The Virgin Suicides, and she neatly inhabits perky Torrance. However, she never lets the role degenerate to the role of stereotype, as she makes Torrance bubbly and believable as a cheerleader but also adds depth to her. Dushku also provides nice work as tough-girl Missy (though it's hard to be tough with a name like that). She aptly could switch from riot grrl to cutesy cheerbabe without much effort, and I accepted the character's changes and moods as realistic. It didn't help that she's absolutely gorgeous; Dunst is cute, too, and has built a considerable male following, but I'll take Dushku over her any day.
As Missy's brother and Torrance's prospective love interest Cliff, Jesse Bradford actually provides a fairly believable new wave boy. It's often hard for kids today to pull off that kind of rock attitude, but Bradford has a scruffiness that makes him endearing. His charm actually let me ignore the fact that physically, he was born to play the lead in The Donny Osmond Story.
While BIO features some apparently gratuitous scenes - we find a girls' locker room sequence and a bikini car wash - Reed manages to stage these in such a way that felt more like homages to early films in the genre than simple exploitation. Granted, I may not be the most objective party to judge this issue; though I may feel like a dirty old man, I have to admit that such scenes were rather… uh… interesting. And let the record note that the male cheerleaders also participated in the car wash, though for some strange reason, they don't receive quite as much screen time as the women.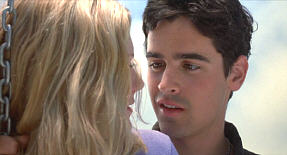 Actually, I liked the way the movie treated the subject of male cheerleaders. It demonstrated how others look down on them, mainly due to their suspect sexuality. However, the film accepts openly gay Les (Huntley Ritter), and it also shows exceedingly-straight - and unapologetic cheerleader - Jan (Nathan West).
The subject of gay male cheerleaders sets up some of the movie's better gags, such as a scene in which a couple of jocks see Jan as he works out with one of the women. They stretch together in a rather intimate manner, and one indicates that they should consider joining the squad. To that the other taunts, "Fag!" which of course ignores the fact that male cheerleaders get to spend much of their time handling the bodies of extremely attractive young women.
One would think more guys would recognize that interest in stereotypically girlie things might get them more opportunities to touch physically girlie things, but I guess the taint is too intimidating. I remember when I was in college that I once told my roommates how I thought it would've been great to be the only guy at an all-female school. They looked at me like I was insane, but think about it: the only rooster in the hen house! Even a complete loser like me could've scored in that kind of situation. (Okay, maybe not, but a boy can dream, can't he?)
All fantasies aside, I found Bring It On to provide a surprisingly fun and entertaining experience. It suffers from some of the clichés of all teen flicks, but through its direction and acting it manages to seem spunky and energetic enough to make me forgive those flaws. No, it's not Citizen Kane, but it never aspires to that level. The movie sets out to give you 99 minutes of chipper charm and it largely succeeds.
The DVD:
Bring It On appears in an aspect ratio of approximately 1.85:1 on this single-sided, double-layered DVD; the image has been enhanced for 16X9 televisions. As a whole, the picture looked terrific and displayed almost no concerns of any sort.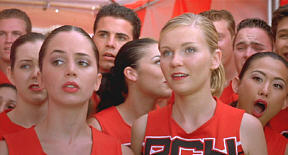 Sharpness seemed consistently crisp and well-defined. At no time could I find any significantly soft or fuzzy images as the movie always appeared detailed. Moiré effects and jagged edges presented no concerns. I also could discern very few examples of print flaws. There were a couple of speckles and a bit or two of grit, but nothing else; ultimately the film seemed fresh and clear.
Colors came across as nicely bright and vivid. BIO provided a lot of opportunities for exciting hues, and all of these appeared bold and accurate, with no issues related to bleeding, noise or over-saturation. Black levels were deep and rich, and shadow detail looked smooth and appropriately opaque without any excessive heaviness. Ultimately, Bring It On provided a strong visual impression.
The film also boasted very solid soundtracks. As is more and more often the case these days, BIO included both Dolby Digital 5.1 and DTS 5.1 mixes. If any differences exist between the two, I couldn't identify them. To my ears, both the DD and DTS tracks sounded identical.
That's a good thing, because the audio quality appeared excellent. Not surprisingly, the soundfield was dominated by music and stuck mainly to the forward channels. The front speakers blasted the score and songs with excellent clarity and stereo separation. Music also spread neatly to the surrounds, which provided positive reinforcement of the forward spectrum. Some effects cropped up in the side and rear speakers as well, but the music really provided the main emphasis, and that was appropriate for this kind of film.
Audio quality appeared excellent. Dialogue always sounded distinct and natural, with no signs of edginess or problems related to intelligibility. Effects were clear and realistic, and they showed no distortion concerns. Music appeared especially solid, as the many pop songs and the score came across as rich and vibrant throughout the film. Low end sounded deep and tight, and the music provided a nicely exuberant quality to the mix. All in all, the soundtracks worked very well for the material.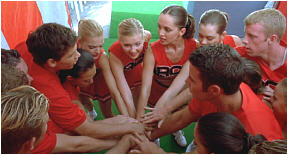 Bring It On provides a wealth of supplemental materials, starting with a fine audio commentary from director Peyton Reed. Many single-participant tracks drag at times and can be flat, but Reed proves to be extremely chatty and informative. There are virtually no empty spaces, and Reed fills the time with lots of great information about the movie.
Basically, all topics you'd like covered are addressed. Reed talks about production details, alterations made to the script, casting information and actor notes, and lots of thoughts on story interpretation. I know the latter may sound silly - after all, it's a movie about cheerleaders - but Reed really seems to have tried hard to add his own touch while he kept the movie within the genre. He even speaks - convincingly - about how cheerleaders fit into the punk ethos! All in all, I really enjoyed this commentary; it was an almost-shockingly compelling affair and it stands as one of the best tracks I've heard recently. (By the way, make sure you stick it out through the very end - Reed's long discussion of the end titles is hilarious.)
In addition to this terrific commentary, we find a slew of video materials. First up is a moderately entertaining edition of "Spotlight On Location", the generic "behind the scenes" program found on many Universal DVDs. As usual, the piece combines film clips, interview snippets, and shots from the set. The 14-minute show provides no real surprises, but it's a generally interesting little look at the film. You learn a few facts about the production and the participants' backgrounds, and it's all painless enough.
The DVD offers a collection of unused material that appears in two different sections. First is a grouping of "Deleted Scenes". We find 10 of these snipped clips, and the entire area lasts for 13 minutes and 35 seconds; that running time includes introductions from director Reed. None of the scenes are really missed in the film - especially not one of the terrible alternate endings that shows some of the characters at college - but they're worth a look. It's also fun to hear Reed's explanations for the omissions, so the piece makes for interesting viewing.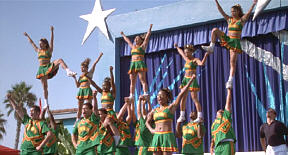 The other section that offers unused footage comes in the "Extended Scenes" area. Here we discover three elongated versions of included segments; the program runs for six minutes and 20 seconds including Reed's introductions. I have no comment other than: love that locker room scene!
Speaking of pulchritudinous pleasures, the next piece provides "Never-Before-Seen Home Movie of the Car Wash Scene". More shots of Dushku in a bikini? Despite the low quality, I'm there! This clip runs for two minutes and 50 seconds, which also includes another intro from Reed.
More girlie fun pops up in the "Wardrobe and Makeup Tests". We see Dunst and Dushku as they play around and model various character looks. Some of this footage also appears during the end credits, but here we get a full 40-second looksie at the two young ladies. Is it great viewing? Nope, but you'll hear no complaints from me.
The next piece actually appears as you watch the film itself. Called "Did You Know That? Universal's Animated Anecdotes", this extra functions as a running text commentary somewhat like the ones on Ghostbusters and The Abyss. However, the tone more closely resembles VH1's "Pop Up Videos" as the supplement provides intermittent details about the material. We get a mix of production notes and facts about cheerleading. Some of the material appears elsewhere, but enough of it is new and interesting to make this a fun little feature.
A few other video pieces appear as well. We get a music video of Blaque's "As If". This piece combines film clips, lip-synching and a story in which a band member dumps a boy and resists his continued overtures. It's a slick clip but I thought it seemed somewhat mean-spirited in the way it delighted in the boy's physical pain.
In addition, the theatrical trailer for BIO appears. In the "Recommendations" area, we also get trailers for October Sky, Reality Bites, and The Skulls.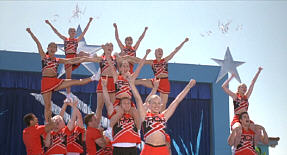 Some text pieces round out the DVD. "Cast and Filmmakers" provides very brief biographies of actors Dunst, Dushku, Bradford, and Union, plus director Reed. Two sets of "Production Notes" appear as well; one is on the DVD itself, while the other can be found in the booklet. Oddly, some of the text is identical, but most of it is different between the two. In any case, we hear some information we already know, but both pieces are fairly interesting synopses of a variety of topics that relate to the film.
In addition to all of these materials, we find a bunch of DVD-ROM extras. This area repeats all of the regular features and adds others. In "The Squad", we get additional brief biographies for the five participants found in the "Cast and Filmmakers" area plus 10 other actors, writer Jessica Bendinger, and producer Marc Abraham in "The Squad".
"What's It About?" provides a plot synopsis and also gives some addition production notes. Additionally, you can click on a photo of either Dunst or Union to hear a cheer from each squad. There's an icon that says it'll let you see "funny bloopers and outtakes", but I couldn't get it to work.
"Action Shots" includes 20 stills from the movie, while "Spirit Stuff" lets you install a BIO screensaver. Lastly, "DVD Newsletter" will allow you to sign up to receive e-mail from Universal about their products, while we also find other weblinks to Universal Studios, Universal Home Video, Universal DVDs, and Universal Pictures. Of course, any of these sites are available to those without DVD-ROM drives, but the disc collects them nicely.
Bring It On made no critic's top ten list, and I won't pretend that it's a great piece of work. However, I did enjoy the experience, as the movie was cute and sassy enough to entertain me, and not just because of all the sexy young women (though that didn't hurt). The DVD offers excellent picture and sound plus a solid complement of supplements headlined by an absolutely splendid audio commentary. I'm not a fan of teen comedies, but Bring It On is one of the rare entries in the genre that works.
Menu: DVD Movie Guide | Archive | Top