Picture/Sound/Extras: B-/B/C+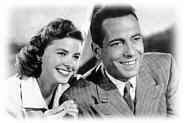 In recent days I've confronted two of Hollywood's most successful and well-regarded films: Gone With the Wind and Casablanca. When I watch movies with such stellar reputations, I find it exceedingly difficult to consider them on their own merits. As I sit through them, in the back of my mind remains the gnawing thought, "This is Movie X, one of the all-time classics! It should be the greatest thing ever!"
Inevitably, that means some disappointment, as reality can never quite live up to those expectations. That's especially true when the genre of the film isn't one that especially interests me. Both GWTW and Casablanca essentially are romantic dramas, and that's not exactly my favorite kind of movie.
As for GWTW, my feelings are explained elsewhere, but suffice it to say that while it's a well-crafted film, I have some issues with it. Casablanca is a less-heated affair, which makes this article more difficult to write. On one hand, I like the movie and think it's a nice piece of work, but on the other, it doesn't do a lot for me; I find the film watchable and entertaining but I can't say I feel it lives up to all of its hype.
Ultimately my feelings are positive, however. I thought the movie started slowly but picked up nicely as the action progressed. After all, at its heart it's a tale of a love triangle, and since it takes a while for those complications to arise, it shouldn't come as a surprise that the movie needs a little time to rev up its engines. Once it does, I still don't think it really takes off into overdrive, but it becomes a more satisfying piece.
Casablanca will resonate with anyone who ever had to decide between their hearts and their heads, which is pretty much everybody. (Except me, that is; my dilemmas occur between my spleen and my kneecap.) The film's famous ending can be endlessly debated; what would you do in that situation? In case you haven't seen the movie, I won't go into detail other than to say I'd go with the heart all the way, baby! Nobility's for the birds!
Anyway, Casablanca does a nice job of working through the various emotions of Rick Blaine (Humphrey Bogart), the bitter and cynical proprietor of a bar. He's living his little jaded and cold life just fine until former love Ilsa (Ingrid Bergman) re-enters the picture, here on the arm of her husband, French freedom-fighter Victor Laszlo (Paul Henreid). When confronted with the opportunity to rekindle his romance with Ilsa, Rick experiences a variety of conflicting emotions, all of which presumably are worked out by the end.
It's through that process by which Casablanca earns much of its power. Although Bogart seems stereotypically butch most of the time, he adeptly portrays the inner conflicts felt by Rick and makes him a character with whom we all - or at least us bitter and hateful types - can identify. Bergman's less successful as Ilsa, but she gets the harder role in many ways; she receives less screentime than Bogart and she's also the character who has hurt our protagonist, which makes it tougher for her to become endearing to us.
The whole supporting cast is quite good, with the possible exception of Henreid. His Laszlo is something of a dud, which is good and bad. On one hand, we wonder why a babe like Ilsa ever found him so compelling, but on the other, his drab qualities make it easier for us to buy her temptation to rejoin Rick; if Victor is too stimulating, we'd never accept her dilemma.
Whatever his flaws, Henreid's portrayal is easily balanced by the other actors. Although most of them are strong, my favorite has to be Claude Rains' sleazy but ingratiating Captain Louis Renault. This character is easily one of the most charming and likable scoundrels in movie history, as Rains makes him convincingly mercenary but still delightful. He steals virtually every scene in which he appears.
Ultimately, I don't really understand the immense critical reputation maintained by Casablanca, but I like the film nonetheless. Perhaps I need to watch it a few more times to pick up on some missed nuances, or maybe I'll just never get it, but I won't quibble with those who think it's a classic. Whatever your opinion may be, it's a genuinely well-crafted piece that offers a stimulating plot and some good performances. I don't know if it's one of the best movies ever, but it's definitely a strong product.
The DVD:
Casablanca appears in its original theatrical aspect ratio of approximately 1.33:1 on this single-sided, double-layered DVD; due to those dimensions, the image has not been enhanced for 16X9 televisions. Although it shows its age at times, Casablanca offers a pretty decent visual experience.
Sharpness seems consistently quite good, with images that look crisp and accurately-defined. I noticed virtually no edge enhancement or problems with moiré effects. Print flaws seem pretty minimal. A fair amount of grain affects a lot of the film, unfortunately, but other problems are quite rare; I detected occasional speckles and a few tears and streaks, but not much. The movie has aged well in that regard.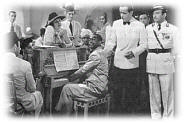 Black levels seemed nicely deep and rich, with solid tones from start to finish. Shadow detail appeared erratic. Most of those parts looked appropriately opaque but sometimes they seemed overly heavy, such as during a late-night bar scene; poor Sam almost completely vanishes into the muck . I suppose a really thorough cleansing might improve a few aspects of the picture, but overall, it seems quite good and it surpasses most movies from the era.
Also relatively strong is the monaural audio of Casablanca. Dialogue occasionally betrays a little brittleness but usually seems nicely clear and fairly natural; the speech lacks some of the depth we'd hear in more modern recordings, but it appears quite rich for its era. Effects and music also sound a bit thin and tinny, but these faults seem typical for the day, and both elements appear clean and relatively crisp.
On occasion, we even here a little low end; an early scene in which a plane flies overhead was so vivid that I almost felt like the track included a surround element! A mild layer of background hiss appears at times, but not frequently and not to a terrible degree. The soundtrack of Casablanca holds up well for its age and offers an above-average representation of "state of the art" from 1942.
Throughout my reviews of Best Picture winners, I've bemoaned that fact that so few contain substantial supplemental features. The few that do provide nice extras - such as Patton, Out of Africa, and Criterion's release of The Silence of the Lambs, among others - are far outnumbered by the ones that pack in virtually nothing. Happily, the situation seems to be turning for the better, as three upcoming Best Picture DVDs - American Beauty, Braveheart and The Sound of Music - all promise strong bonus materials, but that doesn't help all of the already-released clunkers.
Casablanca falls firmly in the middle; it doesn't compete with the better releases, but it easily tops the bare-bones effort. The primary draw here is "Casablanca: You Must Remember This", a 36-minute and 40-second documentary about the movie. Hosted by Lauren Bacall, this program features a mixture of film clips, interviews with historians and participants (various crew members, plus Bergman's daughter Pia Lindstrom) and some cool behind the scenes shots. Overall, it's a nice piece that provides a good background for the making of the film. We hear a basic history of the project and also learn some of the controversies and problems that surrounded it. One other fun aspect comes from a discussion of spin-offs and rip-offs of Casablanca; for example, we see some clips from the 1995 Bugs Bunny spoof Carrotblanca. The program should have been longer and more detailed, but as it stands, it's a nice overview of the film.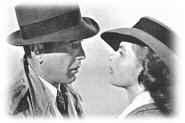 Since I'm on the subject, there are two factual areas that I wish the documentary had covered in more detail. First is the confusing fact that although Casablanca premiered in 1942, it was considered a 1943 release for Oscar purposes. This subject is never discussed during the program, although they do mention the date of the premiere. My guess is that maybe the film had a showing or two in 1942 but didn't actually open for general audiences anywhere until 1943; maybe that's how it qualified under that year. However, that's just my thought, and I couldn't find any concrete facts about this oddity.
Another confusing issue concerns one famous piece of Casablanca lore. That's the line that says Ronald Reagan was the studio's first choice to play Rick. This nugget remains commonly-accepted today, and it's even repeated in the documentary. Unfortunately, the veracity of that claim seems to be in doubt. One site that addresses "urban legends" (http://www.snopes.com) relates that this was never a remote possibility, and a fan site (http://www.serve.com/Lucius/Casablanca.index.html) says virtually the same thing. At this point, I don't know what the actual truth is, but I must admit the nay-sayers serve their evidence up nicely and make convincing arguments against this apparent myth. Too bad the official documentary doesn't examine the issue more thoroughly.
The DVD also tosses in a slew of trailers. We get the original theatrical clip for Casablanca plus ads for The Petrified Forest, To Have and Have Not, High Sierra, The Big Sleep, The Maltese Falcon, Treasure of the Sierra Madre, Passage to Marseille, and Key Largo. Whew!
Although the current DVD release of Casablanca comes from Warner Bros., note that the original issue was from MGM. The discs themselves are identical; the only differences come from the cases and what appears along with the packaging. The MGM issue includes a nice eight-page booklet that features some interesting details about the movie. If you decide to buy the DVD, you may want to seek out that version.
And buy Casablanca you probably should, though my enthusiasm for the film isn't commensurate with its reputation. I like the movie and think it's well-made, but I must admit I haven't ever quite understood all of the fuss. Still, it's a fine piece of work, and the DVD presents solid picture and sound plus some decent extras. Casablanca has endured through almost 60 years well, and this DVD would make a nice addition to your collection.
Menu: DVD Movie Guide | Archive | Top