Picture/Sound/Extras: A+/A-/A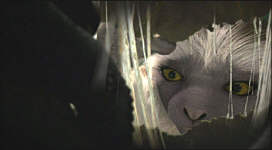 In the past, Disney has experienced a great deal of success with their computer-animated releases. 1995's Toy Story, 1998's A Bug's Life, and 1999's Toy Story 2 all proved to be huge hits. However, although all of these movies appeared under the Disney banner, none were "home-grown" creations ala the studio's classic traditionally-animated films; the three films in question were all developed under the banner of Pixar Studios.
Disney decided it was time to make their own computer-driven feature and had to build a studio to do so. The first result from movement was 2000's Dinosaur, a film that displayed a lot of promise but ultimately proved to be lackluster.
The movie's trailer initially appeared in the fall of 2000 and made the feature look potentially stunning. The clip showed gorgeous photo-realistic computer graphics seamlessly integrated with live-action backdrops in such a way that led many viewers to think that Dinosaur would be a killer offering.
Technically, this was precisely the case. From start to finish, Dinosaur provides a sumptuous visual presentation. As already noted in the trailer, the animation and the real background shots blend together terrifically well, which adds a tremendous layer of realism to the project; the notion that these creatures lived and breathed seems all the more acceptable because of the perfect rendition of their surroundings.
The dinosaurs themselves look quite good as well, though I found them to be a bit too anthropomorphized. In many ways, the creatures come across as real and alive, but there's an element of artificiality to their facial features that often gives them a fairly computer-drawn appearance. Some of that may have been inevitable since the dinosaurs have to perform unnatural actions like speaking, but even without that, I thought the critters often betrayed a too-stylized appearance that detracted from the project's overall level of realism.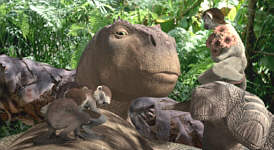 Nonetheless, Dinosaur still seems like a successful enterprise in the technical realm; they've come a long way since Jurassic Park. Unfortunately, it appears that so much time and effort was spent on the animation and computer effects that no one bothered to think about the script or the story. As a result, Dinosaur provides a moderately entertaining but generally bland and lackluster experience.
The tale follows orphaned dinosaur Aladar (voiced by D.B. Sweeney). As the film starts, he's still egg-based, and due to the intervention of a bunch of critters, he doesn't hatch until he's been swept far from home. He ends up in the possession of a family of lemurs who - despite some reservations - take him in as their own. Aladar grows up happy but somewhat lonely since he's the only one of his kind in the neighborhood.
That changes once the meteors fall. Disaster strikes the land, so Aladar and his family head out to find friendlier climes. Before long they encounter a band of other dinos headed toward their garden of Eden where they can eat, drink, and be merry. Led by tough-guy Kron (Samuel E. Wright, best known as Sebastian from The Little Mermaid), these beasts live in a seriously Darwinian society. Inevitably, Aladar introduces more kind and gentle tendencies to the group and shows himself to be a natural leader. Also inevitably, Kron doesn't dig this, and the two head toward the inevitable showdown complicated by the inevitable love interest: Kron's sister Neera (Julianna Margulies). Inevitably, all concludes on a happy note.
While the basic story is sturdy, the lack of inventiveness renders it fairly dull and drab. Due to a combination of an anonymous vocal performance from Sweeney and some weak writing, Aladar is one of the least compelling Disney heroes to trot along in quite some time; we care about him in a generic manner because we've been trained to do so, but Aladar never earns our affection. Neera and Kron also come across as ordinary, though their problems result more from an absence of character development; the two get little time on screen to shore up their stereotypical presences.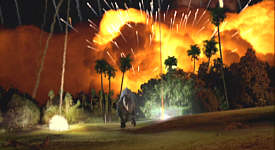 Even the traditional Disney sidekicks seem lackluster. Zini (Max Casella) fulfills the requisite wacky quotient but he provides absolutely no spark; if anything, he appears more annoying than charming, and he does nothing to help the movie. We get a couple of moderately more interesting characters through two of the older dinos Aladar helps: homey Eema (Della Reese) and prim Baylene (Joan Plowright). Those experienced actresses at least add some dimension to their parts and make them a little more compelling, though Ossie Davis fails to make an impression through lemur elder Yar; Davis generally sounds embarrassed to be there.
For better or for worse, I'm very fond of Disney animation, but my tolerance was tested somewhat by the blandness of Dinosaur. The movie looked absolutely great as it provided a visual tour de force. Unfortunately, the rest of the movie was all kinds of drab. The story and characters displayed exactly the kinds of flaws Disney's critics believe populate all of their films: bland and without personality, the tale never stood out in any way. I found Dinosaur to be watchable but still think it's the worst Disney animated picture to come along in many years.
The DVD:
Dinosaur appears in an aspect ratio of approximately 1.85:1 on this single-sided, double-layered DVD; the image has been enhanced for 16X9 televisions. As with other Disney offerings like A Bug's Life and the Toy Story flicks, the movie was transferred digitally; no film was used to make the DVD's image. As such, we find a virtually flawless presentation that looked consistently stunning.
Sharpness appeared absolutely immaculate at all times. Never did I witness even the slightest hint of soft or fuzzy images; the entire movie seemed exceedingly crisp and well-defined. Moiré effects and jagged edges presented no concerns, and I also found no signs of print flaws since no print was involved; it's a fresh and clean appearance.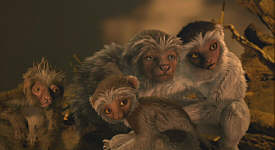 Dinosaur used a fairly muted palette; after all, there weren't too many neon pink critters in those days. Nonetheless, colors looked nicely accurate and vivid. From the icy blues of night shots to the eerie reds of the meteor shower to the yellow in the lemurs' eyes, the hues were consistently solid. Black levels also looked deep and rich, and shadow detail seemed perfectly appropriate without any excessive heaviness or thickness. All in all, Dinosaur offered a terrific visual experience.
While not as exciting as the picture, the soundtracks of Dinosaur also worked very well. The DVD provided both Dolby Digital 5.1 and DTS 5.1 mixes. While the DTS track had the edge, it was such a slight difference that I didn't feel it merited much consideration. The DTS version seemed a little deeper and more full, but not to any significant extent. For the most part, the two tracks sounded virtually identical.
The soundfield favored the forward spectrum but nonetheless offered a broad and engaging surround presence as well. In the front, music and effects blended nicely to create a vivid impression. Sounds moved nicely between channels and a realistic impression was created. The rears added good reinforcement of the music and also provided appropriate split surround effects when necessary. To be frank, the track probably could have been more active during a number of scenes, as the chaos of the meteor shower or various stampedes didn't have the impact they could have shown. Nonetheless, the sound presence seemed strong.
Audio quality also appeared very good. Dialogue sounded clear and warm, though I thought speech seemed somewhat more artificial than usual, even for animation; lines didn't integrate terrifically well with the action. Nonetheless dialogue showed no overt problems like edginess or concerns related to intelligibility. Effects seemed clean and acceptably realistic, though they occasionally lacked substantial heft. For example, I felt that dinosaurs' footsteps sometimes failed to deliver the appropriate power; at times when Aladar walked across the screen, his presence barely seemed noticeable. Music appeared bright and smooth, with nice clarity in the highs and good depth to the low end. Bass response probably could have been a little stronger, but for the most part it seemed positive. Ultimately, the soundtrack to Dinosaur offered a nicely involving experience.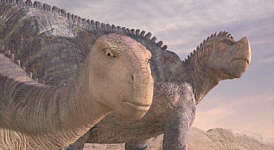 Since the bad old days in which Disney released their animated films in overpriced, underfeatured editions, they've come a long way, as shown by The Ultimate Toy Box, my choice for the best DVD release of 2000. In regard to supplements, the Collector's Edition of Dinosaur is another winner that offers hours of extras.
A slew of material appears on disc one, starting with two separate audio commentaries. The first includes directors Eric Leighton and Ralph Zondag plus special effects supervisor Neil Krepela and digital effects supervisor Neil Eskuri. All four men were recorded together in one session for this running track. On the second commentary, we find an edited piece hosted by producer Pam Marsden. She acts as narrator and introduces the separately-recorded remarks from a long list of contributors. We hear from co-producer Baker Bloodworth, composer James Newton Howard, art director Cristy Maltese, supervising character animators Eamonn Butler and Mark Austin, effects lighting supervisor Chris Peterson, effects compositing supervisor Jim Hillin, model development supervisor Sean Phillips, look development supervisor Cliff Brett, live action visual development supervisor Terry Moews, and character designer David Krentz.
Despite the different manners in which the two commentaries were constructed, both were very similar. Throughout both tracks, the emphasis was firmly on technical aspects of the production. If you're interested in learning about the methods used to bring all of these computer-dinos to life, then you'll be pleased with these tracks. If you couldn't care less about technical facets of animation, then you'll want to skip these commentaries. Both tracks offer some information about other aspects of the film, and those with an aversion to technical details should shoot for the second commentary; it provides the best discussion of story elements and character development, while the first track rarely delves into either of those topics.
However, both pieces really work best if you're interested in technical information. If this is the case, you'll undoubtedly find a lot of solid details. The two tracks examine the methods in depth and offer a good primer for the topics. Personally, I found the commentaries to be a bit dry; I like to know how the film was created from a technical perspective, but I would have preferred addition data about the creative side. I'd love to get a commentary for an animated movie that involves some of the actors; their perspective usually gets little attention in these kinds of packages, and I think their thoughts would be valuable.
In addition to the commentaries, Dinosaur adds two other audio features. We get an isolated effects track that eliminates both dialogue and music. This is a fun extra, though one aspect of it disappoints me: the audio is only in Dolby Surround, not Dolby Digital 5.1 or DTS 5.1. Similar features appeared on the A Bug's Life and Toy Story DVDs, but those were 5.1.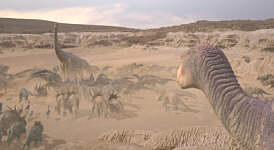 There's also the extremely cool "TheatreVision for the Visually Impaired". This option provides narration that describes the onscreen action in terrific detail. More studios should provide this feature, as it not only would be very valuable for anyone with visual difficulties but also is fun to listen to for others.
The first DVD offers a load of other extras as well. Some of these also appear on the single-disc version of Dinosaur; materials that can be located on both editions will be noted with asterisks. It appears that the only feature available on the single-DVD release but not on the Collector's Edition is the fullframe version of the film. However, the solo edition appears to classify some of its extras in a different manner, so I can't state with certainty that it doesn't include some exclusive material. The listing for the one-disc DVD mentions four featurettes that don't have the exact titles on the Collector's Edition. Is all of the same material from those featurettes present on the two-disc release? Probably, but I don't know this for a fact.
In any case, the CE definitely includes a wealth of information. Up first is a kind of program that was first popularized on the DVD of The Matrix and further explored on discs like The World Is Not Enough and Me, Myself and Irene. Here it's called the "Film Fact Fossil Dig" and it tosses in a lot of little video features that relate to Dinosaur. You can access this extra through a variety of methods; you can check them out during the film if you hit "enter" on your remote when a dino skull icon appears on screen, or you can watch them from their own menu. The latter lets you pick each snippet on its own or "play all".
Each of the brief clips focuses on a variety of aspects of the making of the movie and other elements. Hosted by commentary participants Marsden and Krentz plus digital effects supervisor Neil Eskuri, we find a nice mix of different components. There are clips such as an alternate opening scene - shown in rough animation - and other unused material plus shots of lemur research, scene development, and general "behind the scenes" material. I especially liked the brief shots of a recording session with Sweeney and Margulies; we don't usually get many looks at this kind of work, and I love to see it. The segments last between 45 seconds and six minutes, 20 seconds for a total of almost 32 minutes of footage. All in all, these clips add a fun look at the creation of the film and they were very enjoyable.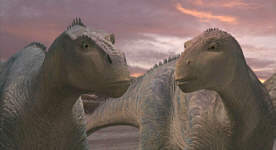 *"Aladar's Adventure"* offers a limp game experience. You have to guide our hero through a variety of "find some stuff" and "move some stuff" activities that rely on nothing more than trial and error. There's no way to detect where to go other than just by working through the options. Especially annoying was the "move the rocks" game that closes the "Adventure". You have to go through two "stone walls", and if you get past the first but mess up on the second, you return to square one and have to repeat the first pile. Boy, did that get old quickly! Visually, the game provides some nice animation, but that's about all it has to offer. Had it come through with a nice reward at the end, it might have been more fun, but as it stands, it's a dud.
*"Dinosearch"* offers another game. You search around for pieces of one of three dinos to bring them to life. This is just a "pixel hunt" contest that has you scan the screen for different body parts. Once you've got them all, you're "treated" to a tiny "turnaround" of the dinosaur in question. It's no more fun than "Aladar's Adventure", but at least it was infinitely less frustrating.
The *"Dinopedia"* features basic information about the era in which Dinosaur takes place and other aspects of dino life. We hear some basics about parenting skills and extinction plus minor details about each of the dino species found in the movie. The seven-minute and 25-second program is a nice little introduction for kids and others.
"Sneak Peeks" includes a slew of advertisements for other Disney efforts. We find promos for the following upcoming DVDs: Snow White and the Seven Dwarfs, The Hunchback of Notre Dame II, 102 Dalmatians, and Lady and the Tramp II: Scamp's Adventure. In addition, there's an ad for the new theme park - "Disney's California Adventure" - and two mentions of the next animated feature, Atlantis. The DVD offers a standard trailer plus an ad for the "interactive" game. Note that all of these promos appear only in the DVD's "Sneak Peeks" menu; unlike many Disney releases, they don't pop up automatically when you pop the disc in the drive. That may not be true for the single-DVD release, however; typically Disney include the "forced trailers" on standard versions but not Collector's Editions.
Lastly, some *DVD-ROM* materials round out the first disc. Actually, there's little new to be found here. We get repeated presentations of "Aladar's Adventure", the "Dinopedia" and the "DinoSearch" game, plus a web link to a special Dinosaur DVD site. The latter provides two downloadable featurettes plus an "Evolutionary Timeline" and "Desktop Pictures" you can save.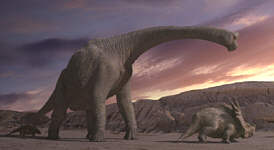 On disc two, we find a bunch of additional supplements. These begin in the Development area, a section that details the film's pre-production period. First up is a "Proof of Concept Test" from March 1996. This 118-second piece essentially seems intended to show the bigwigs at Disney that there's a feature possible in this material; we see some CGI footage to demonstrate the possibilities.
From October 1996 comes another snippet that displays the format's potential. We get a 24-second "Live Action Backplate Test" which lets us view how the dinosaurs would interact with the real backgrounds. In December 1996, the crew created an "Early Presentation Reel". This two-minute piece demonstrates the work done to date on the film in a user-friendly manner; we mainly find hand-drawn concept art plus a few seconds of CGI shots as well (which look suspiciously similar to those seen in the "Proof of Concept Test").
The final demo piece found here is the October 1998 "Presentation Reel", which is really just an unpolished trailer. The 105-second compendium of computer animation - all in various stages of completion - gives us a simple idea of the plot and the scope of the project. Up next is a nice picture gallery called "Visual Development". This department contains 73 stillframe examples of production art. As has been the case for the last few Disney DVDs, these are neatly gathered into thumbnail presentations of nine images per screen; you can see a larger image easily, and this format makes access to particular shots very easy.
Lastly, Development ends with a semi-"Easter Egg". Click to the right from "Visual Development" - or any of the other topics in this area, actually - and a dino skull will illuminate. Click again and you'll get to see a fun clip from one of Walt Disney's TV shows; this six-minute and 20-second snippet comes from 1955's "The Story of the Animated Drawing" and it highlights Windsor McCay's early dinosaur animation with "Gertie". It's a great little addition and a nice look at some seminal work in the field.
The next department is called Creating the Characters and - unsurprisingly - it concentrates on the film's onscreen participants. For reasons obvious to anyone who's seen the movie, it splits into two categories: "Dinosaurs" and "Lemurs". In the former, we begin with two different video programs. "Designing the Dinosaurs" lasts seven minutes and 20 seconds and it offers a technical look at the development of the participants; we learn the CGI basics through a mix of film clips, rough animation, and interviews with principals.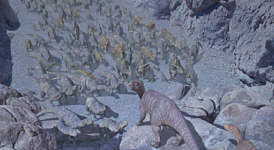 On the other hand, the seven-minute and 40-second "Building the Dinosaurs" delves into the more specific details on the designs for the main characters. The same assembly of filmmakers and various snippets shows us the development of the dinos and gives us a nice look at the concerns faced by the participants. Both video pieces were superficial but still informative and entertaining.
In "Character Design", we find a slew of stillframe materials. We get art galleries for each of the following dinosaurs: Aladar, Kron, Neera, Bruton, Baylene, Eema, Url, the Carnotaurs, and the Velociraptors. Each character includes between three and 40 images for a total of 125 total frames. In addition, each participant can be seen in a 25-second "Turnaround"; that shows the character's 3-D model as the virtual camera spins around it. There are also sections devoted to "the Herd" - which breaks down in "Pachyrhinosaur", "Stygimoloch", "Parasaurolophus", "Oviraptor", "Microceratops", "Juvenile Iguanadon", "Gliding Lizard", "Labyrinthodon" and "Mosasaur" and offers "turnarounds" for each - and "Unused Character Concepts". The latter provides more still images of various concept drawings; we find 96 frames in all.
As for "The Lemurs", that side of the section starts with "Building the Lemurs". This program follows the same format as the "Building the Dinosaurs" piece and lasts for seven minutes and 10 seconds. Actually, this one's probably a little more interesting, if just because it appears the lemurs went through more changes in their design, and we also get to watch a little footage of real lemurs; for reasons unknown, they include no material of living dinosaurs. (In addition, the featurette confirms what I strongly suspected: dinos and lemurs never co-existed.)
"Preliminary Lemur Designs" offers 44 still images of early drawings of the critters, and we also find photo galleries and turnarounds for each of these characters: Plio, Yar, Zini and Suri. These include between five and 15 drawings per lemur for a total of 41 images. Each "Turnaround" still runs 25 seconds.
We also get another mini-Egg. Click on the "Creating the Characters" main screen's dino head and you'll get some "outtakes" that occurred due to computer rendering errors. This 90 second piece is more creepy than cute and not as entertaining as a similar feature found on the Toy Story DVD.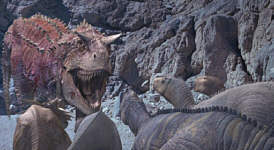 The Production Process takes a closer look at how the different photographic and computer elements were combined. Through a combination of film clips, rough animation, interviews and behind the scenes material, "Creating a Prehistoric World" runs for seven minutes and 55 seconds and it offers a very nice view of this side of the equation.
A more specific picture of this kind of work emerges in "The Monster Cloud". This four-minute and 10-second program follows a similar format as "Creating a Prehistoric World" but it details the way in which the meteor explosion scene was made. In a similar vein was "The Dino Cam". It displayed the manner in which a variety of elements were combined, with a particular emphasis on the "Dino Cam", a camera used to simulate the dinosaur's speed and point of view. This piece lasts one minute and 45 seconds.
"Story Reel and 3D Workbook" looks at one scene: "Aladar Joins the Herd". Within that emphasis, "Production Progression" lets you use your "angle" button to switch between the "Story Reel" - filmed storyboards with some audio added - the "3D Workbook" - which shows crude animation of the material - and the "Final Film". This four-minute piece provides a nice look at the way in which the work went ahead on the film.
A similar feature appears in "Comparisons to Final Film". This uses a split-screen method to show either the Story Reel or the 3D Workbook on the top with the Final Film on the bottom. It covers the same "Aladar Joins the Herd" scene and also lasts four minutes.
"Progression Reels" look at three different segments of Dinosaur: "Opening Sequence", "Aladar Meets the Misfits", and "Aladar Finds Water". Each of these works in a manner similar to those of prior features; we watch parts of the scenes move from stage to stage and show how the work moved. Each clip includes commentary from digital effects supervisor Neil Eskuri and they last between 75 seconds and four minutes, 25 seconds for a total of seven and a half minutes of footage.
This area's "Easter Egg" comes from another Disney TV special that aired in May 1964. This four-minute and 55-second snippet depicts the creation of some animatronic dinos fabricated for the 1964 World's Fair. Walt interacts with the critters and we see behind-the-scenes shots of their assembly. It's another fun piece that adds value to the package,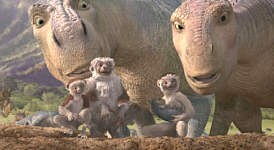 Music and Sound is our next area. In "Music", we find a three-minute featurette that focuses on the movie's score. This is too superficial a look to offer much of interest, but it's painless in any case. Another featurette pops up in ". This three-minute program is a little more interesting since it provides mild detail about the origins of some vocal noises - especially when we see the extremely-unlikely source of the ferocious velociraptor growls - but it's still too brief to be terribly informative. Still, it's fun and entertaining.
Lastly, "Audio Mix Demonstration" allows you to watch one of the movie's scenes with different combinations of sound. You can add or drop dialogue, music and effects to check out the segment with any mix of those elements. It's a moderately fun experience.
No "Easter Egg" could be found in the last section, so it's on to Abandoned Scenes. There are six in all, and they appear in different forms; the first two are story reels, while two others are largely animated - though not polished - and the final two made it to the "3D Workbook" stage. Each clip runs between 25 seconds and five minutes, 25 seconds for a total of 13 minutes and 50 seconds of material.
Abandoned Scenes has no "Easter Eggs" either, so let's move to the DVD's final area, Publicity. Here we find three "Trailers". Two are the standard theatrical ads - including the one that raised expectations for me and so many others - while the third is a "Convention Trailer". What convention? I have no idea, but it's an unusual clip for this film; it features a rock soundtrack that would seem more at home attached to Titan AE.
Publicity also contains four "TV Spots"; one of these - "Countdown" - is another aggressive rock-oriented clip, and another uses "Walk the Dinosaur" from Was (Not Was). "Print Advertising" gives us 14 still images of posters and other ads.
This area includes our final "Easter Egg", and it's an unusual one. Created by Disney's educational department, it's called "Recycle Rex" and it's 12-minute program created to teach kids about recycling. The connection to Dinosaur comes from the characters, all of whom are prehistoric beasties. It's a cute little piece.
Did I say that was the last "Easter Egg"? Actually, there's one more. From the second DVD's main menu, if you click on the "Staff Meeting" note, you'll get four screens of "DVD Credits". No, it's not exciting, but it's there nonetheless.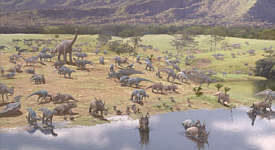 The final DVD extra can be found in this package's case. We get a small booklet that includes both a map to all of the second disc's materials plus a nice essay from Thomas Schumacher, president of Disney Feature Animation. The latter provides a good overview of the production and the DVD, and it's a solid way to begin your exploration of this set.
Although Dinosaur is a weak effort from Disney animation, I liked it well enough that I'm happy to own this DVD set. Granted, I'm a big fan of these kinds of films, so I'd get the package even if I disliked the movie, so I may not be the most objective party in that matter. Nonetheless, Dinosaur stands out as a compelling flick if just for its stunning technical quality; the story and characterizations were less than winning, but the movie's just watchable enough to merit your time.
As for this two-DVD "Collector's Edition", it continues the grand tradition of similar packages like those created for A Bug's Life and Tarzan. The movie looks and sounds absolutely terrific, and the set contains a slew of interesting and entertaining supplements. Dinosaur will never be one of my favorite films, but this DVD is a winner.
Final note: a number of technical problems have been encountered by some folks who have tried to use the Dinosaur CE. For additional details on these, visit places like the Home Theater Forum and search for the film. I encountered no difficulties except for one odd annoyance: at times, the "Pause" and "Fast-forward" buttons on my Panasonic players were de-activated. This was inconsistent; sometimes the DVD would let me use them, but sometimes it wouldn't. Bizarrely, if I went back from a working scene to one that was previously unavailable, I often could use the buttons. The folks at Disney seem to be aware of the problems that have cropped up with Dinosaur; if any news appears as to solutions, they'll be listed here.
Menu: DVD Movie Guide | Archive | Top