Picture/Sound/Extras: B+/B/B+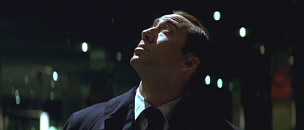 If one just looks at the surface of 2000's The Family Man, it appears to be nothing more than a variation of 1946's classic It's a Wonderful Life. Actually, if one digs deeper into TFM, it still looks like little more than a reworking of the older film. However, while TFM lacks a great deal of originality, the movie itself isn't a bad piece of work, as it provided a fairly entertaining experience.
At the start of The Family Man, we find ourselves in 1987 as Jack Campbell (Nicolas Cage) is about to head to London for a yearlong internship at a financial institution. His girlfriend Kate (Téa Leoni) doesn't want him to go because she fears it'll ruin their relationship. However, Jack assures her that things'll work out fine, so he takes that plane.
Fast forward to present day and we learn that Kate was right. Jack has become a Wall Street bigshot who bounces from one hottie to another and who appears to be master of all he sees. He's a workaholic who doesn't much care that he makes his staff work late into the evening on Christmas Eve; it's all about the Benjamins! However, Jack's not a total prick, as he demonstrates when he smartly helps stop a convenience store altercation from becoming truly catastrophic.
The thug involved (Don Cheadle) may not be as simple as he seems, and when Jack tries to encourage him to take a more lawful path, Jack's path is set. When he wakes up the next day, he's in the current time but in a different place, as he ends up in suburban New Jersey with Kate at his side. He's the same guy he's been for the past 13 years, but he takes the place of a different version of himself who went another way. The film then pursues this "glimpse" of an alternate universe in which Jack skipped the internship and married Kate. Instead of a slick bachelor pad and supermodels, he has a mortgage and two kids.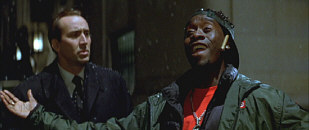 While The Family Man will win no prizes for originality, it offered a reasonably pleasant fantasy, largely thanks to the charms of its stars. I've been in the bag for Cage for quite some time, so it never comes as a shock when I enjoy one of his performances. However, my ultimate satisfaction with his work here was a bit of a surprise simply because I thought he started off poorly. He made Jack seem to be fairly obnoxious and overbearing, and only slowly did he start to mellow as the film continue. I recognize that much of this was likely by design to demonstrate the changes through which Jack goes, but I thought Cage appeared too strong early in the movie, and he seemed to overplay the part.
Still, all's well that end's well, and though Jack's growth was somewhat forced at times, Cage nonetheless made the role winning in the long run. Leoni, on the other hand, always appeared charming and bright as Kate. She's come across as excessively quirky and mannered in the past, so I was surprised to see her occupy this sort of role. However, she did so nicely, as she made Kate attractive and appealing without any cloying or pushy characteristics. She seemed believable as a housewife but still maintained an air of sexiness and allure that ensured a swinging dude like Jack would dig her. Both stars sustained a nice chemistry and they worked well together.
The Family Man showed other signs of growth that were somewhat surprising. Director Brett Ratner - whose previous big film was 1998's Rush Hour - clearly favored the big city Jack during much of the movie. While he didn't seem to overglorify Jack's high life, he really made the cheesiness of the suburbs look unappealing during some of the early scenes. At first I thought this was the result of Ratner's personal bias - as he notes during the DVD's audio commentary, he much more closely resembles swinging Jack than suburban Jack - but the perspective slowly changes as the movie progresses. As Jack comes to embrace his family life, so does the film, which means that visions that used to look grotty start to seem more attractive.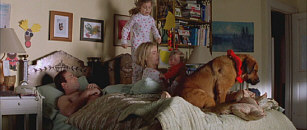 Although The Family Man doesn't reinvent the wheel, it does well with the material at hand. In many ways, it seemed to be more believable than similar fables. Although Jack comes to appreciate the life that he sacrificed to be a financial wheeler-dealer, he never loses the personality he'd developed over that 13 year period; it's not like he ever truly becomes the same person as suburban Jack. Instead, he simply starts to see that there are some aspects of his life that he could improve, and he begins to view the world in a different way. Will this altered Jack be happier than big city Jack would have been? Maybe, but the film stays inconclusive in that regard. It pursues a surprisingly ambiguous course and fails to beat us over the head with ideas or solutions.
In the end, The Family Man was a pleasant piece of work. I didn't think the film managed to stand out tremendously strongly among the crowd, but it gently altered the It's A Wonderful Life formula just enough to make it enjoyable. Via some nice performances from its cast and a fairly light touch from its director, the movie was a reasonably charming and winning experience.
Strange coincidence: at one point in The Family Man, a character states that any guy would sacrifice "his left nut" for a shot at Kate. The only time I recall hearing a similar statement came during Edward Scissorhands. The coincidence? Danny Elfman scored both films. Perhaps there's a "left nut" clause in his contract.
The DVD: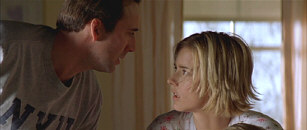 The Family Man appears in an aspect ratio of approximately 2.35:1 on this single-sided, dual-layered DVD; the image has been enhanced for 16X9 televisions. As a whole, I thought the film presented a very solid picture, with only a few mild concerns along the way.
Sharpness appeared consistently clear and accurate. Throughout the film, the image stayed concise and detailed, and I never saw any signs of soft or fuzzy material. Moiré effects and jagged edges caused no concerns, but I did detect some instances of edge enhancement. For example, at around the 88-minute mark, there was a distinct halo visible around Cage's jacket. Print flaws were only a small concern. I witnessed a couple of black specks during the film, but that was it. Otherwise the movie seemed to be free of dirt, debris, grain and other defects.
Colors appeared nicely bright and vivid throughout The Family Man. The movie offered a fairly varied palette, and there were a lot of opportunities for different hues. Some standout scenes occurred at the bowling alley and at the various parties, where I saw some vibrant and solid greens and reds. Overall, colors looked clear and distinct at all times. Black levels also seemed deep and rich, and shadow detail was usually quite good. A few low-light interior sequences appeared mildly muddy, but these were exceptions, as the majority of the film seemed appropriately opaque but not overly thick. Ultimately, I thought that The Family Man provided a satisfying visual experience.
On this DVD, we find both Dolby Digital 5.1 and DTS 5.1 soundtracks. The soundfield is a modest affair, and I detected virtually no differences between the two mixes. The forward spectrum received the greatest emphasis throughout the film, as the front channels offered modest ambience. I found those speakers to provide a nicely natural accompaniment to the action, but there wasn't much of note to discuss. Some sounds - such as cars - panned cleanly from channel to channel, and a few scenes - such as the one at the bowling alley - offered somewhat more lively environments, but this remained a quiet and subdued track.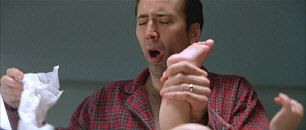 Music became the most dominant aspect of the track. Danny Elfman's score spread nicely to all five channels and showed good stereo separation. The music provided the most active elements from the surrounds, as I heard decent reinforcement of these elements from the rear. Some mild ambient effects also cropped up in the surrounds, but these were rather modest.
Audio quality seemed to be consistently good. Dialogue always sounded natural and distinct, and I heard no signs of edginess or problems related to intelligibility. Effects were generally a minor factor, but they appeared clear and accurate at all times, and I heard no distortion or other problems. Music was also nicely bright and vivid, and the score displayed acceptably positive dynamic range. I didn't detect terrific low end throughout the movie, but bass response seemed to be fairly rich and warm. As a whole, the soundtracks of The Family Man provided satisfying but unspectacular audio.
The Family Man arrives as part of Universal's "Collector's Edition" line, and it packs in quite a few extras. These include no fewer than three separate audio commentaries. The first of these comes from director Brett Ratner and writers David Diamond and David Weissman. All three men were recorded together for this running, screen-specific track.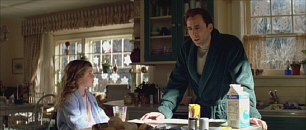 While this was a pretty lively and active affair, I thought it was a fairly mediocre commentary. I'd enjoyed Ratner's remarks during his track for Rush Hour, but I thought he lacked the same level of insight here. For the most part, the commentary sticks to praise for the film and those involved, and we don't get a great deal of depth. Ratner dominates the proceedings, and although he offers some good details about the production, his tone sticks too heavily toward praise. He also needs to learn that the plural of "weep" isn't "weeped" and not to use the word "organic" every five seconds. While the writers' statements are less frequent, they seemed to be a bit more interesting, mainly because they discussed the ways in which the film started and how it changed over the years. Overall, I thought the commentary was fairly listenable, but the happy talk could make it a little dull at times.
The DVD's second audio track features producer Marc Abraham on his own. This commentary was mildly interesting at times but as a whole I thought it was a bit dull. Abraham continues Ratner's tone of praise and doesn't offer a tremendous amount of information about the film. He's an acceptably personable speaker, but I think he would have worked better as a participant in the first track. It seemed odd that he stood on his own, as he really doesn't have a full two hours worth of material. Actually, he appeared a little hamstrung since he wanted to avoid touching on topics covered by Ratner and the others. Unfortunately, since he hadn't heard their piece, he just had to guess. This means that we occasionally hear him state that he assumed Ratner already mentioned a certain issue. He was always right, but this factor made the piece somewhat awkward, and it slowed down the pace at times. Abraham occasionally offered some useful nuggets, but I thought most of this track was somewhat bland.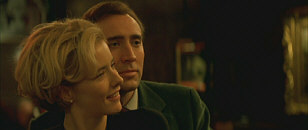 As for the final commentary, it's actually a combination piece. We find both remarks from composer Danny Elfman and isolated snippets of his score. Unfortunately, fans won't find all of his work presented on its own; at times, Elfman speaks over the music. That's a fairly amazing achievement since Elfman rarely talks during the track. His statements were exceedingly few and far between, and they offered little information. Although Elfman also lacked effusiveness during his tracks for Pee-Wee's Big Adventure and Edward Scissorhands, he seemed much chattier for those films. Here he has almost nothing to say.
While that was bad news for commentary fans like myself, I suppose it's positive for those who want the score. I only noticed a couple of occasions during which Elfman talked over the music, so you'll get most of the score presented on its own. Note that all music cues in the film - which include songs like the Stones' "Beast of Burden" and Chris Isaac's "Wicked Game" - are isolated from movie speech and effects, which I thought was a nice touch. However, it's disappointing that the music was only offered in Dolby stereo and we don't get a full 5.1 track. Since the DVD already included a slew of video extras, two other audio commentaries, plus the movie itself in English DD 5.1 and DTS 5.1 and French Dolby Surround, space limitations may have affected this.
A variety of other extras appear on the DVD as well. First we get another entry in the Spotlight On Location series, which means that this featurette is little more than the usual promotional fare. The program runs for 19 minutes and 50 seconds, but quite a lot of that consists of film clips. Otherwise, we see some shots from the set and short interview snippets from Ratner, Abraham, Cage and a few others. These bits actually add a little info that wasn't heard during any of the commentaries, but overall, "Spotlight" was a pretty fluffy program that didn't provide a lot of detail. It exists to promote the film, and that's all.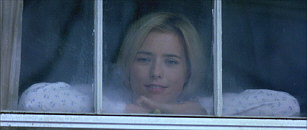 More interesting are the DVD's nine Deleted Scenes. These last between for a total of 13 and a half minutes of footage. Some of the clips represent longer versions of existing scenes - such as the one in which suburban Jack deals with Alan's threats - but most are new pieces. I thought that these deserved to be removed from the film since virtually all of them are redundant - bits in the final movie already communicate the message - but it was fun to see the excised footage nonetheless.
Unused material of a different sort turns up in the Outtakes section. Here we discover six different clips that last a total of eight minutes and 40 seconds. Although these offered a few interesting looks behind the scenes, for the most part that represented little more than the usual flubbed takes. They became a little more interesting just because each snippet lasted longer than I'd expect so we got a better look at how the actors dealt with their mistakes. Nonetheless, these were still pretty standard fare.
Another new experience can be found via the Opening Scene With Alternate Music Track. As we hear in the audio commentaries, one of the early segments was supposed to provide accompaniment from Perry Como's "It's Beginning to Look A Lot Like Christmas". Ultimately, this selection was changed, but this 70-second segment lets us see how the movie would have fared with the original audio.
The Hi Jack Montage was a brief but cute piece. This 40-second clip combines a number of movie snippets that revolve around the name of Cage's character. Despite the implication of the title, it doesn't simply consist of people who say "Hi Jack"; there are variations on the theme. It's nothing special, but it's short and modestly amusing.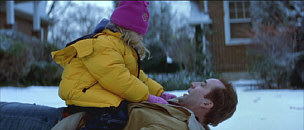 In addition to the film's theatrical trailer, we find a music video for Seal's "This Could Be Heaven". Although the four and a half minute piece follows the usual film clip/lip-synch convention, it does so in an unusual manner. During parts of the video, Seal is convincing superimposed on scenes from the movie ala Forrest Gump. It remains a fairly slow-moving piece, but this visual technique helps make it a little more entertaining. The video is followed by a 30 second ad for the movie's soundtrack.
One unusual addition to the DVD comes from the Choose Your Fate Game. This multiple choice contest lets you see which Jack you most resemble. Actually, it's a fairly unsatisfying affair. Most of the questions offer only two options, and these are obviously loaded toward one Jack or the other. Once you've "chosen your fate", the only information found is a quote from Tolstoy or someone else, depending on how you answer. It's a lame conclusion to the game.
A few other DVD stand-bys round out The Family Man. We find Cast and Filmmaker listings for director Ratner, producer Abraham, and actors Cage, Leoni, Jeremy Piven, Saul Rubinek, and Don Cheadle; these offer short biographies of each participant. Two sets of Production Notes also appear. Those found on the DVD itself were more detailed and informative, but a second set group can be located inside the package's booklet.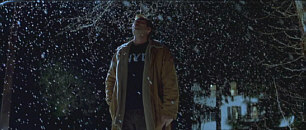 DVD-ROM drive owners can check out a few additional pieces. Many of the pieces duplicate materials seen on the standard part of the disc, but some unique extras appear. A "Script to Screen Comparison" lets you view the film in the left hand side of the page while the script appears on the right. Some "Downloads" let you get screen savers and wallpaper based on the movie. "Making The Family Man" adds some new text, such as biographies of additional cast and filmmakers. Finally, the DVD-ROM area provides links to: Universal DVD Newsletter; Universal DVD; Universal Home Video; Universal Pictures; and Universal Studios.
Before I saw The Family Man, I expected a syrupy and sappy experience. Although the movie occasionally flirted with that side of the coin, it generally stayed light and entertaining and it avoided becoming excessively sentimental. The DVD provided fairly solid picture and sound plus a nice complement of extras. If you're in the mood for a genial fantasy in a Capra vein, The Family Man deserves a look.