Reviewed by Colin Jacobson
Signature Selection DVD
DreamWorks, widescreen 2.35:1/16x9, languages: English DD 5.1 [CC] & DD EX 6.1, subtitles: none, single side-dual layer, 24 chapters, rated PG-13, 113 min., $29.99, street date 11/23/99.
Supplements:
Behind-the-scenes featurette
Theatrical trailers
Production notes
Cast & crew biographies
Studio Line
Directed by Jan De Bont. Starring Liam Neeson, Catherine Zeta-Jones, Owen Wilson, Lili Taylor, Bruce Dern, Marian Seldes.
From the team that brought you Twister comes a supernatural tale of terror.
Dark and forbidding, Hill House sits alone. It was built 130 years ago by textile baron Hugh Crain for his wife and the children they would never have. Instead it was filled with stories of tragedy which over time turned into ominous tales of death that left the house uninhabited ... or so it seemed.
A century later, Dr. David Marrow (Neeson), intrigued by the mansion's storied past, has drawn three people to Hill House, for what he tells them is a sleep disorder study: Theo (Zeta-Jones), a woman of the world whose outward bravado isn't all it seems; Luke (Wilson), the cynic of the group, who is the first to suspect that Dr. Marrow's study has nothing to do with sleeping; and the most sensitive of them, Nell (Taylor). From the moment of her arrival, Nell seems strangely drawn to the mansion ... and the attraction is frighteningly mutual.
Before long, the ghosts of the past manifest themselves in terrifying visitations that might explain why the group was warned that no one stays in the house in the night ... in the dark.
The walls of Hill House are upright ... the floors firm. But the locals know-and we will soon discover-that something walks here ... and it walks alone.
Picture/Sound/Extras (A/A/C+)
I suppose the existence of Roland Emmerich is the only factor that keeps Jan De Bont from being the most disliked European director of big-budget action films. Boy, the venom that gets aimed at those two! For the record, I've liked Emmerich's films like Godzilla and Independence Day; yes, they're silly and slight, but they never aspired to anything more and I thought they were both fun and exciting.
De Bont's body of work is less easily supported. On one hand, he acted as cinematographer for such great films as Ruthless People and Die Hard and directed probably the best of the Die Hard rip-offs, Speed. He also helmed the extremely uneven but nonetheless frequently thrilling Twister.
On the other hand, De Bont has to be held responsible for the excrement that was Speed 2: Cruise Control, and his sad 1987 should be noted: the guy directed photographer on two classic clunkers that year, Madonna's Who's That Girl - a film so bad that even a Maddy-phile like myself hated it - and Bill Cosby's Leonard Part 6. Oh, and he also was cinematographer for these other groaners: Shining Through, Basic Instinct, and Lethal Weapon 3. The case for one of those career Oscars ain't looking good, is it?
An awful lot of people would add his version of The Haunting to that list of negatives, but I'm afraid I don't see it quite that way. By no stretch of the imagination will I try to convince you that it's a fine piece of work. It's not; The Haunting is a serviceable action/thriller/horror film at best. But when compared with the vitriolic response the movie inspired, "serviceable" isn't so bad.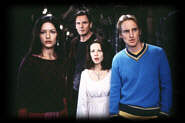 The Haunting is really something of an odd piece of work. As a horror film, it's not terribly scary or chilling, but as a thriller or an action film, it's not particularly exciting or exhilarating. The storyline isn't bad, but De Bont's direction doesn't exactly move things along at a great pace; the plot tends to dally and takes its time getting anywhere. The acting is generally flat and unevocative. Ultimately, the movie's just kind of ... there.
But I still kind of liked it. Yes, that's about as tepid a recommendation as I can muster, but it's the reaction The Haunting generated in me. Although the movie can be easily picked apart and all of its components are fairly weak, it still manages to offer a decently interesting experience. Why? I have no idea, but I enjoyed watching it.
Probably the movie's greatest flaw stems from De Bont's rather casual direction. He tends to linger over scenes and not really stress the paranoia and claustrophobia that are crucial to the film. As such, no matter what's happening, everything tends to seem fairly calm and polite.
I think the problem comes from the fact that De Bont is at his best with wild action sequences such as those seen in Speed and Twister but The Haunting doesn't lend itself to those kinds of scenes. Oh, some more action-oriented bits appear, but nothing as full-on adrenaline-pumping as what we saw in the other movies. De Bont lacks the subtlety to pull off scary parts, so these just get lost in the shuffle.
The rather weak acting also keeps the film from distinguishing itself. Both Liam Neeson and indie queen Lili Taylor are flatter than pancakes; both seem quite embarrassed to be here and appear to want to do anything they can to avoid notice, which isn't a good thing when you consider that Taylor's our main character. Owen Wilson tries to offer some spark but fails. The only character who generates any heat is Catherine Zeta-Jones, and that's more out of sheer sexiness than anything else; her performance is not too great, but she's fiery enough to make her scenes work.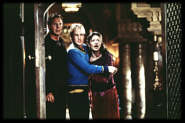 So why do I sort of like this film? (Geez, I can't even bring myself to openly say I liked it - I have to say I "sort of kind of might have" liked it!) Damned if I know. As silly as it may seem, I think it's the sound design that makes the movie work. While De Bont can't depict the action in a creepy, eerie manner, the sound mix does indeed create that effect at times. I'll talk more about the audio when I review that section, but suffice it to say that any jolts I received during The Haunting came from the terrific sound design rather than from the story or the general production.
It also helped that The Haunting has received excellent treatment in its DVD release. This DreamWorks production offers the film in its original theatrical aspect ratio of 2.35:1 on this single-sided, dual-layered DVD; the image has been enhanced for 16X9 televisions.
From start to finish, the image of The Haunting is virtually flawless - it's a reference-quality production. Sharpness is always razor-sharp, and although I saw a few examples of moire effects that resulted from the anamorphic downconversion for my 4X3 TV, they were minimal and didn't impact my experience. The print utilized seemed perfect; I never noted any grain, scratches, or spots of any kind, and I also didn't detect any digital artifacts. Colors aren't emphasized in this semi-moody offering, but what we see looks quite accurate and tight. Black levels are outstanding and rich, and shadow detail seemed excellent. All in all, it's a tremendously terrific transfer.
Also fantastic is the Dolby Digital 5.1 sound mix. I had high expectations for this area since previous De Bont films offered excellent audio, and I wasn't disappointed; it's a thoroughly immersive track. On initial review, this mix may seem significantly weaker than those for Speed or Twister, but that's simply because it lacks the "whizbang" factor of both of those; The Haunting doesn't feature thundering tornadoes or crashing cars, so it won't appear as explosive.
That shouldn't be interpreted to signal that it's not a great mix, though, because that's not the case. Where the audio for The Haunting truly excels is in its precision and detail. Sounds are placed very firmly in distinct locations, and every little squeak is accounted for in this production; the quality of the effects is absolutely stellar, and that's a factor that really helps make the film work. The three-dimensional soundstage is quite deep and immersive; it does an excellent job of placing the viewer within the action.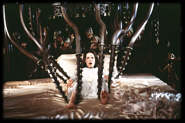 Speaking of deep, The Haunting provides some of the best bass response I've heard from a DVD. The wide frequency range helps add to the film's creepiness, because those lows lend a much greater feeling of menace. The quality of the musical score is also excellent, and dialogue sounds clear and easily comprehendible. While I don't consider the audio for The Haunting to quite be in the class of all-time greats like Saving Private Ryan or Twister - two mixes that floor me every time - it nonetheless is quite outstanding and it does a terrific job of adding to the suspense and excitement of the film.
One special note about the audio: although it's not noted anywhere on the packaging, The Haunting apparently actually offers Dolby Digital EX 6.1 sound. I'm not sure if any DD EX receivers are on the market yet, but if not, they will be soon. To be frank, I doubt that the added channel - a rear center speaker - will make much of a difference, but it's cool that DreamWorks provided that mix.
The DVD edition of The Haunting contains a few supplements, but it's a disappointing bunch, especially when one considers what was originally supposed to appear on it. This has happened to me before: I order a DVD thinking that supplements "X" and "Y" will be featured, but said DVD arrives without those features. I then question whether the absent extras were ever officially announced or if I'd only heard rumors about them; perhaps I need to save press releases so I can more easily confirm my impressions.
No such need in the case of The Haunting. I remembered that it was supposed to include an audio commentary and deleted scenes, neither of which made the cut. This wasn't a case of mistaken memory, though; an Internet search shows that a wide variety of sources - including Image Entertainment, Amazon.com and Reel.com - all still list these features as being included, even now that the DVD has appeared without them! Pretty bizarre!
So what do we actually get? Not too much. The most significant supplement is a 27-minute "behind the scenes" feature hosted by the ever-luscious Catherine Zeta-Jones. It's a fairly basic but informative program that offers brief but interesting snippets on most aspects of the film's creation. It includes interview snippets with all the main actors and the chief production crew and it also shows some on set shots that demonstrate how parts of the movie were made. I've seen better and I've seen worse; overall, however, it's a short but pretty good documentary.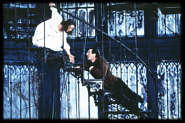 Other than that, all we get are some of the old DVD staples. Two trailers - one teaser, one theatrical - are included; both feature 5.1 sound, something we don't commonly see but I always appreciate. The DVD also features some perfunctory cast (six actors) and crew (eight members) biographies plus some brief but decent production notes; the latter text is also duplicated within the DVD's booklet.
While I sort of enjoyed The Haunting, it's not a DVD that I can strongly recommend; the movie's just too silly too much of the time. It offers a pleasant diversion that can be entertaining, but it's really not much of a movie. The DVD provides absolutely stellar picture and sound, however, and though the supplemental section was slight, it includes a couple of nice pieces. "The Haunting" is a film that is well worth buying if you can find it for an excellent price; otherwise, it qualifies as a good rental title.
Related Sites
Current as of 11/25/99
Official Site--A dozing site that contains only the most basic information on the film.
Roger Ebert--"To my surprise, I find myself recommending The Haunting on the basis of its locations, its sets, its art direction, its sound design, and the overall splendor of its visuals."
James Berardinelli's ReelViews--"This film makes the common mistake of showing in great detail things that would be more terrifying if left to the imagination."
Catherine Zeta-Jones Official Site--"Welcome to the Official site for Catherine Zeta-Jones - authorized and maintained by Catherine and her management team."
Catherine Zeta-Jones: The Gallery--Contains a huge archive of images from films and magazines.
Mr. Showbiz Celebrities: Liam Neeson--An excellent source for profile and credits.
LiliTaylor.com--The site is expertly designed and jam-packed with information on the actress. Unfortunately, the last entry dated 5/11/99, hopefully the owner will find the time to update it.
Filmtracks--A full review of the original score soundtrack composed by Jerry Goldsmith: "The album is among the better horror listens from recent years."
Amazon.com--Available to purchase are the DVD at special discount, The Haunting of Hill House by Shirley Jackson, and the original score soundtrack composed by Jerry Goldsmith.
Reel.com--Purchase the DVD at special discount.