Picture/Sound/Extras: B-/B-/D

With 1953's Gentlemen Prefer Blondes, Marilyn Monroe experienced her first big hit as a lead actress. However, she actually shared top billing with fellow sex symbol Jane Russell, which made sense, since one wouldn't expect Fox to bet the bank on a then-unproven actress.
As such, it seemed likely that Marilyn's follow-up to GPB would put her firmly in the lead, right? Wrong. Instead, with How to Marry A Millionaire, Monroe took an apparent step backwards and became part of a trio, one that put her as the junior partner between two better-established actresses.
Since both films came out during the same year, it's possible that Millionaire was done before the success of GPB was established. In that vein, it makes more sense that Marilyn made this reverse move, and in other ways, the decision seems smart. After all, it may have been more beneficial to slowly edge Marilyn into the spotlight rather than to force leads on her all at once. Granted, she'd been an actress for a few years as of 1953, but it still seemed positive to make this a gradual transition.
So in Millionaire, Marilyn worked as part of an ensemble of general equals along with Lauren Bacall and Betty Grable. I refer to this arrangement as one of "general equals" because it's clear that Bacall was more equal than the other two, and Monroe got the weakest part.
The film's plot seems to balance screentime among the three actresses. Schatze (Bacall) rents a posh Manhattan apartment that's beyond her means, but she has a plan: she'll take up residence there along with two other hotties - Pola (Monroe) and Loco (Grable) - and the trio will stalk rich, eligible men. At least one of this bevy of babes will certainly be able to snag a wealthy dude with little trouble, right? Maybe not, and the movie follows their misadventures as they attempt to balance affairs of the heart and the wallet.

Bacall's Schatze is the first of the trio we see, and she dominates the program. I can't say that she's the lead of the piece, but her prominence almost makes this the case; Monroe and Grable clearly take a backseat to her character's presence. Grable has the second-biggest role, which leaves Marilyn with the smallest part, though the balance between Grable and Monroe remains fairly close.
One area in which all three seemed fairly equal related to the quality of their parts. Although Bacall was the dominant partner, I didn't think that her role was really much better developed or interesting. Each of the three creates generally interesting and fun personae. We get little insight into the personalities, but that's not really something one would expect from this kind of film. Millionaire wasn't meant to be a penetrating character piece, so I didn't mind that we learn relatively little about the backgrounds and motivations of these women.
After all, the concept of three chicks out to marry for money may seem politically incorrect today, but it probably seemed much less offensive 50 years ago. Few women had careers in that day and age, and their main goal was to find a solid man to support them. Something like this probably wouldn't go over too well today, but it made more sense during the earlier era.
Just because we have different expectations and thoughts about women's roles now doesn't mean that something like Millionaire can't be enjoyable. Indeed, I thought the film was a fun and fairly charming trifle. As with Gentlemen Prefer Blondes, this was little more than an escapist fantasy, a proto-chick-flick in which we see women who achieve their dreams in a fashion, but it's an entertaining affair. Millionaire benefits from its solid cast. Marilyn plays another variation on her staple ditzy blonde character, and she seemed just fine in the part. Many people endorse Monroe as a comedic genius, but while I don't think she was quite that talented, she did accomplish her work in a charming and effective manner.

Bacall's presence adds class and stature to a story that could have seemed tasteless; even considering the tenor of the time, there was something crass about the gold-digging concept, but the appearance of an actress as sophisticated as Bacall lent credibility to the flick. Grable was probably the weakest link in this chain, but I thought she seemed acceptably convincing in her part. I've seen very little of Grable's work - I know her mainly as the World War II pin-up queen - and her performance in Millionaire didn't make we want to check out her other flicks. Still, I had no real problems with her acting; she seemed a little too subdued for a character named "Loco", but she provided some good moments.
How to Marry A Millionaire seemed like an erratic but generally watchable and entertaining movie. It lacks tremendous humor, though it does attempt some cleverness via a few inside jokes; at one point, Bacall makes a mildly-mean reference to Humphrey Bogart, and Monroe also mentions that "diamonds are a girl's best friend". As a whole, this was a modestly witty and pleasurable romp that made for an enjoyable viewing.
The DVD:
How to Marry a Millionaire appears in an aspect ratio of approximately 2.55:1 on this single-sided, dual-layered DVD; the image has been enhanced for 16X9 televisions. Although the picture didn't live up to the glories of its predecessor, Gentlemen Prefer Blondes, it nonetheless offered a fairly satisfying visual experience.
Sharpness became one of the movie's problems. If you looked at the aspect ratio of the film, you've noticed that this was an extremely widescreen flick, and that factor played a part in the mild softness that cropped up throughout Millionaire. However, the dimensions don't excuse all of these qualities; Rebel Without A Cause and Ben-Hur used ratios as wide or wider and they maintained wonderfully crisp images. In any case, most of Millionaire appeared fairly accurate and clear, but the softness could be intrusive at times. I never thought the movie looked radically unfocused, but a general fuzzy quality permeates much of the film. Moiré effects and jagged edges presented no significant concerns.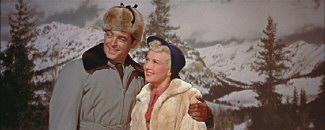 For an older movie, print flaws seemed to be fairly minor. Some speckles and grit showed up throughout the film and I also noticed a few nicks, but these stayed pretty modest. During the shots that were supposed to take place in Maine, I detected relatively heavy levels of grain at times as well. Nonetheless, most of the movie looked nicely clean and fresh for a piece that will reach its 50th birthday soon.
Colors seemed a little erratic but they largely were quite bright and vivid. While they never lived up to the glories of Gentlemen Prefer Blondes, the hues seemed very vivid and lively at times. However, some of the problems seen during GPB accompanied Millionaire as well. For one, skin tones seemed slightly brownish through most of the film; the hues weren't terribly "off", but they often lacked natural qualities. Also - as with GPB and 1947's Black Narcissus - the movie showed fluctuations of color intensity.
What does this mean? Essentially I saw modest color "pulsing" at times. This meant that most of the movie alternated between a look that was a little too blue to one that seemed overly red. The tones were mild and didn't seem ridiculously exaggerated, but the effect appeared quite noticeable nonetheless. I didn't think the issue was as pronounced as during Black Narcissus, but it definitely occurred and it could be slightly distracting.
Scene transitions often caused problems in older movies. In many examples, fades between shots would seem fuzzy or show more defects. Some of those concerns showed up during Millionaire, but the main transitional problems affected the colors. They tended to become much more drab and bland when fades occurred. These examples were brief but they seemed more noticeable than usual.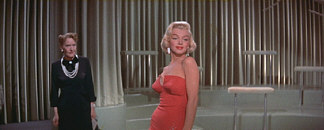 Black levels consistently seemed fine throughout Millionaire. These tones remained appropriately dense and dark, and shadow detail was nicely clean and lacked excessive opacity. Of all the Marilyn Monroe films recently released by Fox, How to Marry A Millionaire presented the weakest visual experience. However, that's more of a testament to the high quality of the other four movies than a knock on Millionaire. While the latter had some concerns, it still offered a pretty solid picture, especially for an older flick.
I thought that the Dolby Digital 4.0 soundtrack of How to Marry A Millionaire also provided a decent but erratic piece. The soundfield seemed fairly focused in the center channel, but it offered a variety of ways in which the audio spread to the sides. Music displayed generally solid stereo separation, and some effects also blended acceptably to the right and left forward channels; the train scenes demonstrated nice ambience, and when radios were used, their music came from an appropriate location. Surround usage was very modest and seemed restricted to general reinforcement of music and some effects.
Dialogue provided the main elements on the sides, a fact that was a mixed blessing. Quite a lot of speech emanated from places other than the traditional center spot, but I thought that the localization could be somewhat weak. The lines often showed a reverberation that made speech seem to bleed together and become vague. I liked that the mixers attempted to give us appropriately-located dialogue, but it didn't work well in this instance; the tentative quality to the isolation made the speech seem less effective than it should.
Part of the problem related to audio quality. The track rendered the speech as somewhat echoed and processed, so much of the dialogue seemed moderately unnatural. I always thought that speech appeared acceptably clear and intelligible, but the reverberated tone of many of the lines made them somewhat distracting.

Otherwise, the audio elements appeared fairly well-executed. Effects appeared clean and relatively accurate, with acceptable dynamics and no problems related to distortion, which music seemed nicely robust. The score displayed distinct highs and showed moderate bass response, as did the effects. In particular, I thought a scene in which a plane took off showed good low-end, and though much of the film offered restricted range, it appeared acceptably rich and full for an older movie. The track also displayed light hiss at times, but the problems related to the speech caused the only significant concerns that led me to give the sound a still-positive "B-".
As with most of the other Monroe films in the "Diamond Collection", How to Marry A Millionaire lacks substantial extras, but we get a few minor tidbits. We find a Movietone Newsreel about the film's premiere. This 75-second clip simply shows an array of stars as they arrive for the screening. It's nothing exciting, but I must admit it was fun to see Bacall, Monroe, and Bogart occupy the same space.
We also find a slew of ads. The disc tosses in three theatrical trailers for Millionaire. There's the US ad plus clips from Italy and Germany. The US one seemed very curious. It loudly touts the "miracle" of Cinemascope - for which we don't need to use special glasses! - but the black and white clip appears in a 1.33:1 ratio; as such, it doesn't show the film's strong points, which were its color and its width. Both the German and Italian pieces rectify this, as they're in color and are widescreen, and the latter is fun to watch if just to hear the way the narrator rolls his "R"s for "G-r-r-r-r-r-rable!" and "Monr-r-r-r-r-r-roe!" The two non-American clips are identical except for the language of their narration and onscreen text.
In addition, we get trailers for all four of the other Monroe movies that are part of the "Diamond Collection": Gentlemen Prefer Blondes, Bus Stop, The Seven Year Itch, and There's No Business Like Show Business. We also get a promo for the "Diamond Collection" as a whole.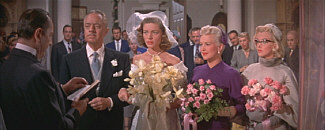 Lastly, this DVD features a Restoration Comparison. In one part of this three-minute and 15-second piece, we see a contrast between the film restoration and a combination of film and video restoration, while the rest of it demonstrates the differences between the film/video restoration and the old video master. The comparison is most distinct in the latter instance, mainly because the new transfer cleaned up a lot of flaws. That part also shows the effects of the old pan and scan techniques and how they negatively affect such wide compositions like Millionaire. These pieces aren't terribly compelling, but they can be modestly interesting at times.
As a whole, How to Marry A Millionaire offered a fluffy but fairly engaging experience. The film's charming cast helps hold it together through some goofy scenarios, and it provides enough wit and earnest fun to merit a viewing, especially if one likes its stars. Picture and sound were both flawed but generally good, but the DVD lacks substantial extras. Ultimately, Millionaire was a nice throwback to a different era, and fans of this sort of flick should be pleased by its treatment on DVD.
Note that How to Marry A Millionaire can be purchased on its own or as part of Fox's Marilyn Monroe "Diamond Collection" set. The latter includes four other movies - There's No Business Like Show Business, Bus Stop, The Seven Year Itch, and Gentlemen Prefer Blondes - plus a sixth DVD, a documentary called Marilyn Monroe: The Final Days. That disc only appears as part of "The Diamond Collection", a package that's really a steal for Monroe fans; in addition to the bonus DVD, it costs only $99.98 list as opposed to a total of $124.90 for the five films on their own. Granted, you'd need to really love Marilyn to want that much of her material, but if you fall into that category, it's a great idea.