Picture/Sound/Extras: B+/A-/B+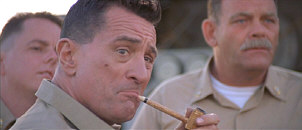 When I screened the extras to Remember the Titans, I heard that film's screenwriter state that Hollywood only does one "inspirational" flick per year. I'm not sure why he felt that way, as we definitely find many more movies that could qualify as part of that genre. Case in point: Men Of Honor, another "fighting the odds" picture that hit screens a mere six weeks after the debut of RTT.
The two films also shared a strong racial element, as both depicted past struggles faced by black characters. (RTT took place in 1971, while MOH spanned about three decades starting in the Forties.) However, their approaches to the subject are different. RTT is a fairly flashy and slick production that focuses on large-scale integration; the struggle of a black man to gain acceptance plays a part but isn't the main focus. MOH, on the other hand, pays little attention to relations between black and white and prefers to concentrate on the attempts of one man to overcome the odds.
As depicted in the film, Carl Brashear (Cuba Gooding Jr.) grew up as the son of a poor sharecropper, but he aspired to do something more with his life. Encouraged by his father, Carl joins the Navy. Buoyed by the sight of Master Chief Billy Sunday (Robert De Niro) in action, he quickly attempts to become a diver. However, this being the Fifties, no other blacks have attained such lofty military status, and he faces a supremely difficult fight, one made even more difficult since Sunday - who no longer can dive due to a health condition - is his instructor.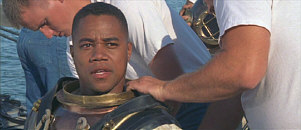 Most of MOH focuses on Brashear's experiences in camp, but it continues past that point. Brashear's entire goal is to become a Master Chief, which apparently is the highest rank an enlisted man can hold in the Navy. The movie goes along with him as he works toward this title.
Overall, I found MOH to be something of a mixed bag. As an inspirational tale, it worked fairly well, but a number of missteps made it less effective than it could have been. For one, the film starts in 1966 and then shows snippets of Brashear's life in flashbacks. The major flaw with this technique is that it effectively kills any suspense we might experience during Brashear's time in training camp. Within the movie's first five minutes we learn that he indeed becomes a diver. As such, although it's interesting to see the obstacles he faced during that period, the outcome is never in doubt. Admittedly, many films proceed toward a predictable goal, but it's still strange to find one that openly tells us our hero will succeed before we even know he's our hero.
That was storytelling flaw number one. The second related to the sterling depiction of Brashear himself. Although we occasionally see some signs that his myopic focus on his goal has negatively affected those around him, as was the case with Jim Garrison in JFK, most of the problems are quickly swept away as we view a near-deification of the main character. Frankly, as depicted in MOH, Brashear simply seemed too perfect. The part lacked nuance and subtlety as he appears to be almost cartoonishly heroic. Clearly his life wasn't as simple as shown here, but we see very little of the impact is personal decisions made.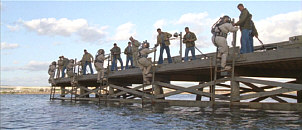 As an actor, I generally like Gooding, but he seems to become sterile when placed against strong performers. His work in Instinct opposite Anthony Hopkins appeared flat and lifeless, and some of the same problems occur during MOH. Granted, it's hard to bring too much dimension to Brashear since he's shown as such an ultraman, but I still thought Gooding came across as too cheerfully benign and without the appropriate intensity.
In regard to De Niro, he managed his troubled character's many moments of intensity with the usual aplomb, but woof - that accent! De Niro has great difficulty adequately maintaining a Southern drawl, and at times his affectations seemed to come straight from Hee Haw. I also found the number of shots in which he lights his pipe to be incredibly excessive and distracting. There must be at least 20 of these images in the film, and it seems very odd; couldn't he figure out anything else to do with his hands?
MOH suffers from the extremely simplistic nature of its moralizing. This is a film almost literally drawn as black and white. Although Sunday is granted an actual character arc, the others who oppose Brashear are nothing more than cartoon villains. I half expected to see some of them twirl their mustaches and cackle maniacally.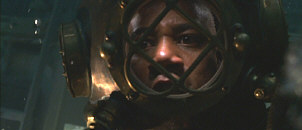 That tone culminated in one of the most over-the-top displays of visual intimidation I've seen lately. (Warning - possible spoiler in the rest of this paragraph!) At one point, Brashear has to prove he can walk in the Navy's newest dive suit, one that weighs about 100 pounds more than prior gear. As it's wheeled into a room, we get only fleeting glimpses of the outfit, all of which make it look ominous and scary. When they finally revealed it, I thought we'd see Hannibal Lector strapped into the rig.
(By the way, I'd love to know why the Navy replaced their old suit with a new one that was about 33 percent heavier. Wouldn't one think that progress would be marked with equipment that was less cumbersome?)
At the heart of Men Of Honor is a fine, real-life story of a forceful man who indeed overcame enormous odds to achieve his goals. At times, the film showed this material effectively, and I was occasionally able to get into the tale and become invested in it. However, I thought that the film suffered from poor pacing and a tone that made the piece excessively monochromatic. As a whole, Men Of Honor provided a moderately compelling experience, but it wasn't one that I found to be terribly successful.
The DVD:
Men Of Honor appears in an aspect ratio of approximately 2.35:1 on this single-sided, double-layered DVD; the image has been enhanced for 16X9 televisions. Although the picture displayed some problems, as a whole it offered a solid and pleasing visual experience.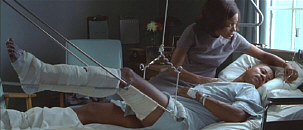 Sharpness generally seemed solid, as most of the movie presented a crisp and well-defined image. Some modest softness interfered with a few wide shots, but these occasions were rare. The majority of the film came across as clear and detailed. Moiré effects and jagged edges showed no concerns, but print flaws played a surprisingly large part in the presentation. Throughout the movie, I occasionally detected speckles and grit, and a minor nick or two also appeared. While the defects never became heavy or overwhelming, MOH only hit movie screens about five months ago, so I expected a cleaner presentation. The flaws were only a minor distraction, but they became a minor nuisance nonetheless.
Colors seemed very vivid and bold throughout the film. At all times the hues appeared clean and accurate with no signs of bleeding or noise, even during shots that involved red lighting; the latter often cause serious problems on home video, but this DVD handled them nicely. Black levels came across as deep and rich, and shadow detailed looked appropriately heavy but not excessively opaque. Subtract the print flaws and a few soft scenes and MOH merits an "A"; as it stands, it receives a still-solid "B+".
More consistent was the film's Dolby Digital 5.1 soundtrack, which provided a very solid experience. The movie offered a nicely engaging and involving soundfield at virtually all times. For the most part, MOH was a quiet character drama, and during much of the film the audio reflected that nature. The mix showed nice ambiance and created a gentle but convincing atmosphere at those times, with realistic environmental sounds that stemmed mainly from the front speakers.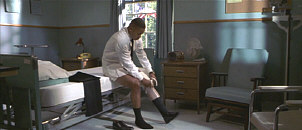 However, when MOH encountered an "action" scene, the soundfield really came to life. This only occurred a few times during the film, but when it happened, the results were impressive. The mix provided solid use of all five speakers during these scenes, and the track became very immersive and active. Actually, the generally quiet nature of MOH may have made the loud scenes more effective; they stood out so strongly against the background of the rest of the film that they slammed me to a greater degree.
Audio quality appeared consistently positive. Dialogue seemed crisp and natural, with no signs of edginess or problems related to intelligibility. Music was bright and clear, and it showed nice dynamic range, as did the effects. Those components always came across as distinct and realistic, and during those louder scenes, they packed a serious punch. When appropriate, those elements kicked my subwoofer to life with some deep and strong bass, and the scenes in question added power to the presentation. All in all, the soundtrack of Men Of Honor provided a very solid listening experience.
Fox tout Men Of Honor as a special edition, and it definitely seems to merit that designation due to its nice roster of extras. First up is an audio commentary from director George Tillman Jr., actor Cuba Gooding Jr., writer Scott Marshall Smith, and producer Robert Teitel. All four men were recorded together for this screen-specific track. (Oddly, Smith is not listed as a participant on the DVD's package.) Although they occasionally speak over each other, for the most part the format worked well as it helped make the commentary more lively and engaging.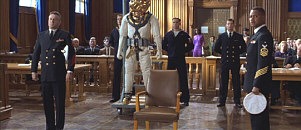 Although the tone occasionally favors too much "happy talk" in which the participants do little more than praise others, as a whole I found the track to be fun and compelling. The four men have a nice chemistry, and no one really seemed to dominate; everybody gets to make a strong contribution. A variety of technical points and production details are explored, and the whole thing seems very entertaining and fast-moving. It's a very good commentary that I thoroughly enjoyed.
In addition, the DVD packs in a slew of Deleted Scenes. Following a 30-second introduction from director Tillman, we find 12 clips, each of which can be viewed on its own or as a package via the "view all" option. When the latter choice is selected, the entire piece lasts 21 minutes. One nice feature: each of the snippets is preceded by a few seconds of the scene that would have come before it, so we're easily able to view the appropriate contexts.
Most of the snippets are short cuts, and as a whole, they seemed fairly insubstantial. Charlize Theron probably lost the most from these omissions, but otherwise, there's very little of substance here. The clips are interesting but I could understand why they got the boot. The one stand-out is the alternate ending we find, which was a big scene, and becomes the most compelling of the bunch. The clips can be viewed with or without commentary from director Tillman. His remarks concisely tell us the reasons for the deletions, so I was pleased with them.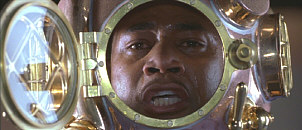 Two featurettes appear. The first - creatively entitled The Making of Men of Honor - provides a surprisingly interesting little "behind the scenes" view of the production. We hear about a variety of aspects, from some background about the real-life Carl Brashear to lots of good information about the technical side of the film. We learn some nice details about diving as well. Although this 14 minute piece tends toward the fluffy side at times, it still offers a fairly solid look at the movie.
Also decent but unspectacular is Master Chief: A Tribute to Carl Brashear. This seven-minute and 15-second program provides some additional details about the life of the movie's inspiration. As with the prior featurette, it tends to be a little shallow, but it's a good piece if just because we get to hear lots of interview snippets from Brashear himself, plus a variety of vintage shots and film images of the man in action. It's very compelling to learn more about the facts, even though there's not a lot of depth.
Another fun feature are some Animatics. The combine storyboards and crude computer imagery to demonstrate the progress of one film scene; backed with the movie's soundtrack (including dialogue and score but minus sound effects), this three minute and 15 second program shows how the segment was constructed. It can be viewed with or without commentary from director Tillman.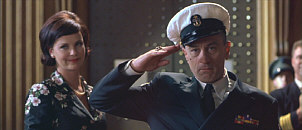 Music Promo Spot provides a 30-second ad for the soundtrack album, and we then find the music video for Brian McKnight's "Win". The latter seemed like a dull ballad in the slightly-soulful inspirational vein, and the video - which uses the standard lip-synch/film clip presentation - didn't offer a whole lot of excitement. Finally, we get two theatrical trailers and two TV spots. While the DVD isn't exhaustive, it nonetheless provides a pretty nice little package.
As a piece of inspirational filmmaking, Men Of Honor indeed offers some solid moments of rousing material. Unfortunately, these are enclosed in a package that too often fails to take good advantage of them, and the movie lacked the subtlety and pacing to make it a consistently compelling experience. The DVD provides very good picture and sound plus a strong batch of extras, highlighted by a terrific audio commentary. Ultimately, Men Of Honor may be worth a look for those who like movies that show successful battles against steep odds, but I thought it was a flawed entry in that genre.