Reviewed by Colin Jacobson
Signature Selection DVD
DreamWorks, widescreen 1.85:1/16x9, languages: English DD 5.1 [CC], subtitles: English, single side-dual layer, 28 chapters, rated PG, 98 min., $34.99, street date 9/14/99.
Supplements:
Production Notes
2 Theatrical Trailers
Commentary With Directors Brenda Chapman, Steve Hickner And Simon Wells.
Multi-Language Clip Of The Sone "When You Believe"
"Chariot Race Basics Of Animation" Documentary
Artistic Design Slide Show
"The Making Of The Prince Of Egypt" Documentary
Studio Line
Academy Awards: Winner of Best Song-"When You Believe." Nominated for Best Original Musical or Comedy Score, 1999.
Directed by Brenda Chapman, Steve Hickner and Simon Wells. Voices of Val Kilmer, Ralph Fiennes, Michelle Pfeiffer, Sandra Bullock, Jeff Goldblum, Danny Glover.
An epic adventure and milestone in cinematic achievement, The Prince of Egypt has captivated movie audiences the world over, becoming one of the top animated films of all time. Unparalleled artistry and powerful Academy Award -winning music bring this beloved story to life as never before, with unforgettable characters voiced by a roster of stars as impressive as any ever assembled for a feature film.
This is the extraordinary tale of two brothers, one born of royal blood, one an orphan with a secret past. Growing up the best of friends, they share a strong bond of free-spirited youth and good-natured rivalry. But the truth will ultimately set them at odds, as one becomes the ruler of the most powerful empire on earth, the other the chosen leader of his people. Their final confrontation will forever change their lives - and the world.
Both spectacular entertainment and a celebration of the human spirit, The Prince of Egypt stands as a classic for the ages, for audiences of every generation to enjoy and cherish.
Picture/Sound/Extras (A-/A-/B)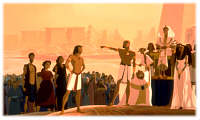 The Prince Of Egypt is a good film, but I can't say that it does a whole lot for me. For some reason, this fact makes me feel vaguely guilty, like I possess some sort of inherent moral flaw because this inspirational tale doesn't move me. Well, as my friends know, I possess many inherent moral flaws, but I still feel odd about my vague disinterest in the film.
Of course, since I refuse to acknowledge all those moral flaws, I'll argue that it's the film itself that's at fault. Unfortunately, I can't easily articulate what it is about POE that leaves me flat. It seems to be a well-made piece of work and it tells its tale effectively. The animation generally appears finely crafted and the voice acting works well. The script moves at a reasonable pace and should keep the viewer's interest. And yet...
Maybe I have some inherent bias toward any non-Disney animated film; I wasn't wild about Antz either, although I prefer it to POE. Or maybe POE just ain't all that great a movie. But if that's the case, why can't I pin down its failures?
Who knows? It's not as though I dislike POE; I think it's a decent film and it's kept me fairly interested and involved through two screenings. But I still can't help but feel that the whole seems much less than the sum of its parts.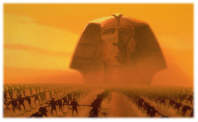 And that's why this DVD sucks. No, just kidding about that part; while I'm ambivalent about the film itself, I can't deny the high quality of this DVD. Although they came late to the DVD game, Dreamworks have quickly established themselves as one of the top players, and their release of The Prince of Egypt does nothing to dispel that reputation. The film appears in its original theatrical aspect ratio of 1.85:1 on this single-sided, dual-layered DVD; the image has been enhanced for 16X9 televisions.
Overall, POE offers a pretty terrific picture. It seems consistently very sharp and suffers from almost no moiré effects or anamorphic downconversion artifacts. The image also appears very clean; I discerned no evidence of grain, spots, speckles, scratches, marks, hairs or digital artifacts.
Colors look absolutely marvelous. Much of the film goes for an earthy tone that obviously seems appropriate for the desert setting, but we still see a nice variety of brighter hues within clothing; reds appear especially deep and rich. Black levels look good but seem overly dark. Some of this appears to have resulted from design decisions; the filmmakers favor casting pretty much everything in shadows. As such, though the shadow detail usually looks good, there's so much darkness that pervades the image that I often had more trouble than I should have simply seeing nuances. Despite that quibble, POE looks quite marvelous.
The film offers a Dolby Digital 5.1 mix that suits it well and also is generally very good. Although the dialogue seems a little poorly integrated at times, it appears clear and fairly natural. Music presents a nice image, with a clean high end and some solid bass at times, and effects seem similarly strong, especially in their depth and power; the "parting the Red Sea" scene offers a particularly good example of this characteristic. I noticed no problems with any distortion or other obvious flaws.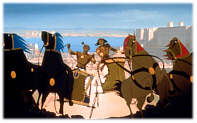 The front soundstage dominates this mix and seems appropriately broad and localized. I didn't notice much panning between channels, but when it occurs, it goes smoothly and without awkwardness. The rear speakers get quite a lot of use as well and add a lot to the presentation, especially during the more spectacular moments. The POE soundtrack doesn't quite approach "demo" caliber, but it's very good nonetheless.
As part of Dreamworks' "Signature Selection" series, one would expect a fair number of quality supplements to accompany the Prince of Egypt DVD, and one will not be disappointed. First up is a pretty good audio commentary from directors Brenda Chapman, Steve Hickner and Simon Wells. I won't claim that this is a great track - none of the participants possess much charisma - but it offers a reasonable amount of interesting information in an efficient manner. All areas of the production, from technical to creative, receive mention, and though they sound a little dull, the directors at least manage to seem enthusiastic about the project, which helps make their remarks more compelling. I don't know if I'll ever want to revisit this track, but it made for a good listen.
Next we find a 25 minute documentary about the film, the creatively-named "Making of The Prince of Egypt". Although this isn't a terribly in-depth piece, it does cover a lot of ground fairly proficiently. All aspects of creating the picture receive coverage, with an interesting focus on the actors. That's unusual in these kinds of programs; normally they'll show a little of the performers in the studio but that's it. Here, we see a lot of them doing their work, plus hear them in separate interviews. I really liked this emphasis, if just because it added a different tone to the piece.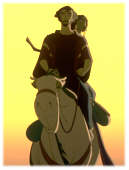 We get to see the song "When You Believe" in a multilanguage reel. This six minute feature attempts to demonstrate how seamlessly they were able to translate the film into other languages, and they did a good job; it's quite difficult to tell one singer from another for the most part. I didn't count the number of languages featured, but I'd guess it's about 20.
The DVD includes two additional featurettes. "The Basics of Animation: The Chariot Race" runs for nine and a half minutes and it follows the development of that scene. We see the piece's progress from story reel to line test drawings to its final form in this segment which is narrated by directors Hickner and Wells. As implied by its title, this program is pretty basic but it's good for folks who don't know much about the stages of animation.
A second featurette called "Focus On Technical Effects" offers a six minute program that does just that: it discusses the ways that the film's special effects were created. It's pretty superficial but it's mildly interesting. (For the record, I didn't like many of the computer effects in POE. While the parting of the Red Sea was certainly impressive, the water simply didn't mesh with the rest of the setting; it looked too realistic. And when the nose falls of the Sphinx, it drops in a very artificial manner. Other problems with the effects exist, but those two stood out to me.)
Another section of the POE DVD includes about 60 stills. These are divided into two sections: "Inspiration and Design" - which covers production and planning drawings - and Production Stills - which are essentially just single frames from the film. The first section is pretty interesting, but the second seems unnecessary. I didn't care for the presentation of this supplement, by the way; instead of advancing the pictures frame by frame, the program runs in "play" mode which makes it awkward to move ahead. If you fast forward, it goes too quickly and the images flash by you, whereas if you let it play, it moves too slowly.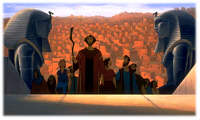 Rounding out POE are some DVD basics. Basic and mildly useful biographies appear for ten actors, the three directors, and two producers. Two trailers for POE pop up, and we also get previews for upcoming Dreamworks animated films The Road to El Dorado and Chicken Run. Finally, some nice production notes finish off the collection; these are duplicated verbatim within the booklet. It's not an exhaustive complement of supplements, but it's pretty good.
I can't wholeheartedly recommend the Prince of Egypt DVD because I just don't think that much of it as a film, but I also can find no reason to steer you away from it. Although I find it mysteriously uncompelling, it is a well-done movie, and the DVD offers strong picture, sound and extras. Ultimately it's a solid DVD.
Related Sites
Current as of 1/30/2000
Official Site--You'll be able to find an abundance of materials at this sophisticated and attractive site. The major sections are the story, behind-the-scenes, music, calendar, downloads, and study guide.
James Berardinelli's ReelViews--"The animation in The Prince of Egypt is truly top-notch, and is easily a match for anything Disney has turned out in the last decade."
Roger Ebert--"What The Prince of Egypt proves above all is that animation frees the imagination from the shackles of gravity and reality, and allows a story to soar as it will."
Filmtracks--A full review of the original score soundtrack: "Overall, an entertaining listening experience with a few excellent tracks by Zimmer."
Amazon.com--Available to purchase are the DVD at special discount, A New Vision in Animation by Charles Solomon, and the original score soundtrack composed by Hans Zimmer and featuring Whitney Houston and Mariah Carey.
Reel.com--Purchase the DVD at special discount.

Previous: The Wild Bunch | Back to Main Page