Reviewed by Colin Jacobson
Special Edition DVD
Columbia-TriStar, widescreen 1.85:1/16x9, languages: English DD 5.0 [CC] & Dolby Surround, subtitles: none, single side-dual layer, 28 chapters, rated R, 133 min., $24.95, street date 2/29/2000.
Supplements:
Sydney Pollack's Commentary
HBO: First Look - the Making of Random Hearts
Deleted Scenes
Isolated Music Score
Theatrical Trailers
Talent Files
Studio Line
Directed by Sydney Pollack. Starring Harrison Ford, Kristin Scott Thomas, Charles Dutton, Bonnie Hunt, Dennis Haysbert, Sydney Pollack.
Dutch Van Den Broeck, a sergeant in the Internal Affairs Division of the Washington, D.C. police department, and Kay Chandler, a New Hampshire congresswoman running for re-election, know about trust. Their careers depend on it. Their marriages are founded on it.
Or so they thought.
When an airplane carrying Dutch's wife Peyton and Kay's husband Cullen crashes into the Chesapeake Bay, leaving no survivors, it marks just the beginning of a mystery that will not only lead Dutch and Kay to disturbing and shocking information about their spouses, but bring these strangers together in an unlikely romance.
In the aftermath of the crash, pieces of startling information come to light-Cullen and Peyton were sitting side by side on the plane, traveling on "Mr. and Mrs." tickets and carrying identical keys in their pockets. Grief-stricken spouses Dutch and Kay-a pair of opposites from widely dissimilar backgrounds and with very contradictory temperaments-are now thrown together, bonded by this mutual betrayal, to unlock the truth behind the secret that threatens to destroy them.
Dutch, a policeman to the core, investigates. Kay, left with a teenage daughter to protect and a campaign to run, doesn't want to know any more than she absolutely has to. As clues lead from the gritty streets of D.C. to the romance of Miami's beaches, both the cop and the congresswoman are caught in an upheaval of misplaced lust and rage, laying bare not only the details of their spouses' clandestine affair, but their own awkward and painful feelings. Out of the ruins of their shattered marriages, this pair of random hearts forms a volatile new union.
Picture/Sound/Extras (B+/A-/B)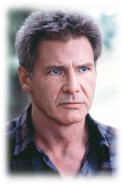 Random Hearts falls into that maddening category of films in that it's not a very good movie, but I can't call it a bad one, either. The movie makes for a decently entertaining and pleasant diversion but doesn't go much beyond that.
Put simply, RH is a "chick flick," but the filmmakers have tried to amp up the macho factor by casting Harrison Ford as our protagonist. His presence makes the movie more "acceptable" for the dual-chromosomed in the crowd, though I don't know how much of a difference he really makes; it's still a pretty romance-heavy film.
The story also features a subplot that seems designed to give males an occasional thrill. Ford plays internal affairs sergeant "Dutch" Van Den Broeck and he occasionally pursues a case of a dirty cop. This portion of the movie puts Dutch in some danger and gives the dudes some shoot-em-up fun.
Unfortunately, that subplot, like much of Random Hearts, seems contrived; it appears obvious that those portions of the film exist for no other reason than to spice up the movie, as they offer no plot value. Really, the film's entire story appears very forced. After his wife dies in a plane crash and he discovers she was cheating on him, Dutch becomes obsessed with learning all the details of her affair. Why? Because it furthers the story and creates a reason for him to become entangled with congresswoman Kay Chandler (Kristin Scott-Thomas); after that point, those two can become romantically involved and we can all swoon at the sight.
While I never swooned, I must admit the somewhat pointless story wasn't as bad as I would've expected. Yeah, I could bitch about this movie for quite some time, for it does seem to offer more flaws than strengths, but I nonetheless found the picture vaguely watchable. I like Ford, and while he's not terribly interesting here, he's okay and he does make the picture more palatable. Despite her less-than-convincing American accent and his less-than-convincing haircut, Ford and Scott-Thomas muster a decent chemistry. RH also provides a strong supporting cast, with personal favorites like Bonnie Hunt and Charles S. Dutton on hand. Plus, we get a Blade Runner reunion in a scene that offers Ford and M. Emmet Walsh - that's gotta count for something, I suppose.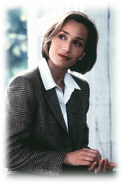 By the way, the film takes place in the Washington, DC area. Although I'm a lifelong resident of that part of the world, I won't claim to be an expert. Nonetheless, RH seemed to present things more accurately than most films; I noted no embarrassing gaffes like placing Metro stops where they don't exist (No Way Out or using Pacific Bell phones at Dulles Airport Die Hard 2. Actually, the most obvious mistake I saw was when one character referred to "Tysons Corners" (lose the "s" attached to "Corners" and it's correct). Hey, the movie may not be great, but at least got most of its facts right!
RH seems much more interesting during its first half as the problems slowly unfold. Although I knew exactly what would happen (due to a combination of the trailer and general film understanding), it still provided some emotional punch and moved things along pretty nicely. Once Ford and Scott-Thomas get together - in the most contrived scene in a very contrived movie - things slow down and I started to lose interest, but I still made it to the end without much difficulty.
No, that's not much of a recommendation, and Random Hearts isn't much of a film. It seems so concerned with its "high concept" premise (cheaters die in plane crash and surviving partners get it on!) that anything that doesn't serve that end becomes jettisoned, and logic also flies out the window. That said, I found the movie watchable and mildly entertaining at times, so it's not a complete loss.
Of course, the fact Columbia-Tristar have produced yet another fine DVD makes the situation more compelling. Random Hearts appears in its original theatrical aspect ratio of 1.85:1 on this single-sided, dual-layered DVD; the image has been enhanced for 16X9 televisions. While not as sparkling as I expected, the movie presents a generally strong picture.
Sharpness seems consistently crisp and well-defined. Moiré effects are an occasional problem, though; about half of these appeared to occur due to the anamorphic downconversion for my 4X3 TV, but the other half (blinds, brick buildings, etc.) looked like they would have been there in any case. The print used appeared perfectly clean; I detected no signs of grain, scratches, speckles or flaws of any kind.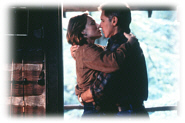 Colors seemed acceptable though fairly muted. RH isn't a very colorful movie; it sticks to a fairly gray palette for the most part. As such, colors looked appropriate but didn't seem special. Black levels appeared rich and deep, and shadow detail looked good, though some semi-dimly lit interiors seemed vaguely hazy to me. Despite some minor issues, though, RH presents a good image.
Surprisingly strong is the film's very good Dolby Digital 5.0 soundtrack. I didn't expect much from this mix but it really works well. The soundfield generally favors the front but it really comes to life in the rear when it needs to do so. For example, the scenes of the crash wreckage sound absolutely terrific as the audio blends together wonderfully and creates a very realistic presence. The mix also knows when to back down and offer a quiet, centered track.
Audio quality seems consistently excellent. Dialogue appeared clear, crisp and natural, with absolutely no intelligibility problems. Dave Grusin's lightly jazzy score sounds very warm and vibrant, and effects are realistic, clean and well-balanced. While the mix isn't challenging on many occasions and I doubt you'll use it to show off your system, I found it to be extremely satisfying and it complemented the film nicely.
CTS don't bill Random Hearts as a special edition, but it offers enough supplements to qualify as one in my book. First up is a running audio commentary from director Sydney Pollack. In a few days I'll receive a copy of his Out of Africa, and I hope that one's a better track; while Pollack's comments aren't without merit, he seems able only to muster up a pretty uncompelling track.
Both a strength and a weakness of Pollack's talk stems from the fact he really seems to take this movie quite seriously. He discusses character motivations and introspection with obvious fascination. It's nice that he's still so supportive of his project, but I couldn't help but wonder if Syd ever actually watched the thing; this movie's weak enough that it doesn't offer itself for deep reflection. Pollack's track also suffers from a fair number of long gaps which always annoy me. It's not a bad commentary, really, but unlike better tracks, it probably won't offer much of interest for anyone who doesn't really like Random Hearts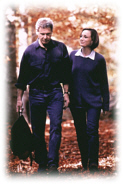 Another audio component offers all of Grusin's score on an isolated channel. I'm not a fan of movie music but for those who enjoy it, this is a nice treat, especially since Grusin's work sounds so good. This track also includes all of the movie's music whether or not Grusin wrote it; for example, we hear the Mills Brothers' version of "Daddy's Little Girl" that runs over a nasty ad from Chandler's election opponent, and we can listen to the TV commercial jingle that got buried in the mix during a scene where Dutch visits an electronics store. Pretty cool!
Next we find an approximately 23-minute documentary called "The Making of Random Hearts, part of HBO's "First Look" series. This program amounts to little more than a commercial for the film, but it's still decently interesting. The most compelling parts of it show some behind the scenes footage, and we also hear some fairly insubstantial interviews with the main participants (Pollack, Ford and Scott-Thomas). It doesn't offer much, but it's not bad.
The DVD features three deleted scenes. Each of these runs a little over one minute and they all feature brief commentary from Pollack; he generally just tells us why these shots were omitted. The clips are interesting, and Pollack's statements are valuable, but unfortunately the DVD doesn't let us choose whether or not to hear his narration; there's no way to hear the scenes without Pollack's voice-over. This isn't the end of the world, but it's an odd choice, especially because it prevents us from hearing some of the dialogue. I'm glad these shots are here, but I wish they'd been presented in a more standard - and logical - manner.
Finally, the DVD tosses in some of the old standbys. We get the usual crummy talent files that CTS plop onto their discs; perfunctory biographies appear for Ford, Scott-Thomas, Hunt, Dutton, and Pollack. We find a trailer for RH in addition to previews for Pollack projects The Way We Were and Absence of Malice and Ford films The Devil's Own and Air Force One. The DVD's booklet features basic but informative production notes.
While CTS provide a very nice DVD, ultimately I can't really recommend Random Hearts just because it's not a very good movie. I found it to be watchable and moderately entertaining, but it suffers from a forced storyline that tries too hard to provide sparks that never appear. If the actors or the theme intrigue you, it might be worth a rental, but that's probably about it.
Related Sites
Current as of 2/27/2000
Official Site--Besides a very informative look into the making of the movie with the cast and crew, there's also a director exclusive interview. Two other sections "The Random Connection" and "Investigate Your Mate" - a chat and a pop quiz, respectively - are rather silly attempt to interact with the visitors. If people need to go to a movie site to get a clear idea of their mate, wouldn't you say that their relationship is in serious trouble?
James Berardinelli's ReelViews--"A meditation on grief and loss that is sabotaged by shallow writing and the desire to inject romance where it is clearly out of place."
Roger Ebert--"If this were a screenplay and not the final product, you could see how with one more rewrite, it might all fall into place."
Harrison Ford: A Web Guide to the Films--"This site highlights the remarkable body of work Ford has shared with the movie going public for the last 30 years and beyond."
An Appreciation of Kristin Scott Thomas--For fans of the actress, this site is simply marvelous.
Movie Music U.K.--A full review of the original score soundtrack composed by Dave Grusin: "A consummate craftsman, Grusin responded with an intriguing, engaging jazz score."
Amazon.com--Available to purchase are the DVD at special discount, the paperback by Warren Adler, and the original score soundtrack composed by Dave Grusin.
Reel.com--Purchase the DVD at special discount.


Review Archive: #, A-C | D-F | G-I | J-L | M-O | P-R | S-U | V-Z
Previous: Pulp Fiction: Alliance Edition | Back to Main Page