Reviewed by Van T. Tran
DVD
Disney, widescreen 2.35:1/16x9, languages: English DD 5.1 [CC], subtitles: none, single side-dual layer, 31 chapters, theatrical trailer, Shakespearean Facts, rated R, 122 min., $29.98, street date 8/10/99.
Studio Line
Academy Awards: Winner of Best Picture, Best Actress, Best Screenplay Written Directly for the Screen, Best Supporting Actress, Best Art Direction-Set Decoration, Best Costume Design, Best Comedy Score. Nominated for Best Director, Best Cinematography, Best Makeup, Best Film Editing, Best Sound, Best Supporting Actor, 1999.
Directed by John Madden. Starring Gwyneth Paltrow, Joseph Fiennes, Geoffrey Rush, Colin Firth, Ben Affleck, Tom Wilkinson, Imelda Stuanton, Judi Dench, Simon Callow, Rupert Everett.
Shakespeare In Love is a romantic comedy for the 1990s set in the 1590s. It imaginatively unfolds the witty, sexy and timeless tale behind the creation of the greatest love story ever told.
It is the summer of 1593, and the rising young star of London's theatre scene, Will Shakespeare (Joseph Fiennes), faces a scourge like no other: a paralyzing bout of writer's block. While the great Elizabethan age of entertainment unfolds around him, Will is without inspiration or material. No matter how he tries, and despite pressure from financiers and theatre owners, he just can't seem to work up any enthusiasm for his latest play, Romeo and Ethel, the Pirate's Daughter. What Will needs is a muse - and in an extraordinary moment in which life imitates art, he finds and falls for a woman who draws him into his own dramatic adventure of star-crossed love.
It all begins when Lady Viola (Gwyneth Paltrow), desperate to become an actor at a time when women were forbidden from such depravity, disguises herself as a man to audition for Will's play. But the guise slips away as their passion ignites. Now Will's quill again begins to flour, this time turning love into words, as Viola becomes his real-life Juliet and Romeo finds his reason to exist. Yet all is not well in Will's world. For even as the parchment begins to pile up, he is plagued by real-life twists of fate -including the unavoidable reality that Lady Viola must marry the insufferable Lord Wessex (Colin Firth) at the command of Queen Elizabeth (Judi Dench).
In a whirl of mistaken identities, mixed-up messages and misbegotten desires -- between bawdy brawls, duels with jealous husbands and dangerous kisses -- Will Shakespeare searches for a resolution not only to his play but to his own undying passion.
Picture/Sound/Extras (A/B/C-)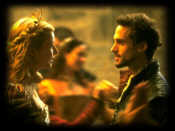 Shakespeare In Love is a rousing and entertaining film that successfully blend humor and light drama in a fictional account that inspired Shakespeare to pen the greatest love story ever told: Romeo & Juliet. While there is no denying that Shakespeare In Love is a well crafted film under the direction of John Madden and scripted jointly by Oscar winners Marc Norman and Tom Stoppard, no one could have predicted the enormous success that would bestow on the film during the night of the 71st Academy Awards presentation. Going in, the general consensus seems to favor Steven Spielberg's Saving Private Ryan for Best Picture. As the night progressed, the top two contenders as predict emerged from the camps of Shakespeare and SPR. When the announcement was made for the most prestigious award of the night, many felt that Shakespeare pulled the rug under SPR. After all, Steven Spielberg captured the Best Director award, which should boast well for his film. Moreover, SPR dramatizes an unflinching view of World War II and a remembrance to veterans, a serious subject matter that should gain approval from the Academy voters. Whereas, Shakespeare is a comedy, a category which is traditionally overlooked for the top prize. So, when the audiences stood up and applaused Shakespeare for winning the Best Picture award, the night mirrored that of the film's most triumphant scene. The producers of Miramax Films couldn't have scripted a more perfect ending. Still, some maintain that Spielberg was robbed of the top prize due to Miramax's aggressive promotional machine that swayed the voters, more so than the film's own merit.
What's my opinion on this? While I've seen both films, I saw SPR in the theater once and under a very distracting circumstance that really hampered my assessment of the film. I walked away from the theater feeling quite a letdown, especially after reading all the glowing reviews. Because of that, I am eagerly awaiting for the DVD release of SPR to judge the film in the comforting environment of home. However, while the film is already available on VHS and laserdisc for months, there is still no announcement for the DVD format as of this writing. In the meantime, I thoroughly enjoyed Shakespeare on DVD, but in all fairness will have to wait for Saving Private Ryan to make my own assessment as to which is the more deserving film.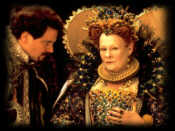 One thing I could declare now is that I found Shakespeare's literary in-jokes and poetic dialogue tremendously appealing. While you need not be versed in Shakespeare's works to enjoy the film at all, those that do will find additional satisfaction. For a short period of time in college, I developed a ferocious reading appetite for Shakespeare's plays. So, I found much gratification in seeing how the screenplay weaves fictional and historical backgrounds into an entertaining motion picture for everyone. Furthermore, the film is blessed by a superlative cast. Gwyneth Paltrow gave an Oscar-winning performance as Viola de Lesseps, the maiden that inspired Will Shakespeare, played by Joseph Fiennes, to write some of his most famous plays and sonnets. For those that read my review of Emma know that I profess an admiration for Gwyneth Paltrow's works, so I am glad that she won for Best Actress. One could argue that Cate Blanchett is more deserving for her central role in Elizabeth, whereas Paltrow shares the billing with Joseph Fiennes. That is a valid point, but nevertheless a deserving award for the culmination of Paltrow's works in Seven, Emma and other films, and in recognizing that she is one of the most talented young actresses in Hollywood. Interestingly enough, both Fiennes and Geoffrey Rush also appeared in Elizabeth, but overall they delivered stronger performances in Shakespeare In Love, especially Rush who provides some of the funniest moments. Another honorable mention goes to Judi Dench as Queen Elizabeth, a role that amounted to only nine minutes, which make the least amount of screen time ever to have won for Best Supporting Actress.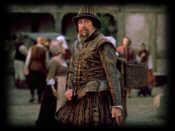 Matching the accolades for the film is the superb presentation on DVD. The transfer boasts one of the most gorgeous picture ever to glow on my television screen. The DVD features the first 16x9 enhancement for widescreen sets ever form a Disney release. However, this is a none factor for the high score as I don't even own a widescreen set, the transfer is simply stunning based on a regular monitor. Having said that, the picture is not without some slight digital artifacts. The artifacts that I encountered occur on the opening credits as the camera pans from the straws rooftop to the manuscript lying on the ground. There's a noticeable shimmering effect on the straws and background objects during the panning sweep and on a few other scenes. Depending on your player and the sharpness setting on your monitor, the shimmers could show up on various degrees. Otherwise, the picture displays immaculate color fidelity and clarity. A huge benefit to the film is the sumptuous visuals provided by the magnificient costume design and set decoration. The transfer is able to produce the intricate details and lavish colors of the costumes and decorations in all its grandeur without any trace of smearing or bleeding. Shadow details exhibit great depth and blacks are solid. A truly outstanding picture in all aspects.
The encoded 5.1 soundtrack is not particularly showy, but does produce a large frontal stage and a more subdue surround. The highlight is the Oscar-winning score composed by Stephen Warbeck. The main theme sets the tone of the film perfectly; it has a mixture of lyricism, romance and playfulness. The orchestral music is gracefully presented on the front channels, whereas the rear surrounds handle the ambience and crowd noise. A dramatic envelopment occurs during the standing ovation in the end of Romeo & Juliet that actively involved all speakers. Dialogue is well integrated and sounds natural throughout. The disc does not include subtitles, but that could be substituted with the English closed captioning.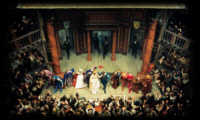 As for supplemental materials, the DVD includes a mediocre trailer and historical facts on Shakespeare and a few other key players during the period. The length of each note lasts from one to three screens and are quite interesting. It might interest you to know that a special edition is set to be released by the end of the year. Among the extras, it will include commentary by the director and members of the cast and crew, deleted scenes, and "Making of" featurette. The only decision is an easy one, I am sure you will be pleased to have in your collection a film that satisfies on every level and is one of last year's best.
Related Sites
Current as of 9/5/99
Official Site--Miramax routinely makes great films, but the websites in promoting the studio's films are the worse. There's hardly any information here to tell you more about the film.
Roger Ebert--"I was carried along by the wit, the energy and a surprising sweetness."
James Berardinelli's ReelViews--"Shakespeare in Love is not a great film, but it's an excuse to have an evening of pure enjoyment with a little culture painlessly mixed in."
The Best of Shakespeare in Love--Not only is this a lovely site, it is also the most comprehensive source on the net. It puts the official site to shame!
Sarkytart's Virtual Home--Sarkytart provides a diary of her experience as an extra on the set of Shakespeare In Love. Find out what it was like!
DVD Celebrities: Gwyneth Paltrow--Features profile and related films on DVD with links to fan sites.
The Original Joseph Fiennes--Categories include biography, works, gallery, articles, fan club and links.
Mr. Showbiz Celebrities: Geoffrey Rush--An excellent source for profile and bio.
The Original Colin Firth Career Timeline--If you are like me and is quite ignorant about the works of this British actor and would like to find out more, here's an excellent place to start.
Ben Affleck Interactive Web--Well designed site with all the essential information, plus seven galleries of picture.
Yahoo!: William Shakespeare--An extensive listing of sites with everything that has to do with the playwright.
Filmtracks--A full review of the original score soundtrack composed by Stephen Warbeck--"An unexpected and delightful surprise at the end of a year when there were really very few scores of the grandiose orchestral kind."
Amazon.com--Available to purchase are the DVD at 30% off, the screenplay, and the original score soundtrack.
Reel.com--Purchase the DVD at 30% off.