Reviewed by Colin Jacobson
Special Edition DVD
Universal, widescreen 1.85:1/16x9, languages: English DD & DTS 5.1 [CC], French Dolby Surround, subtitles: none, single side-dual layer, 18 chapters, rated R, 96 min., $24.98, street date 2/15/2000.
Supplements:
Spotlight on Location
Feature Commentary with director Rob Reiner
Universal Showcase
Production Notes
Cast and Filmmakers
Theatrical Trailer
Special DVD-ROM Features
Studio Line
Directed by Rob Reiner. Starring Bruce Willis, Michelle Pfeiffer, Tim Matheson, Rob Reiner, Rita Wilson, Paul Reiser.
After 15 years of marriage, Ben (Bruce Willis) is still the free-spirited person he's always been while Katie (Michelle Pfeiffer) is left to handle life's messy little problems. So when the kids go off to summer camp, they face the most important decision of their married life. Do they end their story or begin a new chapter? From start to finish, Rob Reiner gives us reason to laugh and cry in his entertaining outlook on marriage.
Picture/Sound/Extras (A-/B/B-)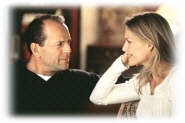 At the risk of sounding crude, I'm starting to think Rob Reiner blew his directorial wad with his first effort, 1984's brilliant This Is Spinal Tap. Yeah, I suppose that's an unfair statement since he's made a lot of movies since that time that have enjoyed critical and/or commercial success; with pictures like The Princess Bride, Stand By Me, Misery and A Few Good Men under his belt, he's been one of the more consistently popular filmmakers of the last decade or so (the debacle that was North aside).
While I may be going to an extreme, I can't help but feel that Reiner's lost his touch after watching his most recent effort, the maudlin and phony The Story Of Us. This is the sight of Reiner as he matures through the states of relationships, from the teen lust of 1985's The Sure Thing through friendship and early love in 1989's When Harry Met Sally... to the full-fledged examination of a collapsing marriage here.
I didn't much like those first two films, but they seem like classics compared to this mess. It's a profoundly confused film, one in which Reiner can never seem to figure out whether he's directing a comedy or a drama. Much of the movie concerns itself with the dissolution of the marriage of Ben (Bruce Willis) and Katie (Michelle Pfieffer), but Reiner makes sure we get plenty of comic relief along the way.
Unfortunately, both aspects of the film ring terribly false. I like both Pfieffer and Willis, but they come across poorly here as they're both guilty of Acting; they try so hard to offer "bravura" performances in these "challenging" roles that they go way over the top. The parts seem designed as virtual resumes; the leads get to laugh, cry, shout and make allegedly profound statements about live and love. In reality, it just looks like they're both saying, "Look! I'm a serious actor! I can do it all!" Every aspect of their performances seems forced and unrealistic.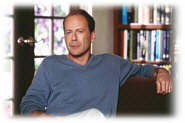 Also, I couldn't discern much chemistry between the two. No wonder they want to split - they seem absolutely wrong for each other. Not only did I not buy them when they play lovey-dovey, I couldn't even accept them when they attacked each other; the two actors appear so different and incompatible that I couldn't accept them as connected people on any level.
In between shots of Willis and Pfieffer emoting, we find their wacky friends and relatives who provide the alleged comic relief. This tends toward very broad schtick that uniformly a) sounds fake and scripted, and b) is played to the rafters by the supporting actors. I've seen more subtle comic performances on Showtime At the Apollo. Paul Reiser (who I want to hate but can't because he was in Aliens) and Rita "I'm More Than Just Tom Hanks' Wife, Dammit" Wilson are the worst offenders, but virtually every member of the supporting cast embarrasses himself or herself; rarely will one find so many unfunny comedic scenes.
Perhaps worst of all is a bit blatantly stolen from the catalog of Woody Allen. Ben and Katie remember the statement of a therapist who told them when they're in bed, they're mothers and fathers are always there with them (emotionally). Made literal, Reiner piles four older actors - Red Buttons, Jayne Meadows, Betty White and Tom Poston - into bed with the two leads as the respective pairs of parents speak to their offspring during an argument. Never did I think I'd live to see the day when I'd hear Betty White use the phrase, "Hide the salami", and I almost wish I'd died before it happened. Other than answering the question, "Is Red Buttons still alive?", this scene represents the nadir of a bad film.
Add to this one of the most artificial and contrived endings I've seen in quite a while and you have a pretty lousy movie. I wanted to like The Story Of Us as I'm fond of many of the participants; if just for Spinal Tap, Reiner may eternally have some unused goodwill to be found in my heart. TSOU expends a lot of that sentiment, though; a couple more flops like it and those feelings may disappear forever.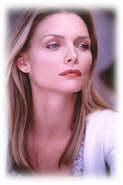 The Story of Us appears in its original theatrical aspect ratio of 1.85:1 on this single-sided, dual-layered DVD; the image has been enhanced for 16X9 televisions. As one might expect of such a recent film, the movie looks quite good with almost no visible flaws.
Sharpness seems consistently well-defined and accurate, but without many examples of moiré effects or other issues; I noted a little shimmering at times and some occasional jagged edges (such as on eyeglasses) but very little of either. The print used seemed very clean; a little bit of grain appeared evident but I detected no scratches, speckles, spots or other faults.
Colors looked very natural and well-saturated, with no instances of any signs of smearing or distortion; it's not a tremendously colorful film, but what we see appears very good. Black levels are deep and rich, and shadow detail appeared very appropriate. Put simply, the picture looks terrific.
Not as good but decent is the 5.1 audio for The Story of Us. This is another one of those DVDs that features both Dolby Digital and DTS 5.1 tracks. As usual, the DTS mix seemed ever-so-slightly warmer and better separated, but also as usual, the DTS track appeared a little louder, which could create these impressions. All told, I noted very little difference between the two mixes; you should be equally happy with either one.
TSOU isn't exactly a great film to show off 5.1 audio, though; that factors make the sound comparisons semi-moot. The soundfield is very firmly rooted in the front. I noticed some extremely rare instances of surround usage; for example, a scene in which Ben watches an apartment building get demolished actually featured some split surround sound. Otherwise, expect to hear the front three channels and not much else. Happily, separation in the front seems good and the side speakers contain a fair amount of active information. For a character-based film, the audio seems acceptable but still a little drab and disappointing.
Sound quality appeared similarly decent but unremarkable. Dialogue always seemed easily intelligible but displayed a somewhat flat, tinny quality; I can't say it sounded really unnatural, but it lacked the warmth I'd expect (and showed that tendency during both the Dolby and the DTS renditions). Eric Clapton's music sounded pretty melodic and lively, though, and the subdued effects were appropriately realistic and lacked distortion. Since this is such a chatty film, the speech took on extra importance, which is why the issues there are especially problematic, but overall it's a perfectly competent and acceptable soundtrack.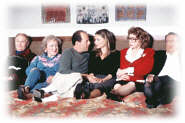 By the way, in regard to Clapton's score, it's not very good. It's basically just mild variations on the same lousy song presented over and over again. Clapton sings the tune himself, accompanied by his acoustic guitar, and it's as lamely sentimental as the film it serves. Based on his efforts here, I'd have to write "Clapton is dog!"
Although The Story Of Us isn't officially part of Universal's terrific Collector's Edition line, it still offers a decent complement of supplements. First up is a blah audio commentary from director Rob Reiner. Why is it usually the filmmakers we expect to be most interesting actually provide the crummiest commentaries? Reiner seems rather dull on this track, one which is plagued by many gaps. Even when he talks, Reiner mainly tells us how talented the actors and other participants were. He contributes little insight, although he does tell a few mildly interesting anecdotes along the way. Despite that, Reiner's commentary is not very compelling.
Better is the 23-minute "Spotlight On Location" documentary about the film. Yes, it's essentially a promo piece, but it's better than most. The program features interviews with all the participants (even Clapton) and actually offers nice look at the project's genesis. It also shows some interesting footage from the set and makes for a reasonably compelling viewing experience.
This DVD contains a few trailers. We get the theatrical clip for TSOU itself. I didn't like fact made out to be more of a "things as they evolve over time" story, whereas the actual movie functions mainly in flashback for those scenes (and very briefly at that); it creates a very different impression of what kind of film you'll see. However, it did pique my interest, so I guess that makes it a success.
In the "Universal Showcase" section, we find trailers for two upcoming releases: Klumps (aka Nutty Professor 2) and The Adventures of Rocky and Bullwinkle, what appears to be a Roger Rabbitesque combination of animation and live action that stars Robert DeNiro (!). I've said it before, I'll say it again: I like these previews and hope other studios adopt them as well.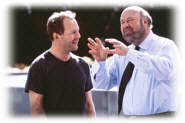 Finally, the DVD offers production notes, which provide some pretty good text that details various aspects of the movie's history. Although the piece is somewhat redundant after the "Spotlight On Location", which mentioned some of the same things, it's still interesting. Also, we get decent biographies for Pfieffer, Reiner and Willis in addition to some DVD-ROM features. Since I own no DVD-ROM player, I can't comment on these.
The Story Of Us had some potential to be an insightful, entertaining movie, but this got squandered by an awful lot of people who try awfully hard to make an a movie that pleases all people all the time. The DVD itself is well-made, with good picture, sound and extras, but the film manages to be mildly and sporadically interesting at best, and proves itself to be maudlin, broadly sentimental and unfunny most of the time. Unless you just have to see another shots of Bruce Willis' ass, give this one a pass.
Related Sites
Current as of 3/1/2000
Official Site--This is a very conventional site that offers all your basic info on the movie. Since there's no compelling reason to stay, don't blame me for wanting to leave for another movie site.
James Berardinelli's ReelViews--"The Story of Us is flawed, but not seriously enough to curtail its ability to function as unpretentious entertainment." ( * * * stars)
Roger Ebert--"The movie is filled with lame and contrived 'colorful' dialogue." ( * star)
Mr. Showbiz Celebrities: Bruce Willis--An excellent source for profile and credits.
Absolutely Pfeiffer--I really enjoy the nice layout and clean design of the site which contains equally impressive contents. Available in both English and French. Highly recommended!
Amazon.com--Available to purchase are the DVD at special discount and the original music soundtrack featuring Eric Clapton.
Reel.com--Purchase the DVD at special discount.


Review Archive: #, A-C | D-F | G-I | J-L | M-O | P-R | S-U | V-Z
Previous: Autumn Sonata | Back to Main Page