Picture/Sound/Extras: A+/A(DTS) B+(DD)/B
While animated films have proven quite successful throughout the years, one audience apparently consistently turns up their nose at these pictures: teenagers, especially boys. This isn't a surprise; at that time of life, kids want to act as "adult" as possible, and since animation remains (mistakenly) considered the fare of childhood. As such, these movies may connect with substantial audiences, but the teens stay away from them.
Fox attempted to alter that pattern last summer with the release of Titan A.E.. Apparently they figured that this teen aversion to animation had less to do with the format than with the content. After all, the genre is owned by Disney, and even fans like myself can't consider their fare edgy or daring; the material generally stays in pretty safe territory.
So Fox decided to make a play for the teen audience with the kind of film that this crowd would like if it were live-action. Titan A.E. follows closely in the footsteps of movies like Star Wars with fiery action and a fast-paced series of space battles. Actually, it probably follows a little too closely in the footsteps of Star Wars, since the plot follows along rather similar lines. The story concerns a young nobody who is actually the potential savior of his people but he needs to reach inside himself and develop the strength to be a hero.
The tale doesn't completely replicate the adventures of Luke Skywalker and company, but it's near enough to cause some groans from die-hard SW fans like myself. The movie also features scenes that look taken straight from the holy trilogy, such as a chase through a series of ice balls and also characters who experience heroic changes of heart. Titan also borrows liberally from Independence Day - the opening attack on Earth and the nature of the villainous Drej most strongly echo the 1996 film - but since that movie stole from so many others itself, I guess I can't slam the newer picture too much for that tendency.
In any case, as I often argue, a film can be tremendously derivative or unoriginal but still maintain a high level of excitement because it's all about execution. In that department, Titan occasionally succeeded but it never managed a great deal of spark or pizzazz. On the surface, the movie often looked absolutely gorgeous. It melded both computer art and traditional cel animation, but the former genre dominated the film; CGI seemed responsible for most of the backgrounds and non-character objects.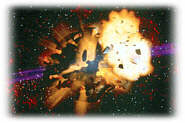 It appeared that hand-drawn work was mainly restricted to the animated actors, and unfortunately, that's where the film had its problems. The computer work seemed so smooth and vivid that it put the cel character animation to shame. It's definitely possible to make the two forms work well together, but unfortunately, the hand-drawn material appeared rather stiff and unconvincing. The characters didn't move in a very life-like manner, and these problems stood out even more strongly against the brisk and active environs created by the computers.
As a whole, the voice work provided for the characters seemed pretty good. Matt Damon does a decent job as Cale; he managed the flow of emotions and attitudes adequately, though he did better when he stayed with the more brash attitude. The supporting cast creates some nice characterizations; we find solid actors like John Leguizamo, Nathan Lane, Bill Pullman and Janeane Garofalo and they added strong touches to their roles. Really, the only weak link was Drew Barrymore as pilot/love interest Akima; she seemed lackluster and detached in the part and never gave her character much strength or conviction.
Ultimately, this mix of passable animation and decent acting combined with a predictable story means that Titan A.E. offers a mildly entertaining but unspectacular experience. I saw the film theatrically - my first viewing of a digitally projected movie, which made it cool - and disliked it at that time. I enjoyed my second screening more, but the movie still remains a somewhat flat mishmash of other sources. That may be the reason why the picture failed to attain its desired teen audience and completely tanked at the box office.
The DVD:
Titan A.E. appears in an aspect ratio of approximately 2.35:1 on this single-sided, double-layered DVD; the image has been enhanced for 16X9 televisions. The word "flawless" comes to mind when I think of the picture on this DVD; it's absolutely stunning.
Sharpness looked perfect from start to finish. Although the film displayed a lot of rather wide and complex shots, they always appeared exceedingly crisp and detailed without even the slightest hint of softness. Moiré effects and jagged edges seemed absent, and I noticed only minor artifacts from the anamorphic downconversion on my 4X3 TV. Print flaws presented absolutely no problems whatsoever; I saw no signs of grit, grain, speckles, scratches, blotches or other defects. I don't know if Titan got a straight-digital transfer ala the Toy Story films and A Bug's Life, but based on the cleanliness of the image, it wouldn't surprise me.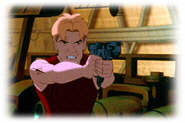 Colors were incredibly rich. The film boasted a nicely varied palette that always looked sumptuous. From the icy blues of the Drej to the deep reds of planet Sesharrim through a myriad of other tones, I was dazzled by the boldness and accuracy of the hues; they appeared simply magnificent. Equally strong were black levels, which showed wonderful depth and solidity. For example, check out Cale's black T-shirt; it and other similarly-colored objects displayed startlingly dark tones. Contrast was excellent, and shadow detail appeared quite well-defined without any kind of excessive heaviness. Put simply, Titan AE offered one of the best home visual experiences I've ever seen.
Also quite strong was the film's soundtrack, at least if we consider the DTS mix. Titan is one of those nutty hybrid discs that includes both DTS 5.1 and Dolby Digital 5.1 soundtracks, and while the DD mix worked well, I thought the DTS version was definitely preferable.
As such, this section will discuss my opinions of the DTS track and I'll discuss how I thought the DD mix differed in a separate paragraph. As a whole, the DTS track provided a very active and involving experience. The soundfield provided excellent audio throughout the film and always showed a very engaging presence. All five speakers displayed strongly bold levels of activity and the sound meshed together quite cleanly and effectively. At times I felt some of the audio could be slightly too "speaker specific"; for example, the scene in which Cale meets Stith, dialogue and some effects didn't transition terribly well between the channels. However, these instances were unusual, as the sound generally blended together cleanly and neatly.
Audio quality also seemed excellent. Dialogue fit in with the action nicely, and speech always appeared distinct and crisp with no signs of edginess or problems related to intelligibility. Effects were wonderfully clean and accurate. They showed no signs of distortion and packed a lot of punch when necessary. Music sounded bright and rich and displayed fine dynamic range; in some films, the score would get buried beneath such an overwhelming range of effects, but Titan's music stayed bright and bold throughout the movie. Best of all, the audio boasted some fine bass. The low end seemed consistently deep and tight throughout the picture, and the added tonality made the experience that much stronger.
The best sequences heard in Titan? I find it somewhat hard to choose because the movie displayed such terrific audio at all times, but a few scenes stood out from the crowd. The opening attack on Earth sounded excellent, as all five channels really shouted with vivid and clear audio; the action flew all around me and made the scene much more effective. Also memorable was the segment in which the Drej attacked planet Sesharrim; the combination of the Drej warriors and the flying Gauol made the sequence sonically exciting.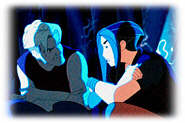 How did the Dolby Digital 5.1 soundtrack compare to the DTS mix? Frankly, I thought it seemed somewhat weaker. The activity level of the two tracks appeared comparable, but I felt the DD version lacked the same warmth and dynamic range. The DD track appeared somewhat more sterile and less brash. Effects occasionally were a little edgy and they sounded slightly less crisp in the DD mix. However, it's really the low end that made the difference; the DTS track offered bass that I thought seemed much more deep and solid.
Fox bill Titan AE as a special edition, and though it's not exactly packed with materials, it provides a fair number of supplements. First we find an audio commentary from directors Don Bluth and Gary Goldman. I found this to be a thoroughly engaging and compelling track. The two share the bill evenly and interact in a genial manner as they discuss a wide variety of topics that relate to the film. Most interestingly, they don't shy away from the problems experienced by the production. Neither man tries to make excuses for the movie and they don't overtly slam anything about it, but they convey the fact that it was a muddled production marred by abrupt changes in direction. All in all, I really liked this track and thought it offered a great look behind the scenes.
Next up is a glossy Fox Kids TV Special called "The Quest For Titan". This promotional show lasts for 20 minutes and 55 seconds and provides a breezy and superficial look at the creation of the film. As the network on which the program aired implies, it's clearly aimed at a young audience. The shows mixes clips from the film with some behind the scenes shots and sound bites from a variety of cast and crew members. (Oddly, we hear from all the major actors except Damon, though we do see him at work.) The piece uses jumpy editing and flits from subject to subject rapidly - all the better to appeal to juvenile attention spans - but still offers enough decent information about the film to make it worth a look for adults as well; it's not a great documentary, but I thought it was solid enough.
In the appropriately-named section, we discover two theatrical trailers and two TV spots. Bizarrely, the former are referred to as "Trailer B" and "Trailer C", so where in the world is "Trailer A"? This is gonna really bug me! Anyway, as I watch this, I can't help but wonder why Titan fared so poorly at the box office; these ads make the movie look pretty hot!
Titan featured a soundtrack that combined a classical score with a variety of pop and rock songs, and we get a video for one of these, Lit's "Over My Head". This three minute and 35 second clip is actually moderately entertaining. It combines some of the usual lip-synching and movie snippets, but it goes farther in that realm as it places the band members inside the film. As such, it was fun to a certain degree, although the tune is nothing more than standard alt-pop blather.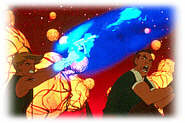 In the "Still Gallery", we find 117 still frames of information. These range from very rough concept drawings to lavish production paintings. It's a solid mix that would benefit from increased organization - the art appears in no particular order - but still showed us a nice selection of materials.
Four deleted scenes appear on the DVD. Actually, each of these is an extended and/or alternate version of an existing segment. We find "Green Drink", "Akima's Rescue", "Ice Crystals Original Cut", and "Final Battle Original Cut". Each runs between 55 seconds and six minutes, 55 seconds for a total of 16 minutes and five seconds worth of clips. In these sequences, we discover a mix of finished animation and other work in various stages of completion; those range from cleaned-up pencil sketches to nearly-done art. The clips offer full dialogue and most effects but have no music. I found none of these segments very compelling - they were cut for a reason - but it was fun to see them.
As first seen on the Fight Club DVD - and also available with Terminator 2 "Ultimate Edition", the Toy Story movies and a number of Anchor Bay DVDs - Titan A.E. includes the "THX Optimode" program to set up your TV. This provides you with information to correctly configure various audio and video aspects of your home theater. I don't think it fully replaces something like Video Essentials, but then again, "Optimode" comes as a free addition to a DVD, so it's clearly a bargain. If you haven't already used VE or some similar product, you should find "Optimode" very helpful.
Lastly, if you enter the DVD-ROM area of this disc, you can access a playable demo of a Titan online game. Give it a shot if you'd like, but I'm not sure it's worth it. First I had to download the newest version of Macromedia Flash; I already had this program but it wasn't a recent enough vintage for the game's liking. Once that was done, the game began quickly enough but was nothing more than a fairly simple and dull rip-off of "Wing Commander". I played it for about 10 minutes before I quit. Perhaps it got better after that period but I doubt it.
Despite that lame game, I still found Titan A.E. to offer a pretty impressive DVD. The movie itself is nothing more than an erratic and haphazard amalgam of other science fiction flicks, but it has enough going for it to be intermittently entertaining. Thought there are many better films around, you'll be hard-pressed to discover a superior DVD, at least in regard to movie presentation. The image looked absolutely stunning at all times, and the DTS soundtrack provided a very active and engaging presence. The Dolby Digital mix was also solid though somewhat less rich and bold. Add a great audio commentary and a few other decent supplements and you have a pretty fine DVD. Fans of animation and science fiction should at least take a look at Titan A.E.; I doubt it'll bowl you over, but it worked well enough to merit your attention.
Menu: DVD Movie Guide | Archive | Top