Reviewed by Chris Galloway
Canadian Alliance Edition DVD
Alliance, widescreen 1.85:1, languages: English DD 5.1, French Dolby Surround, subtitles: English, double side-single layer, 25 chapters, deleted scenes, interviews, 55 minutes of "Railway Sounds," rated R, 94 min., CAD$29.99, street date 7/2/98.
Studio Line
Academy Awards: Nominated for Best Screenplay Based on Material from Another Medium, 1997.
Directed by Danny Boyle. Starring Ewan McGregor, Ewen Bremner, Jonny Lee Miller, Kevin McKidd, Robert Carlyle, Kelly MacDonald.
The motion picture sensation that wowed critics and audiences nationwide, Trainspotting delivers a wild mix of rebellious action and wicked humor! It's the story of four friends as they try to make it in the world on their own terms...and who end up planning the ultimate scam! Powered by an outstanding cast of rising young stars and a high-energy soundtrack, Trainspotting is spectacular, groundbreaking entertainment!
Picture/Sound/Extras (D+/B-/D+)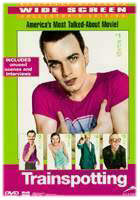 I remember in 1996 how on everyone's tongue were the words Trainspotting. I had never heard of it, which surprised me since I considered myself on top of things in the movie world. Of course, that summer I was rather busy and not my usual self, so I'll use that as my excuse and stick to it.
It never played around where I was and I wasn't going to drive 2 hours to a city playing it (although lately the cities around me are finally getting in those oddball "art" films now so it's now only a 15 minute drive). I instead read the book. It's a great book, although in some cases hard to read because it's told in the first person by different characters in their own dialect. And since the character of Begbie had the roughest vernacular out of them all, his chapters were the hardest to read. I found Renton the better of all the characters. He was a heroin addict, true, but he had some moral things against. The others didn't care. Begbie never did it, but he was just a sick f*$# as some would put it making him the least likeable character.
So when the movie came out on video I picked up a copy with high hopes. I was a little letdown, mostly because it wasn't exactly like the book (they skipped one of the coolest sub-plots!) but it was true enough.
The film focuses mostly on Mark Renton than any other character, which I was happy with. Ewan McGregor plays Renton as how I imagined the character. A screwed up kid. It was actually scary because I never saw who was playing the character in the movie while I was reading the book and he looks exactly like the way I imagined him. Excellent casting I must say.
Renton is a heroin addict. When we first meet him, he passes out on the floor of his "mates" place. He suddenly figures that he has to get off the stuff (again). In one of the movie's funniest scenes he boards himself up in a room and goes through a list of stuff you need to kick the habit.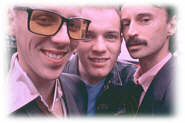 Along his way to rehabilitation (which is a long rough path) we come across a variety of characters. Sick Boy (Johnny Lee Miller), someone who makes up his lack of a moral center with knowledge about Sean Connery and the Bond films, also a heroin addict. Spud (Ewen Bremner), another young heroin addict who provides much of the comic relief, including an "accident" in a strange bed and a job interview while on speed. Tommy (Kevin McKidd), a health nut, who doesn't do anything bad at all, except recording him and his girl having sex, who later finds himself going down the dark tunnel of heroin addiction. Oh yes, and let us not forget Begbie (Robert Carlyle, most recently the father in Angela's Ashes and the villain in the latest Bond film The World is Not Enough), who is still the same sick f*$# that was presented in the book.
Its presentation of heroin addiction is sometimes funny since our main character has a cynical approach to life. But it's definitely not glamorized. Just thought of a needle for anything going into me makes me cringe and I was the guy that would take his immunization shots yawning.
The characters are well done, staying to true form. Renton is the strongest out of them all. He wishes to get off the "smack" and does so. He is also the smartest, definitely. Sick Boy is just a bastard. Spud is the weak one, the most lost out of them all. And Begbie makes an interesting psychotic. The relationship between Renton and Diane (Kelly Macdonald) is amusing at first (as Renton compares his orgasm to a soccer goal and discovers she may be just a bit underage) but then seems a little forced later on.
The film is handled quite well by John Hodge (screenplay) and Danny Boyle (director). The parts adapted from the book are very consistent and Boyle's fast paced, surreal directing adds a lot more to it. One of the more interesting images has Renton swimming down a toilet bowl. There were some segments from the book I would have liked to see on screen from the book, like one involving a rather horny Begbie and a hole in the ground. Just another little character add-on.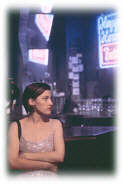 Disney released a rather crappy DVD to my understanding. I have not viewed that one. Like I'm going to spend $40 on a disc that has absolutely nothing on it. Up in Canada, though, a different distributor called Alliance releases Miramax movies in theaters and on video. Miramax films did not appear on DVD for quite some time in Canada and then suddenly Alliance released a bunch of DVDs, among them being The English Patient, The Prophecy, a few more and also Trainspotting, each containing more than the Disney discs did, even if it was just a theatrical trailer.
Their first batch was pretty good, but not amazing. They would later get a better hang of DVD's with Pulp Fiction, Good Will Hunting and eXistenZ (which includes a commentary!). Out of their first batch releases, Trainspotting was the most ambitious. And definitely a lot cheaper than the Disney one (with exchange, you're talking only about $22).
The film is presented in an aspect ratio of 1.85:1 on this double-sided, single-layered disc (don't worry, it's not a flipper, I'll get to the intriguing second side in a bit). It has not been enhanced for widescreen TVs. I wasn't expecting much from their first run but it was better than I thought it would be. I think their English Patient fairs much better in the picture department. Here the picture is bright and there are hardly any print flaws (I only noticed about 4 or so times a spec appeared), and only a few instances of grain but softness is a major problem as is poor color saturation.
Wide long shots are where softness is most evident. A lack of detail is present. Murkier scenes, though, like when Tommy convinces the gang to walk through the Scottish plains are very sharp giving a better amount of detail. But only once in a while does this happen. The softness could be actually attributed probably to the poor colors. They are very bright and vibrant, when a bright color appears, and darker colors don't look too out of place, but sometimes they smear. The smearing probably is what makes the picture so soft. I can't compare to the Disney one as to which is better because I haven't seen it (I'd guess it was better because that's what Disney excels at but I've heard different).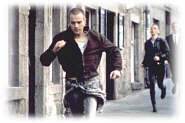 As well, the picture appears matted. I've never seen it as presented in theater so I don't know if it's supposed to be or not. Sometimes, like the scene where Renton appears to be rising out of the floor, the framing doesn't look right. The other discs Alliance put out all looked framed right so I'm guessing they didn't make a mistake in the framing, but it kind of bothered me. I tried looking up how it was supposed to look but could not find anything. So if you know different, then take that into account.
The 5.1 mix I wasn't expecting much from but it definitely beat my expectations. The movie is not sound effect ridden so your full potential is not used. A nice 3D effect is given as Renton journeys through the toilet. Dialogue is stuck in the front channels and, believe it or not, is quite easy to understand, even with those heavy accents. No, not every word could be made out, but that's due to accents and not the sound. The music is what kicks in. When "Lust For Life" plays at the beginning it is very loud, using basically the whole soundstage. But it never drowns out Renton's narration, which I was very impressed with because that was the one flaw I was expecting. Everything can still be made out. Not great, but quite effective.
Supplements are where this disc kicks the Mouse's ass. No, they aren't plentiful but at least we get something. What the Disney and Alliance discs have in common is that they are both missing theatrical trailers. What the Alliance disc has are deleted scenes and an interview. They are combined into one extra. The interview is divided into sections, each one introducing each deleted scene. There are 9 in total. They mention a cassette so I'm guessing this may have appeared on cassette at some point. The scenes are all very good but probably wouldn't have worked. The one I was disappointed to see cut, though, was one I remember from the book vividly. There is a bit expanded on Spud's interview scene but then we get an interview scene involving Renton. He makes himself sound good but then blows it all when he mentions his heroin addiction. "I sniff it, smoke it, stick it up my arse." In whole, the deleted scenes segment goes on for 22 minutes.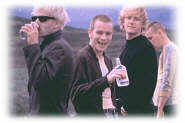 Since Canada is a bilingual country a French track is also offered. The packaging is also bilingual and can be made into a single language package using the insert inside. I had a couple problems with the menu. The menu is set up amusingly, but it's slow in responding to your actions. You press the down arrow on your remote and it takes a second or two for the highlighter to move down. As well, I know the Canadian cassette came with two music videos so it would have been nice to add those as well. The insert says that a "Glossary of Terms" is also provided but it's nowhere to be found. I had to deduct a couple marks for that.
The most interesting extra on the disc would have to be on the second side. I didn't know it was here until someone pointed it out to me. On the second side is an audio only portion that has the sounds of trains rushing by. This extra is not listed on the package anywhere. It runs about 55 minutes, divided into 8 tracks. It doesn't seem to work in CD players (which would be ideal) but it does play in DVD players (except my Panasonic A100 for some reason). Also, if you place this side in your DVD-ROM of your computer, the computer will read it as an audio CD and not a DVD (at least on mine it did). I figured from that it would work in CD players, but again it doesn't. I don't have a CD-ROM believe it or not so I can't vouch if it runs in a CD-ROM but that is also doubtful. Here, as mentioned, it's the sound of trains going by (only in stereo) and it is very clear. While I don't understand the point of this (trains don't play a big role in the movie) I like the idea behind it. Studios could start putting parts from the soundtrack on the disc for listening purposes (and when audio DVD makes it's debut it would make more sense I guess) or any other audio sample that might fit. Yeah, they include videos and that sometimes, but I still think it's a good idea.
In closing I like the movie, although I can't help but compare to the book. If you have to get it on DVD and haven't bought it yet, I do have to recommend this one over the Disney one. The picture may not be great, but the sound is pretty good and this has at least an extra. Plus this one is a hell of a lot cheaper.
Related Sites
Current as of 2/9/2000
James Berardinelli's ReelViews--"It's exciting, energetic, thought-provoking, and never lets up."
Roger Ebert--"The movie has been attacked as pro-drug and defended as anti-drug, but actually it is simply pragmatic."
Ewanspotting--"The purpose of this site is to provide information for fellow fans and those who want to learn more about the most exciting young actor working today."
Robert Carlyle Works!--"A comprehensive filmography, images, articles, other RC links, an e-mail list open for all to join, and the latest information on upcoming Robert Carlyle movies and projects!"
Amazon.com--Available to purchase are the U.S. edition DVD at special discount, the novel by Irvine Welsh, the Oscar-nominated screenplay, and the original music soundtrack vol. 1 and vol. 2.
Reel.com--Purchase the DVD at special discount.


Review Archive: #, A-C | D-F | G-I | J-L | M-O | P-R | S-U | V-Z
Previous: The Muse | Back to Main Page