Picture/Sound/Extras: B+/B+/B-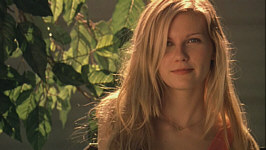 While family connections clearly makes things easier for many folks, sometimes it can add quite a few extra burdens that others don't face. This seems especially true for the relatives of show business successes. Yes, your name and famous kin might open some doors, but chances are you'll have to work twice as hard to prove that you're worth the attention.
Poor Sofia Coppola initially suffered the worst of this side of the equation. She was forced into acting duty in 1990 for father Francis' hugely-anticipated The Godfather Part III. She took on a role originally intended for Winona Ryder, who was unable to perform due to illness. This wasn't Sofia's acting debut, but it does appear to have been her initial substantial role; most of her prior parts had been bit pieces in Daddy's film.
I think Sofia tried her best in Godfather III but she simply didn't have what it took, especially since she went up against much more talented actors like Al Pacino and Andy Garcia. Her wooden and stiff work came across extremely poorly, and she received savage reviews.
Ten years after that debacle, Sofia tried to branch into another area of filmmaking, one that would even more directly set herself up for attack: directing. Actually, directing and writing, since she decided to pen the adaptation of Jeffrey Eugenides' novel The Virgin Suicides herself.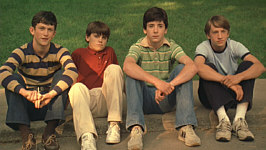 Although I'm sure many were ready for another disaster, such calamity did not occur. While the film won't be considered a classic by many, The Virgin Suicides shows that she's inherited her father's talent. It's a solid movie, and seems even more impressive when one considers that it's Sofia's first feature film.
The story is loose at best. The picture concentrates on the Lisbon sisters, five lovely young lasses who are at various stages of their teenage years in the movie's time period of the mid-Seventies. These babes are serious forbidden fruit, as their overprotective mother (Kathleen Turner) and wimpy father (James Woods) keep them off the market.
All's not well in the Lisbon home; I won't directly reveal what happens to the girls, but the title of the film might give you a clue. The film mainly focuses on 14-year-old Lux (Kirsten Dunst), a fairly-aggressive sexpot who seems more bold than her sisters. She captures the eye of high school stud Trip Fontaine (Josh Hartnett), and their interventions comprise a fair amount of the story, as do some interventions from a group of Lisbon-obsessed boys.
However, TVS is much more concerned with ambiance and mood than with any kind of proper plot or character exposition. In that way, it's both marvelous and frustrating. I felt like I got to know a little about Lux and Trip, but all of the other characters remained ill-drawn and vague. Even though the group of boys are a major component - the story is actually told as a flashback from their current lives - I had trouble remembering which was which throughout the film. Except for Lux and youngest daughter Cecilia (Hanna R. Hall), the Lisbon girls were similarly thin, and even the aforementioned pair weren't given great depth; we never learn a whole lot about any of the participants.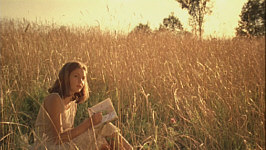 That goes for the parents as well. Woods makes Mr. Lisbon an amiable but spineless good, while Turner turns Mrs. Lisbon into a vaguely brittle but still harsh taskmistress. Why are they the way they are? I don't know, as the film does little to expand upon their personalities.
In Sofia's defense, it appears that these semi-frustrating elements all stemmed from the original book. I never read that work, but the various reports I've heard indicate that it was never a character-driven or oriented piece. In fact, Eugenides himself states this during the DVD's documentary. As such, one can criticize the film of TVS for its vagueness, but one shouldn't slam Sofia for this aspect of the movie, as she was simply sticking to the source.
Despite some weaknesses, TVS stays compelling due to the self-assured technical prowess Sofia displays. At times she seems a little too consciously arty for her own good - lots of colored filters appear in the film - she manages to effectively convey a sense of tone that complements the work nicely. The project maintains an ethereal and airy feel that strongly evokes the era and makes the film more compelling.
Actually, the visual aspects of TVS aren't most prominent for me. I really loved the ways in which music was integrated into the film. Many films toss in period songs to "place" a movie, but few have done so as effectively as we see here. From the Heart songs that are used to define some of Trip's moments to the wonderful scene in which the teen boys communicate with the sisters via wisely-selected singles, the tunes do more than provide quick hits of nostalgia. They add beauty and drama to the film and make the work more memorable than it otherwise might have been.
The Virgin Suicides mainly attempts to be about a time of life and a way of feeling, and it succeeds nicely in those regards. If you want to see a movie with tight plotting and crisp exposition, this isn't the one for you. Even if you don't care about those things, TVS still may not be for you; if can be a frustratingly vague experience. However, I found it to offer a nicely atmospheric and evocative piece that has stuck with me long after viewing.
The DVD: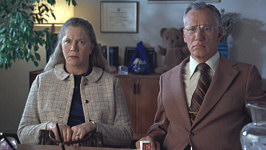 The Virgin Suicides appears in an aspect ratio of approximately 1.85:1 on this single-sided, double-layered DVD; the image has been enhanced for 16X9 televisions. Although the movie seemed slightly erratic, for the most part the picture appeared good.
Sharpness looked mildly variable. Most of the film came across as acceptably crisp and well-defined, but some scenes could appear fairly soft and fuzzy. I think a lot of those issues resulted from the lighting scheme used for the movie; it featured a great deal of natural light during interior shots, and these are the ones that appear least well-defined. Moiré effects and jagged edges seemed absent, and artifacts from the anamorphic downconversion on my 4X3 TV looked minor. The print seemed slightly gritty and grainy on occasion, but for the most part I witnessed little in the way of flaws.
TVS presented many stylized hues, and the DVD replicated these tones accurately. Most prominent are the warm golden colors used for much of the film, and these came across as clean and attractive. In addition, other hues - especially the stark blues presented later in the film - also seemed well-reproduced. Black levels appeared deep and dense, and shadow detail was appropriately heavy but not excessively thick. Despite a few minor concerns, The Virgin Suicides largely presented a fine picture.
Also quite good is the Dolby Digital 5.1 soundtrack of TVS. The film made particularly fine use of music. The soundfield stuck strongly to the forward channels except for the score and many then-current pop tunes, which spread nicely to the rears. Some effects also appeared in the surrounds, but these rarely elevated above the status of general ambiance; otherwise it was all music from the rear speakers. The track presented the music in a wonderfully engaging manner. The tunes emanated from the surrounds smoothly; the forward speakers dominated but the natural extension to the rears neatly reinforced the sound.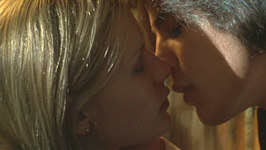 The quality of the audio helped make the presentation even stronger. Dialogue seemed distinct and accurate without signs of edginess or problems related to intelligibility. Effects were clean and crisp and seemed appropriately realistic. However, it's the music that best distinguishes the soundtrack. The songs are bright and vivid, and the mix does an extremely nice job of reproducing the warmth and tonality of vinyl records. We hear flaws due to the (intentional) presentation of crackles and pops, but the clarity and natural appearance of the songs seemed terrific.
This sounded best during two Heart tracks: "Crazy On You" and "Magic Man". I thought these songs came across more strongly than the vast majority of music on DVD; I don't know how they did it, but I wish more producers would emulate their techniques since the music appeared much clearer and more distinct than usual.
The Virgin Suicides includes a few supplemental features. Most prominent is the Making of The Virgin Suicides, a 23 minutes piece produced by Sofia Coppola's mother Eleanor; she's best known for the excellent Hearts of Darkness documentary about husband Francis' Apocalypse Now. This show doesn't remotely approach the level of that program, but it offers a mildly engaging diversion nonetheless. One can clearly see the mother's viewpoint come through during the piece as it often focuses on how talented and hard-working Sofia is. We hear this from many different cast and crew members in addition to the proud parents themselves.
Despite this tone, the program keeps the mushiness within tolerable levels and it provides a decent look at the creation of the film. The show combines interviews and behind the scenes footage with movie clips - lots of movie clips. Far too many movie clips, really; they overwhelm the program at times. However, the documentary added to my understanding of the film, so it succeeded as a whole.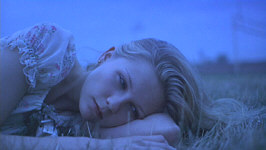 In addition, a few minor extras round out the disc. We get the theatrical trailer for TVS plus a music video for Air's "Playground Love". At first this appears to be nothing more than a series of clips from the film, but it's actually a combination of movie shots plus material filmed specifically for the video. We see a wad of gum as it moves from character to character and eventually falls in love with another chewed lump of gum. Odd? Yup, but it's certainly more interesting than the usual MTV fare.
Lastly, a Photo Gallery adds 30 snaps from the set. They appear two per frame, which is an odd decision since it makes each one smaller than it had to be. We also get "DVD Production Credits". An audio commentary would have been appreciated, but this is still a decent little set of extras.
While The Virgin Suicides is an unusual piece of work, it makes for an impressive debut from Sofia Coppola. The movie lacks strong characterizations and a coherent story but it balances out these flaws with self-assured style and a nicely-ethereal aura that created a haunting tone. The DVD presents very solid picture and sound plus a few moderately interesting supplements. At the very least, The Virgin Suicides merits a rental.