Picture/Sound/Extras: A-/B+/B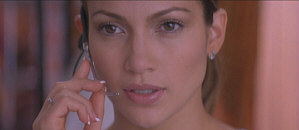 If future historians want to mark the date on which Jennifer Lopez officially became Excessively Annoying, I recommend January 23, 2001. That was the date the actress-turned-singer's second pop album hit the shelves. Titled J. Lo, this platter did quite nicely on the charts and helped reinforce Lopez's dual career.
Why did I select this release date as the pivotal one? It wasn't because I hate the music. No, I don't care for Lopez's thin material, and her voice is awfully weak, but I've paid so little attention to her music that it really doesn't matter to me. Instead, I opted for this date because of the name of the album. For some reason, this self-adopted nickname of "J-Lo" really gets on my nerves. If I never hear this burgeoning diva refer to herself by that moniker again, it'll be too soon.
It's funny how our opinions of people can change. It wasn't that long ago that I thought Lopez was a cute and mildly engaging presence who I actually liked. However, her antics have become irritating in recent months. From her dalliance with rap annoyance Puff Daddy to her dopey album title to her ugly but attention grabbing dresses, Lopez has started to appear massively unlikable.
In the interest of fairness, I must admit that my negative attitude toward Lopez is almost totally due to her extracurricular activities. While I don't care for her music, nothing about it really bothers me, and the same attitude relates to her films. To date, she's appeared in exactly one movie that I really liked: 1998's Out of Sight. She also provided a voice for 1998's Antz, but OOS was her only onscreen appearance that did it for me. Otherwise, she tends to show up in pretty lousy flicks. 1997's Anaconda may be her worst, but I also disliked that year's U Turn, and 2000's The Cell was a dud as well.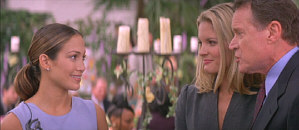 One area in which Lopez seems to deserve some credit stems from the variety of her choices. Unlike other successful actresses like Julia Roberts and Sandra Bullock, she really hasn't developed any sort of niche for herself. A look through her résumé reveals little consistency between the different films. From the dramatic biopic Selena to the schlock horror of Anaconda to the ironic Taratino-esque film noir of U Turn to the gritty but comedic and sexy drama of OOS to the freaky sci-fi terror of The Cell, Lopez has been all over the map, with no particular genre to call her own.
With 2001's The Wedding Planner, it looks like she has her eye on the territory claimed by Roberts and Bullock. From what I can tell, this is Lopez's first attempt at a romantic comedy. While the film wasn't bad, the results seemed fairly tired and worn, as the movie suffered from too many similarities to other flicks in the genre.
Mary Fiore (Lopez) is a very successful wedding planner who will get a partnership in the firm for which she works if she can land a highly-desirable account. Mary does snag the wedding of Fran Donolly (Bridget Wilson-Sampras), and life really seems to be going well when she meets Dr. Steve Edison (Matthew McConaughey) after he saves her from a runaway dumpster. The two share a special evening and it looks like the wedding planner may be on the way to the altar herself.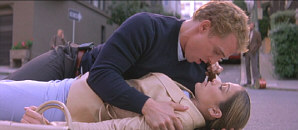 However, things take a turn for the worse when she meets Fran's fiancé; to her shock, it's Dr. Steve! To say the least, this is a conflict of interest, but Mary tries to make the best of it, even though it's clear that Steve and Mary are meant for each other. Complicating the situation is another suitor for Mary's heart, obnoxious Italian Massimo (Justin Chambers). Her well-meaning Dad set this up though Mary and Massimo only knew each other briefly as kids when Mary's family visited Italy. However, Massimo seems to start to grow on Mary, so we're supposed to wonder if she might give up on Steve and go for the less spectacular choice.
Not bloody likely, not in this kind of flick. I won't explicitly state how the movie ends, but if you can't figure out who ends up with each other at the end of the picture, I just can't help you. While TWP isn't a poorly-executed film, it lacks anything that even remotely surprises the viewer.
Within the constraints of the romantic comedy genre, though, it's not a bad piece. Frankly, this is one of those movies that's just kind of "there". I watched it and didn't mind the experience, but I found very little of it to seem memorable, endearing or very entertaining.
Still, TWP tends to the mildly charming side of its innocuous street, so I won't complain too much. As I noted earlier, I've never had any problems with Lopez's onscreen performances, and she provides a nicely breezy and engaging presence. Mary easily could have been an obnoxious type-A personality who was too prissy and controlling. However, Lopez makes her seem appealingly innocent and soft, and she helps create a pleasant atmosphere for the film.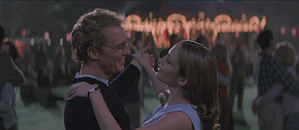 She and McConaughey also spark well together, as they show pretty solid chemistry. They aren't the hottest movie couple I've seen, but I felt they mesh nicely and seem like a believable pair. McConaughey's made a lot of bad career choices, but he usually comes off as a down-to-earth, agreeable guy, and that tone works for him here as well.
Nothing else about the movie really stands out in any way. If you've seen any other Julia Roberts film like My Best Friend's Wedding or Runaway Bride, you've essentially watched The Wedding Planner. Some story details may change, but the overall effect is the same. I found the result to be a fairly pleasant experience, mainly due to the gentle charm of its stars, but if you really dislike light chick flicks, you won't find much to enjoy here. However, if this kind of film is your cup of tea, you should have a good time with this work.
The DVD:
The Wedding Planner appears in an aspect ratio of approximately 2.35:1 on this single-sided, double-layered DVD; the image has been enhanced for 16X9 televisions. Not surprisingly, the picture looked consistently excellent, with almost no problems on display.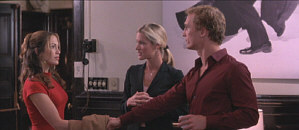 Sharpness seemed very good. One or two wider shots showed some modest softness, but these concerns were minor, and they really looked as though they were tied in to the film's design; TWP featured a warm, gentle visual presentation, that hearkened back to older romantic movies, so the airy look was appropriate. In any case, the movie appeared crisp and well-defined as a whole. I saw no examples of moiré effects or jagged edges, and print flaws also seemed absent. At no point did I discern any signs of grain, grit, speckles, scratches, tears, or other defects in this clean, fresh image.
Colors looked bright and vivid throughout the film. Due to the various wedding-related settings, we were treated to a nice variety of bold and vibrant hues, and the DVD reproduced these well, with very accurate and clean tones on display. All those flowers really provided a vivid and exquisite palette, and the colors consistently appeared lovely. Black levels seemed nicely deep and rich, and shadow detail usually came across as appropriately heavy but not excessively thick. All in all, the DVD presented a simply terrific picture.
Also fairly good was the Dolby Digital 5.1 soundtrack of The Wedding Planner. As one might expect of this sort of romantic comedy, the soundfield usually stuck pretty close to the front spectrum. Across the forward speakers, the audio presented a solid image that created a decent environment. Music offered a good stereo presence, and effects were appropriate and well-localized. There was very little to hear in the movie that didn't relate to general ambience, but these aspects presented a nicely natural and realistic environment.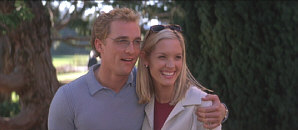 The surrounds mainly stayed in general reinforcement mode as well. Most of the rear activity functioned mainly to back-up the forward spectrum. Both music and effects spread neatly to the surrounds, however, and they combined to create a light but useful setting.
Audio quality seemed to be consistently strong. Dialogue appeared warm and natural, and it displayed no edginess or problems related to intelligibility. Effects were crisp and realistic, and they showed nice clarity without any distortion. Music appeared clean and smooth, and it occasionally offered some solid low end during a few of the pop songs. Effects also showed reasonable depth and dynamics, and the entire track possessed quite satisfactory range and quality. Although you won't use The Wedding Planner to show off your system, the mix complemented the material and worked well.
The Wedding Planner packs in a decent complement of extras, starting with a running audio commentary from director Adam Shankman and writers Pamela Falk and Michael Ellis. All three of them were recorded together for this screen-specific affair. At times the track tended to be a little on the "happy-happy" side and the participants occasionally spent too much time praising the film and those who worked on it. However, for the most part I thought this was a very interesting and enjoyable piece that kept me entertained.
Shankman's a somewhat hyper dude, so he dominates the proceedings, but he's also somewhat frank. No, we don't hear any dirt about Lopez's diva antics - if any occurred on the set - but he does supply some funny anecdotes from the set. I won't spoil these, but you'll be disgusted to hear the details about the macaroni and cheese that Massimo makes, and we also learn who got drunk on the set and who was doped up on painkillers for one scene. Actually, there are a ton of great details that come up during Shankman's part of the piece.
Falk and Ellis used to be a couple, which makes their dynamic interesting, and they also provide some good comments throughout the track, especially when they bicker. We learn a lot about the project's origins and changes made to the story as it developed. Overall, it's a funny and lively commentary that got even more compelling as it progressed - you'll definitely want to stick with this one until its end.
Next we find a section that includes seven Deleted Scenes. Each of these runs between 40 seconds and four minutes, 15 seconds for a total of about 13 minutes and 20 seconds of shots. All are available with or without commentary from director Shankman.
While none of these clips was great, they all seemed worthwhile when compared to the rest of the flick. It appears that they were removed mainly due to time factors, and fans of the film should enjoy them. If nothing else, they let us know why sexy Fabiana Udenio - Alotta Fagina in Austin Powers: International Man of Mystery - shows up in the credits but not the film. However, we don't see any additional footage of Kevin Pollak, so the small nature of his part remains a bit of a mystery.
As for Shankman's comments, they're decent at best. When a disc includes this kind of track, all I really want is for the director to tell us exactly why he cut the scenes. For the most part, Shankman doesn't do that. He talks about some mildly interesting aspects of the snippets, but he doesn't really relate the reasons for their removal. However, I should note that he does go into that topic during the feature commentary, so at least some mention of this issue appears on the DVD. No, it's not where it should be, but the end result is the same, I suppose.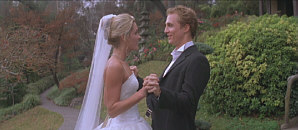 The remaining supplements are less exciting. We find two featurettes. The "Making Of" absolutely defines the word "glorler", as it provides nothing more than three minutes and 20 seconds of promotional material. "The Dancer and the Cowboy" was mildly more interesting. That two minute and 55 second piece took a moderately closer look at the ballroom dancing and the horseback riding sequences. It remains largely superficial, but its smaller focus makes it more compelling than the other piece.
We also get Selected Filmographies for director Adam Shankman and actors Lopez, McConaughey, Wilson-Sampras, and Pollak plus a Weblink to the official TWP website. Inside the DVD's booklet, there are short but decent production notes. Lastly, the disc includes trailers for TWP and My Best Friend's Wedding, U Turn and Anaconda.
Although I rarely comment on DVD menus, I must note that I thought the design of this disc's main page was very cute. For our various selections, they're affixed to something that resembles a day planner; the tabs show "Subtitles", "Audio Set-Up" and the other choices. The fun part comes from the little notes jotted on the first page of the planner. Now if only I can discover the significance of "8-11-01" - what happens on August 11th 2001?
Anyone who hopes to find something new and unusual in The Wedding Planner will walk away disappointed. However, anyone who likes gently comic romantic chick flicks should have a good time with this piece. It does nothing very creative or extraordinary, but it was a pleasant enough experience. The DVD offered excellent picture and fine sound plus some good extras, including a very fun audio commentary. The movie will work best for fans of the genre, and those folks should be very pleased with this nice DVD.