Picture/Sound/Extras: A/B/B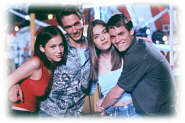 Whatever It Takes was the latest in the line of teen films that has come out in recent months. Looking indistinguishable from all of the other ones, the film dissapeared quickly. It's similar to some of the better teen releases in recent times, such as 10 Things I Hate About You. Inoffensive, harmless and a little silly - forgettable, but moderately entertaining.
The film calls itself an interpretation of Cyrano de Bergerac (yeah, right). The film sort of plays like a bit of a spinoff of 10 Things I Hate About You. Ryan (Shane West) is attracted to Ashley (Jodi Lynn O'Keefe, who seems to be in every single teen film). Chris hears about the situation and promises to do something about it. He's Ashley's cousin and he wants to date Ryan's neighbor, Maggie (The Practice's Marla Sokoloff). The two will teach each other everything they need to know about the girls, but the end result of the story is obvious from the first few minutes.
Maggie is obviously the perfect girl for Ryan, and it's only a matter of time before he realizes it - in other words, the formula for just about every romance that comes along. It presents teens as vapid and concerned about nothing else besides their clothes and popularity. I can almost understand the part about being concerned about popularity (I mean, who wasn't when they were in high school?), but this (and certainly, this isn't the first teen film to do so) film presents the entire school as stereotypes.
Ok, so the story is nothing too creative or original, and seems restrained to try and attain the PG-13 rating, instead of an "R" like American Pie. Somehow though, Whatever It Takes seems to bounce along on the charm of its leads. O'Keefe is certainly attractive, but her acting ability is rather limited. If the teen genre ever drys up, she's going to be in serious trouble. Of more interest are Sokoloff and West, who have nice chemistry together and both offer solid, if unspectacular performances.
Whatever It Takes is one of those films that will simply appeal to it's intended audience and probably no one older than that. It's not art, but I found it moderately entertaining as teen films go. When this genre dries up though, I'm not sure some these actors will have other roles waiting for them.
The DVD:
Whatever It Takes has been granted an almost too-stunning transfer from Columbia/Tristar. Certainly not a busy film visually, the film's sunny exteriors certainly look pretty stellar on this transfer, offered in a 1.85:1 anamorphic transfer (with a full frame version on the flip side).
Colors are extremely pleasing, with a near-rainbow on display due to the outfits on display in the school hallways. Colors are bright, bold and well-saturated, with no problems at all. Sharpness is consistently perfect; images are smooth and natural. The presentation offers fine detail and even night/dimly lit sequences are well-defined.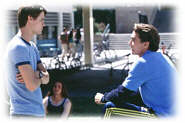 As for flaws, I really didn't notice much. There are no instances of shimmering, but a couple of slight traces of pixelation once or twice. Print flaws are kept to a minimum - only a speckle or two. As expected from a film that's only come out a couple months ago, the image remains strong throughout. As usual from Tristar, this is great work.
Although many teen films focus on the pop soundtrack that they all offer, Whatever It Takes goes a few steps beyond that. Yes, it certainly does have pop songs all across the soundtrack, but there are some subtle sounds that are captured well, even within the first few minutes of the movie, where the chatter from all of the students and other background noise at an assembly is carried by the surrounds.
As for the music, it sounds excellent. If you're into the kind of music that's offered here, it makes for a solid listening experience. The music is dynamic and punchy, filling the listening space each time music is used. Surrounds are used either for the score, or get effective use for some ambient sounds.
Supervising sound editor Greg Hedgepath has certainly worked on some different kind of films than this one; he has also worked on the sound for such films as Starship Troopers, Blade, Desperado and Speed. Certainly this is no Armageddon, but I liked how steps were taken to add a little more detail than just the dialogue and the music. Dialogue sounds clear and clean.
It's nothing too remarkable, but the quality in general earns this a "B".
Tristar offers up quite a few entertaining extras with Whatever It Takes, best of which is a fun and informative commentary track.
The commentary track features director Dan Raynr, as well as actor/actress pair Shane West and Marla Sokoloff. It reminded me somewhat of the commentary for Can't Hardly Wait, where the track is simply more about having fun with the commentary process than taking the whole thing seriously. There is still some interesting information about the production offered, such as some tidbits about test screenings as well as what ended up on the cutting room floor.
I always like when actors participate in the commentary, and the two do have a lot to offer about what it took to do certain aspects of their roles. Raynr says something moderately early in the commentary that I had thought as well - Sokoloff is cute enough to make her completely the obvious choice for West's character from the opening. Although the reason he offers about the story isn't completely satisfying, I was pleased to hear this story problem acknowledged.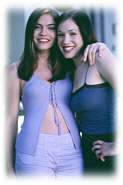 Yes, some of the elements of the commentary are just silly and fun, but I was suprised by the amount of fairly informative information that was offered, such as the casting, as well as how the film had to go for a PG-13 as well as again, some testing information which includes even information about how the original title had to be "tested" and was changed to Whatever It Takes.
The rest of the commentary deals with the usual; problems that arose with the script and shooting, working with the actors, and other things that arise during filmmaking. There are really very few pauses during the commentary - the director does lead the way and do most of the talking, but the 2 actors do contribute as well. It's one of those commentaries where, the film may not be wonderful, but the discussion does have a lot to offer.
As for the usual set of trailers for Columbia titles, first up is Can't Hardly Wait, which is no Oscar-winner either, but more fun than Whatever It Takes; Jawbreaker, which is a terrible film and finally, the trailer for Whatever It Takes. All 3 trailers offer Dolby Digital 5.1 sound, and Can't Hardly Wait has a couple of things in the trailer which didn't make the final film.
Then there are the 4 deleted scenes which look like they had to be deleted for a combination of time and content. They're in pretty rough form.
Rounding out the extras as the isolated score, short featurette and talent files.
For my final thoughts, Whatever It Takes is definitely a "teen" film that they will enjoy; others wil probably not find it as entertaining. Tristar has done fine in the DVD department, though - extras, sound, picture quality are all solid.
Menu: DVD Movie Guide | Archive | Top