Picture/Sound/Extras: B+/B+/D+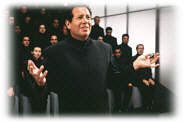 Take a well-respected director in the form of Mike Nichols and add a strong cast composed of chiefly of Garry Shandling, Annette Bening, John Goodman, Greg Kinnear, Linda Fiorentino and Ben Kingsley and what do you have? A pretty mediocre comedy called What Planet Are You From?. That's an Oscar-winning director, plus an Oscar-winning actor and two others who've been nominated, and this was the best they could do?
Not that WPAYF is a bad movie, for it's generally mildly entertaining. It just seems rather light and lackluster for such a combination of talent. No, not every film can be earth-shakingly great, but this one doesn't even manage the slightest tremors; it's a pretty minor little piffle.
Shandling plays an alien sent to Earth to knock up a woman and eventually allow his all-male planet to dominate us. Instead of the usual kidnapping/probe route, he needs to blend in with society and get into any woman's pants the old-fashioned way: sweet-talk.
This leads to some modestly funny "fish out of water" scenes; Harold - as he's known on Earth - was taught how to behave around women, but his mentors didn't get the nuances down too well. Harold slowly starts to pick up on things and gradually - and inevitably - starts to become human in spirit.
Bening plays Susan, a recovering alcoholic who becomes Harold's Miss Right, and much of the film follows the travails they encounter as a couple. She's not in on his mission so we see a lot of scenes that continue the theme of the man who doesn't understand women. (Not that we natives of Earth do much better.) Bening's presence adds class to the project and makes an underdeveloped part more compelling.
Goodman's role as an FAA agent who stumbles onto the alien's arrival seemed completely tacked onto the film. The part exists for no reason other than to provide some element of menace in the movie, something that it didn't need. I like Goodman, and he maintains an entertaining presence in the film, but I don't think his role was necessary.
Although the story features many genital-related jokes - the men of Harold's planets lack penises so his mechanical one has been grafted onto him - it doesn't seem as smutty as one might expect. The "humming dick" gag gets quite old quickly, but that's about as far as the movie goes; this picture doesn't include the seriously low-brow humor of movies like There's Something About Mary.
At this point of the review, I'm really struggling for things to say about What Planet Are You From? because it's such a minor piece of work. Overall I enjoyed the movie to a small degree; it's the kind of picture that you watch when it appears on cable and you have nothing better to do. Considering all the talent involved, however, that's a pretty disappointing result.
The DVD: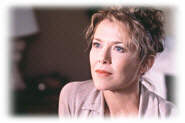 What Planet Are You From? appears in both its original theatrical aspect ratio of approximately 1.85:1 and in a fullscreen edition on this double-sided, single-layered DVD; the letterboxed image has been enhanced for 16X9 televisions. Only the widescreen side was rated for this review. While not a flawless transfer, the movie looks quite good.
Sharpness seems generally crisp and clear, though some scenes appear vaguely gauzy and flat; the softness at those times isn't extreme, but at times, I felt the film looked a little less detailed than it should. Mild moiré effects appear on occasion, and I also detected a few artifacts from the anamorphic downconversion on my 4X3 TV. Print flaws appeared absent; I saw no signs of grain, speckles, hairs, scratches or other issues.
Colors were fairly accurate and natural. They seemed well-saturated and solid, without any bleeding or noise. Black levels are deep and dark, and shadow detail appeared appropriately heavy without any excessive haziness. Overall, the film presents a very attractive image.
Also pretty good is the Dolby Digital 5.1 soundtrack of WPAYF. Since it's a romantic comedy, one wouldn't expect a wild mix, and the sound for the film seems appropriately subdued. However, it offers a fairly broad soundfield. The forward channels maintain a nicely wide spectrum that opens up the image well, and the rears kick in with good use of music and effects at times; some scenes - such as those related to space or planes, mainly - really envelop the viewer strongly.
Audio quality appears positive as well. Dialogue sounds warm and natural, with no problems related to intelligibility. Effects are clear and realistic, and they offer a solid punch when necessary. The music sounds full and bright and also includes some fairly good low end. For the film it supports, the soundtrack of WPAYF works nicely.
This DVD includes only a few minor supplemental features. We get a featurette that lasts five minutes and five seconds. It's essentially the standard promotional fare that combines cast and crew interviews with movie clips plus a shot or two from the set. The program remains fluffy and light, but it's a little more interesting than most just because Shandling cracks a couple of good jokes.
An alternate audio track provides Carter Burwell's score in its entirety. Although I don't much care about movie music, I always appreciate the inclusion of these isolated scores, as I know many people enjoy them. This addition definitely contributes to the DVD's overall value.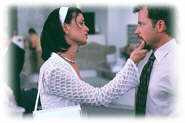 Finally, we find the usual useless "Talent Files" featured on most Columbia-Tristar DVDs. The disc includes brief entries for Shandling, Bening, Goodman, Kinnear, Fiorentino, Kingsley, and Nichols. The DVD provides a slew of trailers, and it's the most democratic list I've seen; none of the participants get more than one promo apiece (not including WPAYF, of course). We receive ads for WPAYF, Wolf (Nichols), Bugsy (Bening and Kingsley), Men In Black (Fiorentino) and As Good As It Gets (Kinnear). The DVD finishes with some short but good production notes in its booklet.
What Planet Are You From? isn't a classic, but it offers a few modest laughs and makes for a generally enjoyable product. When one considers the strong talent involved, such mediocrity may not be good enough, but I found it to be a pleasant little film. Both picture and sound seem very good, though the DVD provides few extras. WPAYF may merit a rental if you're in the mood for a light comedy that will probably be acceptable for both men and women, but it doesn't rate any recommendation stronger than that.
Menu: DVD Movie Guide | Archive | Top