HBO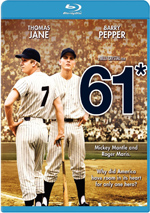 MOVIE INFO
Director:
Billy Crystal
Cast:
Barry Pepper, Thomas Jane, Anthony Michael Hall, Richard Masur, Bruce McGill, Chris Bauer, Jennifer Crystal, Christopher McDonald, Bob Gunton
Writing Credits:
Hank Steinberg
Tagline:
Mickey Mantle and Roger Maris. Why did America have room in its heart for only one hero?
Synopsis:
One was the Yankees' best loved player, the other was their most valuable. In the summer of 1961, Roger Maris and Mickey Mantle took on Babe Ruth's record, the 1927 single-season 60 home run slam. It would be a summer that no one who knows baseball would forget. In 1961, Mickey Mantle is a Yankee favorite. The smiling sun god of the season, a hit with fans and sports writers alike and natural heir to his predecessors Joe DiMaggio, Lou Gehrig, and Bebe Ruth. Also at bat is a yound midwesterner, Roger Maris. A hard-hitting right fielder, Maris is Mantle's opposite in almost every way. Quiet and soft-spoken, he doesn't add up to everything a sports legend should be, and finds himself losing the support of the fans when he refuses to try. As the summer of 1961 unfolds, both Maris and Mantle find themselves approaching Babe Ruth's benchmark of 60 home runs. Facing mounting pressure from the media and the stands, they both know there's only room for one winner. The people make their choice known. But the people's favorite isn't the favorite to win.
MPAA:
Rated NR


DVD DETAILS
Presentation:
Widescreen 1.78:1
Audio:
English DTS-HD MA 5.1
Spanish DTS 2.0
French DTS 2.0
Subtitles:
English
Spanish
French
Closed-captioned
Supplements Subtitles:
None

Runtime: 129 min.
Price: $19.98
Release Date: 6/7/11

Bonus:
• Audio Commentary with Director Billy Crystal
• "The Greatest Summer of My Life: Billy Crystal and the Making of 61*" Documentary
• Baseball Statistics




PURCHASE @ AMAZON.COM

EQUIPMENT
Panasonic 50" TH-50PZ77U 1080p Plasma Monitor; Sony STR-DG1200 7.1 Channel Receiver; Panasonic DMP-BD60K Blu-Ray Player using HDMI outputs; Michael Green Revolution Cinema 6i Speakers (all five); Kenwood 1050SW 150-watt Subwoofer.


[an error occurred while processing this directive]
---
61* [Blu-Ray] (2001)
---
Reviewed by Colin Jacobson (June 13, 2011)

Until the offensive explosion of the steroid era make a mockery of the baseball record book, one achievement looked potentially untoppable: 61 home runs in one season. Roger Maris achieved that in 1961, and no one really threatened it for years. Heck, between 1962 and 1995, only two hitters even knocked out 50 homers in one year!

That all changed in 1998 when 1998 when Mark McGwire hit 70 – and Sammy Sosa belted 66. Three years later, Barry Bonds would set the current MLB record of 73. Those records aren't going anywhere; like it or not, the marks set in the steroids era will have to be in the books forever, as it's simply impossible for statisticians to take into account what numbers are legit and which are tainted.

Because of the steroids, I believe that fans regard Roger Maris as the true record-holder for the 61 home runs he hit in 1961. Of course, that achievement itself generated some controversy, as evident in the title of 2001's 61*. Maris hit his 61 home runs across 162 games, while Babe Ruth – the prior record-holder – slammed his 60 in 156 games.

Due to that, then-commissioner Ford Frick declared that the record books should probably indicate that Maris earned his mark in a longer schedule. Ever since, fans have believed the official stats included an asterisk next to Maris's record, but that's not true; there was never anything used to separate his mark from Ruth's.

Nonetheless, the myth stands – and at least it helps give 61* a distinctive title. The movie actually opens with a look at 1998; made during the time before steroid suspicions became fact, it takes the McGwire/Sosa competition of 1998 on its face and uses it to launch at look back at 1961. While Maris set the record, he didn't do this in a vacuum, as he battled Yankee teammate Mickey Mantle for the home run title all season.

61* follows the chase and shows the contrast between the two players. Though Maris (Barry Pepper) won the MVP in 1960, in the public eye he played second fiddle to Mantle (Thomas Jane), the fan favorite. The film shows the relationship between the quiet family-oriented Maris and the hard-partying, womanizing Mantle as they compete against – and play with – each other across that memorable summer.

One could call 61* a vanity project of sorts, as Crystal remains a lifelong Yankees diehard. Crystal's allegiances do shine through in the movie, so don't expect a hard-hitting documentary-style program. Though 61* certainly portrays the negatives Mantle and especially Maris experienced in 1961, it's mainly a loving tribute from a fan; expect something with nearly the same sentimental tone as The Natural.

And you know what? That's fine with me. Crystal doesn't attempt to portray a one-dimensional view of its situations and characters, but it does want to revel in them, so I can easily forgive its tendency toward sentiment. Crystal's unabashed love for the story being told comes through and adds an enthusiasm that helps make the film endearing.

I think the choice to frame the movie with material from 1998 flops, however. It adds unnecessary sentiment and looks silly in retrospect since the 1998 Adventures of Mac and Sammy aren't viewed fondly in the present day. That's not Crystal's fault, of course; he couldn't know that McGwire and other roid-abetted sluggers would suffer such precipitous falls in subsequent years. Nonetheless, the scenes now lack their original drama, and I think they're not especially useful anyway; even if McGwire's achievements had been totally on the up and up, the semi-modern day pieces seem superfluous.

The rest of the movie works awfully well, though. 61* creates a nicely human view of its main characters and provides a good representation of the chase. The movie balances those two sides well and never loses sight of either; it doesn't ignore the baseball to favor the character moments or vice versa. This means it keeps us with it as it provides good coverage of both the human drama and the on the field theatrics.

Some fine performances help. Pepper seems low-key and simple but never becomes a one-dimensional stiff, while Jane gives Mantle a sad overtone to compensate for his overt charm. The movie spends much more time with Maris but still represents Mantle well and allows us to see what a dominating figure he was. I really like the way the film portrays their friendship and the challenges it suffered during the momentous year.

No one will call 61* hard-hitting; as I mentioned, Crystal tends toward a somewhat sentimental view that coheres with his childhood love of the era. The movie also tends to treat supporting characters in a simplistic manner, as it turns Frick and some of the anti-Maris and/or pro-Ruth roles into semi-villains; while I don't doubt the rabid loyalty of those who wanted the Babe's record to stand, the film simply makes them look a little too mean-spirited.

Those minor missteps aside, 61* remains a likable exploration of one of baseball's most famous years. This is drama that will most appeal to fans of the sport, but I think others should be able to appreciate its human stories and get a lot out of it.
---
The Blu-ray Grades: Picture B+/ Audio B/ Bonus B
---
61* appears in an aspect ratio of approximately 1.78:1 on this Blu-Ray Disc. The image seemed satisfying.
Sharpness was generally very positive. A smidgen of softness appeared at times, mostly due to some dodgy effects work; when the movie recreated historic environments, the picture tended to become fuzzy. Nonetheless, the program demonstrated nice clarity and accuracy the vast majority of the time. I witnessed no instances of jagged edges or shimmering, and edge enhancement appeared absent. Source flaws also failed to interfere.
Colors stayed fairly natural for the most part. Like many semi-period flicks, tones could be a bit subdued, but the hues looked reasonably accurate and full. Blacks were acceptably dark and deep, while shadows showed positive delineation. Overall, I found this to be a strong presentation.
As for the DTS-HD MA 5.1 soundtrack of 61*, it seemed fine for the material. The soundfield opened things up to a moderate degree. Music showed nice stereo presence, and the soundscape broadened when appropriate. This mostly meant ballgame scenes, as the track featured good use of the side and rear channels to recreate the stadium atmosphere. This was a restricted mix, but it was satisfying.
Audio quality was good. Speech appeared natural, and the lines never demonstrated intelligibility problems. Music was dynamic and lively, as the score showed nice range and delineation. Effects were also accurate, with nice clarity. The breadth of the soundfield wasn't special enough to rate anything above a "B", but I thought the track suited the film.
When we shift to extras, we open with an audio commentary from director Billy Crystal. He provides a running, screen-specific look at story and themes, cast and performances, realism and replicating the film's era, sets and locations, effects, editing and music, cinematography, history and liberties, and a few other related areas.
My only complaint here connects to Crystal's frequent attempts to remind us how authentic and real the film is; he praises the flick a bit too much, and he can seem somewhat self-aggrandizing. Nonetheless, he offers a lot of good info about the challenges that went into the film's creation and involves us in the various processes. In particular, he brings out a good discussion of camera techniques. Despite the happy talk, Crystal brings us a nice discussion of his film.
Next comes a documentary called The Greatest Summer of My Life: Billy Crystal and the Making of 61*. It runs 51 minutes, 39 seconds and includes remarks from Crystal, producer Robert Colesbury, executive producer Ross Greenberg, Mantle's wife Merlyn and sons, broadcaster Ernie Harwell, Yankee Stadium announcer Bob Sheppard, former Detroit Tiger pitcher Paul Foytack, son Randy Maris, Maris fan/consultant Andy Strassberg, baseball consultant Reggie Smith, screenwriter Hank Steinberg, production designer Rusty Smith, special effects artist Mitchell Drain, and actors Barry Pepper, Thomas Jane, Jennifer Crystal Foley, Chris Bauer, Donald Moffat, Christopher McDonald, Bruce McGill, and Anthony Michael Hall. The show looks at Crystal's childhood baseball memories and his desire to tell the Mantle/Maris story as well as cast and performances, attempts at period details and baseball realism, character/story elements, effects, and shooting ball scenes.
The best parts of "Summer" come from its archival footage. I especially like the piece that shows Crystal when he met Mantle on Dinah in the 1970s. The content involved here is less interesting, though, mostly because "Summer" feels like a paean to Crystal's love for the Yankees. We hear a lot about his knowledge of the game and adoration of the players but not a whole lot related to the subject matter or the creation of the movie. This makes it an okay documentary but not a particularly good one.
A few more elements flesh out the set. We get hitting/fielding stats for both Mickey Mantle and Roger Maris as well as Roger Maris's 1961 Home Run List. In the first two, we get text biographies for the player as well as still screens with statistics, while the latter provides a chart that shows the date of each homer Maris hit as well as the teams against whom he hit them. All are nice, but I especially like the stats; sure, we can get this info on the Internet, but it's good to have here, especially since the statistics are much more detailed than I'd expect.
I don't know if 1961 is the most famous year in baseball history; with Joe DiMaggio's 56-game hitting streak and Ted Williams' .406 batting average, 1941 gets a claim, and 1927 earns consideration just for the dominance of that year's Yankees. Nonetheless, 1961 provided an extremely memorable season, and 61* depicts it well. It delivers an enjoyable view of the battle to top Babe Ruth's home run record and creates a rich drama. The Blu-ray offers very good picture and audio along with some useful supplements. This turns into a nice release for a winning film.
| | |
| --- | --- |
| Viewer Film Ratings: 3.8 Stars | Number of Votes: 5 |