PARAMOUNT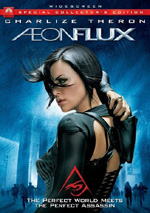 MOVIE INFO
Director:
Karyn Kusama
Cast:
Charlize Theron, Marton Csokas, Jonny Lee Miller, Sophie Okonedo, Frances McDormand, Pete Postlethwaite, Amelia Warner, Caroline Chikezie
Writing Credits:
Phil Hay, Matt Manfredi, Peter Chung (characters)
Tagline:
The Perfect World Meets The Perfect Assassin.
Synopsis:
Karyn Kusama, the writer-director of Girlfight, the story of a tough female boxer, turns her attentions to a tough female superhero in Aeon Flux. Based on a series of animated shorts that aired on MTV, the live-action feature film version stars Charlize Theron, in jet black hair, as the secret agent of the title. Aeon Flux is a Monican who has been ordered to assassinate Trevor Goodchild (Martin Csokas), the leader of Bregna - a futuristic walled city that is the last vestige of humanity on 25th-century earth. But a long-buried memory prevents her from killing him, ultimately making both of them targets. As Trevor battles his brother, Oren (Jonny Lee Miller), for control of Bregna, Aeon seeks revenge for the murder of her sister (Amelia Warner) while also being hunted down by her former partner, Sithandra (Sophie Okonedo). At the center of it all is a secret that threatens to tear everything apart.
Box Office:
Budget
$55 million.
Opening Weekend
$12.661 million on -unknown- screens.
Domestic Gross
$25.857 million.
MPAA:
Rated PG-13


DVD DETAILS
Presentation:
Widescreen 2.35:1/16x9
Audio:
English Dolby Digital 5.1
English Dolby 2.0
French Dolby Digital 5.1
Subtitles:
English
Spanish
Closed-captioned

Runtime: 92 min.
Price: $29.99
Release Date: 4/25/2006

Bonus:
• Audio Commentary with Actor Charlize Theron and Producer Gale Anne Hurd
• Audio Commentary with Co-Screenwriters Phil Hay and Matt Manfredi
• "Creating a World: Aeon Flux" Featurette
• "The Locations of Aeon Flux" Featurette
• "The Stunts of Aeon Flux" Featurette
• "The Costume Design Workshop of Aeon Flux" Featurette
• "The Craft of the Set Photographer on Aeon Flux Featurette
• Trailers




PURCHASE @ AMAZON.COM

EQUIPMENT
Sony 36" WEGA KV-36FS12 Monitor; Sony DA333ES Processor/Receiver; Panasonic CV-50 DVD Player using component outputs; Michael Green Revolution Cinema 6i Speakers (all five); Sony SA-WM40 Subwoofer.


[an error occurred while processing this directive]
---
Ćon Flux: Special Collector's Edition (2005)
---
Reviewed by Colin Jacobson (April 21, 2006)

At this point, would it be fair to compare Charlize Theron and Halle Berry? Both share odd first names, earned Best Actress Oscars in recent years, are world-class beauties, and turned toward action flicks in the wake of Academy Award success.

I suppose it's probably not right to lump Theron's post-Oscar career in with Berry's, though. While Berry has focused on genre flicks, Theron has continued to do more challenging work. Indeed, she took home another Best Actress nomination for 2005's North Country.

Alas, Theron's decision to appear in 2005's action spectacular Aeon Flux shows a potential slide into Berryland. A prologue tells us that in 2011, "a virus kills 99 percent of the world's population. A scientist, Trevor Goodchild, develops a cure. The five million survivors live in Bregna, the last city on Earth. The Goodchild dynasty rules for 400 years. Rebels emerge to challenge the Goodchild regime."

From there we end up in the year 2415 and learn about a rebel faction called the Monicans. Average Bregnans go missing for no apparent reason, and they also suffer from unexplained negative emotions that pop up at the drop of a hat. Aeon Flux (Theron) serves as a Monican and we watch her assignment to sabotage a government surveillance facility. When she returns, she learns that the government killed her pacifist sister Una (Amelia Warner) as a suspected Monican.

As one might expect, this puts Aeon over the top and she becomes even more heavily involved in the Monican cause. She soon gets the assignment of her dreams: to gun down Chairman Goodchild (Marton Csokas). This doesn't work out as planned, largely due to some complications Aeon discovers. The flick follows those issues and gets into how they impact her existence as well as general society.

I'm immediately suspicious of movies that start with text introductions. That factor doesn't inherently guarantee problems, but I see it as a warning side of potential concerns. The decision to toss out exposition in such a clunky way signals a possible lack of creativity and ingenuity. The stilted writing style used here sure doesn't do much to assuage my fears.

Nor did the immediate presentation of narration alter my worries. When a flick relies on text and than narration to launch its story, that seems like a bad sign. I understand that a tale like this needs to get out a lot of details to introduce us to its world, but a better-made movie would detail this information in a smoother manner.

Without question, Flux gets way too hung up on flashy visuals and quick cutting. Many of the choices don't even make sense. Why would surveillance visuals be housed in a pool of water? The movie tries so hard to be cool and clever that it forgets anything substantial like logic or characters.

This also harms the action scenes. We find a few cool moments like the killer blades of grass, but mostly we discover pointless flash without impact. The rapid cutting robs the action of impact. We don't feel the punch of these scenes since they rely on so much movie gimmickry.

Flux relies on visuals because it has nothing else to offer. It doesn't exactly give us a fresh, clever story or rich characters. Its twists lack surprise and none of its participants ever emerges as interesting or full-bodied. This makes it a bland action movie since we simply don't care what happens.

I never saw the animated series on which the Aeon Flux film was based, so I don't know how many of its flaws came from that source. It must've had something to offer, though, or else no one would've adapted it. I'd guess that its special qualities didn't make the transition to the big screen, as the live-action Flux is a dud.
---
The DVD Grades: Picture A-/ Audio B+/ Bonus B
---
Aeon Flux appears in an aspect ratio of approximately 5:1 on this single-sided, double-layered DVD; the image has been enhanced for 16X9 televisions. No substantial concerns emerged in this solid transfer.
Sharpness always came across well. Despite a smidgen of edge enhancement, I saw no problems with softness or a lack of definition. The movie appeared concise and distinctive. Jagged edges and shimmering failed to mar the film, and I also found no signs of source defects. A little grain showed up along the way, though.
Flux went with a surprisingly broad palette. It used many dynamic colors and reproduced them well. The hues were consistently lively and full. Blacks were also dense and deep, while shadow seemed clean and visible. This was a fine visual presentation.
A film filled with busy visuals deserves a soundtrack packed with busy audio, and that's what we got from the Dolby Digital 5.1 mix of Aeon Flux. I like an active track as much as anyone, but this one seemed over the top. It filled all five channels with music and effects almost constantly, even if the scenes didn't need those elements. At its best, the audio fleshed out matters and created a basis of actual drama to the film. Unfortunately, much of the time the mix felt like a desperate attempt at forced excitement, as though the auditory action would make us feel entertained.
At least the track used its pieces well. Although it threw too much information at us, the material blended well and created a smooth soundscape. The elements moved neatly and popped up in logical spots to form a solid environment.
Audio quality was also terrific. Speech was natural and concise, while effects sounded clean and concise. Music presented strong range and impact. The whole thing packed a good punch, as low-end was deep and powerful. I left this one with a "B+" because the excessive activity created distractions.
Flux DVD comes with a fairly impressive array of extras. We open with two audio commentaries. The first features actor Charlize Theron and producer Gale Anne Hurd. Both sit together for this running, screen-specific chat. Though generally informative, its low-key nature makes it slow going at times.

We get coverage of the expected subjects. The women discuss locations and sets, physical training and stunts, connections to the TV series, visual issues, and some story topics. Theron tosses out the best elements as she tells us about her injury, shooting in Berlin, and working with a baby. The commentary gives us a reasonable amount of information but it comes with a fair amount of dead air and never really kicks into gear. Fans will want to give it a listen, but they shouldn't expect a scintillating piece.

For the second commentary, we hear from co-screenwriters Phil Hay and Matt Manfredi. They also sit together for their running, screen-specific discussion. Though a bit low-key as well, the writers compensate with dry humor and good information.

Occasionally the pair toss out general production notes, but they usually concentrate on script issues. They tell us about the influence of the original series, characters and story, plot concerns, and changes between the screenplay and the final product. They tell us about cut elements and allow us to get a better feel for the film they intended to make.

Those areas offer the commentary's best parts. Manfredi and Hay don't openly criticize the film, and they praise some parts of it, usually related to the actors. However, one could definitely tell that the final product wasn't what they wanted. They relate how studio pressures affected the movie and offer some notes about their original vision. Though the track drags at times, the combination of wit and openness helps make this a worthwhile discussion.

Five featurettes appear after this. Creating a World: Aeon Flux runs 20 minutes and 49 seconds. It presents the standard mix of movie clips, shots from the set, and interviews. We get notes from Hay, Manfredi, Hurd, Theron, producer David Gale, creator Peter Chung, storyboard artist Robin Richesson, director Karyn Kusama, and actors Marton Csokas, Sophie Okonedo and Pete Postlethwaite. The program looks at the MTV series' adaptation for the big screen and connections to the show, visual design and the film's world, the story and themes, and characters and actors.

"Creating" offers an average overview of the film. It doesn't spotlight any one subject particularly well, but it gives us a decent run through a mix of appropriate areas. I like the parts about the TV series the best and wish we learned a little more about it.

For The Locations of Aeon Flux, we find a 14-minute and 47-second show. It features Gale, Kusama, Manfredi, Hurd, Hay, production designer Andrew McAlpine, location manager Matthias Braun, technician Rosemarie Ludewig, engineer Frank Lauterbach, and Tierheim manager Stefan Schenck. The piece looks at the original idea to shoot in Brazil, the eventual choice of Berlin, and the many elements of that city used in the film. It gets into these topics quite well. We see all the different spots and learn background about them. Some of the information repeats from the commentaries, but the visuals and other aspects of the show allow it to become useful.

The Stunts of Aeon Flux fills nine minutes, three seconds with comments from Theron, Kusama, Okonedo, stunt coordinator Charlie Croughwell, and actor Caroline Chikezie. Though the title implies a general look at the stunts, instead it focuses on the work of Theron and the other main actors. We hear about training and the physical aspects of the shoot. This never becomes a really deep program and it tends to be a bit fluffy as it praises the achievements of the actors. Nonetheless, we get some nice tidbits, and the footage from the set adds to the piece.

Next comes a 13-minute and 36-second program called The Costume Design Workshop of Aeon Flux. It presents information from costume designer Beatrix Aruna Pasztor, assistant costume designer Alexis Scott, and costume supervisor Meike Schlegel. As implied by the title, this one tells us about the design and assembly of the movie's clothes. We discover solid notes about influences and plans for the outfits as well as how they turn the concepts into reality. This ends up as a nice piece.

Finally, The Craft of the Set Photographer on Aeon Flux goes for three minutes, 34 seconds. We hear from still photographer Jasin Boland as he discusses his job. Despite the brevity of the featurette, it provides decent insights as it illuminates the set photographer's work.

Along with a trailer for Flux, the DVD includes some ads. We get clips for Mission: Impossible 3, Neil Young: Heart of Gold, and South Park Season Seven. These appear in the disc's Previews area and also start the DVD.

Does Aeon Flux have anything to offer the viewer other than shots of Charlize Theron in sexy outfits? Unfortunately, it doesn't. The flick provides the occasional intriguing moment but buries these among pointless visuals and dull characters. The DVD boasts very good picture and audio as well as a pretty good collection of extras. Aeon Flux is a strong DVD for a weak film.
| | |
| --- | --- |
| Viewer Film Ratings: 2.4615 Stars | Number of Votes: 13 |