HBO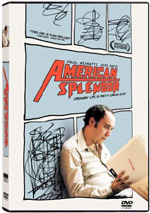 MOVIE INFO
Director:
Shari Springer Berman, Robert Pulcini
Cast:
Paul Giamatti, Harvey Pekar, James Urbaniak, Judah Friedlander, Hope Davis, Toby Radloff
Writing Credits:
Harvey Pekar (comic book series "American Splendor"), Joyce Brabner (comic book series "Our Cancer Year"), Shari Springer Berman, Robert Pulcini
Tagline:
Ordinary life is pretty complex stuff.
Synopsis:
American Splendor is the story of a little-known working-class everyman, and first-class curmudgeon, Harvey Pekar. Pekar finds love, family and a creative voice through the underground comic books he creates, but still can't manage to find the quicker supermarket checkout line. As Harvey puts it, "Ordinary life is pretty complex stuff."
Pekar, played by Paul Giamatti, is a frustrated file clerk at a V.A. Hospital, but also a comic book fan who befriends the young illustrator Robert Crumb and is soon inspired to create comic books based on his own life, entitled "American Splendor". Along the bumpy journey, he meets, marries and falls for Joyce, an admiring comic book seller, played by Hope Davis.
Also appearing in the movie are the real Harvey and Joyce, comic book renderings of the couple and cameos by some of Harvey's closest friends. In this truly original, ultimately heartwarming film, you will find yourself deeply immersed in a world of American Splendor.
Box Office:
Opening Weekend
$159.705 thousand on 6 screens.
Domestic Gross
$6.003 million.
MPAA:
Rated R


DVD DETAILS
Presentation:
Widescreen 1.85:1/16x9
Audio:
English Dolby Digital 5.1
English Dolby 2.0
Subtitles:
English
Spanish
French
Closed-captioned

Runtime: 101 min.
Price: $27.95
Release Date: 2/3/2004

Bonus:
• Group Audio Commentary with Directors, Cast & Harvey Pekar
• Featurette: Sundance Channel's "Road to Splendor"
• Music Only Track : American Splendor Song
• "My Movie Year" 12 page Comic Insert That Appeared in "Entertainment Weekly"
• DVD ROM Features including Screen Saver
• Easter Eggs




PURCHASE @ AMAZON.COM

EQUIPMENT
TV - Mitsubishi WS-48311 48" HD 16X9; Subwoofer - RBH TS-12A; DVD Player - Integra DPC-7.4 Progressive Scan 5-Disc Changer; Receiver - Integra DTR-7.4 THX Certified; Center - RBH MC-616C MKII; Front Channels - RBH MC-6C MKII Bookshelf Speakers; Mid & Rear Channels - RBH MC-615 In-Ceiling Speakers.


[an error occurred while processing this directive]
---
American Splendor (2003)
---
Reviewed by David Williams (March 16, 2004)

If Harvey Pekar's life is worthy of a major motion picture, then so is yours or mine … and I'm confident that Harvey would more than likely agree with me. And that's the draw to American Splendor, a loving autobiography of Pekar's very simple and humble existence. The film serves to show that there's inherent drama in everyone's life and that no matter how big or small you perceive yourself to be, your life is full of interesting stories to tell. As Pekar puts it, "Ordinary life is pretty complex stuff".

American Splendor follows in the vein of recent comic book movies, but in this case, there's no superhero, or supernatural foe, or world domination scheme … it's simply an autobiographical look at an everyman … a working-class Joe by the name of Harvey Pekar. For years, Pekar wrote (and had good friend Robert Crumb illustrate) an autobiographical comic about his ordinary, everyday existence as a file clerk in a Cleveland VA Hospital and the sad monotony of his daily life. His comic tacked such dilemmas as slogging day in and day out at the workplace, picking the quickest moving line at the grocery store (hint: they don't usually contain elderly Jewish ladies in them), misplacing your keys, taking the bus, and even washing dishes and turned it into an underground classic that inspired everyday heroes everywhere. The film adaptation of these adventures, American Splendor, isn't really a fully realized comic book adaptation nor is it a wholehearted documentary; it's a pleasant mixture of the two and it literally sucks you in from the get-go.

We are introduced to Harvey in a multitude of ways and he shows up in these different forms throughout the film. There's the film version of Harvey, played masterfully by Paul Giamatti; a hand-drawn and animated Harvey that pops up from time to time to serve as the visible conscience of our hero; and finally, there's the real Harvey Pekar and he shows up (as well as some of his friends) in interview snippets shot on a sound stage somewhere and always has some dry, witty comment on the proceedings and what he was going through at that particular time in his life.

Soon after the film opens and after we've gotten our crash course on Harvey Pekar, we find Harvey's current wife packing her bags and leaving him … tired of their blue-collar existence and especially tired of her very peculiar, socially impotent, and seemingly apathetic husband. While feeling defeated (again), a chance meeting with Robert Crumb (James Urbaniak) at a yard sale becomes a pivotal moment in Harvey's life. While perusing some old jazz records, Crumb approaches him and the two strike up a conversation about their mutual love of jazz and coincidentally, comic books.

Their friendship blossoms and soon thereafter, Crumb and his art become an underground sensation. Pekar realizes that with Crumb's success, comics don't necessarily have to be targeted to children or to superhero fanboys. He realizes that there's actually a market for more mature material … and Pekar thinks that there's enough happening in his day-to-day life to fill volumes upon volumes of such books. Therefore, he starts chronicling his daily observations by putting pencil to paper. Stick figures are the best he can come up with visually, but the words and the situations are all his (think Larry David and Curb Your Enthusiasm). He presents the material to his buddy and surprisingly, Crumb proposes bringing Pekar's surreal ramblings to life and offers to illustrate the comics for him.

Over time, the "American Splendor" comics become an underground success, but yet Harvey holds on to his day job at the hospital. Not only do his friends and fellow employees, such as "genuine nerd" Toby Radloff (Judah Friedlander), offer him fodder for material, but it's also just the type of person Harvey is … a down-to-earth everyman who's not impressed by success on any scale … even his own.

Harvey's newfound "success" finds him with a few die hard fans and when a comic book store in Delaware is left without a copy of the latest "American Splendor", a female reader who happens to be the store's co-owner, Joyce Brabner (Hope Davis), writes directly to Pekar to ask for a copy. The letter sets of a chain of events that ends with the two meeting face-to-face. Soon, a very sweet, but socially outlandish romance begins to blossom, as Harvey immediately informs Joyce (within a few moments of meeting her) that he's had a vasectomy and Joyce interrupts their first kisses by excusing herself to the bathroom and throwing up her dinner. Hardly the beginnings of a fairy-tale romance … However, when Pekar mentions how nice it is to have company, Joyce agrees and decides that they should get married immediately. Once again, we're hit with the obvious sentiment; that there's someone for everyone and that true love and companionship is a splendor in and of itself. When life gets tough … and seemingly can't get any lonelier … there's nothing like love and companionship that requires you to reevaluate what's really important in life. Giamatti and Davis make the romance a believable and affectionate one and portray Pekar's unconventional romance/marriage with Joyce in ways that not many could.

Like most married couples, Harvey and Joyce fall into a routine and it's not all wine and roses for the two lovebirds. They face the same day-to-day struggles that we do and while Harvey is having a hard time dealing with his newfound "fame", it's his diagnosis with cancer that really brings things into perspective. Harvey falls into a deep depression and is ready to sign off on his own death certificate when Joyce encourages him to use the material for a new comic. Harvey hedges at first, but eventually gives in and what we're left with is the graphic novel "Our Cancer Year". Much like "American Splendor", it vividly chronicles the daily victories … and defeats … that the family suffered while dealing with the disease. It also brings the family closer together and yields some unforeseen, but later appreciated, dividends. A blessing in disguise if you will.

In the end, we learn that the day-to-day battles of real life are as worthy of being told as anything else. Work, love, health concerns, and even long lines in grocery stores can make for interesting viewing and that no matter who we are, our life is important and interesting. It doesn't matter what our race, color, creed, or social status may be … it just matters that we are and that we survive.

The acting and execution on all levels are superb and I highly suggest that anyone who roots for the little guy and believes that he/she has a story to tell, check out American Splendor as soon as possible. The film and its corresponding DVD from HBO come highly recommended.
---
The DVD Grades: Picture B/ Audio B-/ Bonus C+
---
HBO Films presents American Splendor in 1.85:1 anamorphic widescreen. It's a fine looking transfer that exhibits a few expected flaws from a lower to mid-tier budgeted feature. If you're familiar with the subject matter or the film itself, you probably realize that any sort of overly impressive transfer on either front kind of defeats the purpose anyway.
The film maintains an intentionally gritty look-and-feel throughout, although sharpness and detail rarely suffer because of it. Detail is definitely better than average, while shadow detail and delineation came across as respectable and made for a very film-like image. The color palette for the film is relatively modest and somewhat generic, but HBO's transfer displays them agreeably and accurately. The film comes across a bit soft in places, as the contrast seems to be ramped up somewhat and it washes out the image slightly. However, there was nothing overly troublesome about it. While not a draw-dropping transfer by any stretch, American Splendor accurately portrays what was seen in theaters and its transfer fits the material well. The film was meant to look somewhat gloomy and drab and in that respect, HBO has faithfully adhered to the original intent of the filmmakers.
Outside of the slight softness and graininess noted, there was some pretty harsh edge enhancement noted on a few occasions, as well as some shimmer on some of the more contrasted backgrounds. Flakes and flecks were also noted on the print at various times, but the vast majority of them were of the "blink-and-you'll-miss-it" variety. While not overly severe or distracting, these flaws easily noted and therefore, worthy of mention.
As it is stands, American Splendor's transfer works well for the subject matter and the overall tone of the film. It's a nice looking film and HBO has done an excellent job in bringing it home accurately and faithfully to home viewers.
The Dolby Digital 5.1 transfer that HBO has provided American Splendor is pretty unassuming and very front-heavy. The main thrust of the film is definitely dialogue and while that makes for a pretty boring audio mix, HBO does an excellent job here of doing the best with what they were given to work with.
Being such a chatty feature, American Splendor spends a lot of time in the center channel. Everything is crisp and clear throughout and there was never any harshness or edginess detected in the track at any time. Rear surrounds do kick in on occasion to provide some general ambience and support, but it's far from what you'd hear in a bombastic action feature or even a finely-tuned "generic" feature. The one notable spot in the film's audio transfer comes from American Splendor's jazzy soundtrack. The perky and quirky tunes add to the ambience of the film and sound really good in HBO's mix when compared to the rest of the track. LFE usage was minimal, but well-executed, and overall, there's a whole lot to enjoy about HBO's transfer for American Splendor.
HBO has also included subtitles in English, Spanish and French, as well as a Dolby Surround 2.0 track in English.
The main supplement on the disc is a fun Audio Commentary that features a ton of participants. Included we hear from directors Robert Pulcini and Shari Springer Berman, Harvey Pekar, Joyce Brabner, Harvey and Joyce's daughter, Danielle Batone, Toby Radloff, and actors Paul Giamatti and Judah Friedlander. With so many participants, you might expect an action-packed commentary for American Splendor, but there were some surprisingly quiet and lucid moments here. Even so, it's a very fun track that contains a lot of great information about the film … as well as some information totally unrelated to it. We learn what parts of the film were fact versus what parts were embellished or simply overstated fiction, what it was like working on the small budget feature, and fun moments that were encountered during the actual shoot. We get some good discussion on what it was like for the actors to meet their real life counterparts and how they attempted to pick up on certain mannerisms and ticks in order to portray them correctly on the big screen. The genesis of the film and its accolades are discussed, as are other, more film-specific issues and ultimately, this was a very engaging and light-hearted commentary that shouldn't be missed by anyone who enjoyed the film. Good stuff.
Following the commentary is Road To Splendor (5:27) and this is a cool supplement that follows Harvey at the film's premiere at Sundance, as well as its reception at Cannes / New York / LA on the red carpet. We even follow Harvey to San Diego's ComicCon … It's pretty funny to see someone as unassuming as Harvey at all of these "gala" events and to hear his dry and apathetic comments about the whole thing. Too short to be engaging, but a definite must-see for fans of the film.
Next is American Splendor by Eytan Mirsky and here, the acoustic song plays over a still shot of Pekar. Nothing big, but nice to have regardless.
There's a selection for HBO Films (1:53) that serves as a glorified trailer for other HBO Films projects and as is usually the case with HBO trailers, it's very well implement and very moving. Following that, there's a Trailer for American Splendor, as well as a section for Downloads that serves as our DVD-ROM material. By inserting this disc into your DVD-ROM player, you'll gain access to American Splendor themed wallpaper and screensavers, access to Harvey's BLOG, links to production notes, biographies, Harvey's scrapbook, and more. Some decent stuff for those of you willing to invest the time in checking it all out.
Finally, there's a Comic Book Insert called "My Movie Year" that gives a short retelling of how the movie came to be and how it affected Harvey. I first saw the cartoon in "Entertainment Weekly" and it was a nice inclusion here.
The DVD also contains a few easily accessed Easter Eggs that include short interview snippets with the real Toby Radloff (and Judah Friedlander who played him in the film) and DVD production credits.
What a great film! American Splendor is off-the-beaten path enough to be a hidden gem, but approachable enough that casual and even uninterested viewers can find something in the story they enjoy and relate to. HBO's DVD presents the material well and while I would have liked to have seen quite a few more extras that what we're presented with, I still find it very easy to recommend the film sight unseen. In my opinion, American Splendor is nothing short of an American Treasure and shouldn't be missed. Very highly recommended.
| | |
| --- | --- |
| Viewer Film Ratings: 4.5 Stars | Number of Votes: 32 |