MGM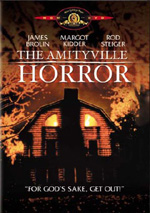 MOVIE INFO
Director:
Stuart Rosenberg
Cast:
James Brolin, Margot Kidder, Rod Steiger, Don Stroud, Murray Hamilton, John Larch, Natasha Ryan, K.C. Martel
Writing Credits:
Jay Anson (book), Sandor Stern
Tagline:
For God's sake - Get Out!
Synopsis:
If these walls could talk ... the screams would wake the dead. Based on the chilling best-seller, this "spooky study in psychological terror" (Los Angeles Times) throws open the doors to your deepest, darkest fears! The Long Island colonial house on the river's edge seemed perfect. Quaint, spacious and affordable, it was just what George and Kathy Lutz had been looking for. But looks can be deceiving ... and their new dream home soon becomes a hellish nightmare as the walls begin to drip blood and satanic forces haunt them with sheer, unbridled evil. Now, with their lives - and their souls - in danger, the Lutzes must run as fast as they can from the home they once loved ... or fall prey to its terrifying power! Starring James Brolin, Margot Kidder and Oscar-winner Rod Steiger, this bone-chlling, special effects-laden thriller will hit you where you live!
Box Office:
Opening Weekend
$7.843 million on 748 screens.
Domestic Gross
$86.432 million.
MPAA:
Rated R


DVD DETAILS
Presentation:
Widescreen 1.85:1
Fullscreen 1.33:1
Audio:
English Monaural
Spanish Monaural
Subtitles:
Spanish
French
Closed-captioned

Runtime: 119 min.
Price: $14.95
Release Date: 9/5/2000

Bonus:
• Trailer




PURCHASE @ AMAZON.COM

[an error occurred while processing this directive]
---
The Amityville Horror (1979)
---
Reviewed by Colin Jacobson (March 28, 2005)

When I was 12 years old, The Amityville Horror was one of the very first "R"-rated movies I ever saw. It opened in the summer of 1979 and proceeded to scare the wits out of me - not that such action required much at that age. I couldn't bear to stare out of our house's windows for weeks afterward due to my fear I'd see those creepy red eyes gazing back at me!

Much of the terror the film inspired in me came from the allegedly true nature of the events upon which the movie was based. Although I was fascinated by the story at the time, I admit I've given little thought to the whole Amityville issue since then, so I have no idea what the "facts" of the matter were and how believable they may be. However, I do know it all seemed awfully plausible to myself and my other pubescent peers, and all of that made the movie even more chilling.

Whatever really happened in Long Island during the mid-Seventies, there's one thing I know for sure: I'm not 12-years-old anymore, and The Amityville Horror is a pretty crummy movie. What seemed so scary then just looks dopey now, and the film had absolutely no effect on me as an adult.

The story is well-known: the Lutzes, a young couple and their three kids - hers, actually, from a prior relationship - move into a lovely house with a bad history. A teenager went bonkers and slaughtered his family there a year prior to the arrival of the newlyweds. Once they enter, strange events start to occur, and much funky weirdness results.

I can't fault Horror for the fact so many other stories have taken from it in the years since. Hey, any tale was original once, and this one was clearly fresher 25 years ago. I was actually surprised to see how much was lifted and inserted into other films. It seems likely Kubrick took significant aspects of Horror for his 1980 version of The Shining; some of the similarities are a little too close for coincidence. (That Kubrick was quite a thief: he also stole bits from The Omen as well!)

Whether or not Horror was ever original, it still doesn't make it a good film. The plot moves along at a slow and obvious pace, as all the events are telegraphed from a mile away. The cast seems flat at best - James Brolin's shaggy haircut scared me more than his menacing acting - and histrionic at worst. Rod Steiger chews so much scenery he much have gotten indigestion.

Even those red eyes aren't spooky anymore. In fact, they just looked silly. Since I only saw Horror once as a kid, I'd built up an internal myth about those eyes. I'd convinced myself the scene showed something even more horrific. Nope - it's just a pair of fake-looking red eyes. Thomas Wolfe was right - you can't go home again.

Probably the scariest aspect of Horror comes from the real-life happenings of its stars. Margot Kidder got seriously injured in a 1990 car crash, and she also went nuts a few years later. Brolin married Barbra Streisand. Who suffered the worse fate? Boy, that's a tough call.

I enjoyed seeing The Amityville Horror from a semi-nostalgic point of view. I'd liked it a lot as a kid and was curious to see if it still possessed any terror. Unfortunately, it doesn't; it's just another cheesy film from the Seventies that lost its luster years ago.
---
The DVD Grades: Picture C/ Audio C/ Bonus D-
---
The Amityville Horror appears in both its original theatrical aspect ratio of approximately 1.85:1 and in a fullscreen edition on this double-sided, single-layered DVD; the letterboxed image has not been enhanced for 16X9 televisions. Only the widescreen side was rated for this review. Though it shows some consistent problems, I thought the movie looked decent for its age.
Sharpness largely appeared accurate and precise, though a fair amount of softness intruded upon wider shots. This never became terribly distracting or fuzzy, but it definitely occurred. Moiré effects and jagged edges made periodic appearances as well, probably due to the lack of anamorphic enhancement.
Print flaws were probably the biggest concern I had with this DVD. Light grain showed up from time to time, and I also saw lots of white speckles. Add to that some black grit, a few scratches and some debris such as hair and the image seemed much less clean than it could. None of the defects ever were overwhelming, but they distracted me nonetheless.
The film's palette seemed fairly subdued but was generally nicely-saturated and realistic. The colors appeared realistic and solid at all times. Black levels were a little soft and mushy, and contrast seemed overly dark much of the time. This affected shadow detail, which came across as acceptably visible but not as clear as I'd like. Still, despite these criticisms, I found The Amityville Horror to provide a watchable viewing experience.
For its age, the film's monaural soundtrack also appeared acceptable, though not without its own flaws. Dialogue often seemed surprisingly warm and natural, but a fair amount of edginess interfered with the speech at times. Mostly this harshness occurred when voices were raised, but it also happened during a couple of quieter scenes. Effects displayed generally flat and dull tones, and they also showed some distortion at times. The score sounded fairly accurate and crisp. It lacked significant dynamic range, but it didn't seem shrill or rough at least. Clearly this mix won't win any prizes, even for a movie from 1979, but I thought it seemed relatively decent.
Less positive are the DVD's supplemental features. All we find is the movie 's original theatrical trailer. We don't even get any production notes in the booklet! This is a shame. Although the film is a clunker, I would have loved some additional information about the real-life events that inspired it; a great deal of potentially-interesting background facts go by the wayside here.
While good supplements would have been nice, they wouldn't redeem the set because the movie itself is nothing more than a silly trifle. It may have spooked me 25 years ago, but it couldn't provoke even a minor rise now, and most of the film just seemed goofy and overwrought. The DVD provides medicore sound and picture plus no significant extras. Leave this one for die-hard horror junkies or nostalgic fools like myself.
To rate this film, visit the Special Edition review of THE AMITYVILLE HORROR