COLUMBIA TRISTAR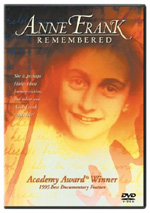 MOVIE INFO
Director:
Jon Blair
Cast:
Kenneth Branagh, Glenn Close
Writing Credits:
Jon Blair, Anne Frank (diary)
Tagline:
She is perhaps Hitler's best-known victim, but what was Anne Frank really like?
Synopsis:
Narrated by Kenneth Branagh and Glenn Close, this documentary features vintage newsreels, photographs and even a rare home movie to look beyond the celebrated pages of Anne's diary. In surprising, often emotional interviews with Anne's family, friends and her heroic protector Miep Gies, Anne's life serves once more as an unforgettable symbol of, and tribute to, the many lives lost in the Holocaust.
MPAA:
Rated PG


DVD DETAILS
Presentation:
Widescreen 1.66:1/16x9
Audio:
English Dolby 2.0
Subtitles:
English
Spanish
Closed-captioned

Runtime: 117 min.
Price: $24.96
Release Date: 3/9/2004

Bonus:
• Trailers




COMPARE DVD PRICES

EQUIPMENT
Sony 36" WEGA KV-36FS12 Monitor; Sony DA333ES Processor/Receiver; Panasonic CV-50 DVD Player using component outputs; Michael Green Revolution Cinema 6i Speakers (all five); Sony SA-WM40 Subwoofer.


RELATED REVIEWS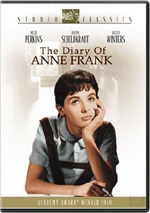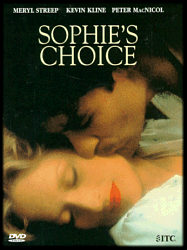 [an error occurred while processing this directive]
---
Anne Frank Remembered (1996)
---
Reviewed by Colin Jacobson (February 11, 2004)

Although I found 1959's The Diary of Anne Frank to offer a fairly melodramatic and erratic examination of its subject, it did pique my curiosity. When I heard about a DVD release of a 1995 documentary entitled Anne Frank Remembered, I thought I'd give it a look and see if it explored the material better than its Hollywood predecessor.

The winner of the Oscar for Best Documentary Feature, Remembered offers a mix of archival materials and interviews with those who knew Anne. We hear from friends/neighbors Hanneli Goslar, Isa Baschwitz, Jacqueline van Maarsen, classmate and concentration camp survivor Bloeme Evers-Emden, Fritz Pfeffer's son Peter Pepper, Otto Frank's employees Miep Gies and Henk van Beersekamp, cousin Bernd Elias, office maintenance supervisor's son Hans Wijnberg, Dutch resistance member Janny Brilleslijper, concentration camp survivors Frieda Menco, Sal and Rose de Liema and Rachel van Ameronger-Frankfoorder, We also get notes from Otto Frank in a 1979 interview. Kenneth Branagh narrates the film, while Glenn Close reads excerpts from the Diary.

Remembered follows its subject in a natural chronological manner. It opens with a little family history and tells us how the Frank family ended up in Amsterdam. We then hear about the family's standing in the neighborhood, their life in Amsterdam, and Anne's personality. The program discusses the growing Nazi encroachment and life under their strict rules, how Anne got the diary and the content of her early entries, Anne's interests, and the family's preparations in case the Nazi oppression became too intense. We find out the immediate cause of their flight and what happened, how they lived, their reactions to isolation, relationships within the attic, the arrival of Dr. Pfeffer, Anne's brief romance with Peter van Pels, realities of their daily life, their hopes for liberation and their eventual capture. Finally, the piece takes on the actions that followed, life in the concentration camp, events that followed and the diary's legacy.

Somewhat surprisingly, Remembered concentrates pretty heavily on that last part of the story. The story of the Franks before their capture fills about half of the documentary, so the rest of the show examines the terrible realities of life under heavy Nazi suppression.

That makes Remembered a rich tale. Those interested in the story will likely already know much of what we hear in the first half. My only exposure came from the Diary DVD, but through the movie itself and that disc's documentary, I felt familiar with much of the material that related to the Franks in the attic.

The development of the story through the concentration camp adds a lot to the experience. Had Remembered stuck solely with the usual territory, it still would have been a good flick. The program's emphasis on tales from those involved personally with the Franks brings a sense of reality and immediacy that allows the documentary to prosper.

However, it's the stories of life in the concentration camp that brings the greatest depth to Remembered. Again, the interviews are very valuable. We hear of what happened to the survivors as well as tales of the Franks themselves, and these work very well. The program delivers a real sense of drama and emotion via their honest discussions of what happened. We've heard this kind of material many times over the years, but that doesn't diminish the power of these comments.

Overall, Anne Frank Remembered functions as a very solid examination of its topic. The show progresses in a logical manner and looks at Anne Frank as well as connected elements of the Holocaust in a fairly concise and unsentimental way. This allows it to present its material well and to create a moving and informative program.
---
The DVD Grades: Picture C-/ Audio C/ Bonus D-
---
Anne Frank Remembered appears in an aspect ratio of approximately 1.66:1 on this single-sided, double-layered DVD; the image has not been enhanced for 16X9 televisions. Given the prevalence of archival footage, I didn't expect much from the picture quality of Remembered, and the image seemed predictably drab.
Within the constraints of the material, sharpness seemed fine. I based most of my opinions on the interviews conducted expressly for this documentary, and they presented decent accuracy and delineation. They never looked terribly detailed, but they appeared adequately concise. Occasional examples of jagged edges and moiré effects occurred, and I also noticed some light edge enhancement at times. Not surprisingly, the archival footage demonstrated vast numbers of defects. The new shots were much cleaner, but they nonetheless showed some concerns. The image was rather grainy much of the time, and I also saw sporadic instances of specks and marks.
Of course, the old footage was black and white. The new shots demonstrated somewhat drab but decent colors. The tones came across as a little runny at times, but they mostly seemed fairly natural and clear. Blacks were reasonably deep and dense, and the few low-light shots looked acceptably concise. Given the nature of the program, Remembered seemed perfectly watchable, but it didn't offer a strong visual presentation.
It also should come as no surprise that the Dolby Surround 2.0 soundtrack of Anne Frank Remembered presented a pretty subdued affair. For all intents and purposes, the movie demonstrated a monaural mix. The light background music showed gentle stereo imaging, and some mild environmental effects cropped up from the sides during location interviews. Otherwise, the audio stayed heavily oriented toward the front center channel. If any surround activity occurred, I didn't notice it.
Audio quality appeared perfectly acceptable. Speech was consistently natural and distinctive. I noticed no issues with edginess or intelligibility. A little hum popped up during some of Close's narration, though. As noted, music stayed in the background and presented a light accompaniment. The score seemed clear and reasonably well reproduced, though it never offered much of a presence. The effects were an even smaller part of the mix. Still, they appeared clean and fairly accurate. Nothing special occurred here, but the audio of Remembered was more than fine for this sort of program.
Remembered comes without any real supplements. All we find are trailers for Remembered, Blind Spot: Hitler's Secretary, Dark Blue World and Divided We Fall.
The world's best known diarist, we get a good look at the facts behind her story in Anne Frank Remembered. The program examines her life and the realities of the era in a vivid and nicely unsentimental way; it allows emotion to develop simply and without unnecessary embellishment. The DVD presents mediocre picture and sound, but these seem adequate for this sort of program. The lack of supplements seems like a bigger disappointment, though, as it would have been good to get additional information. Nonetheless, Anne Frank Remembered fares well and earns my recommendation.
| | |
| --- | --- |
| Viewer Film Ratings: 3.5 Stars | Number of Votes: 34 |