UNIVERSAL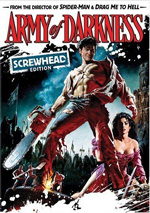 MOVIE INFO
Director:
Sam Raimi
Cast:
Bruce Campbell, Embeth Davidtz, Marcus Gilbert, Ian Abercrombie, Richard Grove, Timothy Patrick Quill, Michael Earl Reid, Bridget Fonda
Writing Credits:
Sam Raimi, Ivan Raimi
Tagline:
1 Man, 1 Million dead, The odds are just about even.
Synopsis:
All primitive screwheads, listen up! Cult superstar Bruce Campbell reunites with director Sam Raimi to battle the deadly forces of evil in Army of Darkness - the outrageous, effects-fueled action epic that will make you scream with fear and laughter. Forced to lead a makeshift Dark Ages army against the demonic Deadites, who possess all the deadly magic of hell, the shotgun-toting, chainsaw-armed, reluctant 20th century time traveler Ash (Campbell) must save the living from the dead, rescue his medieval girlfriend and get back to his own time. One of the most popular horror comedies of all time, now digitally remastered and loaded with bonus features, Army of Darkness: Screwhead Edition is drop-dead fun!
Box Office:
Budget
$11 million.
Opening Weekend
$4.424 million on 1387 screens.
Domestic Gross
$11.502 million.
MPAA:
Rated R


DVD DETAILS
Presentation:
Aspect Ratio: 1.85:1/16X9
Audio:
English Dolby Digital 5.1
English Dolby Surround 2.0
Spanish Dolby Digital 5.1
Subtitles:
English
Spanish
French
Closed-captioned
Supplements Subtitles:
English
Spanish
French

Runtime: 81 min.
Price: $19.98
Release Date: 9/15/2009

Bonus:
• "Creating the Deadites" Featurette
• Alternate Ending
• Trailer




PURCHASE @ AMAZON.COM

[an error occurred while processing this directive]
---
Army Of Darkness: Screwhead Edition (1992)
---
Reviewed by Colin Jacobson (October 19, 2010)

If the Three Stooges had ever made a fantasy/horror film, I'm betting the results would have looked a lot like Army of Darkness, a gleefully over the top exercise in broad comedic action from 1993.

Army is the third film in the Evil Dead series but was the first one I ever saw. Frankly, I don't think it affected my enjoyment of Army, and such a bizarre way to view the movies seemed appropriate given the nutso universe we find here.

Army finds Ash (Bruce Campbell), the protagonist of the prior two films, sent back to medieval times where he needs to fight the "Deadites", a variety of zombie-like critters who've haunted him for some time. Or at least I think that's what's happening here. Due to my lack of background on the first two films, I'm not completely sure - though a brief montage at the start offers a quick recap - but I do know this: I don't care, since Army is a goofy, kick-ass romp from start to finish.

The best word to describe Army is "nuts", since the movie's simply crazed pretty much throughout its 81-minute running time. The movie essentially starts out in high gear and rarely lets up until the end. It's a fun and exciting blast through goofy action movie clichés and silliness that proves hilarious, thrilling, clever and inventive most of the time.

A lot of the film's success comes from the wonderful presence of Campbell as Ash. He plays the role as half pushy bully and half cowering simp, but the overall effect is terrific as he portrays both side adeptly. Few people can make dopey lines like "Gimme some sugar, baby!" work, but Campbell does it.

I must admit that as much as I loved Campbell's work, he wasn't my favorite part of the film. Instead, I preferred the skeleton warriors who populate the end battle. These cheesy stop-motion, Ray Harryhausen-inspired creatures made the concluding fracas a total delight due to the cheerfully campy way in which they're depicted. These characters had me totally entertained and wishing for more.

Army straddles a fine line in that it goes down the "wink wink, nudge nudge" path of filmmaking but it does so remarkably well. Director Sam Raimi delivers a whirlwind experience that kept me very involved and entertained at all times. It's the best in the Evil Dead series.
---
The DVD Grades: Picture C/ Audio B+/ Bonus C-
---
Army of Darkness appears in an aspect ratio of approximately 1.85:1 on this single-sided, double-layered DVD; the image has been enhanced for 16X9 televisions. This wasn't a bad transfer, but it had a mix of concerns.
Sharpness varied quite a bit. Close-ups looked fine, but wider shots showed concerns. Affected by some moderate edge haloes, those elements tended to be soft and ill-defined. I noticed no issues with jaggies or shimmering, but artifacts were a problem, as parts of the flick looked rough and blocky. No issues with source flaws appeared, though; I saw some spots due to dirt on the camera lens, but that was it.
Colors seemed acceptable. The movie tended toward a natural look, with a somewhat amber feel. The tones could be a little messy – mostly due to the effects of the artifacts – but they were decent. Blacks looked fairly dark, but shadows were erratic. Low-light shots – of which we got many – could appear moderately thick and dense. While the movie remained watchable, the transfer didn't make it particularly attractive.
On the other hand, I felt pleased with the Dolby Digital 5.1 soundtrack of Army. It presented a very nice soundstage for the most part, with a great deal of activity that spread neatly across all three of the front channels. Sounds seemed well-placed within that realm and panned across the speakers smoothly. The surrounds kicked in quite a lot of information as well and seem very active; they added a strong dimension to the mix.
Quality also appeared positive, though somewhat limited. Dialogue sounded distinct and natural, and the lines seemed easily intelligible with no edginess or muffled qualities. Effects were crisp and clean, with some slightly-boomy but nonetheless strong bass at times, and the score seemed fairly clear; the music could've been a bit more dynamic, but I thought it seemed fine. Really, the track worked quite well.
Don't expect a lot of extras here. A featurette called Creating the Deadites goes for 21 minutes, 21 seconds and provides notes from special makeup effects creators Greg Nicotero and Howard Berger. They discuss all the techniques used to bring the fantastic elements of Army to life. We also see a lot of archival footage in this tight, informative show.
In addition to the film's trailer, we find an Alternate Ending. It goes for four minutes, 41 seconds and shows a different method used to get Ash back to the present day – as well as a very different scene when he arrives. It's an interesting variation.
Army of Darkness offered a wild ride that never let up and that kept me continually entertained. It's campy action/horror, but it's delightful nonetheless. The DVD came with good audio but erratic visuals and only minor supplements. I like this movie a bunch, but this isn't an especially strong DVD, mostly due to the iffy visuals and the absence of substantial bonus materials.
| | |
| --- | --- |
| Viewer Film Ratings: 5 Stars | Number of Votes: 4 |