DISNEY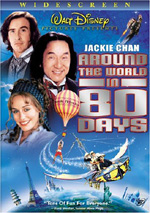 MOVIE INFO
Director:
Frank Coraci
Cast:
Jackie Chan, Steve Coogan, Robert Fyfe, Jim Broadbent, Ian McNeice, David Ryall, Roger Hammond, Adam Godley, Karen Mok
Writing Credits:
Jules Verne (novel), David N. Titcher, David Benullo, David Andrew Goldstein
Tagline:
Let your imagination soar.
Synopsis:
Get ready for phenomenal fun, spectacular adventures, and nonstop action as hilarious megastar Jackie Chan dares to do what no one has done before — beat the clock in a race around the world. Traveling the globe by land, sea, air, and even in-line skates, Chan and his buddies are greeted with impossible obstacles at every planned and unplanned stop along the way, making their fantastically speedy voyage more frantic and heart-pounding than ever! Filled with amazing stunts, humor, and the importance of friendship and following your dreams, Around The World In 80 Days is one trip the whole family will enjoy taking together.
Box Office:
Budget
$110 million.
Opening Weekend
$7.576 million on 2801 screens.
Domestic Gross
$24.004 million.
MPAA:
Rated PG


DVD DETAILS
Presentation:
Widescreen 2.35:1/16x9
Audio:
English Dolby Digital 5.1
Spanish Dolby Digital 5.1
French Dolby Digital 5.1
Subtitles:
English
Spanish
French
Closed-captioned

Runtime: 120 min.
Price: $29.99
Release Date: 11/2/2004

Bonus:
• Audio Commentary with Director Frank Coraci and Actor Steve Coogan
• Deleted Scenes with Optional Commentary
• Director's Alternate Opening
• "Around the World of Jackie Chan" Featurette
• "Discovering Around the World in 80 Days" &nbspFeaturette
• Music Video
• Sneak Peeks




PURCHASE @ AMAZON.COM

EQUIPMENT
Sony 36" WEGA KV-36FS12 Monitor; Sony DA333ES Processor/Receiver; Panasonic CV-50 DVD Player using component outputs; Michael Green Revolution Cinema 6i Speakers (all five); Sony SA-WM40 Subwoofer.


[an error occurred while processing this directive]
---
Around The World In 80 Days (2004)
---
Reviewed by Colin Jacobson (October 22, 2004)

Not too many folks remake movies that won the Best Picture Oscar. However, when the original remains neglected by modern audiences, why not? Such was the case with the 2004 take on Around the World in 80 Days, a reworking of the 1956 hit, itself based on a Jules Verne novel.

Set "before the turn of the century", inventor Phileas Fogg (Steve Coogan) goes through valets quickly, mainly because he forces them to act as test subjects in his dangerous experiments. On the lam from the London police after he apparently robs the Bank of England, Lau Xing (Jackie Chan) lands in Fogg's yard. He pretends to be a French valet to escape the bobbies.

We soon see that the Jade Buddha was the subject of the robbery. This distresses Lord Kelvin (Jim Broadbent) and General Fang (Karen Joy Morris), two parties involved with the Buddha. He demands its return or he won't help her military cause.

Back at Fogg's home, Lau Xing gets the lay of the land and claims to be named Passepartout. He needs to get back to China as soon as possible, as the safety of his village depends on the return of the Buddha. Passepartout gets the chance for an expeditious trip home after Fogg visits the Royal Academy of Science. Its leaders mock his scientific experiments, and when he claims it's possible to travel around the world in 80 days, they laugh.

This leads to a bet between Fogg and Kelvin. The latter acts as the Academy's Minister of Science, but he'll cede his position to Fogg if Phileas can succeed in the journey. If Fogg fails, however, he must destroy his lab and never invent again.

This journey would prove difficult enough under the best of circumstances, but various parties attempt to render it even more trying for Fogg and Passepartout. Kelvin hires corrupt cop Inspector Fix (Ewen Bremner) to hinder the pair, while General Fang has some tricks up her own sleeve.

The trip initially takes our pair to Paris, where Passepartout senses many threats. They dodge into a gallery, where they meet sexy artist Monique La Roche (Cecile de France). Actually, she works at the place as a coat check girl, and the proprietors look down on her paintings. They fire her, but Fogg likes her, especially since her work reflects his own dreams of flight.

After Passepartout fights with Chinese agents, the three narrowly escape. Monique persuades Phileas to take her with her on their trip since she has no reason to stay and she wants the inspiration that would come with world travels. The trio hops a hot-air balloon and go on their merry way. The rest of the movie follows their journey and all the attempts to stop them. We also see the slowly-burgeoning romance between Monique and Phileas.

I expected I'd dislike this remake of World, though not because I maintain any particular affection for the original. That flick boasted a moderate amount of fun but existed more as a widescreen spectacle than a real movie. It told a thin tale designed solely to show off exotic scenery.

The 2004 World certainly didn't enjoy much success. With a budget of $110 million, it earned a sad $24 million in the US and disappeared quickly from screens. Critics didn't savage it ala Catwoman or Van Helsing, but one couldn't find too many kind words about it either.

With extremely low expectations in mind, I must admit I kind of enjoyed World. I wouldn't call it a very good movie, but it maintains a decent energy and level of entertainment for its 120 minutes. Unlike the original flick, this version actually attempts a plot. No, the storyline never becomes deep or intricate, and it loses track of various elements too frequently. The issues with those who try to stop our heroes come and go seemingly at random, as the movie pursues different components without much consistency.

But after the meandering plotless affair that was the first movie, I'll take even this minor attempt at a proper story. At least it helps create some sporadically frothy action and it comes across like someone actually attempted to do something more than string together lots of pretty pictures.

Not that the 2004 World strays too far from the first flick's template. Fans who've seen both will recognize many scenes echoed here, and the new film also attempts to emulate one of the 1956 offering's gimmicks: a slew of cameos. Alas, in that regard, the older movie trounces the modern one. Whereas the 1956 World included guest spots from folks like Frank Sinatra, Marlene Dietrich and Peter Lorre, most of the new version's cameos come from "B"-level celebrities like Macy Gray, Kathy Bates and Rob Schneider, your movie doesn't exactly bask in star power. Casting Owen and Luke Wilson as the Wright brothers was the most exciting moment, which doesn't say much.

Actually, World does boast one major guest star, as the Guvernator himself turns up in a moderately extended part as Turkish Prince Hapi. Unfortunately, Schwarzenegger's miscast and uniformly terrible, and his presence does little more than distract. The scenes in which he appears stand as the movie's worst.

Ironically, Schwarzenegger's presence elicits the strongest comparisons to the original flick's cameos. While those were sort of fun, they created definite distractions; we were too busy playing "spot the star" to pay attention to anything else. Schwarzenegger creates the same issue. He's too big a celebrity to slip into this small role and not take us out of the story immediately.

Except for the Prince Hapi sequence, though, I think most of World presents reasonable entertainment. Some of that comes from surprisingly good performances by the leads. Coogan and de France stand out in a particularly positive manner. Coogan proves appropriately stiff but also displays nicely dry and deadpan humor to make Phileas a likable presence, but not in a drippy manner. De France demonstrates a good sense of spark and feistiness as well. Both she and Coogan enjoy notable chemistry and interact with life and flair.

I've never cared much for Chan, and he definitely doesn't display expanded acting chops as Passepartout. His forte remains his patented wild action sequences, which usually work well. You won't find much that broadens his standard comic slapstick, but the flick executes the sequences with panache and cleverness. The best of the bunch comes from a scene in which Passepartout tries to climb up a rope attached to a moving hot-air balloon. Chan finds himself in all sorts of amusing predicaments that combine action and humor neatly.

Chalk up the 2004 Around the World in 80 Days as a minor pleasure. It replicates some of the original flick's better moments and negates some of its problems. No one will view it as a classic, and it definitely won't win an Oscar, but it's a reasonably charming and enjoyable piece.
---
The DVD Grades: Picture A-/ Audio B+/ Bonus B-
---
Around the World in 80 Days appears in an aspect ratio of approximately 2.35:1 on this single-sided, double-layered DVD; the image has been enhanced for 16X9 televisions. Not too many issues cropped up during this strong transfer.
Sharpness looked quite good for the most part, as the majority of the film appeared to be crisp and accurate. Virtually no examples of soft or fuzzy scenes appeared. No issues related to jagged edges or moiré effects appeared, but I noticed some light edge enhancement on occasion. Those issues seemed minor, however, and they didn't create many concerns. Source flaws appeared wholly absent, as I noticed no signs of dirt or debris.
Colors looked consistently warm and vibrant. The filmmakers gave the proceedings a rather lovely tone and these hues seemed to be nicely vivid and lush. World enjoyed a broad, rich palette that always looked excellent. Black levels seemed to be deep and dense, and shadow detail was clean and appropriately opaque with no signs of excessive thickness. Only the light edge enhancement occasionally caused minor distractions, but not enough to knock down my grade below an "A-".
In addition, the Dolby Digital 5.1 soundtrack of Around the World in 80 Days seemed positive. Although the soundfield moderately emphasized the front domain, it presented a nicely balanced and engaging effort. Some smooth directional dialogue popped up at times, and the score demonstrated clear stereo imaging. Effects appeared in their appropriate places and moved cleanly across the spectrum. The surrounds added solid reinforcement of these elements throughout the film, and they kicked into gear well during louder sequences. The movie's action sequences provided some nice discrete audio, with elements that seemed accurately located and dynamic.
Audio quality was similarly positive. Speech seemed natural and distinct, and the lines showed no problems related to edginess or intelligibility. Music was lush and vivid, as the score appeared bright and dynamic throughout the film. Effects came across as accurate and clean. They demonstrated no signs of distortion, and they presented fine bass response as necessary. Low-end was warm and tight overall, and those elements lacked any signs of looseness. Ultimately, the audio of World lacked the ambition to earn a really high grade, but it came in with a solid "B+".
Although not stuffed with extras, World includes a decent roster. We start with an audio commentary from director Frank Coraci and actor Steve Coogan, both of whom sit together for this running, screen-specific track. Although the piece starts slowly, it soon turns into a pretty good discussion. They go over the cast, adapting the novel and connections to the earlier movie, stunts, visual effects, locations, cut sequences, and cinematographic choices. Coraci definitely dominates, as Coogan doesn't have a lot to say. He tells us a little about his character and working on the film but that's about it. Nonetheless, the director picks up the slack and helps make this a fairly engaging and informative commentary.
If you listen to the commentary, you can only do so via a version of the film with an alternate opening. Don't expect a whole lot from this addition. It shows a few seconds of Fogg's dream and then launches straight into the bank robbery sequence. Coraci is very attached to the scene; indeed, he mentions that he refused to do a commentary unless the studio let him present the alternate opening. Nonetheless, don't expect much from it. The bit adds a little to the movie's theme but doesn't contribute much overall.
Next we locate eight Deleted Scenes that run a total of seven minutes including a short introduction from Coraci. These short snippets slightly extend existing sequences like Passepartout on the balloon rope and his tour of Fogg's lab. We also see a little more of Phileas and Monique on the boat toward the film's end. Some cute moments appear, but don't expect much more than some minor humor and a couple of slight character elements. We can watch these with or without commentary from Coraci. He provides some basic remarks about the segments but doesn't always tell us why they didn't make the final film.
After this we get a featurette called Around the World of Jackie Chan. It runs six minutes, 33 seconds, and includes movie clips, shots from the set, and comments from Chan, Coraci, Coogan, Walden Media's Cary Granat, and actor Ewen Bremner. The others talk about how great Chan is, and we also hear about Chan's work, stunts, and choreography. Some of the behind the scenes bits present interesting moments, but otherwise this is a fluffy and insubstantial program.
Another featurette shows up as well. Discovering Around the World in 80 Days goes for 18 minutes, 52 seconds and includes statements from Coraci, Chan, Coogan, Bremner, Granat and actors Cecile de France, Rob Schneider, John Cleese, Jim Broadbent and Karen Joy Morris among others; the program doesn't credit some of the participants. We learn of changes from the original book and movie, various inspirations, character development, casting, Coraci's style as a director, locations, language issues on the set, cameos and improvisations, prop design, As with "Chan", this piece doesn't do a whole lot more than toss out puffy notes. However, it manages a little more depth, especially when it discusses prior versions and what the new one brings to the table. The behind the scenes elements also portray some interesting moments. Don't expect much depth here, but it's got enough decent material to merit a look.
For a music video, we find "Everybody All Over the World (Join the Celebration)" from Dave Stewart featuring the Sylvia Young Theater School Choir. The former Eurythmics member provides an exceedingly bland little song but appears in a cute video. It includes a few movie clips but mostly displays shots of Stewart as he goes through a mix of period presentations.
The disc opens with some ads. We get previews for America's Heart and Soul, The Princess Diaries 2: Royal Engagement, Where the Red Fern Grows and National Treasure. These also appear in the Sneak Peeks area with a trailer for The Young Black Stallion.
It may sound like folly to remake a flick that won the Best Picture Oscar, but the 2004 version of Around the World in 80 Days actually betters its predecessor. Of course, it helps that the original was a flimsy triumph of style over substance. In any case, the new take presents light entertainment that manages a reasonable amount of charm. The DVD offers very good picture and audio with a spotty but acceptable set of extras. Though one will confuse World for a classic, it presents a generally fun and enjoyable effort.
| | |
| --- | --- |
| Viewer Film Ratings: 4.25 Stars | Number of Votes: 8 |