UNIVERSAL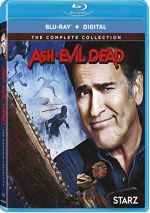 SERIES INFO
Creators:
Ivan Raimi, Sam Raimi, Tom Spezialy
Cast:
Bruce Campbell, Lucy Lawless, Ray Santiago, Dana DeLorenzo
Writing Credits:
Various

Synopsis:
A collection of all 30 Ash vs. Evil Dead episodes.

MPAA:
Rated NR.


DISC DETAILS
Presentation:
Aspect Ratio: 1.78:1
Audio:
English Dolby TrueHD 7.1
Spanish Dolby 2.0
French Dolby 5.1
Subtitles:
English
Spanish
Closed-captioned
Supplements Subtitles:
None

Runtime: 860 min.
Price: $49.99
Release Date: 10/16/2018

Bonus:
• Audio Commentaries For 26 Episodes
• "Inside the World" Featurettes
• "Season Overview" Featurette
• "How to Kill a Deadite" Featurette
• "Best of Ash" Featurette
• "Up Your Ash" Featurette
• "Women Who Kick Ash" Featurette
• "First Look" Featurette
• "Puppets Are Cute" Featurette
• "Dawn of the Spawn" Featurette
• "Bringing Henrietta Back" Featurette
• "The Delta" Featurette
• "How to Kill a Deadite" Featurette
• "Fatality Mash-Up"




PURCHASE @ AMAZON.COM

EQUIPMENT
-LG OLED65C6P 65-Inch 4K Ultra HD Smart OLED TV
-Marantz SR7010 9.2 Channel Full 4K Ultra HD AV Surround Receiver
-Panasonic DMP-BD60K Blu-Ray Player
-Chane A2.4 Speakers
-SVS SB12-NSD 12" 400-watt Sealed Box Subwoofer


RELATED REVIEWS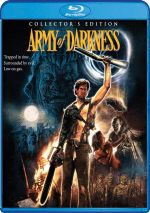 ---
Ash vs. Evil Dead: The Complete Collection [Blu-Ray] (2015-2018)
---
Reviewed by Colin Jacobson (October 10, 2018)

ASH VS. EVIL DEAD: THE COMPLETE COLLECTION

SEASON ONE: "With Ash Vs. Evil Dead, the horror franchise returns in a big way. The 10 episodes expand the series' horizons well and provide a lot of gory entertainment."

SEASON TWO: "Though not quite as delightful as the prior year, Season Two of Ash Vs. Evil Dead still musters a giddily gory combination of action, horror and comedy. Led by the inimitable Bruce Campbell, S2 chugs along well."

SEASON THREE: "As it stands, Season Three of Ash vs. Evil Dead appears to be its last. That's a shame, as the series kept up a high level of quality and turned S3 into another winner."
---
The Blu-ray Grades: Picture B+/ Audio B+/ Bonus C+
---
The Bonus Disc:
Back in 1992, Army of Darkness represented the third – and final – of the Evil Dead movies. The franchise got a 2013 reboot but it looked like the original cast would never revisit the characters.
In 2015, the series came back to life via the Starz Channel's Ash vs. Evil Dead, a show that brought back Bruce Campbell as lead monster-fighter Ash Williams. Though fans loved it, I guess it didn't get great ratings, as it only lasted three seasons.
Oh well – at least it died young and left an attractive corpse. Inevitably the shows came with some ups and downs, but Ash usually brought us a fun, crazy mix of comedy and gory action.
This "Complete Collection" packages all 30 of Ash vs. Evil Dead's episodes. It literally replicates the previously-released Blu-rays, so nothing new appears, but it becomes an efficient way to own the whole series in one fell swoop.
| | |
| --- | --- |
| Viewer Film Ratings: 4 Stars | Number of Votes: 1 |