Back to the Future appears in an aspect ratio of approximately 1.85:1 on this single-sided, dual-layered DVD; the image has been enhanced for 16X9 televisions. Despite a mix of small concerns, Future provided a generally positive picture.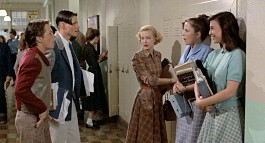 Sharpness looked very good. The movie always remained nicely distinct and accurate. I noticed virtually no instances of softness in this tight and well-defined presentation. However, I detected occasional examples of jagged edges and shimmering, and I also witnessed a little light edge enhancement at times. In regard to print issues, grain periodically appeared somewhat heavy, and I saw a few signs of speckles and grit. The grain seemed most evident during the film's first act, and the flick mostly seemed clean.
Colors varied somewhat. The hues usually came across as reasonably vivid and bold, but they periodically seemed a little heavy. That concern occurred more than a few times for Eighties flicks, however, and it seemed acceptably inconsequential here. The colors were a little dense, but not badly so. Black levels appeared nicely deep and rich, while shadow detail was appropriately clear and not too thick. The image of Back to the Future didn't excel, but it seemed more than satisfactory for a film of its era.
I found myself even more pleased with the Dolby Digital 5.1 soundtrack of Back to the Future. When I saw the movie theatrically in 1985, the audio greatly impressed me. While it now seemed like nothing special compared to modern titles, the sound still worked quite well for the movie.
As one might expect of a moderately older flick, the soundfield largely favored the front spectrum. Within that realm, the audio showed good life and movement. The elements popped up in logical places and blended together fairly smoothly. Music also demonstrated nice stereo imaging. As for the surrounds, they usually just reinforced the score and ambient sounds, but they came to life well when appropriate. The more intense action scenes at the end and also big sequences like the dance used the rear speakers well, and a few bits even manifested split surround information; for example, toward the conclusion, a helicopter zoomed effectively from rear right to rear left.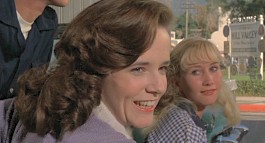 Although the soundfield seemed generally unspectacular, the quality of the audio has held up well. Future suffered from some moderately weak dubbing at times, but the speech nonetheless sounded natural and distinct, with no issues related to edginess or intelligibility. Effects came across as accurate and vivid. Those elements lacked distortion, and they packed a nice low-end kick when appropriate. For example, the rumble of the DeLorean showed fine bass response. Across the board, the music sounded quite good, and Alan Silvestri's score really demonstrated terrific clarity and dynamic range; his work came across surprisingly well. Ultimately, Back to the Future presented a nice soundtrack that has aged pretty positively.
Back to the Future packs a slew of extras. We start with an unusual form of audio commentary. Instead of a traditional screen-specific track, we hear a Q&A with Director Robert Zemeckis and Producer Bob Gale. Hosted by DVD producer Laurent Bouzereau, this chat comes from a session at the University of Southern California, and it offers a nicely informative conversation. Of course, it never becomes screen-specific, but the two Bobs cover a lot of good topics. We get notes about the film's origins and long struggle to the screen as well as many issues related to the production and reactions to the final product. We get more info on the firing of Eric Stoltz as well as fun trivia like the changes the suits at Universal wanted. This session provides a very useful and engaging piece. (Note that this piece ends at around the 99-minute mark, so it doesn't fill the entire length of the movie.)
A second audio commentary provides a more standard format. This one involves producers Bob Gale and Neil Canton, both of whom sit together for a running, screen-specific piece. At its start, Gale warns us to listen to it after we check out the disc's other supplements, and that makes sense, as this track mostly functions as an elaboration on other topics. Actually, much of it delves into fun trivia bits, so don't expect a thorough discussion of the film's production.
That doesn't mean that this commentary doesn't offer a lot of solid information. Gale heavily dominates the track, as we hear very little from Canton. Gale tells us many fun tidbits about the production. He points out locations and goofs as well as issues related to the cast and their performances, among other issues. The commentary suffers from a few too many gaps, but as a big Future fan, I really enjoyed it.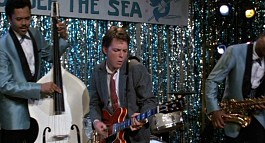 Called Did You Know That? Universal Animated Anecdotes provides our third commentary. A text affair, this one sporadically presents notes about the movie. We learn a lot of this information elsewhere; we hear that they originally planned to use a refrigerator as the time machine about 100 times throughout this disc. Nonetheless, the track points out some interesting bits at times, and it gives the dedicated fan some decent trivia.
For our first video-based supplement, we go back in time to 1985. A featurette from that period, The Making of Back to the Future fills 14 minutes and 27 seconds with movie clips, images from the set, and interviews. We receive remarks from director Robert Zemeckis, actors Michael J. Fox and Lea Thompson, special effects supervisor Kevin Pike, executive producer Steven Spielberg, singer/actor Huey Lewis, production designer Lawrence Paull, producer/writer Bob Gale, and composer Alan Silvestri.
Most archival featurettes stink, especially those clearly created for promotional purposes like this one. However, "Making" actually gives us a pretty solid examination of the project. It includes good basic notes about the script and the story and takes us through a mix of other elements. From Fox's harried work schedule to the challenges of recreating the setting to the music, "Making" doesn't paint a full picture, but it presents an entertaining program.
Newly created, Making the Trilogy: Chapter One takes 15 minutes and 29 seconds, and it fills in some of the blanks left by the prior show. It mostly shows film shots and interviews; we hear from Zemeckis, Gale, and Fox. We encounter a moderate amount of redundant information here, but some new details emerge, and since "Chapter One" offers the only shots of Eric Stoltz seen anywhere on this DVD, it merits a look.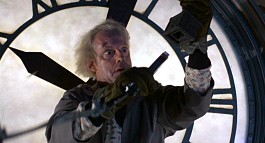 That's right, you won't see Eric Stoltz in the deleted scenes, but the clips offer some very entertaining material even without those famous outtakes. This area includes eight cut sequences, and they last a total of 10 minutes, 38 seconds. While I enjoyed all of them, I agreed that they should have been cut, with the exception of the peanut brittle shot; yeah, it's redundant, since it just tells us info we already know about George, but at least it explains why the McFlys eat so much candy at dinner. (I always thought they did so just because they're such losers.)
You can watch the deleted scenes with or without commentary from producer Bob Gale. He doesn't tell us much more than the reasons for the excisions, but that's good enough for me. None of the cut sequences seems significant, but all offer some fun material.
Additional unused footage appears in the Outtakes area. It runs two minutes, 44 seconds, and unlike the typical gag reel, it actually offers some amusing shots. Even the standard goofs seem more amusing here, as they generally provide something unusual, like Fox's battle with a problem window.
During the movie, you can access additional information in a branching feature called Enhanced Conversation with Michael J. Fox. With this activated, six times during the film, a little icon will appear in the lower right corner of the screen. Hit "enter" on those occasions and you'll get short interview clips with Fox. These run between 85 seconds and three minutes, 29 seconds for a total of 13 minutes, 19 seconds of footage. Fox adds some good notes about the different movies, and these pieces seem reasonably informative.
Next we find two minutes and 17 seconds of original makeup tests. We see examples for Doc Brown and the older versions of Biff and Lorraine. These offer a great look at the design process, especially since they include a little audio as well.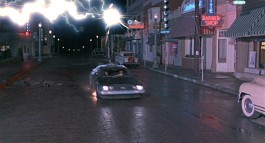 The "Production Archive" breaks into four smaller domains. Marty McFly Photo Album includes 76 photos of the cast. Most seem pretty ordinary, but it was cool to get a look at fake high school pictures of Marty's brother and sister. Behind-The-Scenes Photographs adds another 23 shots, most of which include Robert Zemeckis; they come across as fairly uninteresting. The 34 stills in The DeLorean Designs appear more useful, as they detail that vehicle. Lastly, Time Travel Designs features 18 pieces of art that explored the physical depictions of time travel explored in the movie, and they also offer nice information.
For some very intriguing material, go to excerpts from the original screenplay. Over 16 text screens, we see an early version of the scene in which Doc shows Marty an example of the time machine's workings. It's a great piece to read.
A few smaller pieces round out the disc. We find the film's cool theatrical teaser trailer as well as some special announcements. The latter lasts a minute and includes two promotional spots for the Michael J. Fox Foundation for Parkinson's Research, both of which feature the actor along with Muhammad Ali. Cast & Filmmakers provides short biographies of actors Fox, Christopher Lloyd, Lea Thompson, Crispin Glover, and Thomas F. Wilson plus director Zemeckis, producers Bob Gale and Neil Canton, and executive producers Steven Spielberg, Kathleen Kennedy, and Frank Marshall. Some decent text production notes finish the set, and the package's booklet offers general remarks about the trilogy along with details about the three DVDs.
For those with DVD-ROM drives, however, we find more material. The "Total Axess" link sends us to a site with a few extra pieces. Currently, it includes a few "exclusive" videos and photos, and it promises more of these in the future.
Much more interesting is the film's original screenplay. Indeed, this does offer the original script, which means this text bears very little resemblance to the final film. That makes it exceedingly cool to read. I felt astonished to discover just how different the two are, and that means it's a lot of fun to examine the earlier draft.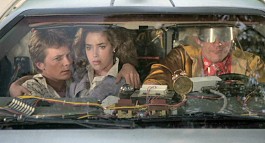 One nice touch: almost all of the video extras include subtitles. These provide text in English, Spanish and French. Oddly, of all the video materials, only the deleted scenes lack subtitles. I have no idea why they failed to add text for those pieces.
Before I got these DVDs, I hadn't seen Back to the Future in quite a while, and I'd almost forgotten just how much fun it offers. A lively and giddy romp, the movie suffers from some dated elements – anybody remember Pepsi Free? – but it packs so much gleeful comedic energy that it doesn't really matter. The DVD provides somewhat inconsistent but generally positive picture quality along with surprisingly robust audio and a terrific set of extras. Back to the Future falls into "must have" territory.
Note: This film can be purchased only as part of Back to the Future: The Complete Trilogy, a three-DVD boxed set that also includes the movie's two sequels. While it's certainly possible that Universal may eventually issue the titles on their own, as of December 2002, they only come as a package deal. I like all three flicks, so I felt happy to pick up the boxed set, especially since it lists for less than $57; a retail price of $19 per movie makes them a serious bargain. Heck, it's still a good deal for anyone who likes two of the three, as they still would go for $28.50 each.
However, I can understand why folks who only enjoy one of the films would feel unhappy with this edition. Personally, I'd pay the whole tab just to own Back to the Future, as it remains one of my all-time favorite films. Nonetheless, that's a lot to shell out for only one flick. For those who fall into the "I only like one of them" category, I wish I could hold out hope that you'll eventually see the flicks released separately, but honestly, I don't expect it'll happen. I think the Complete Trilogy will remain the only way to get any of the Back to the Future films on DVD, though I hope I'm mistaken.