SONY
MOVIE INFO
Director:
Sydney Pollack
Cast:
Al Pacino, Marthe Keller, Anny Duperey, Walter McGinn, Romolo Valli, Stephan Meldegg, Jaime Sánchez
Writing Credits:
Erich Maria Remarque (novel), Alvin Sargent
Tagline:
He had to meet her - to find himself!
Synopsis:
In this off-kilter drama, Al Pacino stars as jaded racecar driver Bobby Deerfield. While Deerfield's stamina and adroit driving skill propel him to champion status, his lover Lillian (Marthe Keller) is dying from a fatal disease. Unable to cope with it all, Deerfield turns to Lydia (Anny Duprey), an obsessed fan, for comfort.
Box Office:
Domestic Gross
$9.3 million.
MPAA:
Rated PG


DVD DETAILS
Presentation:
Widescreen 2.40:1/16x9
Audio:
English Dolby Digital 5.1
English Monaural
Subtitles:
English
French
Spanish
Portuguese
Closed-captioned
Supplements Subtitles:
None

Runtime: 124 min.
Price: $19.94
Release Date: 3/11/2008

Bonus:
• 88 Minutes Sneak Peek
• Previews




PURCHASE @ AMAZON.COM

EQUIPMENT
Panasonic 50" TH-50PZ77U 1080p Plasma Monitor; Harman/Kardon DPR 2005 7.1 Channel Receiver; Toshiba A-30 HD-DVD/1080p Upconverting DVD Player using HDMI outputs; Michael Green Revolution Cinema 6i Speakers (all five); Kenwood 1050SW 150-watt Subwoofer.


RELATED REVIEWS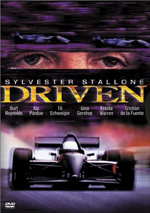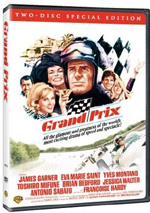 [an error occurred while processing this directive]
---
Bobby Deerfield (1977)
---
Reviewed by Colin Jacobson (March 7, 2008)

When I think of parts meant for Al Pacino, I don't come up with "racecar driver" too quickly. Steve McQueen or Paul Newman? Sure. Pacino? Sounds like a stretch, but that's the role he plays in 1977's Bobby Deerfield.

Pacino plays the title character, a popular and successful racer who takes a self-imposed break after the mysterious death of his teammate. Some chalk this up to driver error, but Bobby worries that something happened to the car or an issue with the track arose. In the midst of his investigation, Bobby's brother Leonard (Walter McGinn) comes to see him from America. Bobby has been long estranged from his family and resists any renewed connections.

While he visits an injured friend at a Swiss sanatorium, Bobby meets Lillian Morelli (Marthe Keller), a curious woman who immediately latches herself onto him. A patient at the clinic, Lillian suffers from a mysterious malady but flees the facility and convinces Bobby to take her with him when he departs. She babbles incessantly about whatever comes into her mind and provides an irrepressible counterpart to his seriously restrained personality. The film follows their relationship and its effect on Bobby.

God save us from films about mismatched couples who broaden each others' emotional horizons. In a peculiar way, Deerfield reminded me of Harold and Maude. Both feature emotionally stunted men whose lives open up when they meet wild, uncensored females. Of course, Maude took a much more unconventional path with its April-December romance, but the two feel connected to me.

Since I loathed Maude, that ain't a good thing. Deerfield doesn't inspire the same level of hatred in me that I took from Maude, as it lacks the earlier flick's patronizing hippie sensibility. However, it comes across as a little condescending in its own right, and at least Maude inspired an actual reaction in me. In contrast, the dishwater-dull Deerfield just made me sleepy.

Actually, Keller's Lillian tended to get on my nerves at times, as she offered a rather grating character. I blame that more on the script than I do Keller; she's not good in the role, but she could've been much more irritating. I just think it'd be impossible to turn a personality like Lillian into anything other than an irksome one. She's just so willfully quirky and self-absorbed that she can be nothing other than bothersome. Well, at least we briefly get to see her naked, something that automatically makes this flick better than Maude; I'd have killed myself if I'd been subjected to the sight of a topless Ruth Gordon.

Even with the grating Lillian, though, Deerfield bores more than it does anything else. I sense absolutely no chemistry between Keller and Pacino, and Al offers a performance that interprets "closed-off and withdrawn" as "comatose". Pacino sleepwalks through the film in an almost absurdly subdued piece of work. Of course, the incessant bluster that mars most of his performances since the 1980s would've been inappropriate, but I think Pacino could've brought more nuance to the role. And the less said about his "liberating" Mae West impression, the better.

Sydney Pollack exacerbates the tedium with a sense of pacing akin to continental drift. Not much ever happens in the flick, and it takes a long time to take us on its minor journey. The film boasts a rather languid, European feel. Maybe that works for some people – or for other movies – but in this case, the slow manner in which the plot evolves simply adds to the boredom.

Matters don't improve in the third act as the ramifications of Lillian's illness evolve. We feel no stake in her plight because we don't care about her. Heck, we actually actively dislike her! And by the time we get to her significant issues, we've already nodded off due to the slowness of the story. Who knew that a movie that involves auto racing could be so damned dull?

Deerfield often looks pretty, as it uses its European settings to some advantage. Unfortunately, lovely scenery can't remotely compensate for irritating characters and a flat story that takes forever to develop. All involved have done much better work elsewhere.
---
The DVD Grades: Picture B/ Audio B/ Bonus D-
---
Bobby Deerfield appears in an aspect ratio of approximately 2.40:1 on this single-sided, double-layered DVD; the image has been enhanced for 16X9 televisions. The film boasted a dated but decent transfer.
For the most part, sharpness seemed good. A little softness interfered with a few wide shots, but those distractions remained minor. Instead, the film usually looked pretty accurate and well-defined. I noticed no issues with jagged edges or shimmering, and edge enhancement was absent. In terms of source flaws, grain was a little heavy at times, and I noticed the occasional speck or mark. Otherwise, I didn't see much in the way of print concerns, as the film tended to be clean.
With its emotionally restrained tone, the palette of Deerfield tended to be laid-back. Colors looked pretty solid within those constraints, though, as they showed clear, natural tones. Blacks were dark and full, and shadows seemed acceptable. A couple of low-light shots seemed a little dense, but those didn't create significant concerns. The transfer ended up strong enough for a "B".
Remixed from the original monaural material – which also appears here – the Dolby Digital 5.1 soundtrack of Deerfield didn't do much. Given its inclusion of racing scenes, you might expect the soundfield to really open up at times, but that didn't really occur. That's largely because the movie offered so few segments of that sort. The relationship drama dominated the flick, and that meant most of the film presented a low-key soundscape.
It did broaden at times, though. Street scenes showed nice breadth, as did the smattering of racing segments and other livelier settings like a balloon regatta. Music showed good stereo imaging and the surrounds supported matters pretty well. This wasn't a terribly active soundfield, but it opened up the original material well.
Though audio quality showed its age, it seemed satisfying. Speech was a little reedy but remained intelligible and reasonably distinctive. Music demonstrated nice dimensionality, and effects showed good accuracy and clarity. None of these elements excelled, but when viewed in relation to their vintage, they were more than acceptable. That left Deerfield as a solid "B" soundtrack.
In terms of extras, Deerfield comes with almost nothing. For a glimpse at Pacino's new flick, we find an 88 Minutes Sneak Peek. This 10-minute and 33-second piece offers comments from Pacino, producers Randall Emmet and Michael Flannigan, director Jon Avnet, actors Alicia Witt, William Forsythe, Amy Brenneman, Benjamin McKenzie, Deborah Kara Unger and Leelee Sobieski. This is standard promotional fare. It might interest you if you'd curious about the film, but don't expect anything more than an extended trailer.
A few ads open the DVD. We get clips for Close Encounters of the Third Kind and "Hot Action Movies". These also appear in the Previews domain with promos for Comanche Moon and Damages Season One. No trailer for Deerfield appears.
I've seen movies that are more lifeless and dull than Bobby Deerfield, but not many of them. This clunker drags across two long hours and never remotely threatens to engage the viewer. It occasionally annoys but it provides no other emotional response. The DVD provides somewhat dated but generally good picture and audio along with virtually no extras. This becomes an acceptable release – at least in terms of movie presentation – for an eminently forgettable film.
| | |
| --- | --- |
| Viewer Film Ratings: 2.6 Stars | Number of Votes: 10 |