MGM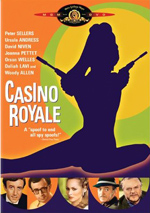 MOVIE INFO
Director:
Val Guest, Ken Hughes, John Huston, Joseph McGrath, Robert Parrish
Cast:
Peter Sellers, Ursula Andress, David Niven, Orson Welles, Joanna Pettet, Daliah Lavi, Woody Allen, Deborah Kerr, William Holden, Charles Boyer, John Huston
Writing Credits:
Wolf Mankowitz & John Law & Michael Sayers, Ian Fleming (novel)
Tagline:
Casino Royale is too much for one James Bond!
Synopsis:
Welcome to Casino Royale, the ultimate psychedelic secret agent satire!
Packed with girls, guns and gags galore, this "very funny picture" (The New Yorker) delivers "laughs all the way" (Cue)! Starring Peter Sellers, Ursula Andress, David Niven, Joanna Pettet, Orson Welles, Daliah Lavi, Woody Allen, Deborah Kerr, William Holden and others, and with an original score from Oscar winner Burt Bacharach, this groovy spy movie is "even farther out" (L.A. Herald-Examiner) than all other spoofs combined! British Intelligence is waning in every possible way! When the diabolical SMERSH begins killing off Her Majesty's Secret Service, super-agent James Bond (Niven) recruits six more "James Bonds" to confuse and conquer their enemies. But it won't be easy. They'll have to face an army of irresistibly sexy female operatives, exploding robotic fowl, parachuting Indians and a germ that makes all women beautiful but kills all men over 4'6"!
Box Office:
Budget
$12 million.
Domestic Gross
$22.744 million.
MPAA:
Rated NR


DVD DETAILS
Presentation:
Widescreen 2.35:1/16x9
Audio:
English Dolby Digital 5.1
English Digital Mono
Spanish Digital Mono
Subtitles:
English, Spanish, French, Portuguese
Closed-captioned

Runtime: 137 min.
Price: $19.98
Release Date: 10/15/2002

Bonus:
• Original Casino Royale Made-For-TV Movie
• "Psychedelic Cinema" Program
• Trailer




PURCHASE @ AMAZON.COM

EQUIPMENT
Panasonic 50" TH-50PZ77U 1080p Plasma Monitor; Harman/Kardon DPR 2005 7.1 Channel Receiver; Toshiba A-30 HD-DVD/1080p Upconverting DVD Player using HDMI outputs; Michael Green Revolution Cinema 6i Speakers (all five); Kenwood 1050SW 150-watt Subwoofer.


[an error occurred while processing this directive]
---
Casino Royale (1967)
---
Reviewed by Colin Jacobson (March 11, 2009)

Over the period of one year, MGM released all of the James Bond movies on DVD – sort of. Between October 1999 and October 2000, they produced all 19 official Bond flicks along with bastard offspring Never Say Never Again. That summed up the whole package as of 2000, right?

Wrong, for one other exception to the rule existed. In addition to Never in 1983, the "unofficial" Bond spoof Casino Royale came out in 1967. As a Bond fan, I felt interested to see this parody, so I was happy when the wait finally came to an end two years after the release of all the other 007 flicks.

Was it worth it? Yes and no. While interesting to see as a historical artifact, Royale offered an erratic experience at best. It never seemed sure of itself and it provided an awkward and only intermittently entertaining piece.

Really, Royale consists of a series of semi-related vignettes, all shot by different directors. Any attempt to fully summarize the story would be a serious headache and it'd probably give away too much of the action, so I'll try to keep things brief and generally. At the start of the film, we meet Sir James Bond (David Niven). He's the originator of the 007 legend, and he bemoans the fact that the current one disgraces his name with his sexual acrobatics and spy gizmos.

Someone's depleting the ranks of international spies, so a gaggle of bigwigs including "M" (John Huston) try to bring Bond back into the game. Initially he declines the offer, but some violent events prompt him to return. Bond gets his first threatening interaction with the nasty spies of SMERSH during a stay at a Scottish castle. This gets him started on the right path, and he takes over MI6. Since 007 makes for an obvious target, Bond decides to create a legion of spies who answer to that number, though he wants them to avoid the sexual obsessions of the popular 007.

First he finds Cooper (Terence Cooper), a man women find irresistible but who gets trained to resist them. Subsequently Bond recruits absurdly wealthy business tycoon and sex kitten Vesper Lynd (Ursula Andress), bookish baccarat expert Evelyn Tremble (Peter Sellers), and illegitimate daughter Mata Bond (Joanna Pettet). We also meet Sir James' nerdy nephew Little Jimmy Bond (Woody Allen).

As I noted, the different segments of the film really act as entities unto themselves. A general plot thread holds them together, but otherwise they exist as separate pieces. Heck, even that vague connecting material seems thin. Sometimes the movie appears to focus on the threat directly from SMERSH, while other elements concentrate on money-raising attempts made by gambling debtor operative Le Chiffre (Orson Welles).

None of them have much to do with anything else, and even within each segment, the content seems nearly incoherent. There seems to be little effort to coordinate the segments and make them work as a whole, so Royale flits from here to there virtually at random. We meet Cooper and learn of his training and then poof! He disappears, only to briefly show up again during the film's climax. Lynd comes and goes with no apparent rhyme or reason, and other roles and themes pop in and out with no discernable rationale. The film's producers couldn't even keep Mata's haircut straight; while she displayed long locks most of the time, she showed up for the movie's climax with an ugly cropped 'do that looks like Mia Farrow's cut in Rosemary's Baby.

That chop job upset me more than anything else in Royale, for Joanna Pettet looked gorgeous with the longer hair. However, she seemed no equal for Barbara Bouchet, who played Moneypenny's daughter. If we consider her to be a Bond girl, she has to be considered one of the all-time hottest. During the movie's ending, she wore a skimpy, semi-transparent dress that truly dazzled.

Unfortunately, sexy Bouchet was pretty much the only thing about Casino Royale that dazzled me. At times the movie seemed moderately entertaining, but its terribly disjointed nature really harmed it. From the exceedingly loose plot to the radical stylistic differences observed from segment to segment, the movie never flowed at all, and it always appeared stuttering and tenuous. Royale couldn't quite decide if it wanted to embrace the Bond flick clichés or mock them, and the result appeared watchable but too erratic to be anything more than that.
---
The DVD Grades: Picture C- / Audio B+ / Bonus B-
---
Casino Royale appears in an aspect ratio of approximately 2.35:1 on this single-sided, dual-layered DVD; the image has been enhanced for 16X9 televisions. The transfer provided an erratic presentation.
Sharpness was inconsistent. Some shots showed good clarity, but many images – especially wide ones – came across as rather soft and fuzzy. Though much of the flick looked decent, too much of it suffered from a lack of definition. Jagged edges and shimmering caused no concerns, but edge enhancement caused a more significant issue, unfortunately. It didn't crop up continually, but it seemed fairly prominent when it appeared, and it could become a moderate distraction that contributed to the general softness.
Print flaws also demonstrated inconsistent problems. Parts of the movie seemed fairly clean and fresh, but others looked significantly dirtier. At times, I noticed moderate levels of speckles and grit along with some marks, spots, small hairs, and a scratch or two. Some of the issues related to different forms of photography. Scenes with "burned-in" subtitles showed higher levels of defects, and shots with special effects definitely displayed increased issues.
Given the film's "psychedelic" orientation, I expected a vivid palette, and Casino Royale delivered. However, the quality of the hues varied. Sometimes we found dynamic, concise tones, but too many shots suffered from heavy, runny colors. Black levels came across as nicely deep, while shadow detail mostly appeared appropriately dense. Ultimately, Casino Royale was too up and down to merit a grade above a "C-" for visuals.
Although it demonstrated some limitations of its era, the Dolby Digital 5.1 soundtrack of Casino Royale provided a surprisingly satisfying experience. While the soundfield emphasized the forward channels, it managed to offer a compelling sense of place. Some speech emanated from the side speakers at times. Music showed very nice stereo presence and separation, and effects also popped up in logical locations. Those elements meshed together reasonably well and created a good atmosphere. Panning and movement seemed decent given the vintage of the material, and the surrounds kicked in some acceptable presence at times. For example, cars zoomed around the rears, and the Scottish ball game in the McTarray sequence also manifested positive use of the surrounds.
Audio quality also appeared relatively positive. Speech sounded fairly natural and warm and displayed few concerns related to intelligibility or edginess. Effects displayed a slight amount of distortion on occasion, but they usually seemed nicely accurate and distinct. Music functioned best of the bunch, as the score sounded clear and lively.
Bass response varied throughout the production, but it usually came across as strong for the age of the material. At times low-end audio sounded quite deep and rich, especially when matched with the smooth quality of the music. However, sometimes the score seemed a little less robust, and some effects displayed moderately boomy bass; for example, the explosion of a house presented elements that sounded somewhat muddy. Nonetheless, most movies of this era show much less impressive audio than what I heard during Casino Royale, so the soundtrack earned a solid "B+".
Since MGM never seemed very enthusiastic about the release of Casino Royale on DVD, I didn't expect much in the way of supplements. To my surprise, however, the disc packs a few solid extras. For the biggest bonus, look no further than the presentation of a different version of Casino Royale. Produced in 1954 as part of Climax! Mystery Theater, this 50-minute and 20-second program provides a live TV production based on the novel. It stars American Barry Nelson as Bond and also features Peter Lorre as villain Le Chiffre and earns trivia status as the first-ever filmed appearance of 007 (although I don't think anyone ever called him that in the show).
I didn't think I'd enjoy this piece, but I found it to offer a surprisingly entertaining production. Granted, it displayed many flaws, most of which revolved around the casting of Nelson as Bond. With his wide jaw and brush cut, he looked totally wrong for the part, and I couldn't easily accept the notion of an American Bond. Nelson played the part in an indecisive, stammering way that also failed to match our notions of the world's coolest secret agent. Frankly, he came across much more like a Midwestern insurance agent that a super spy, and I'll die before I cotton to hearing people call Bond "Jimmy".
Otherwise, however, the production had its moments. Lorre made for a solid Bond villain, albeit one who worked on a small scale. The gambling debtor Le Chiffre seemed far from the aspiring world conquerors found in most Bond flicks, but Lorre brought a nice sense of nastiness to the character. Actually, the limited scope of the piece – it all took place in or around the casino – seemed like a curious plus. Clearly the TV show couldn't muster much in the way of production values, so the tightening of the scale made it surprisingly taut. With a more skilled – and appropriate – actor as Bond, this TV Casino Royale might have been a real winner. As it stands, I considered it to offer a moderately entertaining but flawed historical document.
In addition to the theatrical trailer for Royale, we find a new video program called Psychedelic Cinema. This piece runs 19 minutes and 41 seconds and consists mainly of an interview with director Val Guest; the show intercuts "talking head" shots of the filmmaker with snippets from the movie and some production photos. Although it doesn't substitute for an audio commentary, this chat offers a lot of solid information about Royale. Guest acted as the coordinating director for the flick, so he worked on more of it than the other filmmakers, and that fact came through via his statements. Guest provided good general notes about the movie and also added some nice dirt. He discussed the general chaos attached to the project as well as Orson Welles' refusal to work with Peter Sellers and the fact that Sellers actually got fired from the project before the end of filming! "Cinema" packed a lot of compelling information into its short running time, so the program definitely merits a look.
In the end, I think that Casino Royale also deserves a screening, at least for serious Bond fans. The movie may offer the most erratic piece of work ever filmed and never goes much of anywhere, but it seems generally entertaining and stands as an interesting footnote in the history of 007. The DVD provides inconsistent but fairly decent picture along with surprisingly solid sound and a small but very valuable collection of extras. Heck, as a Bond buff, I'd have checked out Casino Royale just to watch the 1954 TV production included here as a supplement. I don't know how much value this set is to folks who don't really dig 007, but for the hero's fans, it's a must-have DVD.
| | |
| --- | --- |
| Viewer Film Ratings: 4.0816 Stars | Number of Votes: 49 |