HBO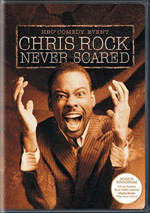 MOVIE INFO
Director:
Joel Gallen
Cast:
Chris Rock
Writing Credits:
Chris Rock
Tagline:
Never Scared.
Synopsis:
Chris Rock, the three-time Emmy Award-winner, comedian, actor, and host of HBO's acclaimed The Chris Rock Show, stars in his fourth solo stand up special for HBO, Chris Rock: Never Scared. Featuring his unique, insightful, and hilarious views on a host of social, political and, celebrity issues, Rock confirms his stature as the leading comic of our time. Filmed at DAR Constitution Hall in Washington, D.C., this is a must have for any fan of great comedy.
MPAA:
Rated NR


DVD DETAILS
Presentation:
Fullscreen 1.33:1
Audio:
English Dolby Digital 5.0
English Dolby 2.0
Subtitles:
None
Closed-captioned

Runtime: 93 min.
Price: $19.96
Release Date: 8/31/2004

Bonus:
• Chris Rock: Big Ass Jokes HBO Special




PURCHASE @ AMAZON.COM

EQUIPMENT
Sony 36" WEGA KV-36FS12 Monitor; Sony DA333ES Processor/Receiver; Panasonic CV-50 DVD Player using component outputs; Michael Green Revolution Cinema 6i Speakers (all five); Sony SA-WM40 Subwoofer.


RELATED REVIEWS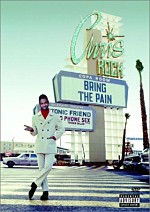 [an error occurred while processing this directive]
---
Chris Rock: Never Scared (2004)
---
Reviewed by Colin Jacobson (November 19, 2004)

Anybody else remember when Chris Rock was little more than a not-too-successful cast member on Saturday Night Live? He never really prospered in that setting, but heís become a sensation via his stand-up comedy performances.

Most people became familiar with Rockís work through his cable appearances, and 2004ís Never Scared stands as his most recent special. Shot at DCís DAR Constitution Hall, Scared finds Rockís musings on a mix of topics. He chats about the responsibilities of parenthood, strippers, defending rap music, Michael and the other Jacksons, R. Kelly, David Blaine, Kobe Bryant, cheating, the war in Iraq, patriotism, the pros and cons of America, abortion, drugs, wealth, American hypocrisy, Affirmative Action, slavery, gay marriage, the boredom of married life, soul mates, and womenís attitudes toward men.

I always found myself on the fence about Rock. I thought he did some good work but never really got on board the bandwagon that saw him as the greatest modern comic. On the other hand, Iíd not seen a lot of his work, so I really couldnít offer a firm opinion of his talents as a standup comedian.

Scared wonít make a case for Rock as a great talent, for it seems too erratic to merit that kind of consideration. However, it includes a lot of funny material. Rock maintains a generally good energy and pace, as the show suffers from virtually no lulls. Contrast that with something such as Eddie Murphyís Raw, which faded badly at times. Rock ensures that the performance moves briskly and keeps us involved.

Actually, Scared shares one element with Raw: a surprisingly misogynistic tone. Throughout the show, Rock comes across as awfully harsh toward women. Rock likes to stay on the hard-edged side of his societal examinations, but he usually balances matters well. For example, much of his comedy focuses on racial issues, but he doesnít tend to pick on one culture more than another. Sure, heís eager to point out bad treatment executed by whites, but he also gleefully finds fault in the black community.

That doesnít occur when he looks at men and women. Guys mostly escape without much negative comment, but Rock really tears into females. This comes across as bitterness more than anything else.

Despite those awkward elements, much of Never Scared provokes amusement. Rock manages to offer many incisive comments about society and relationships in this funny performance. I canít say that it ever becomes truly inspired, but itís still a good piece overall.
---
The DVD Grades: Picture B/ Audio C+/ Bonus C
---
Chris Rock: Never Scared appears in an aspect ratio of 1.33:1 on this single-sided, double-layered DVD; due to those dimensions, the image has not been enhanced for 16X9 televisions. Simplicity ruled the day with Now, as the basic production looked solid.
Sharpness generally seemed satisfactory. Sometimes the wider shots of Rock appeared a little ill defined and werenít as distinctive as Iíd like. Nonetheless, the program mostly came across as accurate and concise. No issues with jagged edges or shimmering occurred, and I saw no signs of edge enhancement. Source flaws also were absent, as the presentation suffered from no artifacts, video noise or other issues.
Given the basic setting, colors stayed simplistic but solid. Rockís burgundy suit and the stageís dark blue backdrop dominated the palette. Both looked firm and well depicted within the low-key parameters of the show. Blacks also appeared deep and firm, and the occasional low-light shot seemed clear and appropriately visible. There wasnít a whole lot to the visual presentation of Here and Now, but the DVD replicated the concert fairly well.
Similar thoughts greeted the Dolby Surround 2.0 soundtrack of Never Scared. Not surprisingly, the mix presented a very modest soundfield. Rockís monologue emanated firmly from the front center channel, so that speaker heavily dominated the proceedings. Otherwise, we got audience laughter and applause from the front sides and Ė to a lesser degree Ė surrounds. And that was it! Virtually no music appeared in the program.
Audio quality remained fairly positive. Speech easily became the most important aspect of the track, and Rockís remarks sounded decent. They suffered from a little too much reverberation, though, which made them a bit unnatural. Nonetheless, I noticed no edginess or problems with distortion, as his comments were always pretty smooth. The light applause and laughter also seemed clear and accurate. No one will use Scared as a demo disc, but the soundtrack did what it needed to do.
Only one extra appears on Scared, but itís a cool one: the comedianís first HBO special. Called Chris Rock: Big Ass Jokes, it aired in 1994 and runs 27 minutes. Donít expect much inspired material from this show. Actually, donít look for any inspired gags here, or many laughs period. Itís not a very funny show, but I appreciate its inclusion, and itís interesting to compare todayís Rock with his younger self.
Probably todayís most prominent standup comedian, we get a look at Chris Rock circa 2004 via Never Scared. Although the show fails to turn into something truly special, Rock presents a mostly amusing and entertaining performance that rarely stalls. The DVD offers good picture with mediocre audio and another special thatís interesting for archival purposes. I doubt that Never Scared demonstrates Chris Rock at the top of its game, but it remains funny and compelling.
| | |
| --- | --- |
| Viewer Film Ratings: 4.1363 Stars | Number of Votes: 22 |