EAGLE VISION USA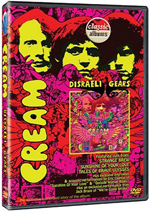 MOVIE INFO
Director:
Matthew Longfellow
Cast:
Cream (Eric Clapton, Ginger Baker, Jack Bruce)
Writing Credits:
Mark Steven Johnson
Synopsis:
Cream was rock's first true "super group". Combining the extraordinary talents of Eric Clapton, Ginger Baker, and Jack Bruce, this power trio became the template for many hard rock acts of the seventies. The band remains a huge influence on the genre even to this day. Powered by hits such as "Strange Brew" and "Sunshine of Your Love", Cream's second album, Disraeli Gears, moved the band beyond the blues into hard-driving, psychedelic pop. This was the album that not only broke the group in the United States but also established Clapton as an international superstar.
This addition of Disraeli Gears to the acclaimed Classic Albums series features brand new interviews with Clapton, Baker and Bruce, along with lyricist Pete Brown, Atlantic Records founder Ahmet Ertegun, John Mayall and Manfred Mann. Also included on the DVD are acoustic performances, original studio tracks and archival live footage.
MPAA:
Rated NR


DVD DETAILS
Presentation:
Widescreen 1.78:1/16X9
Audio:
English Dolby Stereo 2.0
Subtitles:
English
Spanish
French
Portuguese
Closed-captioned
Supplements Subtitles:
English
Spanish
French
Portuguese

Runtime: 49 min.
Price: $11.98
Release Date: 4/4/2006

Bonus:
• Added Interview Footage




PURCHASE @ AMAZON.COM

EQUIPMENT
Sony 36" WEGA KV-36FS12 Monitor; Sony DA333ES Processor/Receiver; Panasonic CV-50 DVD Player using component outputs; Michael Green Revolution Cinema 6i Speakers (all five); Sony SA-WM40 Subwoofer.


RELATED REVIEWS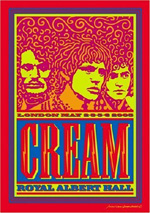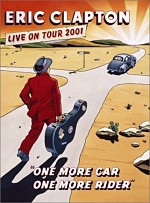 [an error occurred while processing this directive]
---
Classic Albums: Cream - Disraeli Gears (2006)
---
Reviewed by Colin Jacobson (December 11, 2007)

Arguably the first rock "supergroup", Cream began life in 1966 with their Fresh Cream album. They only lasted a few years; by 1969, they were gone. Over that brief period, they produced some memorable music, and we visit their work via this Classic Albums DVD.

The Cream entry examines the band's 1967 album Disraeli Gears. The DVD follows the usual blueprint for the Classic Albums programs, as it presents band members and others connected with Cream to detail the music and its creation. We hear from guitarist Eric Clapton, bassist Jack Bruce, drummer Ginger Baker, Rolling Stone senior editor David Fricke, producer Joel Dorn, music journalist/author Chris Welch, Atlantic Records founding chairman Ahmet Ertegun, musicians John Mayall and Manfred Mann, lyricist Pete Brown, tour manager Bob Adcock, photographer Robert Whitaker, and artist/lyricist Martin Sharp.

Disraeli looks at the origins of Cream and their impact on the rock scene of the time. It also involves the band's influences, their development, and the recording of Disraeli. Finally, we get some notes about the album's cover, Cream's US tours, and the success of Disraeli.

Probably the main strength of the Classic Albums programs comes from the involvement of the folks behind the music and the insights they provide. In that vein, we always get fascinating dissections of the songs demonstrated in various ways. This usually means new performances, vintage clips, and audio taken from the original sessions.

More tell than show, Disraeli doesn't delve into the music as well as other entries. Yes, we still get a mix of performances. Clapton does a little demo of the riff for "Lawdy Mama" and its development into "Strange Brew" and also plays elements of "Outside Woman Blues", "Dance the Night Away" and "Tales of Brave Ulysses". Baker shows us the drumming for "We're Going Wrong", while Bruce and Clapton both offer parts of their work for "Sunshine of Your Love" – albeit separately. Even though this program was produced after the band's 2005 reunion, none of the members interact with each other.

In addition to those modern elements, we get some snippets of vintage Cream from the Sixties. However, we find less of these different performance elements – both new and old – than in prior Classic Albums releases, and we lose one of my favorite components: the mixing board demo. For other shows, we'd get the artists at the console and they'd isolate various parts of the songs. I loved those bits, but they don't show up for Disraeli.

All of this makes Disraeli a chattier Classic Albums than usual, and also more of a general overview. Sure, we get a good amount of info about the album itself, but the program focuses less on Disraeli itself and more on the band's overall functioning. That's another minor negative, as I prefer a strong spotlight on the release in question. I think the documentary producers should assume that anyone who watches these Classic Albums DVDs already know a lot about the acts in question. Some basic background about the artists is fine, but I feel it's best for the shows to presume a certain level of familiarity and not spend too much time with general information.

I can't call this DVD a dud, as it provides a reasonably interesting look at Cream and Disraeli Gears. However, it does disappoint based on the Classic Albums track record. Prior documentaries really added to my understanding and appreciation of the records, but that doesn't quite happen here. Disraeli ends up as an interesting little program but not a tremendously revealing or insightful one.
---
The DVD Grades: Picture B-/ Audio B-/ Bonus B-
---
Classic Albums: Disraeli Gears appears in an aspect ratio of 1.78:1 on this single-sided, double-layered DVD; due to those dimensions, the image has been enhanced for 16X9 televisions. Overall, I thought the DVD offered decent but unspectacular visuals.
For the new material, sharpness appeared reasonably crisp and detailed. The picture looked consistently clear and accurate. Focus was more problematic in the older clips, however, as they demonstrated issues. Some of the videos and concert footage also came across as rather indistinct.
The program seemed to display no significant jagged edges or moiré effects, and I also saw no evidence of edge enhancement. The older footage showed a mix of small print flaws such as grain, grit, speckles, and some spots, but for the most part those elements appeared reasonably decent. As for the modern shots, they demonstrated a bit of grain but otherwise lacked flaws.
Most of the Classic Albums releases feature fairly subdued colors since they take place in studios and other indoor settings. Disraeli followed along those lines, but the tones looked more warm and inviting than usual. Some gently vivid hues emerged in the modern footage. Colors were paler during the archival shots, but they seemed acceptable. Black levels looked fairly deep and rich for the new stuff, while shadow detail appeared clear and accurate. Overall, you won't view Disraeli for its dynamic visuals, but it adequately represented the original material.
Similar feelings came with the Dolby Stereo 2.0 soundtrack of Classic Albums: Disraeli Gears. Not surprisingly, this mix stayed with a front-oriented presence that largely hewed to the original stereo presentation of the music. Virtually everything other than the songs stayed in the center; I detected no evidence of effects or dialogue from anywhere other than the middle speaker. The music showed good stereo separation, though I expect some of that may have resulted from the original production of the album. Overall, it seemed like the music provided clean spread across the front, and the track used the rears for decent reinforcement of the songs.
Audio quality was somewhat erratic but generally positive. Dialogue was reasonably natural and distinct. As for the effects, well, there really weren't any; this production featured music and dialogue almost exclusively.
Of course, the songs were the most important aspect of the mix, and they usually came across well. The original tracks from Disraeli fared best of all, as they showed decent clarity and depth, though the recordings have never sounded particularly good. Archival footage worked acceptably well, though of course it displayed a fair amount of variation. Those segments were usually clear but somewhat thin and flat. As a whole, the audio seemed good but unexceptional, largely due to the variety of source materials.
In terms of extras, this one comes with 10 Additional Interview segments. Taken together, these last a total of 32 minutes, 45 seconds. We get notes from Clapton, Bruce, Baker, Brown, Welch, and Ertegun. In terms of performance, we hear Clapton do solo acoustic takes on "Sunshine of Your Love" and "Outside Woman Blues", Bruce plays "We're Going Wrong" on the piano, and we find a vintage Sixties band versions of "Tales of Brave Ulysses" and "Wrong". Baker demonstrates how he warms up on the drums and discusses his African influences. Further moments look at the songs "World of Pain" and "Mother's Lament", the origins of the album title, and Ertegun's first exposure to Clapton.
For past Classic Albums releases, I thought much of the bonus material should've been part of the main program. That's not the case here, for while the segments are good, they do "feel" more like supplements than like bits cut from a longer documentary. I'd argue that maybe Baker's discussion of the album title should be in the main show, but otherwise these are incidental moments that don't need to be part of a full examination of Disraeli.
The best parts come from the performances, especially since the documentary skimps on those. I especially like the vintage pieces, though the modern solo versions are also interesting. The various comments are useful as well. In particular, Baker's notes about his drumming style prove informative. Overall, these additional interviews work well.
I've always been a fan of the Classic Albums documentaries, which is what makes Disraeli Gears a minor disappointment. While the show offers a fairly engaging and interesting discussion of Cream and their work, it lacks the real insight and depth I expect from the series. The DVD presents perfectly acceptable picture and audio along with some useful added footage. Cream fans will want to give this a look, but don't expect greatness from it.
| | |
| --- | --- |
| Viewer Film Ratings: 3.3333 Stars | Number of Votes: 3 |