UNIVERSAL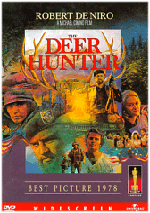 MOVIE INFO
Director:
Michael Cimino
Cast:
Robert De Niro, Christopher Walken, Meryl Streep, John Cazale, John Savage, George Dzundza, Chuck Aspegren, Shirley Stoler, Rutanya Alda, Pierre Segui
Writing Credits:
Michael Cimino (story), Louis Garfinkle (story), Quinn K. Redeker (story), Deric Washburn (story & screenplay)
Synopsis:
Winner of five Academy Awards, including Best Picture, and one of AFI's Top 100 Films Of All Time, The Deer Hunter follows a group of Pennsylvania steelworkers from their blue-collar lives, hunting in the woods of the Alleghenies, to the hells of Southeast Asia during the Vietnam War. Academy Award winners Robert De Niro and Christopher Walken star in this unforgettable saga of friendship and courage.
Box Office:
Budget
$15 million.
Domestic Gross
$49.00 million.
MPAA:
Rated R


DVD DETAILS
Presentation:
Widescreen 2.35:1/16x9
Audio:
English Dolby 2.0
Subtitles:
English
Spanish
French
Closed-captioned

Runtime: 183 min.
Price: $26.98
Release Date: 3/31/1998

Bonus:
• Production Notes
• Talent Bios
• Theatrical Trailer




PURCHASE @ AMAZON.COM

EQUIPMENT
Sony 36" WEGA KV-36FS12 Monitor; Sony DA333ES Processor/Receiver; Panasonic CV-50 DVD Player using component outputs; Michael Green Revolution Cinema 6i Speakers (all five); Sony SA-WM40 Subwoofer.


RELATED REVIEWS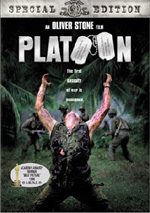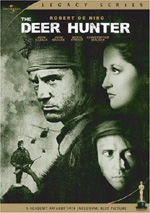 [an error occurred while processing this directive]
---
The Deer Hunter (1978)
---
Reviewed by Colin Jacobson (September 14, 2005)

Sometimes there are movies I want to see but never quite get around to doing so. The Deer Hunter long belonged to that category. I was a bit young to see it during its original theatrical release in 1978, but it's been a film I've always intended to see on home video but just never did until I finally rented it a few years ago.

Actually, I almost saw it around 1982 when it was broadcast over two nights on syndicated TV. I watched the first hour or so but for reasons I donít recall, I didn't see the rest. What I do remember is that the film apparently ran unedited. Since I didn't get all the way to the end, I can't say if the pieces of graphic violence were still there, and I don't recall if the language made it through - though I think it did - but what did stick with me was the sight of Robert De Niro romping naked through the streets. Bobby De Niro's schlong - there's something I never expected to see on my local Fox affiliate!

It's a bit of a challenge to see something that one's heard about for so long, especially since so many of the reactions were overwhelmingly positive. While it's entirely possible these preconceived notions may have affected my opinion of Hunter, I honestly think they didn't really matter as I watched the film itself. Whether related to my expectations or not, I found Hunter to be an overly-long and generally dull film that's punctuated only by some overwrought scenes of drama.

The length of the movie really becomes its greatest weakness. That's not simply because it's three hours long; there are plenty of films that length that I really like. The problem stems not from the amount of time but from the way in which the time is spent. Director Michael Cimino made a tremendously self-indulgent film that apparently had no editor. Scenes just go on and on well past the point of sensibility.

Part of my impatience may have stemmed from the fact I knew this was essentially a film about the Vietnam War but our characters don't get there until more than a third of the way through the movie. I continually waited for the preliminary scenes to end and for the substance of the story to start. However, I don't think the situation would have been any better if I'd gone into Hunter without foreknowledge of the Vietnam elements. If I had to sit through that first hour without any idea of what was to come I don't know if I could have made it; the initial third of the picture so badly meanders that I would have wondered if the whole project would stay way and I might have bagged it.

Please excuse my perseveration, but I still can't quite get over how much I disliked the first third of Hunter. I understand that these scenes were intended to establish the characters and their relationships with each other, but we didn't need an hour to do so. Imagine if the wedding scene in The Godfather lasted more than twice as long than its current 25 minutes or so and think how annoying that might have been. In less than half the time, that segment of The Godfather introduces more complex characters and actually fits in some story points. The opening third of Hunter just seems like the work of a director captivated with his ability to film whatever he wants; he enjoyed the spectacle of what he had created and couldn't bear to cut any of it.

Did my lack of interest in the first third of the film sour the rest of it for me? Perhaps, though I'm not entirely sure that I would have liked Hunter even with a tighter opening segment. The characters simply lacked personality and spark for me, and that would have been the case no matter what. I really developed little of a feel for these guys; they all seemed like crude, obnoxious boors who just get drunk a lot, shoot animals and call each other names. Yeah, I know that's a popular interpretation for who "guys" are, but it doesn't make for compelling cinema. These characters seemed one-dimensional and uninteresting to me, which made it more difficult for me to get involved in their further experiences.

I also felt that Cimino simply tried too hard much of the time. Too many moments in the picture are such obvious attempts for "meaningful imagery" that they seemed overly pretentious. In the wedding scene, newlyweds Steven and Linda are told they'll ensure happiness if they don't spill any of their joined containers of wine; of course, Linda does, and we see the drops fall on her dress. The film also concludes with a dispirited rendition of "God Bless America" from the remaining friends.

Okay, Michael, we get it: war stinks and no one emerges from it unscathed. Hunter tries so hard to show us the negative effects of war that it simply overdoes it; I didn't find the experience harrowing or numbing so much as just dull. Had I seen the film in 1978 - when this kind of picture was much fresher - I might have felt differently, but in viewed almost 30 years after its release, The Deer Hunter doesn't know when to stop, which leaves it as a weak portrait of war and its consequences.
---
The DVD Grades: Picture D+/ Audio B-/ Bonus D
---
The Deer Hunter appears in an aspect ratio of 2.35:1 on this single-sided, dual-layered DVD; the image has not been enhanced for 16X9 televisions. Hunter showed a lot of room for improvement in this problematic transfer.
One major concern related to sharpness. Throughout the film, the image often looked soft and blurry. This was especially noticeable in wider shots, but all aspects of the movie suffered from a general lack of definition. Some of the softness resulted from the prominent edge enhancement that marred much of the transfer. Jagged edges appeared frequently, as the flickís elements took on a ropy look, and shimmering also popped up at times. Source flaws werenít terrible, but they sometimes became an issue. I noticed periodic examples of specks, grit, blotches and excessive grain.
Colors tended to be a bit muddy. Some of this resulted from the film stock, while some of it came from stylistic choices; the film didnít usually favor a bright presentation. However, not all of the murkiness stemmed from those issues, as sometimes the colors looked iffy simply because it wasnít a good transfer.
Still, the hues werenít bad in general, and they stood out as acceptably positive compared to the other elements. Blacks varied from reasonably deep to moderately inky, while shadow detail was a consistent problem. This film featured lots of dimly-lit scenes and they often seemed overly opaque. This meant I had a lot of trouble discerning the action. All of this added up to a weak presentation that only merited a ďD+Ē for picture quality.
While also inconsistent, the film's Dolby Surround 2.0 soundtrack proved more satisfying than the visuals. The forward soundstage was surprisingly broad and detailed, with a lot of action from the side channels and some excellent panning between speakers as well. This was inconsistent, though. Many of the audio-intensive Vietnam scenes sounded virtually monaural. However, the track generally seemed roomier and wider than I'd expect from a film of this vintage. The surrounds offer some good reinforcement of music and effects as well, though their use remained fairly modest.
Quality was a bigger concern. Dialogue had the most problems, as the lines usually sounded thin and lifeless. Some edginess also interfered, and a few lines became difficult to comprehend. Effects seemed similarly wan at times, though they could also deliver some nice heft, such as in the steel mill scenes. Music sounded generally clear and smooth, though the score lacked depth. Though the quality of the audio could be somewhat weak, this soundtrack earned its "B-" due to the range of the soundfield, which was very good for a film from 1978.
Less exciting are the supplements on this DVD. We get some fine text production notes, decent biographies for five of the actors and director Cimino, and the film's theatrical trailer. It's not a horrible bunch of extras - I've certainly seen worse - but it's pretty dull.
While The Deer Hunter is viewed with high regard by many, it did little for me. The film was too long and lacked strong characterizations; too much of the movie seemed like self-indulgent artistry. The DVD provides erratic audio, weak picture, and a skimpy set of supplements. Due to my negative reaction to the film and the generally low quality of this DVD, I canít recommend it.
To rate this film, visit the Legacy Series review of THE DEER HUNTER