Reviewed by Colin Jacobson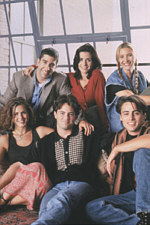 It looks like 2002 will go down as the year during which TV shows hit it big on DVD. While folks like Fox and HBO did nicely with sets such as The Simpsons and The Sopranos, respectively, many other studios didn't earn quite as much credit from fans.
But a lot of that's changed in 2002. Fox has expanded their repertoire with series such as M*A*S*H and Buffy the Vampire Slayer, while Columbia-Tristar's gotten into the act with All in the Family. Artisan's putting out Twin Peaks as well, and there are many others I haven't mentioned.
After releasing all 79 episodes of the original Star Trek on a two shows per disc basis, Paramount listened to the fans. They're now producing full season boxes for Star Trek: The Next Generation, and doing so at a remarkably accelerated schedule; although it took nearly two and a half years for the three seasons of the old Trek to hit DVD, all seven years of Next Generation will be out on DVD by the end of 2002!
While they've not indicated a timetable for the entire series' release, Warner Bros. finally heeded the desires of Friends fans as well. After four "best of" releases irritated partisans, the studio decided it was time to make the people happy, so we now have a nice four-DVD boxed set that includes all 24 episodes from the show's first season.
Although I applaud this victory for Friends fans, I must admit I felt a little apprehensive about watching all that Season One material. As I noted in earlier reviews, I came late to the Friends bandwagon; I didn't like the show until it'd been on the air for at least four seasons. The older programs often don't seem to hold up very well, especially compared to the better episodes from its later run.
The five shows from Season One found on the four prior DVDs were unquestionably some of my least favorites. If they offered the "best" of the first season, that didn't bode well for the rest of the year. Because of that, I can't say I was too excited about checking out the entire set.
However, I found the experience to be more gratifying than expected. Perhaps some of this related to my lowered expectations, but I also think it helped that I didn't see the shows out of context. As I discuss in my reviews of the "best of" discs, Friends has many soap opera elements, and for a viewer without any background, the mish-mash of shows found on the old DVDs must have been very confusing.
It also hurt that I could compare the better, more recent episodes so directly with the early work. It's one thing to go off of memories of later programs; it's another to watch them back-to-back and see directly how much weaker the older shows were. As is often the case with TV shows - especially comedies, which depend so much on chemistry - it took the actors and crew of Friends a while to really develop the thing, and those differences appeared very clear when I watched the mix and match sets of programs.
The Friends Season One set rectifies those concerns, and the increased coherence makes the show's first year more amusing and entertaining than I expected. No, the material from 1994-95 doesn't match up with the later programs, but it holds its own and could be quite compelling. From here, I'll offer brief discussions of all the episodes, listed in their broadcast order. As a helpful guide, an asterisk denotes shows that also appeared on any of the four "best of" DVDs.
In addition, apparently all of the episodes include footage cut for their broadcast appearances. This means the running times vary. I'll include the length of each episode on the DVDs. (For reference, a standard broadcast program lasts about 22 minutes.)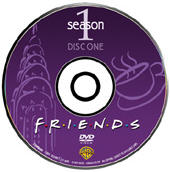 During the *Pilot (29:35), we see how the gang came together. Actually, we don't learn the whole genesis of their friendship, as five of the six characters already hung out together, but we do learn how Rachel Green (Jennifer Aniston) came to reunite with high-school buddy Monica Geller (Courtney Cox) and then became part of the crew. On her wedding day, Rachel chickens out and leaves hubby-to-be Barry at the altar. She tracks down former friend Monica because she doesn't know anyone else in Manhattan. Monica's brother Ross (David Schwimmer) also deals with the collapse of his marriage; his wife Carol realized she's a lesbian, and Ross moves into a new place. Monica goes out with Paul the Wine Guy (John Allen Nelson), who lies to her to get her into bed.
The "Pilot" isn't a bad episode, but it seems rough and awkward compared to later shows. It also stands out negatively in regard to its continuity. Later in the series - as demonstrated in "The One Where Ross Finds Out" from Season Two - it becomes an important plot point that Rachel never knew that Ross had the hots for her. However, at the end of the pilot, he tells her that he used to have a crush on her and then inquires if he could later ask her out on a date. As we'll see at the end of Season One, the show does try to pooh-pooh this original statement, but I didn't buy it.
The One With the Sonogram At the End (24:20) complicates Ross' life even more. Ross finds out that Carol's (Anita Barone) pregnant with his baby, and this sets up conflicts among the couple plus Carol's lover Susan (Jessica Hecht). In addition, Ross and Monica's parents come to visit, which means she has to deal with their negativity toward her; they always favored Ross and come down disapprovingly on Monica. Lastly, Rachel moves on with her life and returns her engagement ring to Barry (Mitchell Whitfield).
"Sonogram" seemed like too much Ross, Rachel and Monica after the "Pilot". After all, they dominated that episode, and they did so again here. I got the feeling the series' producers planned to make those three the lead cast and use the other three more as back-up; that didn't occur, of course, and the series broadened quickly.
In any case, "Sonogram" offered a reasonably entertaining early episode. Despite the soap opera elements, it maintained a light tone and it had a number of good laughs. The elder Gellers - Jack (Elliott Gould) and Judy (Christina Pickles) - seemed more like stereotypes than they'd become later, but they were still amusing, and Aniston got some good moments with her ex.
Trivia note: later episodes would reveal a different Carol. Hecht always played Susan, but Barone never reappeared as Carol. Instead, Jane Sibbett would take on the part soon, as I'll detail when it occurs. I have no idea why the casting change occurred, but after all these years, it was weird to see a different Carol.
The One With the Thumb (23:50) happily steered away from the more melodramatic elements of the first two programs. It included little in the way of plot and seemed more character driven. Monica dates Alan (Geoffrey Lower); although they usually hate her boyfriends, the gang loves Alan and quickly become obsessed with him. Chandler Bing (Matthew Perry) starts to smoke again, and Phoebe Buffay (Lisa Kudrow) keeps receiving unwanted money that she fears will muck up her karma.
Overall, I found this to be a mediocre episode, but it still had its moments. Most of these related to Chandler's smoking and the effects it had. The show's best scene occurred when he turned the tables on his pals and pointed out their flaws; this set up a terrific piece in which they all gripe at each other.
Musical plagiarism note: at about the 14-minute mark - which showed Chandler in his office - we heard a bit of the score played on guitar. This directly stole the opening to "Jack of All Parades" from Elvis Costello's King of America. In fact, it's so blatant that I expected "Parades" would appear in the show. It didn't.
When I saw the title of the next episode, I thought The One With George Stephanopoulos (25:20) would offer the series' first cheesy celebrity cameo. I knew that Friends occasionally indulges in that technique; some of those programs will be discussed soon. However, to my delight, I can assure you little George never actually appeared in this episode.
Basically this one split the show between the sexes. Ross feels depressed because it's the anniversary of the first time he and Carol did the nasty, so Chandler and Joey Tribbiani (Matt LeBlanc) take him to a hockey game. While there, a puck hits him and they rush to the emergency room. In the meanwhile, the girls have a slumber party to cheer up Rachel after a visit from some old friends. They accidentally receive Stephanopoulos' pizza, and they spy on him from across the way as they snack and gab with each other.
I think the best Friends episodes largely jettison plot concerns and deal with the characters. "Stephanopoulos" has some of those moments, but it felt a little too driven by circumstances. It got a little old to hear Ross and Rachel bemoan their circumstances, especially since it felt so obvious where the program would eventually go; from the end of the "Pilot", it appeared a sure thing the two would eventually get together. Still, "Stephanopoulos" offered some funny bits and worked fairly well as a whole.
The One With the East German Laundry Detergent (23:35) develops the Ross/Rachel relationship a little more. They do laundry together, and a moment of glee leads her to impulsively kiss him. While that happens, Chandler and Phoebe break up with their significant others. Phoebe's split goes hilariously easily, but Chandler has a very tough time dumping whiny Janice (Maggie Wheeler). In the meantime, Joey wants to get back with Angela (Kim Gillingham), a former girlfriend who he ditched, but she's dating Bob (Jack Armstrong). Joey decides to use Monica to help split them up, and she does this without adequate foreknowledge.
A lot of this year's episodes went for themes, and obviously this one emphasized the various stages of relationships. This topic became a little heavy-handed at times, but it still seemed like a fairly good program. It's our first glimpse of Janice, who became a fun running character, and it's amusing to watch Chandler's struggles with her. Not a great episode, "Laundry" still manages some good laughs.
The One With the Butt (24:35) mainly focuses on two of the boys. The title refers to Joey. He gets "discovered" by a talent agent, and she lands him a job on a real movie. His assignment? To play Al Pacino's butt double. Meanwhile, Chandler meets a fabulous woman named Aurora (Sofia Milos). They hit it off well, but unfortunately she's married - and she has another boyfriend on the side! Chandler initially seems to dig the arrangement - it is sex with no commitment, after all - but he eventually decides he wants more.
Not much about "Butt" stood out, but at least the episode overcame its potential to offer little more than a series of ass jokes. The scenes on the set are quite good, and overall, this seems like a pretty solid episode. Some of Chandler's bits became a bit treacly, but I still liked the program.
Note: I think this episode offered the first clear look at Monica's obsession with neatness and order. Granted, she showed some signs of those tendencies during "Sonogram", but those occurred in the context of a parental visit, which made a difference. In addition, check out Joey's shadow in the movie set shower; the outline of his shorts clearly appears!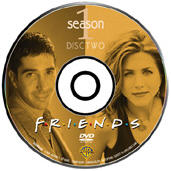 *The One With the Blackout (24:50) dipped in quality. The concept - in which New York is plunged into a blackout - seemed good, and a few solid set-ups occurred. Ross decides to finally tell Rachel how he feels about her, but this falters when she discovers a stray cat, and it gets even worse when she finds the animal's owner, hunky Italian Paolo (Cosimo Fusco). In the meantime, Chandler gets stuck in an ATM vestibule with Victoria's Secret model Jill Goodacre (played by herself) and stumbles through the event nervously as he internally debates what to do.
One sign this wasn't a very good program stems from the fact its funniest moment - when we meet bizarre neighbor Mr. Heckles (unnamed here, though, and portrayed by Larry Hankin) - felt like it came from an episode of Seinfeld. "Blackout" was watchable and mildly entertaining, but nothing more than that.
The One Where Nana Dies Twice (23:55) also seemed pretty blah. Actually, I thought it was one of the first year's weaker episodes. Ross and Monica's grandmother dies - twice - and Chandler discovers that many people think he's gay.
The Chandler elements offered some humor, but even those scenes appeared fairly predictable and lacked much spark. The "Nana" bits flopped entirely. Seinfeld could pull off humor in the context of death, but Friends lacks the callousness necessary to make it work. The show can't decide if it wants to go all the way and be totally irreverent, or if it wants to play itself and go for the cheap emotion. Because of this, the program straddles both sides and doesn't satisfy either.
The One Where Underdog Gets Away (23:35) gave us the series' first Thanksgiving episode. Those would offer highlights of future seasons, but this one seemed average at best. Actually, it features more plot complications than usual, all of which relate to the different friends' holiday plans. Ultimately, these conspire to keep them all in town with each other for the big day.
Much of this felt forced, since the story had to work so hard to keep the friends together. However, some good gags still emerged, mainly through a photo gig landed by Joey. He does this for a public health campaign and finds himself shunned when it turns out to be about VD. They're cheap laughs, to be sure, but they're laughs nonetheless.
Note: here we finally meet the second Carol, Jane Sibbett. As far as I know, she would always play the part in future episodes.
The One With the Monkey (24:55) continued the show's run of relatively bland programs. Ross adopts a pet monkey named Marcel, and Chandler gets the whole gang to agree not to seek New Year's dates; instead, they'll spend the holiday together. However, one by one they break the pact. The biggest encounter occurs for Phoebe, who falls in love with nerdy scientist David (Hank Azaria). Unfortunately, his work interferes with their relationship.
Early in the show, Phoebe's songs about her dead mother were funny, but the rest of the episode relied too much on cuteness or sappiness. I never could stand Marcel; the monkey character was nothing more than a moronic gimmick. In addition, Phoebe's relationship mustered too many "awww!" moments, especially when they split. Overall, this wasn't a very good episode.
The One With Mrs. Bing (24:10) rebounded from this negative trend. We meet Chandler's mother Nora (Morgan Fairchild), a fabulously successful romance novelist. Slowly, the show let Chandler's family issues emerge, and this episode has him confront some of those head on, especially after a drunken Ross kisses Mrs. Bing. In addition, Monica and Phoebe distract a hot guy in the street. When a bus hits him, they dote on his comatose self and fight over him.
The moments between Chandler and his mom occasionally became a little sappy, but for the most part, they remained acceptable. Fairchild did nicely as his hotsy mama, and the show avoided the traps into which it could have fallen. For plain comedy, the parts with the girls and their unconscious prospective lover were the best. Those seemed clever and funny, and "Bing" managed to offer a fairly solid program.
The One With the Dozen Lasagnas (23:45) seemed more character-based than normal, as it featured not much in the way of plot. Rachel and Paolo plan their first weekend away together, but he botches this when he makes a move on Phoebe. Chandler and Joey's kitchen table collapses, and they can't decide on a new one. Instead, they ultimately choose a foosball table. Lastly, Carol learns the baby's gender, but Ross tries to avoid this knowledge, even when all his friends obtain it.
After a good program with "Bing", "Lasagnas" fell back into mediocre territory. Like "Monkey", it relied too much on "special moments". Between Rachel's break-up and Ross' son, it seemed like an afterschool special at times. Still, it did give us the first look at the foosball table, and it also provided what I think was the initial encounter with Monica's hypercompetitive nature; she really gets off on her foosball supremacy.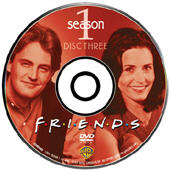 The One With the Boobies (23:35) steals from a then-recent episode of Seinfeld. Chandler accidentally spies Rachel after a shower and then becomes obsessed with her breasts; she tries to get revenge, which leads to a series of peeps by the whole gang. Phoebe dates a psychiatrist named Roger (Fisher Stevens), and his insights into their personalities make the friends hate him. Joey's dad (Robert Costanzo) visits, and Joey finds out that his pop's had an extramarital affair running for six years.
If you've paid much attention to my comments so far, you'll note that I don't usually like the episodes that deal with "serious issues". As I noted, the series simply didn't know which way to go with these, so they usually fell flat. That occurred here, especially in regard to Joey's relationship with his father. On one hand, it was good to see more development of that character. Over the years, the show's treated Joey and Phoebe like little more than comic relief, so any expansion of their personalities is usually welcome.
Nonetheless, I thought this program seemed forced and dull in that regard. In addition, the moments related to the peeping didn't work for me, if just because they so blatantly stole from Seinfeld. And what's with all the creepy-looking guys the female friends date? Alan from "Thumb", Roger from this episode… okay, that's not a ton of dudes, but they sure found some strange-looking fellas at times. "Boobies" went down as one of the lesser Season One episodes.
*The One With the Candy Hearts (24:45) rebounded somewhat. The show revolves around Valentine's Day. Joey has a hot date with Lorraine (Nancy Valen), but she won't go out with him unless he hooks up her friend. He cons Chandler into doing this; inevitably, things go badly when he discovers his date is his ex-girlfriend, the shrill and obnoxious Janice.
In the meantime, Ross goes out on his first date after his break-up with Carol, as he asks out neighbor Kristen (Heather Medway). Awkwardly, Carol and her lover Susan end up at the same restaurant, and when Susan gets paged and has to leave, Ross feels bad for Carol. As such, he invites her to join him and Kristen, at which point he pays so much attention to her that Kristen eventually splits.
While all this occurs, the show's females find themselves without dates, so they perform a mystical "cleansing ritual" to rid themselves of bad male karma. This goes poorly and they eventually meet some hunky firemen, an experience that brightens their mood much more than the ceremony itself.
To be sure, "Hearts" had some good moments. Wheeler's Janice was always a funny presence in her Fran Drescher-esque manner, and Friends had good enough sense to use her sparingly; she only showed up a few times over the years, and that kept the character from becoming stale. The "cleansing ritual" was also amusing, and as a whole, this was a good show.
The One With the Stoned Guy (24:00) provided a decent but somewhat flat episode. Chandler experiences a career crisis. His boss offers him a big promotion, but he doesn't want to remain in such a mundane career. A massage client of Phoebe's named Steve (Jon Lovitz) plans to open a new restaurant, and Monica auditions to be head chef. Unfortunately, he arrives baked on pot. Lastly, Ross' new girlfriend Celia (Melora Hardin) wants some dirty talk, but he needs some help to master this art.
"Stoned" went for too many broad laughs. Some of these worked - like the cheap but funny scene in which Joey tries to teach dirty talk to Ross - but the whole Lovitz part seemed lame. All in all, the show had its moments but didn't rise above the pack.
*The One With Two Parts (47:45) tried very hard to be a "big show". As the title implied, it was Friends' first two-part episode. Joey meets and starts to date Phoebe's twin sister Ursula, which doesn't sit well with his friend, since the two women don't like each other. Ross attends Lamaze classes with Carol and Susan, and the import of what will happen finally hits him. Rachel gets hurt and Monica takes her to the hospital. However, since Rachel has no health insurance, she pretends to be Monica, which becomes more complicated when they meet and greet two hunky doctors (George Clooney and Noah Wyle). Chandler can't bear to fire a subordinate employee because he finds her hot, so they date and he tells everyone else she's too mentally unstable to unload.
"Parts" had its moments, but it felt a little too showy. It took in some guest stars such as Clooney, Wyle and Helen Hunt; oddly, the latter reprises her role from Mad About You - which featured Phoebe's sister Ursula - but although the first two played doctors, they weren't their characters from E.R. Perhaps there was some copyright issue involved, but it seemed odd nonetheless.
In any case, the addition of the guests felt gratuitous and cutesy. Bringing in name actors is a touchy issue for a show like this. Sure, The Simpsons makes it work, but there it's much easier for the participants to blend in since you don't see them and you're less aware there's a big star behind the voice. When Bruce Willis pops up on Friends, it's exceedingly difficult to forget that it's Bruce Willis. Tom Selleck meshed nicely, but otherwise, most of the guest stars have come across as awkwardly inserted on the show. The most successful guest roles come from second-tier actors like Elliott Gould or Brenda Vaccaro; big names are a distraction. "The One With Two Parts" felt like everyone tried too hard to make it an "event".
*The One With All the Poker (25:00) rebounded nicely, mainly because it nicely demonstrated the evolution of the characters. Rachel tires of her waitressing job and shoots for something at Saks. However, the main plot revolves around the boys' poker game. The women want in, even though none of them know how to play. This leads to a series of amusing games.
I liked the lack of plot and the emphasis on characters. Monica's intense competitive streak starts to creep into the show, and we learn more about Ross' love for Rachel. It also includes some good comic moments as the female characters horn in on the guys' poker game. Sure, it's a bit sexist, but those elements weren't excessive, and ultimately it seemed like one of the first season's better episodes.
When I saw the title, I hoped that The One Where the Monkey Gets Away (23:15) would offer our last glimpse of annoying little Marcel. Alas, that won't occur for a few more episodes. Rachel monkey-sits for Ross, but she accidentally lets out Marcel. For the rest of the show, the gang search for him. This gets complicated when Rachel calls animal control, and her forgotten former high school classmate Luisa (Lisa Cavanagh) shows up in that role. She hasn't forgiven or forgotten, and she plans to take Marcel into custody.
If you haven't noticed, I'll clarify: I didn't like Marcel. Any episode that revolves around the monkey can't succeed, and that happened here. Oh, it had a few funny moments, such as when Phoebe defends Marcel from Luisa and when Chandler and Joey meet some sexy roommates, but overall, the show seemed lackluster. I thought Ross' negativity toward Rachel seemed badly out of character as well; considering his affection for her, I can't imagine he'd attack her like he does. The cliffhanger ending didn't help.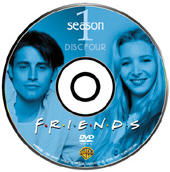 The One With the Evil Orthodontist (23:10) brings back Rachel's ex-fiancé Barry. As we learned many episodes ago, he moved on and hooked up with Rachel's bridesmaid Mindy (Jennifer Grey). However, he rethinks things and claims he still loves Rachel. The two indulge in some romantic shenanigans, and Rachel has to deal with where they should go from there. In addition, Chandler has a great first date with Danielle but freaks when she doesn't return his calls.
Overall, this was a fairly iffy episode. The soap opera elements dominated too much, and the whole Barry subplot just felt like an excuse to keep Ross and Rachel apart for one more program. However, Chandler's bits were pretty good, especially because they offered some of the show's most truthful moments.
The One With Fake Monica (24:10) suffered from "Afterschool Special" syndrome. Someone steals Monica's credit card number and runs up a big bill. Monica tracks the woman down at a dance class but she discovers that the Fake Monica (Claudia Shear) has a serious zest for life. This inspires Real Monica - who calls herself "Monana" to the other one - and the two become friends. They do wild things like audition for Cats until the authorities finally nab Fake Monica.
In the meantime, Marcel aggressively humps everything in sight, and Ross has to send him to a zoo. Joey also seeks for a stage name, which leads Chandler to mess with him. He gets Joey to adopt "Joseph Stalin" as his moniker.
On the negative side, the Fake Monica was a) actually a really annoying woman, and b) nothing more than a plot device to get the Real Monica to open her eyes and see all of life's beauty! I disliked those scenes, but on the other hand, the parts with Joey's stage names were very funny, and we finally saw the last of Marcel. If nothing else, that second element made this a notable episode.
The One With the Ick Factor (23:55) finds Monica with a new boyfriend, young Ethan (Stan Kirsch). She thinks he's a college senior, so she lies and says she's 22. However, when she comes clean after their first bout of sex, he reveals he's a high school senior. So much for that relationship!
Chandler's secretary takes a few days vacation, and Phoebe fills in for her. While at the office, she finds out no one there likes Chandler, and they also mock him. Lastly, Rachel has sex dreams about Chandler and Joey, which drives Ross nuts. Speaking of whom, he gets a beeper so Carol can instantly let him know when she goes into labor. However, the number is similar to one for a gay escort service, and Ross receives many of those calls.
Again, Monica's saddled with a sappy storyline. From the very start, it seemed inevitable that something lame would occur in regard to Ethan, and I just had to sit back and wait for the "very special moment". This seemed less goopy than during "Fake Monica" or "Nana", but it still didn't work very well. However, the rest of the episode was quite funny. Phoebe's secretarial routine garnered laughs, and the sex dreams motif was also entertaining. Still not a great program, but a generally good one.
The One With the Birth (23:15) offered another "event" episode, though it managed to hold things back from becoming excessively lame. Carol goes into labor so everyone heads for the hospital. Ross competes with Susan for Carol's favor while Rachel flirts with the doctor (Jonathan Silverman). The first two get stuck in a closet with Phoebe and almost miss the delivery. Joey runs into a pregnant single mother named Lydia (Leah Remini) and helps her through the process.
Inevitably, the show became pretty cutesy at times. In addition, Joey's "special moments" when he sees Lydia's baby nearly made me gag. However, the show remained reasonably irreverent much of the time, which seemed like a success for this kind of program. It's tough to create a good show with this theme, but "Birth" appeared acceptably winning.
The One Where Rachel Finds Out (25:55) finished the first season with a cliffhanger. It's Rachel's birthday, but Ross has to leave unexpectedly for a week in China due to work. He drops off his present, and when Rachel opens it, Chandler accidentally lets it fly that Ross pines for her. She debates what she should do but eventually decides to go after him. Unfortunately, she just misses him at the airport. After more thought, Rachel wants to date Ross, but when she meets him at his plane, she finds he met Julie (Lauren Tom) in China.
While this occurs, Joey takes part in a fertility study to make some bucks. He makes "deposits" every other day but isn't allowed any extracurricular activity. This causes potential problems with his new girlfriend Melanie (Corinne Bohrer), who clearly wants some Joey lovin'. However, he turns his attention away from his own desires for once and satisfies her via other means.
Despite the heavy soap opera elements, "Rachel" still seemed like a pretty good episode. The Joey parts kept the melodrama minimal, and the show handled the Ross/Rachel stuff fairly well. Of course, the ending lacked the drama inherent in its original appearance, but it worked acceptably well.
Note that Rachel does refer back to the "Pilot" here. Though she seems shocked to learn of Ross' affection for her, she mentions that she recalled his admission during the earlier episode. Since nothing came of it, she didn't think it was any big thing. This allowed "Rachel" to deal with the earlier program, but I still thought it wasn't satisfying. After all, she already knew Ross had a thing for her in high school, and he just acknowledged his continued interest a few months earlier. How shocking could it be to learn that he's nuts about her?
Although I suppose many of my episode-specific comments probably are moderately negative, as a whole I enjoyed my time with Friends: The Complete First Season. The shows definitely weren't the best of the series, and most of them displayed a variety of flaws. However, it was fun to check them out in their original order, and even the weaker programs still had some amusing moments. In this case, the whole was greater than the sum of its parts. On their own, the episodes seemed fairly average much of the time, but I nonetheless had a very good time with them.
Continue to the technical ratings...