Reviewed by Colin Jacobson (March 13, 2003)

While other programs like Beavis and Butt-Head, Ren and Stimpy and King of the Hill rode the wave of TV animation popularity created by The Simpsons in the early Nineties, the folks behind that series took a while to try something different.
But attempt something new they did. Back in 1999, we got a new series unrelated to The Simpsons. Futurama bears a lot of similarities with its older counterpart. The art retains the look of Matt Groening's drawings, and the comedic tone and style seem close between the two shows.
However, Futurama was never just a Simpsons wannabe, as it created its own identity. Pound for pound, Futurama's provided better material over its run. The Simpsons remains the superior series overall, but during the four years in which they've gone head to head, Futurama boasts somewhat stronger work.
With the DVD release of Futurama Volume One, we can get a look at the series' first 13 episodes. Note that this three-disc package doesn't simply cover one season of the series. Because it didn't debut until late March 1999, Futurama only featured nine episodes during its first "season". That means that we then find four shows here that aired in the fall of 1999.
Why didn't Fox just combine Season One's nine episodes with the 20 from Season Two and leave it at that? I don't know, but I suppose the strange S1/S2 split seen here will help balance later packages better. I figure that Futurama Volume Two will give us the remaining 16 episodes from Season Two. (Note that it appears many of the early S2 episodes were created along with those from S1, so this collection may balance things in that regard.)
In any case, it was fun to check out the series' first 13 episodes. I'll examine each of these programs in the way presented on the DVDs, which also corresponds to their original airdates. The synopses come straight from the DVD's liner notes; I usually write my own, but why reinvent the wheel?
Disc One:
Space Pilot 3000 (aired March 28, 1999) launched the series. According to the DVD's notes, "After an accidental cryogenic freezing, Fry (voice by Billy West) awakens at the dawn of the year 3000. With the help of his two new friends, a degenerate robot named Bender (John Di Maggio) and a beautiful one-eyed alien named Leela (Katey Sagal), Fry defies his life assignment as a delivery boy. He tracks down his great-etc. nephew, Professor Farnsworth (West), who hires the three to work for his intergalactic delivery service. It's a brave new world and Fry is in for the ride of his life."
When I first saw "Pilot" in 1999, it didn't impress me. However, I figured I might like it more now since I grew to enjoy the series after that; I thought maybe my initial reaction stemmed from high expectations.
Nope – "Pilot" simply isn't a very good program. Oh, it's not bad by any means, as it sets up the situations and characters efficiently and tosses in a few laughs. However, it simply lacks much spark and doesn't do much other than provide the requisite exposition. New viewers need to watch "Pilot" to understand the series better, but otherwise it's a bland episode.
Guest star alert: "Pilot" features both Leonard Nimoy and Dick Clark as disembodied heads. We also find a pretty subtle Simpsons reference with a cameo from an apparent descendant of Blinky the three-eyed fish.
The Series Has Landed (aired April 4, 1999): "After delivering a package to an amusement park on the moon, Fry shows Leela how to appreciate the celestial body. Meanwhile, Bender finds a little robot romance with a farmer's daughter, which puts the whole crew in jeopardy."
At the very latest, I knew that "Series" would improve upon "Pilot" when Fry bemoaned his problems acclimating to the 31st century: "Caffeinated bacon? Baconated grapefruit? Admiral Crunch?" The show also helps fill out the Planet Express crew with Hermes (Phil LaMarr), Amy (Lauren Tom), and Dr. Zoidburg (West). The program offers a few solid laughs and seems like an entertaining and clever experience that starts to show the series' potential.
Trivia note: listen carefully to the animatronic giggles at a Luna Park attraction and you'll hear Itchy from The Itchy and Scratchy Show.
I, Roommate (aired April 6, 1999): "Fry is such a slob that he is forced to move out of the Planet Express offices. But friendship makes for strange bedfellows when he moves in with Bender and discovers the nuts and bolts of living with a robot."
Quality-wise, somewhere between "Pilot" and "Series" lands "Roommate". The episode clearly betters the lackluster first show; I mean, how could I not like a show with a line like "I hate the people who love me, and they hate me too"? But it just doesn't seem as witty or inventive as "Series".
Love's Labours Lost In Space (aired April 13, 1999): "On a mission to save endangered animals from a collapsing planet, lonely Leela meets legendary starship captain Zapp Brannigan (West) – who (at least in his own opinion) is the universe's greatest ladies man."
A decent but unexceptional episode, "Lost" seems noteworthy mainly for all the new running characters it introduces. Originally intended for the late Phil Hartman to play, Brannigan offers an amusing spoof of the Captain Kirk school of space voyager, and we also meet his entertainingly long-suffering aide Kif (Maurice LaMarche) plus Leela's new pet Nibbler. The show itself seems on about the same level as "Roommate", as it provides good material overall but lacks a certain spark.
Disc Two: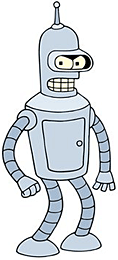 Fear of a Bot Planet (aired April 20, 1999): "While delivering a package to a planet inhabited by robots, where humans are killed instantly, Bender becomes intoxicated with the robot lifestyle and must choose between becoming a celebrity of sorts or saving his friends' lives."
One of the more clever programs to date, "Bot" offers lots of fun moments on the robot planet. It's also entertaining to see the focus on Bender, who remains my favorite character on the show. Overall, this seems like a pretty solid episode that piles on the pop culture references.
A Fishful of Dollars (aired April 27, 1999): "Fry discovers he's a billionaire because his savings have been accruing for 1,000 years. Caught up in the excitement of his riches, he squanders his fortune to buy an unopened can of anchovies – extinct since the year 2200. What he doesn't realize is that Mom (Tress MacNeille), the head of a mega-conglomerate, will do anything – even use Pamela Anderson's head in a jar – to get her hands on those anchovies."
Our first episode with a guest star since "Pilot" – the aforementioned Anderson – "Dollars" fits in well with the majority of this year's shows. Not much about it stands out as great, though it has its moments. Still, it remains a generally amusing program with a few nice bits.
My Three Suns (aired May 4, 1999): "The crew visits a planet inhabited by liquid aliens. Fry, after delivering a package under the scorching heat of the planet's three suns, finds a bottle of cool blue liquid to quench his thirst. But when that liquid turns out to be the civilization's ruler, Fry finds he has become the new leader. Initially drunk with power, he soon discovers his life is in danger and must turn to his friends to help him dry out."
If nothing else, "Suns" presents one of Futurama's most creative scenarios. It also adds pretty good execution. To date I've not found another episode with as many solid laughs as "Series", but "Suns" seems like the next best one after that.
A Big Piece of Garbage (aired May 11, 1999): "A gigantic ball of garbage carelessly launched off Earth in the 21st century returns on a collision course for New New York City and Fry and his crew set out on a mission to destroy it."
The first episode to focus on Professor Farnsworth, I worried that it might falter due to that emphasis. So far he's not seemed like much more than a brainier version of Grampa Simpson, but he starts to develop more of a personality here. The program minimizes the obvious Armageddon spoofs; some of them occur, but they don't dominate the show. Overall, the show seems fun and amusing.
Obscure guest start alert: we hear from TV huckster Ron Popeil. "Garbage" also includes the series' first obvious Simpsons references.
Hell Is Other Robots (aired May 18, 1999): "Bender puts his sinful lifestyle behind him when he joins the Temple of Robotology. But after returning to his old ways, he is banished to Robot Hell where, in a musical extravaganza, he faces the Robot Devil and endures tortures unimaginable to men."
Sometimes when shows present a character who acts in an unusual manner, it's a sign of desperation. However, here it works pretty well as Bender briefly cleans up his act. The program doesn't dwell on those elements, and it provides plenty of other good bits. The highlight comes from a very clever musical number that steals the show. "Robots" stands as one of the best of this bunch.
Two guest stars today: in addition to the disembodied heads of the Beastie Boys, The Simpsons's Dan Castellaneta appears as the Robot Devil. This marks the first guest actor who doesn't just cameo as his/her disembodied self. In another first, "Robots" offers the series' initial musical production number.
Disc Three: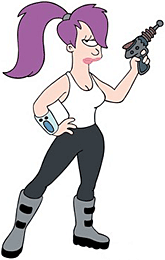 A Flight to Remember (aired September 26, 1999): "Professor Farnsworth treats the Planet Express crew to a vacation on the largest, most luxurious space cruise ship ever built – the Titanic. Once in space, love is in the air as Bender falls for a beautiful robot Countess (MacNeille) and Fry dates both Leela and Amy. Captain Zapp Brannigan sets a course for adventure when he decides to steer the Titanic through a swarm of comets, or as he calls them, 'the icebergs of the sky.'"
The first episode of Season Two, this one's main flaw comes from the excessive Titanic references; it pours them on pretty thick at times. Otherwise, "Flight" offers some better than average moments, especially when we learn of Hermes' past as a limbo champion. The episode also introduces some new minor characters: Hermes' wife and Amy's parents.
Mars University (aired October 3, 1999): "When Fry returns to college to prove he can be just as good of a dropout as he was in the Twentieth Century, Professor Farnsworth surprises him with a dorm roommate, a super-intelligent monkey. Meanwhile, Bender, a legend of the robot fraternity Epsilon Rho Rho = "ERR" – leads a revenge of the robot nerds.
Just as "Flight" lost points due to all the Titanic allusions, "Mars" drops a little as it loads on the Animal House references. Some seem amusing, but they get a bit tired after a while. Still, the show includes a fair amount of good gags and comes across as a decent episode.
When Aliens Attack (aired November 7, 1999): "The Omicrons threaten to destroy the Earth if they can't see the last episode of a lost 20th Century television series, Single Female Lawyer starring an unmarried human female, who wears very short miniskirts, struggling to succeed in human man's world. Because the last episode was destroyed by someone spilling beer on the transmitter (think Fry), the crew from Planet Express must deliver their version of Single Female Lawyer."
"Attack" tosses in notable references to Star Wars and Independence Day as well as obvious Ally McBeal allusions, but it manages to avoid overwhelming us with these. It seems reasonably clever and a bit more cynical than the others. Overall, it's another good episode.
Fry & the Slurm Factory (aired November 14, 1999): "Fry opens a 'Slurm' beverage container bearing the golden bottle cap and wins a tour of the 'Slurm' factory (ala Willy Wonka) to see how the world's most deliciously addictive soft drink is made. Wandering off from the tour, Fry is horrified when he accidentally discovers the top-secret ingredient that makes 'Slurm' so impossible to resist."
I admit it – I'm inconsistent. I criticized other episodes because they relied too much on movie material, but then I turn around and really like "Slurm", even though it borrows heavily from Wonka. I don't know what made the difference, but whereas the references in the others seemed somewhat cheap and easy, those in "Slurm" appear more creative. I can't help but love party worm Slurms McKenzie either. Chalk up "Slurm" as one of the best shows in this package.
Another guest star alert: Pamela Anderson reappears here, but not as herself this time. She plays "Dixie", one of Slurms' party girls.

Overall, the first 13 episodes of Futurama seem enjoyable but they aren't quite as amusing as I remembered. When I saw the list of shows, I recalled them as very good. However, while I enjoyed them, they didn't do as much for me as I expected.
Nonetheless, they still come across as generally entertaining. They lack the cleverness and incisive nature of the better Simpsons shows, but they never remotely approach the depths of that series' crummier episodes. As a whole, the first 13 episodes of Futurama match up with slightly above average Simpsons but they rarely go past that level. Still, that means that Futurama surpasses 99 percent of every other show on TV. Just because something doesn't match up with the best of The Simpsons - shows that one could see as the greatest work ever seen on TV – should be viewed as a problem. Comparisons become inevitable due to Futurama's pedigree, just like King of the Hill needed a while to escape from the shadow of Beavis and Butt-Head.

Futurama does that to a degree. It doesn't equal the better aspects of The Simpsons, as that series' stronger shows demonstrate an effortlessness not apparent in Futurama. The latter series still works well and provides a nicely consistent level of entertainment.