Reviewed by Colin Jacobson (April 2, 2003)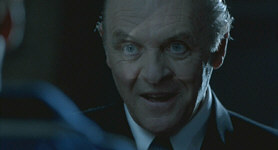 Sometimes sequels live up to expectations, sometimes they don't. In the latter category, we find 2001's Hannibal, the continuation of the story started in 1991's The Silence of the Lambs. While not a disaster, Hannibal seemed like a major disappointment that didn't even remotely live up with the high level established in Lambs.
At the start, we first meet Mason Verger (Gary Oldman), a millionaire obsessed with Hannibal Lecter (Anthony Hopkins). Hannibal attacked Verger years earlier, and the disfigured man remains the only person ever to survive an encounter with the cannibalistic psychiatrist. As we gradually learn, Verger plots his final revenge against Lecter.
In the meantime, we catch up with FBI agent Clarice Starling (Julianne Moore). An attempted arrest goes wrong due to inappropriate actions from a gung-ho DC cop named Bolton (Terry Serpico), and Starling takes the blame. Verger wants to use Starling as part of his scheme, so he agrees to get her off the hook if she comes to speak with him.
Verger tells the authorities he has new information to entice Clarice out to his Virginia estate. Department of Justice official Paul Krendler (Ray Liotta) says he will take care of the media if she talks to Verger. This leads her back to former caretaker Barney (Frankie Faison) and puts her on the case again.
The movie then shifts to Florence, Italy, where "Dr. Fell" – a pseudonymous Hannibal - seeks the job as the curator of the Capponi Library. His predecessor went missing, so local Inspector Pazzi (Giancarlo Giannini) interviews "Fell". Pazzi becomes more interested in Dr. Fell when he discovers that the FBI wants a copy of a store security tape for unstated reasons. Pazzi tails Fell and seeks the reward for the capture of Hannibal to keep his hot young wife (Francesca Neri) in style. The movie follows the various cat and mouse elements and watches the developments of the relationships.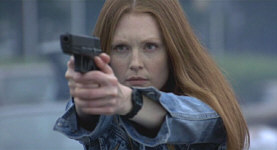 Background time: I loved Lambs but I paid almost no attention to the progress of Hannibal before it hit movie screens. I didn't read the book, and I knew virtually nothing about the movie other than the fact that Ridley Scott would direct it, Anthony Hopkins would return, and Julianne Moore would take over for Jodie Foster. Oh, I vaguely recalled hearing that part of it took place in Italy, but that completely summed up my foreknowledge of this movie. If I know I'll go to see a new movie, I like to remain "willfully ignorant" and know as little about them as possible.
  Despite my affection for Lambs, I maintained fairly low expectations for Hannibal. Even with my lack of advance information, I just had a bad feeling about the project. However, I wasn't prepared for just how unpleasant this clunker would be.
While I don't want or expect a sequel to rehash its predecessor, Hannibal failed to deliver anything remotely close to the chilling and creepy experience of Lambs. That movie was a sublimely unsettling psychological thriller, while Hannibal was nothing more than a gross-out hack job. The film's scenes of graphic gore existed for no reason other than to hide the movie's extreme lack of substance.
I like Moore very much – in general, I prefer her to Foster as an actress - but she was a dud as Clarice, and Hopkins seemed without fire as well. There was absolutely no spark between the two. Since chemistry between Clarice and Hannibal fired the first film, the second couldn't survive without it.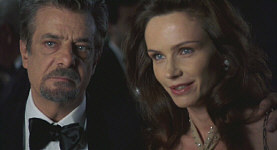 Hannibal also faltered because it offered no suspense or memorable drama. It was an exercise in the inevitable; no real twists or turns made things interesting. The film moved at a glacial pace and never went anywhere.
Even the "leaving room for a sequel" ending of Hannibal felt incredibly unsatisfying. With the first film, the conclusion felt a little like they wanted to keep the door open for a sequel, but it still fit the movie's theme and finished the story on an appropriately unsettling note. In Hannibal, it just seemed like a cheap and stupid way to end the picture.
"Cheap" and "stupid" are two excellent ways to describe Hannibal. The original film succeeded because it rose above its genre trappings, but the sequel simply wallows in them. While it's good that the filmmakers didn't simply remake the first movie, they certainly could have done something more distinctive and engaging than this.
Hannibal appears in an aspect ratio of approximately 1.85:1 on this single-sided, dual-layered DVD; the image has been enhanced for 16X9 televisions. While the picture generally looked positive, it showed a few more concerns than I'd expect of a modern flick.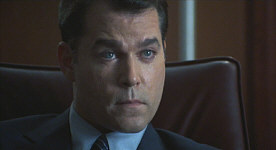 Sharpness mostly seemed solid. Some modest softness affected a few wide shots, but those examples didn't occur frequently. For the most part, the picture came across as nicely distinct and accurate. Jagged edges and moiré effects caused no concerns, but I noticed some moderately prominent examples of edge enhancement at times. In regard to presentation flaws, I saw a little light artifacting, and I also noticed occasional signs of speckles and a few marks.
The palette of Hannibal often came across as stylized, but it generally appeared fairly natural. The movie often displayed a reddish-brown tinge, and the DVD replicated the tones with good clarity and accuracy. The colors were tight and clean. Black levels appeared nicely deep and dense, but shadow detail created a few problems. Low-light scenes came across as a bit muddy and hazy, though they mostly seemed fine. Overall, the image of Hannibal appeared good, but it didn't match up with expectations.
The soundtracks of Hannibal also came across as good but not up to reference levels. The DVD included both DTS 5.1 and Dolby Digital 5.1 mixes. I felt that the DTS version displayed a somewhat stronger presence and sense of low-end, but the pair seemed about the same as a whole.
The soundfield presented a nice sense of environment. For the most part, the film displayed a forward bias that featured solid stereo imaging for the music as well as positively delineated atmospheric elements. The effects seemed appropriately placed and meshed together well to create a clean sense of location. Surround usage mostly tended toward general support of the front, but the rear speakers came to life pretty well during some of the louder scenes. For example, the gunfight sequence early in the film brought a good dimensionality to the proceedings.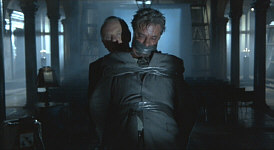 Audio quality appeared positive. Speech came across as distinct and natural, and I noticed no signs of edginess or problems related to intelligibility. Music sounded bright and dynamic, and the score offered good low-end response. Effects also seemed clean and accurate, and they portrayed a fine sense of depth. Bass response packed a good punch that appeared tight and smooth. Overall, the audio of Hannibal worked fine for the movie, and it earned a "B+" mostly because the soundfield lacked a great deal of ambition.
This two-DVD release of Hannibal includes a considerable roster of extras. Not surprisingly, most of these appear on the second disc, but DVD One tosses in some pieces. We start with an audio commentary from director Ridley Scott, who offered a running, screen-specific piece. The veteran of quite a few other tracks, Scott seemed comfortable with the format, and that helped make this a reasonably useful piece.
However, the second half of the commentary appeared weaker than the first. During the movie's initial hour, Scott discussed subjects such as the adaptation of the novel, the casting and working with the actors, technical and effects issues, and other topics. During that period, Scott maintained a nice level of activity and offered some compelling and intriguing notes. He continued to provide some good tidbits in the film's second half, but he went silent more frequently, and often he simply narrated the flick. This meant that Scott's Hannibal commentary remained above average as a whole, but it tended to drag somewhat during the second half.
In addition to the commentary, DVD One includes a couple of trailers. We find a promo for the DVD release of Lambs as well as a "teaser" for Windtalkers.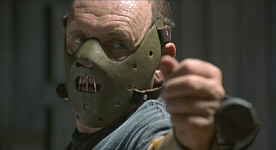 As we move to DVD Two, we find a slew of materials. We start with Breaking the Silence: The Making of Hannibal. This five-part documentary lasts a total of 76 minutes and eight seconds as it covers these departments: Development, Production, Special Make-Up Effects, Music, and Reaction. It mixes a few movie clips with lots of behind the scenes materials plus interviews. We get remarks from director Scott, actors Anthony Hopkins, Julianne Moore, Francesca Neri, Ray Liotta, Gary Oldman, Giancarlo Giannini, and Frankie R. Faison, executive producer Branko Lustig, producers Dino De Laurentiis and Martha De Laurentiis, animal coordinator Sled Reynolds, special make-up effects creators Keith Vanderlaan and Greg Cannom, and composer Hans Zimmer.
A quite thorough and engaging piece, "Breaking" gives us a solid look at the production. It goes over virtually all the appropriate issues. We get a fine history of Hannibal's path to the screen after the success of Lambs, and we learn why Jonathan Demme and Jodie Foster decided not to return for the sequel. We then go through the flick's production from many different angles, and we follow it through to its premiere. "Breaking" provides an excellent detailing of the film's creation, and it definitely warrants a look.
Within the "Multi-Angle Vignettes" domain, we get a collection of materials. Anatomy of a Shoot-Out offers material from four cameras, and we also get the option to see all four angles at once. When viewed individually, these allow us to see specific take information such as frame speed, type of lens, mount, etc. This seems like a very cool presentation, as it's interesting to see all of the choices, and the extra information presented appears useful.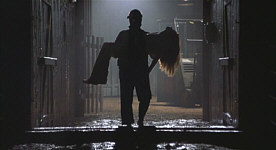 When we go to Ridleygrams, we discover additional material. There's an intro to describe what they are (Scott's storyboards). Then we can watch an interview with Scott, the "Ridleygrams" themselves, and storyboard/shot comparisons. The interview gives us information about Scott's art background, his approach to storyboards, his thoughts on the format, and how he uses them. This solid presentation provides us a nice look at the topics.
Next we get information about Title Design. After an introductory biography for designer Nick Livesey, we get four angle options: "Final Title Design", "Original Teaser Cut", "Shooting Pigeons", and "Nick Livesey's Notebook". We also locate four audio choices: final theatrical mix, original teaser mix, commentary by Nick Livesey, and commentary by Ridley Scott. It's interesting to see the different permutations of the scene, and the two commentaries offer good notes about the sequence.
In the Deleted and Alternate Scenes area, we get a whopping 14 cut sequences. These last between 21 seconds and 11 minutes, 49 seconds for a total of 38 minutes worth of material. Some of the bits actually seem fairly interesting. They wouldn't have saved the movie, but they offer a modicum of compelling viewing. The clips can be viewed with or without commentary from Scott. Though his remarks seem a bit spotty at times, he provides some good information about the clips, so his statements add to the proceedings.
Within the "Marketing Gallery", we get a mix of materials. Trailers and TV Spots includes the theatrical teaser, the theatrical trailer, and 19 TV spots. Poster Concepts starts with an introduction that mentions that more than 1500 designs were developed. The section then splits into four domains: "New Wave Entertainment" (35 images), "71 Design Team" (16 shots), "Nick Livesey" (three pictures), and "Final Key Art" (two stills). In addition, this area includes 17 sections of Still Photos. These provide between three and 149 pictures for a total of 560 images.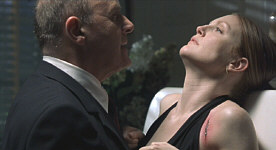 When we examine Cast and Crew, we get entries for director/producer Ridley Scott, producers Dino de Laurentiis and Martha de Laurentiis, executive producer Branko Lustig, writers David Mamet and Steven Zaillian, line producer Lucio Trentini, associate producer/first assistant director Terry Needham, director of photography John Mathieson, composer Hans Zimmer, production designer Norris Spencer, costume designer Janty Yates, editor Pietro Scalia, special make-up effects studio Captive Audience, and actors Anthony Hopkins, Julianne Moore, Giancarlo Giannini, Francesca Neri, Ray Liotta, and Frankie R. Faison. Outside of the listings themselves, we find no filmographies. The entries offer pretty decent little biographies, though.
More text appears in the Production Notes domain. These seem nicely long and detailed. Finally, the booklet offers a note from Ridley Scott but not much else.
For fans of The Silence of the Lambs, Hannibal comes as a major disappointment. The movie fails to capture any of the original's creepy intensity and character depth. Instead, it substitutes gore and nastiness and omits any sign of cleverness or life. The DVD provides slightly flawed but generally positive picture along with solid sound and an outstanding roster of extras. As a DVD, Hannibal seems like a good piece of work. Too bad the movie itself falters so badly.