FOX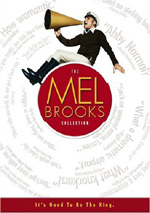 MOVIE INFO
Director:
Mel Brooks
Cast:
Mel Brooks, Dom DeLuise, Madeline Kahn, Harvey Korman, Cloris Leachman, Ron Carey, Gregory Hines, Pamela Stephenson, Shecky Greene, Sid Caesar
Writing Credits:
Mel Brooks
Synopsis:
This Mel Brooks comedy traces Western history from the dawn of man up through the French Revolution, including Brooks' take on the fall of the Roman Empire and the Spanish Inquisition.
Box Office:
Budget
$11 million.
Domestic Gross
$31.672 million.
MPAA:
Rated R


DVD DETAILS
Presentation:
Widescreen 2.35:1/16x9
Audio:
English Monaural
Spanish Monaural
French Monaural
Subtitles:
English
Closed-captioned

Runtime: 92 min.
Price: $99.99
Release Date: 4/4/2006

Available as Part of the "Mel Brooks Collection"

Bonus:
• Theatrical Trailer




PURCHASE @ AMAZON.COM

EQUIPMENT
Sony 36" WEGA KV-36FS12 Monitor; Sony DA333ES Processor/Receiver; Panasonic CV-50 DVD Player using component outputs; Michael Green Revolution Cinema 6i Speakers (all five); Sony SA-WM40 Subwoofer.


RELATED REVIEWS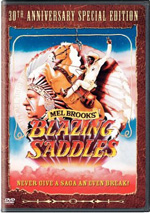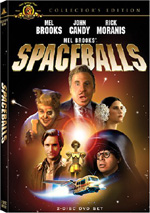 ---
History Of The World Part I (Mel Brooks Collection) (1981)
---
Reviewed by Colin Jacobson (May 9, 2006)

Although some readers may feel otherwise, I don't usually set out to slam movies. Every once in a while I critique a film that I already know I hate, but usually that occurs because the DVD in question is a hot property and we want to post the review of it. Sometimes it happens for other reasons, such as the fact I covered every one of the Oscar Best Picture-winning films on DVD. That meant I needed to confront flicks I knew I disliked, such as Rain Man.

However, I honestly try to remain open to new experiences, no matter how strongly the old ones make me believe I'll be unhappy. I know myself well enough that I'm not often surprised, but it does happen. For example, I expected to hate My Fair Lady because I usually don't care for musicals, but I actually enjoyed the movie quite a lot.

I decided to check out Mel Brooks' History of the World Part I. When I was a kid, I loved Brooks' works, but that was a long time ago, and I haven't felt that way in quite some time. Based on that background, I didn't expect to enjoy World but I figured I'd give it a shot. Ultimately, my original fears proved correct: this film offers a tremendously lame and unfunny experience from start to finish. Even as someone who isn't wild about Brooks, I thought it seemed very weak.

As implied by the title, the movie attempts no formal plot and instead substitutes a variety of sketches. There are six of these overall - including a "preview" for World Part II at the end - but two of the segments dominate the film: one that looks at ancient Rome, and another that takes place during the French Revolution.

The extended length of those two pieces marks the movie's biggest mistake. Had Brooks featured a very large variety of brief bits, the film could have skated past more easily. The greater the variety, the less likely we are to become tired of one subject. Unfortunately, although these pieces could have featured greater depth, they just drone on well past the point of interest. Granted, they had little going for them from the start, but at times it seems they'll never end and any comic possibilities are long exhausted by the time they finally do finish.

My criticism of the longer segments may imply that the shorter ones are more amusing, but that's not the case either. They're just as insipid and humorless as the others, but at least the pass more quickly. Brooks often seems to confuse "offensiveness" with "cleverness", as we find during the musical treatment of the Spanish Inquisition. Brooks mined comic gold from "Springtime for Hitler" in his early film The Producers and appears intent on repeating this success, but similar victory escapes him. This piece lies flat on the screen and provides absolutely no wit or insight into the subject.

Much of the time Brooks also seems more concerned with cramming the film full of celebrity cameos. I'll leave out the names to avoid any possible spoilers, though most folks under the age of 30 - actually, many under 50 - probably won't recognize a lot of the stars who appear here. Cameos can be fun - in fact, one that occurs during Steve Martin's The Man With Two Brains is absolutely inspired and provides one of the movie's best bits - but the frequent reiteration of them smacks of desperation. Brooks couldn't think of better jokes so he hoped we'd be entertained by recognition value.

It doesn't work, though I respect his attempt to redeem this miserable material. How misguided and poor a film is History of the World Part I? The movie features a bevy of Playboy models - including personal favorite Lisa Welch, AKA the Most Beautiful Woman Who Ever Lived - but they don't take off any clothes! That's like hiring Picasso to perform a comedy routine. Actually, that's not a bad idea. Unfortunately, Pablo was dead by the time Brooks made this film in 1981, but had he obtained someone similar to work in the project, it might have been more interesting. As it stands, History of the World Part I is a genuinely terrible movie with almost no redeeming value.
---
The DVD Grades: Picture A-/ Audio C/ Bonus D-
---
History of the World, Part I appears in an aspect ratio of approximately 2.35:1 on this single-sided, double-layered DVD; the image has been enhanced for 16X9 televisions. I can't say I expected much from this transfer, which was why this picture's high quality stunned me.
Sharpness consistently seemed strong, with almost no instances of softness to be found during the movie. A few wide shots looked very slightly ill-defined, but none of these examples caused concerns. All were brief and minor, so the vast majority of the flick appeared crisp and distinctive. No signs of jagged edges or shimmering occurred, and I noticed no edge enhancement. In addition, the film suffered from virtually no source flaws. It always looked clean and fresh.
Colors seemed nicely bold and accurate, with some especially lush and rich reds on display at times. All the hues looked quite good and were quite lively. Black levels were dark and deep, and shadow detail seemed appropriately opaque without any excessive heaviness. This was a consistently excellent transfer.
On the other hand, the film's monaural audio appeared much less impressive. (Although the DVD's case claimed it offered a stereo mix, that wasn't accurate.) Dialogue betrayed slight edginess once or twice but the lines generally sounded reasonably concise. However, those components tended to be a little flat.
A certain blandness infected the rest of the mix as well. Effects seemed clean but without much range. The score was similarly lackluster. Music showed decent clarity but failed to pack much punch, as both high-end and bass were muted. This was a listenable track but nothing better than that.
When we move to extras, all we find is a theatrical trailer. No other supplements pop up on this bare-bones release.
When I compared this 2006 release to the old DVD from 1999, I found that both offered identical extras and audio. However, the new edition presented substantial improvements in picture quality. It was cleaner, better defined, and generally superior in almost every way. The anamorphic transfer offered a substantial step-up in quality over its predecessor.
History of the World Part I stands as a perfectly dreadful flick. If there's any fun to be found in this clunker, I must have nodded off during those scenes. The DVD itself provides excellent picture along with adequate sound and almost no extras. Unless you're an absolutely fanatical Mel Brooks fan, skip this one, as it isn't worth the effort.
Note that this version comes as part of the eight-movie "Mel Brooks Collection". It also includes The Twelve Chairs, Young Frankenstein, Silent Movie, High Anxiety, Blazing Saddles, To Be or Not to Be, and Robin Hood: Men In Tights. The "Mel Brooks Collection" packages all eight movies together with a list price of $99.98.
| | |
| --- | --- |
| Viewer Film Ratings: 4.2 Stars | Number of Votes: 25 |