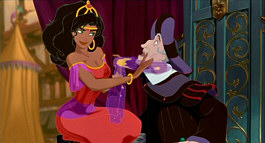 The Hunchback of Notre Dame appears in an aspect ratio of approximately 1.85:1 on this single-sided, dual-layered DVD; the image has been enhanced for 16X9 televisions. Though much of the picture looked absolutely terrific, a variety of continuing problems
Sharpness appeared excellent. The film always remained very crisp and detailed, and I saw no signs of softness or fuzziness. It was a nicely distinct and well-defined presentation at all times. I also witnessed no indications of jagged edges, moiré effects or edge enhancement.
Colors seemed stunning. Hunchback boasted a lovely and rich palette that varied from soft pastels to burning reds, and the DVD duplicated these wonderfully well. The various hues virtually leapt off the screen, as they appeared vivid and vibrant from start to finish. Black levels also came across as deep and dense, and shadow detail looked appropriately heavy but never overly thick.
So far, so great, right? Unfortunately, Hunchback lost major points due to print flaws. Light grain appeared through much of the film, and I saw a mix of speckles, grit, blotches and marks. While I can't say that these became overwhelming, they did cause distractions, and they seemed excessive for a fairly recent movie. These defects alone led me to lower my grade to a "B", as I felt they took away from the presentation too heavily to warrant a higher mark.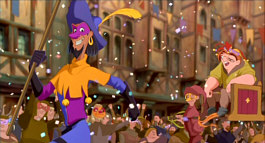 The soundtracks of The Hunchback of Notre Dame possess no fatal flaws, but they also don't do much to stand out from the crowd. The DVD includes both Dolby Digital 5.1 and DTS 5.1 mixes. To these ears, the two sounded virtually identical. Hunchback wasn't a sonic feast anyway, and I found both tracks to present very similar audio.
I always thought 1996 was a great summer for movie sound. Twister remains one of my favorite demo discs, and we also got terrific mixes like those for The Rock and Independence Day. While Hunchback provided a decent auditory experience, it wasn't in that league. The soundfield mainly stayed with a bias toward the front speakers. Within that spectrum, music displayed very good stereo imaging and presence, while effects also offered strong delineation and movement. The front realm gave us a clear and well-blended environment in which elements panned smoothly.
Surround usage seemed somewhat limited, though it worked reasonably well for the film. The rear speakers mainly reinforced effects and music. On some occasions, decent split surround material appeared, but those instances happened fairly infrequently. The back channels added dimensionality to the proceedings but not to a huge degree.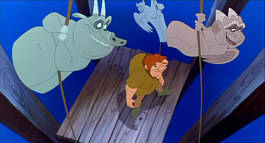 Audio quality appeared good but not great. Dialogue came across as reasonably natural and distinct, and I heard no problems related to edginess or intelligibility. Music appeared clear and bright but seemed somewhat thin; the score and songs lacked substantial low-end response. Effects seemed moderately similar. Although some loud moments featured good bass - like blasts or thumps - a lot of the time the track failed to deliver a lot of pleasing warmth. Ultimate, Hunchback provided a good sonic piece, but it fell short of becoming a terrific track.
While not a full-fledged special edition, this DVD of The Hunchback of Notre Dame does pack a few extras, many of which ported over from the 1997 deluxe laserdisc release. First up we find an audio commentary from producer Don Hahn and directors Kirk Wise and Gary Trousdale. If you heard their track for Atlantis: The Lost Empire, you'll know what to expect here. Although at least four years separated the taping of the two commentaries, you'd be hard-pressed to notice, as they both come across with similar tones.
All three men were recorded together for this running, screen-specific track, and it's a good one. They touch on a wide variety of topics. We learn of how the movie compares to the original book, technical challenges and techniques, working with the actors, and many other issues. They even point out many of the inside jokes along the way, and they keep things light and breezy the whole time. It's a chatty and entertaining piece that offers a lot of good information about Hunchback. Can't wait for their track for Beauty and the Beast!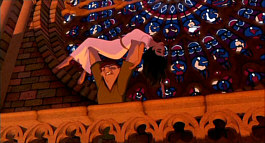 Next we discover another retread from the laserdisc boxed set. The Making of The Hunchback of Notre Dame runs 28 minutes and offers a fluffy look at the film. Hosted by Jason Alexander, the program includes a large number of interview participants. We hear from producer Hahn, directors Trousdale and Wise, actors Tom Hulce, Demi Moore, Kevin Kline, Tony Jay, Charles Kimbrough, and Heidi Mollenhauer (the singing voice for Esmerelda), co-producer Roy Conli, art director Dave Goetz, layout supervisor Ed Ghertner, background supervisor Lisa Keene, visual effects supervisor Christopher Jenkins, composer Alan Menken, and lyricist Stephen Schwartz, as well as animators Dave Pruiksma, James Baxter, Tony Fucile, Russ Edmonds, Kathy Zielinski and Will Finn.
Whew - that's a lot of folks! However, don't expect much depth, for virtually none of them offer more than one or two lines of information. This show maintains a very rapid pace as it gives us a superficial look at the animation process. Alexander provides some moderately amusing comic moments, and the program will offer a gentle introduction to the subject for newbies, but there's virtually nothing memorable here. It seems like a particular disappointment when compared to the terrific documentary that accompanies Atlantis.
The remaining extras are pretty minor. We get a Sing-Along Song for "Topsy Turvy" plus a Multi-Language Reel for "A Guy Like You". Though the latter implies that it'll include 31 different tongues, in fact we only hear 16. It's a cute piece but not anything more than that.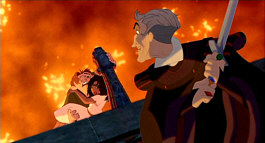 Also frilly but surprisingly fun is the Topsy Turvy Underground Game. Essentially this lets you remix the sound effects for three different short sequences. It's played totally for laughs, and it works; it seems like an entertaining little piece.
When you start the DVD, you'll find ads for some other Disney flicks. There's a promo for the hotly anticipated DVD video release of Beauty and the Beast. The trailer highlights the inclusion of "Human Again", the song added for the IMAX theatrical release of Beauty. In addition, the DVD opens with promos for Tarzan and Jane, The Hunchback of Notre Dame II, Max Keeble's Big Move, and Disney DVD as a whole. These clips also can be found in the Sneak Peeks area alongside additional ads for The Many Adventures of Winnie the Pooh, Schoolhouse Rock, and American Legends.
As I noted earlier, Hunchback once appeared as a deluxe laserdisc boxed set, and this DVD doesn't remotely attempt to duplicate that set. The audio commentary, the documentary, and the multi-language reel all showed up on the LD, whereas the other features are new. We lose tons of stillframe materials as well as deleted songs and a slew of other pieces. Frankly, Hunchback wasn't one of Disney's better LD boxed sets; others like The Lion King and Toy Story blew it away - but it still easily surpasses what we find on this DVD.
Despite the disappointing absence of so many extras, I still have to recommend The Hunchback of Notre Dame for one simple reason: it's a terrific movie. It clearly suffers from some flaws, but it remains one of my favorites, and it works nicely overall. The DVD offers generally positive picture and sound plus a very good audio commentary and a few other supplements. While the disc could have been better, this release seems strong enough to merit your attention.