WARNER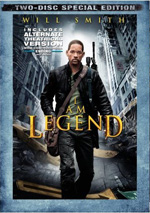 MOVIE INFO
Director:
Francis Lawrence
Cast:
Will Smith, Alice Braga, Charlie Tahan, Salli Richardson, Willow Smith, Darrell Foster, April Grace, Dash Mihok, Joanna Numata
Writing Credits:
Mark Protosevich, Akiva Goldsman, Richard Matheson (novel), John William Corrington (1971 screenplay), Joyce Hooper Corrington (1971 screenplay)
Tagline:
The last man on earth is not alone.
Synopsis:
Robert Neville is a brilliant scientist, but even he could not contain the terrible virus that was unstoppable, incurable, and man-made. Somehow immune, Neville is now the last human survivor in what is left of New York City and maybe the world. For three years, Neville has faithfully sent out daily radio messages, desperate to find any other survivors who might be out there. But he is not alone. Mutant victims of the plague - The Infected - lurk in the shadows ... watching Neville's every move ... waiting for him to make a fatal mistake. Perhaps mankind's last, best hope, Neville is driven by only one remaining mission: to find a way to reverse the effects of the virus using his own immune blood. But he knows he is outnumbered ... and quickly running out of time.
Box Office:
Budget
$150 million.
Opening Weekend
$77.211 million on 3606 screens.
Domestic Gross
$254.846 million.
MPAA:
Rated PG-13


DVD DETAILS
Presentation:
Widescreen 2.35:1/16x9
Audio:
English Dolby Digital 5.1
French Dolby Digital 5.1 (Theatrical Cut Only)
Spanish Dolby Digital 5.1 (Theatrical Cut Only)
Subtitles:
English
French
Spanish
Closed-captioned
Supplements Subtitles:
English
French
Spanish

Runtime: 100 min. (Theatrical Cut)
104 min. (Alternate Theatrical Version)
Price: $34.99
Release Date: 3/18/2008

Bonus:
• Alternate Theatrical Version of Film
• Four Animated Comics
• Previews




PURCHASE @ AMAZON.COM

EQUIPMENT
Panasonic 50" TH-50PZ77U 1080p Plasma Monitor; Harman/Kardon DPR 2005 7.1 Channel Receiver; Toshiba A-30 HD-DVD/1080p Upconverting DVD Player using HDMI outputs; Michael Green Revolution Cinema 6i Speakers (all five); Kenwood 1050SW 150-watt Subwoofer.


[an error occurred while processing this directive]
---
I Am Legend: Special Edition (2007)
---
Reviewed by Colin Jacobson (March 10, 2008)

While actors like Brad Pitt and George Clooney scoop up all the tabloid headlines, Will Smith quietly turned into the most bankable star in Hollywood. You have to go all the way back to 2001's Ali to find Smith's last release that didn't make more than $100 million, and it was always more of a "prestige" project than a potential blockbuster anyway. Smith did go through a mini-slump with 2000's disastrous The Legend of Bagger Vance and 1999's Wild Wild West; the latter did make $113 million, but it was expected to do much more and quickly became a much-derided bomb.

Even with that, Smith has become a Teflon actor, as none of his disappointments seem to stick to him. After a few flicks that pulled in millions but didn't quite match up to their hype, Smith's found himself on the opposite trend ever since the surprising success of 2005's Hitch. That comedy outdid all predictions to take home $177 million, and then 2006's inspirational drama The Pursuit of Happyness repeated the feat. It grossed a whopping $162 million, a very substantial take for a movie of that sort.

More was expected of 2007's action/adventure I Am Legend, but that doesn't make its success any less remarkable. In the midst of a crowded holiday release schedule, Legend took home $255 million and turned into that part of the year's biggest hit. Indeed, it ended up as the sixth-highest grossing flick of 2007, and the second most popular non-sequel.

In Legend, Smith plays Robert Neville, apparently the lone human resident of New York City after its quarantine due to a viral plague. Neville hangs out with his faithful canine pal Sam and devotes most of his time to two activities: finding a cure to the infection and staying alive. When the illness spreads, it turns its victims into aggressive humanoid beasts. They can't go out in the daylight, a factor that helps Neville, but he still finds survival to be a challenge. The movie follows his attempts to remain human long enough to fix this situation.

Although nominally an action-adventure, Legend reminds me most of a seemingly very different movie: 2000's Cast Away. The connection comes from their essential absence of actors. In both films, we occasionally see other performers, but the lion's share of the screen time falls upon one person. Each effort becomes that actor's to win or lose; they can't dog it or the flick will collapse.

In the case of Cast Away, Tom Hanks offered a terrific performance that carried the long stretches of solo screen time. For Legend, Smith gets a little more assistance; a dog offers better interaction than a volleyball, and those monsters create more of a visceral threat than chapped lips. Nonetheless, I think the flick demands a lot of Smith, so we shouldn't underestimate his challenges.

Smith rises to the occasion splendidly. It's funny to think that both he and Hanks share similar acting roots, as they made their names on sitcoms. (Of course, Smith already attained fame as a rapper, but his initial acting success came from The Fresh Prince of Bel Air.) I suppose that's a coincidence, but it's an interesting twist.

I suppose that Legend includes enough action beats to make it less of a stretch for Smith than Cast Away was for Hanks, but don't view Legend as a slam-bang rollercoaster ride ala something like Transformers. Long stretches of the movie depict Neville's solitude and his day-to-day life. Some more adrenaline-pumping segments punctuate these, but you shouldn't expect non-stop mayhem out of the Michael Bay playbook. Most of the film stays in a more reserved, low-key light that focuses on the Neville character and his situation.

When I went into Cast Away, I worried that watching two hours of a guy stuck on an island would become a dreadful bore, but the film actually offered an entertaining experience. I entered Legend with higher expectations, as I didn't know how sedate so much of it would be. After all, it came promoted as a blockbuster action film, not a laid-back view of one man's daily routine.

That makes the high entertainment value of Legend more impressive. At least I was prepared for a potentially dull experience with Cast Away, but with Legend I thought I'd get something more dynamic. Since I didn't, I feel even more pleased at how interesting the flick is. Expectations can be a bear, and if you think you'll get something action-packed and you don't, the result might be even more boring. Legend confounds those expectations as it creates its own languid pace but keeps us interested.

Again, much of the credit goes back to Smith. He creates such a rich, three-dimensional character in Neville that he can carry long stretches of the film on his back. Smith ignores any urges to go down a stoic 80s action hero path. Neville isn't a fearless quipster with an attitude. He's a haunted man who struggles to right various wrongs.

And battle vicious monsters, which kinda makes things unusual. If I needed to find a flaw with Legend, I'd have to cite the surprisingly poor CG depiction of the plague victims. They look so cartoony and fake that I can't quite figure out how they got past quality control. They don't take me out of the movie, but they do create unnecessary distractions.

Even with that concern, however, I really like I Am Legend. The movie unfolds at its own pace and never feels rushed or like it throws out action just to avoid audience impatience. Above all, an excellent performance from Will Smith leads the way. I didn't expect him to get an Oscar nomination for Legend, but I thought he deserved one, as he achieved something much more difficult here than with his other roles.
---
The DVD Grades: Picture A-/ Audio A-/ Bonus C-
---
I Am Legend appears in an aspect ratio of approximately 2.35:1 on this single-sided, double-layered DVD; the image has been enhanced for 16X9 televisions. I felt very pleased with this consistently excellent transfer.
Virtually no concerns affected sharpness. In some motion shots, I noticed a smidgen of blockiness and ropiness, but both tendencies remained very minor. Even in wide images, the movie stayed crisp and concise during this tight presentation. Only tiny examples of jagged edges or shimmering occurred – also most noticeable during movement – and edge enhancement was absent. Print flaws stayed non-existent as well.
In terms of palette, much of Legend went with a lightly desaturated look. This changed for flashbacks, as those used more vivid and natural tones. Whatever the desired impression was, the film delivered clear and well-developed hues. Blacks appeared deep and firm, while shadows were smooth and nicely delineated. I found little about which to complain here, as the movie looked great.
Though not as active as most Dolby Digital 5.1 soundtracks to which I award an "A-", I simply thought this mix was too strong to go with a lower grade. Given the lead character's isolation, it used theatrics sparingly, as it usually preferred a quiet sense of environment. Those scenes weren't dead, however; they created a good feeling of place and atmosphere.
Legend didn't stay totally subdued, though, as it presented a good collection of livelier sequences. From the various monster attacks to the destruction of the NYC bridges to other explosive moments, the soundfield rendered them in an impressive manner. The mix used all the various speakers to good advantage and formed a smooth, impressive soundscape.
The whole thing packed a nice punch, too. Effects consistently sounded dynamic and vivacious. Quieter elements were natural and clear, while louder ones roared to life well. Music was similarly robust and full, while speech seemed distinctive and concise. Bass response proved particularly impressive throughout the film, as low-end showed tight, deep response. I enjoyed this track quite a lot.
Since I Am Legend was a huge hit, you might expect a lot of great supplements in this two-disc Special Edition. To my shock, we get almost nothing. On DVD One, we discover four Animated Comics. These include "Death as a Gift" (3:01), "Isolation" (6:35), "Sacrificing the Few for the Many" (3:28) and "Shelter" (8:36). These live up to their description, as they offer slightly animated views of standard comic book panels accentuated with sound. They vary in effectiveness, as some are better than others; "Shelter" stands as probably the best of the bunch. All are reasonably interesting, though.
A few ads open DVD One. We get clips for Lost Boys: The Tribe, HD-DVD and Blu-ray, The Dark Knight, Speed Racer, Justice League: The New Frontier and Appleseed: Ex Machina.
Over on DVD Two, we find the set's prime attraction: an Alternate Theatrical Version of I Am Legend. Warning: potential spoilers ahead!!!. Skip the next four paragraphs if you don't want to hear the differences between the two cuts and comparisons of their endings.
I believe that the standard 100-minute cut and the 104-minute "Alternate Theatrical Version" are identical until approximately the 90-minute mark. In the edition fans saw on the big screen, Neville sacrifices himself to let Anna and Ethan escape with the cure for the virus. In the "ATV", Neville realizes that the monsters have evolved to feel love. He gives back the chick on whom he's performed tests to her "boyfriend" and the creatures allow Neville, Anna and Ethan to escape.
Thus Neville lives in the "ATV" but dies in the standard theatrical cut. The latter also shows Anna and Ethan as they reach a compound of survivors in Vermont, while the former cuts as Neville, Anna and Ethan drive out of NYC to try and find such a location.
The DVD provides no information about the "ATV" and its ending, but if I had to guess, I'd think it was the studio's idea. The conclusion of the "ATV" accomplishes two goals absent from the standard cut. For one, it's clearly a happier finale since Neville lives, and for another, it creates the ability for us to get a sequel in which Smith appears.
The ending of the "ATV" seems much more pat and silly than that of the regular theatrical cut. I maintain a little ambivalence about that conclusion, but it beats this one. The interaction between Neville and the monsters gets goofy, and the happy ending feels trite and stale. The theatrical finish may not be as much of a crowd-pleaser, but it seems more natural and correct to me.
In I Am Legend, Will Smith produces arguably his finest theatrical performance. His portrayal of a lonely, haunted plague survivor carries an entire film and makes Legend much more involving and intriguing than it should be. The rest of the flick has its ups and downs, but Smith is more than enough to make it very enjoyable. The DVD provides excellent picture and audio but really skimps on extras. I like Legend as a movie so I recommend it, but the sparse nature of the supplements on this expensive "Special Edition" makes it a disappointment.
| | |
| --- | --- |
| Viewer Film Ratings: 2.9215 Stars | Number of Votes: 51 |