WARNER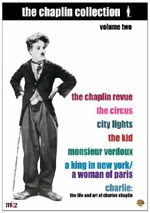 MOVIE INFO
Director:
Richard Schickel
Cast:
Charles Chaplin, Sydney Pollack (Narrator), Woody Allen, Jeanine Basinger, Richard Attenborough, Claire Bloom, Geraldine Chaplin, Sydney Chaplin, Johnny Depp, Robert Downey Jr.
Writing Credits:
Richard Schickel
Synopsis:
Time critic Richard Schickel's definitive tribute includes newly recorded interviews with Woody Allen, Martin Scorsese, Johnny Depp and more. (A 2003 Cannes Film Festival favorite.)
MPAA:
Rated G


DVD DETAILS
Presentation:
Fullscreen 1.33:1
Audio:
English Dolby Digital 5.1
Subtitles:
English
French
Spanish
Portuguese
Chinese
Korean
Thai
Closed-captioned

Runtime: 132 min.
Price: $99.92
Release Date: 3/2/2004

Available only as part of The Chaplin Collection: Volume 2

Bonus:
• None




PURCHASE @ AMAZON.COM

EQUIPMENT
Sony 36" WEGA KV-36FS12 Monitor; Sony DA333ES Processor/Receiver; Panasonic CV-50 DVD Player using component outputs; Michael Green Revolution Cinema 6i Speakers (all five); Sony SA-WM40 Subwoofer.


RELATED REVIEWS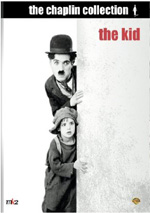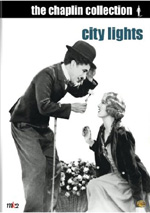 [an error occurred while processing this directive]
---
Charlie: The Life & Art Of Charles Chaplin (2003)
---
Reviewed by Colin Jacobson (March 30, 2004)

If one looks at the AFI 100 list, one wonít find many comedies. Granted, how many one locates depends on oneís definition of a ďcomedyĒ. Take The Graduate, for example. It certainly offers a lot of comedic elements, but it includes so much drama that it seems difficult to strictly classify it as a comedy.

By my count, the AFI list includes about 15 films one could consider to be comedies. Amazingly, three of those 15 come from the same man: Charlie Chaplin. Probably the most influential and important comedic filmmaker ever, he continues to receive great attention almost 100 years after his debut in motion picture. Charlie: The Life and Art of Charles Chaplin provides a look at the man and his work.

Narrated by Sydney Pollack, Charlie provides a fairly rich examination of Chaplinís life and career. As one might expect, the documentary features clips from many of Chaplinís flicks along with some archival materials and new interviews with a mix of subjects. We hear from actor/friend Norman Lloyd, actor/mime Bill Irwin, film historians David Thomson and Jeanine Basinger, Chaplin biographers Jeffrey Vance and David Robinson, film critic and historian Andrew Sarris, actors Claire Bloom, Robert Downey Jr. and Johnny Depp, filmmaker Woody Allen, sons Michael and Sydney Chaplin, daughter Geraldine Chaplin, directors Richard Attenborough, Milos Forman and Martin Scorsese, mime artist Marcel Marceau, and Modern Times music arranger David Raksin.

Though Charlie jumps around somewhat, it mostly follows a chronological path. It goes over his roots in the musical hall and his early flicks, his initial characters and development, issues connected to his personal and public lives, his work in the 1910s and his rapid success in shorts, various romances with Edna Purviance, Mildred Harris, Lita Grey and others, the building of his own studio, different controversies, and general ups and downs of his career.

Charlie doesnít just zip through Chaplinís career. It slows appropriately for his more significant longer films. This means we find good notes on flicks like A Woman of Paris and The Gold Rush. These elements mix facts with context and interpretation. For instance, Scorsese provides his thoughts on the craft behind Paris.

This mix of ďmaking ofĒ information with personal notes and interpretation serves Charlie well. At times, the program risks turning into a hagiography, as one shouldnít expect much more than praise for Chaplin. The interview subjects relentlessly tell us how terrific the manís work was. However, the show occasionally criticizes Chaplinís less successful bits and doesnít shy from letting us know when audiences of the period received the work poorly. Woody Allen even criticizes the famous ďworld balancingĒ sequence in The Great Dictator.

For me, the best moments come from the behind the scenes information. Not surprisingly, some of this replicates notes we hear in the documentaries found on the separate movie DVDs, but the program still brings out some fresh material. The addition of the different perspectives helps in that way. Itís one thing to hear about the shooting of Gold Rush, but itís another to learn of the challenges Depp encountered when he needed to replicate one scene in Benny and Joon.

Ultimately, Charlie offers a very solid biographical look at arguably the moviesí greatest comedian. It covers his work and personal life crisply and succinctly. It provides enough detail to become deep but it also moves briskly and doesnít become too stuck on one subject. The program seems like a good little documentary.
---
The DVD Grades: Picture C+/ Audio C+/ Bonus NA
---
Charlie: The Life and Art of Charles Chaplin appears in an aspect ratio of 1.33:1 on this single-sided, double-layered DVD; due to those dimensions, the image has not been enhanced for 16X9 televisions. Actually, parts of the program came with letterboxed dimensions. The Chaplin clips came in their original ratios Ė mostly fullscreen Ė but the modern interviews appeared at about 1.78:1.
Sharpness usually looked good. Some movie clips appeared soft, especially in wide shots. However, the majority of the pieces were acceptably concise and distinctive. Largely because of the lack of anamorphic enhancement, some jagged edges and shimmering occurred, though these didnít seem major. Light edge enhancement also popped up at times. Source flaws occurred, which didnít seem like a surprise because of the vast amount of old footage. These elements seemed reasonably minimal, and they didnít appear unexpected.
Blacks varied and went from fairly deep to somewhat flat and inky, but they were usually decent, and low-light shots followed suit. Those were acceptably visible but not tremendously concise. Overall, the image of Charlie did little to come across as stellar, but it represented the material pretty well.
Similar thoughts greeted the Dolby Digital 5.1 audio of Charlie. The talky program mostly concentrated on the forward speakers. Speech dominated the program and stayed in the center. A lot of music adapted from the films also appeared throughout the show, and those elements demonstrated pretty positive stereo imaging. The surrounds simply echoed the forward channels for the most part, and they didnít present anything more than general support.
Audio quality appeared fine for this material. Speech seemed concise and distinctive, with no signs of edginess. Music didnít display full range because those elements usually stayed in the background, but the bits of score sounded reasonably full and dynamic. Bass response was fair, though not better than that. Ultimately, the audio was fine for this sort of piece but it didnít seem memorable.
As for supplements, none appeared, and I didnít criticize the disc for that. Since Charlie comes only as an extra player in the Chaplin Collection boxed set, I donít think it makes sense to grade it in regard to its lack of supplements.
For a solid examination of the film comedianís career, Charlie: The Life and Art of Charles Chaplin presents an effective piece. It touches on all his major works and gives us enough personal information to become rich and full. The DVD offers picture and quality that donít stand out as great, but they seem more than adequate for this kind of piece. Charlie acts as a good bonus for those who buy the Chaplin Collection Volume 2 boxed set.
Note that at the current time, Charlie doesnít appear anywhere outside of that set. Chaplin fans definitely should consider picking up the second Collection, though, as it presents a terrific bargain. Purchased separately, these cost almost $175. However, the boxed package combines them with a list price of about $100. Thatís a tremendous savings that makes it a great bargain for fans.
| | |
| --- | --- |
| Viewer Film Ratings: 4 Stars | Number of Votes: 2 |