ANCHOR BAY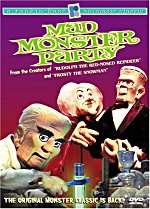 MOVIE INFO
Director:
Jules Bass
Cast:
Boris Karloff, Allen Swift, Gale Garnett, Phyllis Diller, Ethel Ennis
Writing Credits:
Forrest J. Ackerman

Tagline:
It's the Silliest Party of the Year... and you're all invited!
MPAA:
Not Rated.


DVD DETAILS
Presentation:
Standard 1.33:1
Audio:
English Digital Mono
Subtitles:
None
Closed-captioned

Runtime: 95 min.
Price: $19.98
Release Date: 7/23/2003

Bonus:
• Trailer
• Galleries
• 24-page Booklet
• Easter egg




EQUIPMENT
Sony 36" WEGA KV-36FS12 Monitor; Sony DA333ES Processor/Receiver; Panasonic CV-50 DVD Player using component outputs; Michael Green Revolution Cinema 6i Speakers (all five); Sony SA-WM40 Subwoofer.


[an error occurred while processing this directive]
---
Mad Monster Party (1967)
---
Reviewed by Colin Jacobson (March 6, 2003)

Before Tim Burton produced his Nightmare Before Christmas, the stop-motion folks at Rankin-Bass took their own shot at a tale that involved lots of gruesome characters. When most people think of that studio, they recall classic holiday efforts like Rudolph the Red-Nosed Reindeer. Rankin-Bass' theatrical efforts possess a less prominent place in their catalog, as many folks never knew these flicks existed.

The fourth theatrical release from Rankin-Bass, 1967's Mad Monster Party seems to enjoy the strongest reputation. The film posits a world in which the classic creatures have aligned into a union of sorts. I never quite figured out why they needed a "Worldwide Organization of Monsters", but the movie conjures the group nonetheless. Baron Von Frankenstein (voiced by Boris Karloff) heads this association, and at the start of the film, he invents a potion with an astonishing destructive force, and he wants to tell the monsters about this.

So the Baron sends out invitations to all the legendary critters. This roster includes Count Dracula, the Creature from the Black Lagoon, the Invisible Man, the Hunchback of Notre Dame, Dr. Jekyll and Mr. Hyde, and others. He also invites a curious drug store clerk named Felix Flanken (Allen Swift, who also performs all the other male voices except the Baron) for reasons that seem less than clear at first, but soon become more obvious. Also living with the Baron are his monster, his mate (Phyllis Diller), and his sexy assistant Francesca (Gale Garnett).

When all of the invitees arrive, Frankenstein announces his project and also states that he plans to retire soon. A handpicked successor will follow, and when it turns out to be Flanken, some of the others become upset. Essentially, the rest of the movie follows the various plots hatched to alter Felix's ascension, and some romantic complications ensue as well.

While inconsistent, Party generally provides an entertaining program. Probably its biggest negatives relate to its length. At 95 minutes, the movie simply lasts too long, and its already-flimsy plot gets stretched too thin. Some of the chase sequences seem especially dull due to their length, and a few other bits really drag the tale. Had the filmmakers tightened it up, the film would offer more consistent pleasures.

However, most of the film works reasonably well. Co-written by Mad Magazine creator Harvey Kurtzman, Party may look like a kiddie flick on the surface, but it provides a lot of subtle and clever moments. We find bad puns like the one that refers to a character as a crushing bore – at the last party, he crushed boars – and we get many other witty moments. I love good throw-away gags that may not even register at first, and a number of these pop up during Party. For example, when Francesca gets injured during the chase, she insists that Felix go ahead – "just leave me something to read". On the page, that gag doesn't sound like much, but it seems wonderfully odd to me, and I enjoyed the moments like that.

Highlighted by Karloff, all the cast provide good work. Diller gets on my nerves a little, especially since she doesn't really play a character; the Mate is just a slight variant on her standard nightclub act. Still, the actors do nicely for the most part, especially via the cast of thousands created solely by Swift. (And is it just me, or does Garnett sound an awful lot like Kathleen Turner?)

Overall, I liked Mad Monster Party. It dragged at times but it usually provided a likable and entertaining flick. If nothing else, it merits a look from Nightmare Before Christmas fans who'd like to see part of that film's inspiration.
---
The DVD Grades: Picture A- / Audio B- / Bonus D+
---
Mad Monster Party appears in an aspect ratio of 1.33:1 on this single-sided, single-layered DVD; due to those dimensions, the image has not been enhanced for 16X9 televisions. I found the DVD to offer a startlingly excellent presentation, as the picture seemed virtually flawless at all times.
Sharpness appeared immaculate. The program always seemed crisp and well defined. I saw no signs of softness or fuzziness, and the image remained distinct and concise. Jagged edges and moiré effects caused no concerns, and I also noticed no signs of edge enhancements. Despite the age of the material, the program showed almost no source flaws; I saw a mark or two and a few specks, but overall, the show looked clean and fresh from start to finish.
Due to the dank setting of Party, the program maintained a pretty subdued palette most of the time, but the DVD replicated the tones well. The subdued hues looked full and accurate, and the occasional brighter colors also came across as vivid and vibrant; for example, Francesca's red hair seemed brilliant. Black levels appeared deep and dense, while shadow detail was appropriately clear but not too thick. Anchor Bay did a wonderful job with this image. Unlike me, Mad Monster Party presented a picture that has barely aged a day since 1967.
The monaural soundtrack of Mad Monster Party offered decent but unspectacular audio. Dialogue appeared crisp and distinct, and I heard no signs of edginess or problems related to intelligibility, but the lines sounded pretty thin. Effects seemed similarly clean and accurate, but they didn't sound very vibrant; low-end response appeared largely absent. In addition, music came across as bright and clear, but the songs and score failed to present any real depth. Overall, the audio remained well defined at all times, but the lack of range meant that the track merited a fairly average grade.
Mad Monster Party packs a mix of modest extras. We get the film's 90-second theatrical trailer, presented 1.33:1 with monaural sound. Within the Production and Still Gallery we find 61 frames of material. This area includes publicity photos, design sketches, ads and other promotional pieces, and merchandise. The Production Art Gallery tosses in another 20 frames of artwork created to help plan the film.
Accessible from the "Extras" page, we find an Easter egg. Click on the Baron's test tube and you'll get to see trailers for The Wacky World of Mother Goose and The Daydreamer, two other Rankin/Bass theatrical releases.
Lastly, we get a fairly solid booklet. Written by uber-fan Rick Goldschmidt – who maintains a Rankin/Bass website – the text gets awfully hyperbolic at times; to start the piece, Goldschmidt states that Party is "by far the BEST animated monster project in the history of animation." Despite his gushing fanboy tone, Goldschmidt offers a nice history of the project and many good details about it. We also see some nice production materials, photos and advertisements. Overall, the booklet adds a lot to the package.
Mad Monster Party never earned much of an audience in its day, but it's managed to form a decent cult audience over the last 35 years. I found the movie to seem slow-paced but generally amusing and entertaining. The DVD offers almost shockingly strong picture quality along with decent sound and a smattering of extras. With a low list price, this one should appeal to a fairly wide audience.
| | |
| --- | --- |
| Viewer Film Ratings: 4.1818 Stars | Number of Votes: 11 |