PARAMOUNT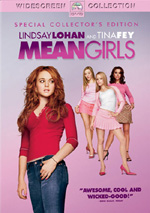 MOVIE INFO
Director:
Mark S. Waters
Cast:
Lindsay Lohan, Rachel McAdams, Lacey Chabert, Amanda Seyfried, Tina Fey, Lizzy Caplan, Daniel Franzese, Tim Meadows, Amy Poehler, Ana Gasteyer
Writing Credits:
Rosalind Wiseman (book), Tina Fey
Tagline:
Watch your back.
Synopsis:
Tina Fey from Saturday Night Live wrote and appears in this comedy about the alternately funny and terrifying pecking order among teenage girls.
Cady Heron (Lindsay Lohan) is a 15-year-old girl who has spent most of her life in Africa, where she was home-schooled by her zoologist parents. When her family relocates to the United States, Cady finds herself attending a high school in suburban Illinois, where she gets a crash course in the various sub-strata of the student body: the jocks, the cheerleaders, the stoners, the "cool" kids, and so on. Much to her surprise, Cady finds herself embraced by a clique of rich and popular girls known to outsiders as "the Plastics," led by Regina George (Rachel McAdams), Gretchen Weiners (Lacey Chabert), and Karen Smith (Amanda Seyfried). While Cady is grateful for her new friends, it doesn't take long for her to realize how manipulative they can be, and she soon discovers she's violated an unwritten law when she goes out on a date with Aaron (Jonathan Bennett), who is charming, good looking...and Regina's former boyfriend. It isn't long before Regina and her pals are on the warpath, and Cady must face a level of vengeful behavior for which years in the jungle never prepared her.
Joining Tina Fey in the supporting cast are fellow SNL players Amy Poehler, Ana Gasteyer, and Tim Meadows. The screenplay for Mean Girls was based in part on "Queen Bees and Wannabes: Helping Your Daughter Survive Cliques, Gossip, Boyfriends and Other Realities of Adolescence", a book by professional youth counselor Rosalind Wiseman.
Box Office:
Budget
$17 million.
Opening Weekend
$24.432 million on 2839 screens.
Domestic Gross
$86.049 million.
MPAA:
Rated PG-13


DVD DETAILS
Presentation:
Widescreen 1.85:1/16x9
Audio:
English Dolby Digital 5.1
English Dolby 2,0
French Dolby Digital 5.1
Subtitles:
English
Closed-captioned

Runtime: 96 min.
Price: $29.95
Release Date: 9/21/2004

Bonus:
• Audio Commentary with Director Mark Waters, Writer/Actor Tina Fey, and Producer Lorne Michaels
• 3 Featurettes
• Blooper Reel
• Deleted Scenes with Optional Commentary
• 3 Interstitials
• Trailer
• Previews




PURCHASE @ AMAZON.COM

EQUIPMENT
Sony 36" WEGA KV-36FS12 Monitor; Sony DA333ES Processor/Receiver; Panasonic CV-50 DVD Player using component outputs; Michael Green Revolution Cinema 6i Speakers (all five); Sony SA-WM40 Subwoofer.


[an error occurred while processing this directive]
---
Mean Girls: Special Edition (2004)
---
Reviewed by Colin Jacobson (September 10, 2004)

Lets' just get this out of the way now: I may be old enough to be her father - barely, dammit! - but Lindsay Lohan's hot. Okay - enough of that, so let's get onto Mean Girls, her latest flick.

Cady Heron (Lohan) is sixteen and starts her first day of public school. Her parents (Neil Flynn and Ana Gasteyer) previously home-schooled her while they lived in Africa as researchers. They take a university gig and move to the Midwest, which plops her in with the other kids for the first time. This falls into the "rude awakening" category as she goes into the hard-edged world of suburban teens.

Despite some surly reactions to her, Cady quickly befriends a pair of outcasts: Goth girl Janis (Lizzy Caplan) and gay Damian (Daniel Franzeze). They show her the ropes and she learns about the various cliques, one of which they call "The Plastics". Referred to as "teen royalty", that small clan consists of dim-witted Karen Smith (Amanda Seyfried), wealthy gossip Gretchen Wieners (Lacey Chabert), and the leader, imperious blonde Regina George (Rachel McAdams).

After Regina helps defuse a situation in which an obnoxious boy teases Cady, the head Plastic invites our new girl to sit with them for the rest of the week. Janis encourages this so Cady can report back what she learns of group's inner workings. A complication arises when Cady meets hunky Aaron Samuels (Jonathan Bennett) in her math class. She falls for him but soon learns that he used to date Regina, which makes him off-limits.

Essentially the movie follows the various interrelationships and how they become even more complicated. Initially naďve, Cady watches the ways that Regina and the other girls undermine each other. At first she sits in their circle as an observer, but she slowly starts to turn into one of them. Matters get even messier when Regina stabs Cady in the back, which then prompts Janis - who has Regina-related bitterness of her own - to push their side into a calculated plan to ruin Regina's life. The film tracks their progress and the deepening conflicts.

In many ways, Mean Girls came across as Heathers for the 21st century, albeit a much kinder, gentler version. Both films feature the extremes to which teens will go to snipe at each other, but Heathers seems substantially darker and nastier than Girls. The latter veers away from teen comedy convention just enough to give it some bite, but it also ultimately embraces the happier concepts and lacks the snap that might have made it more memorable.

Not that one should construe this to mean that Girls doesn't offer an entertaining and witty experience. It neatly sums up the main dilemma of teen relationship politics: Cady hated Regina but still wanted the latter to like her. The film shows some insights into the experience, and while I can't say it feels totally genuine, it comes much closer than the usual syrupy teen fantasies.

Girls occasionally comes across as a little obvious and heavy-handed as it explores its themes, especially when it lapses into glimpses of "Animal World". Cady reflects on her years in Africa and contrasts how animals would resolve issues with the methods used by the residents of what she calls "Girl World". When these scenes occur, we see the teens attack each other in animalistic ways. Not enough of these pop up to substantially harm the movie, but they seem silly and come as a distraction.

Part of the problem with Girls stemmed from its moderate softness. The movie felt restrained much of the time, as though the filmmakers really wanted to make something as vicious and bleak as Heathers but were restricted for various reasons. The film becomes much more involving once Cady and Regina go into full-in Bitch Battle mode. When the revenge elements start to fly, the flick gets gleefully nasty and starts to live up to its title.

Actually, the movie's best parts come from its little moments. Amy Poehler's turn as Regina's youth-obsessed, enabling mother is a hoot, and I also like the goofy eco-centricity of Cady's parents. The flick tosses out more than a few pithy and funny one-liners and often makes the small bits just absurd enough to work.

One surprise came from the performance of Tim Meadows as the school's principal. I never cared for him on Saturday Night Live, as he usually seemed clumsy and tentative on that show. In a more "straight" role, he excelled, as he offered a very self-assured and firm turn here. Without the pressure to be overtly wacky, Meadows can mine his part for comedic moments and make the character more interesting than one might anticipate.

As for Mean Girls itself, the movie doesn't quite live up to my expectations. It provides a generally amusing and sly piece, but it fails to turn into something truly memorable. It just seems a bit too tentative much of the time, as it wants to become more subversive but can't go there. I like the movie but don't see it as a great one.

Today's bizarre trivia note: Amy Poehler is only five years older than Rachel McAdams, even though she plays the latter's mother! McAdams is a full decade older than Lohan, the youngest actor of the main teen characters.
---
The DVD Grades: Picture B-/ Audio B/ Bonus B
---
Mean Girls appears in an aspect ratio of approximately 1.85:1 on this single-sided, double-layered DVD; the image has been enhanced for 16X9 televisions. The movie generally looked good but not exceptional.
For the most part, sharpness seemed good. Some shots displayed moderate softness, but those concerns remained generally minor. Instead, the majority of the flick was acceptably concise and detailed. I saw no issues with jagged edges or shimmering, but some mild edge enhancement showed up at times. Periodic source flaws crept into the movie. Occasional specks and grit popped up, and those caused a few distractions but remained fairly rare.
Girls displayed a natural palette, and the DVD presented the colors well. The tones consistently came across as vivid and vibrant. They looked clear and lively at all times. Black levels appeared deep and firm, while low-light shots presented appropriately dense but not excessively dark images. Overall, Girls offered a reasonably positive picture, though not a great one.
Don't expect a lot of sonic ambition from the Dolby Digital 5.1 soundtrack of Mean Girls, but the audio was fine for this sort of flick. Unsurprisingly, the sound remained largely oriented toward the forward channels. Dialogue dominated the movie, so most of the additional information tended to be general ambience. We got some light movement of different elements and acceptable stereo imaging for the music. A few scenes broadened the spectrum reasonably well. The "Animal World" sequences were the most prominent in this regard, and the Spring Fling opened up matters mildly. The track displayed little to make it stand out, but this kind of movie didn't require anything more than what it offered.
Audio quality also seemed good but unexceptional. Speech came across as natural and distinct. No edginess interfered with the lines, and the dialogue was consistently intelligible. The songs and score were reasonably bright and dynamic. Effects functioned fine, with good clarity and range. Low-end was nicely tight and firm. Not a whole lot happened here to make Girls a standout mix, but it worked well for what it was.
When we check out the DVD's extras, we open with an audio commentary from director Mark Waters, writer/actor Tina Fey, and producer Lorne Michaels. All three sit together for their running, screen-specific chat. The track has potential but rarely lives up to it. Waters dominates, and Fey talks quite a bit, but Michaels chimes in much less frequently. The commentary covers cut sequences and other unused segments, alterations and bits adapted from the book, locations, and a lot of various notes from the set. The latter category fills most of the track; it lacks a great deal of concise data and usually tells us more about trivia. This makes it fairly breezy but it doesn't let us know much that sticks. Honestly, I find it hard to remember anything substantial about the film's creation. The lackluster quality of the material presented combined with a lot of happy talk and praise turns this into a moderately entertaining but less than informative commentary.
When we head to the "Featurettes" domain, we find three programs. Only the Strong Survive lasts 24 minutes and 49 seconds as it mixes the usual complement of movie clips, shots from the set, and interviews. We get notes from Fey, Waters, Michaels, and actors Rachel McAdams, Amanda Seyfried, Lacey Chabert, Lindsay Lohan, Jonathan Bennett, Daniel Franzeze, Ana Gasteyer, Amy Poehler, Tim Meadows, and Lizzy Caplan. They reflect on the way teen girls treat each other, the roots of the project, the characters and the actors, and the SNL connection. Some of the footage from the shoot seems interesting, and the occasional useful note about the casting pops up, but for the most part, this is a pretty superficial and lackluster program that doesn't tell us much.
Next we get a 10-minute and 32-second featurette called The Politics of Girl World. It includes remarks from author Rosalind Wiseman. She discusses her book and her creation of the Empower Program, an organization aimed at helping teens with their violence-related issues. She also chats about granting the movie rights to the book and other aspects of her work and study. It's a pretty tight and informative look at the background to the movie.
Called Plastic Fashion, the last featurette runs 10 minutes and 23 seconds as it explores the clothes of the movie. We get notes from costume designer Mary Jane Fort. She explains her work with an emphasis on the choices she made for the various characters. It presents a lot of good information and packs some nice details into its running time.
For some bloopers, Word Vomit gives us five minutes, 42 seconds of those. Expect the usual goofs and giggles. The DVD follows this with three Interstitials that take a total of 95 seconds. These are TV ads that use unique footage created specifically for the promos, and that makes them more fun than usual.
After that we find nine Deleted Scenes that go for a total of six minutes, 59 seconds. Obviously none of these offer long, detailed segments, but they're surprisingly amusing. Most deleted scenes are cut for obvious reasons, but these include more than a smattering of funny bits and they definitely merit a look. We can watch the segments with or without commentary from Waters and Fey. They offer some basic notes and give us a few remarks about why the segments didn't make the cut. The commentary is decent but not terribly scintillating, and you won't miss much if you skip it.
In addition to the theatrical trailer for Girls, at the start of the disc, you have the option to watch some previews. This includes ads for The Spongebob Squarepants Movie, Secret Central, The Perfect Score The Prince and Me, The School of Rock and a general "Now Available on DVD" promo. These also can be accessed via the Previews option in the "Special Features" menu. One other note: most of the extras provide English, Spanish and French subtitles.
A darker than usual look at the teen comedy, Mean Girls works in a general way but rarely kicks into high gear. The movie offers a gently subversive take on the genre and that's about it, for it seems clever and amusing but falls short of true darkness. The DVD presents decent but unexceptional picture and audio plus a generally interesting set of extras. Though Mean Girls isn't a classic, it comes across as amusing and entertaining enough to earn a mild recommendation.
| | |
| --- | --- |
| Viewer Film Ratings: 4.4848 Stars | Number of Votes: 66 |