Reviewed by Colin Jacobson (December 11, 2002)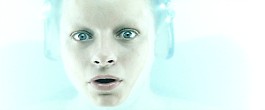 Once regarded as a "boy wonder", Steven Spielberg finds himself firmly in the throes of middle age. Nonetheless, he seems determined to expand his horizons. He appears to continue to display the aftereffects of his collaboration with Stanley Kubrick on AI, as Spielberg's futuristic follow-up Minority Report provides a darker and grittier piece than usual from the director.
Set in the year 2054, Report focuses on police Captain John Anderton (Tom Cruise), part of something called the Precrime division. This unit uses three "pre-cogs" who see murders before they happen. Anderton and his co-workers channel the visions to stop the crimes and arrest the perpetrators prior to the occurrence of the actions.
The movie starts with an example of this kind of investigation, and then we learn that the Precrime unit is in trouble. The US Department of Justice has given it a trial run in Washington, DC, but it'll go to a national vote to determine if it'll continue and spread elsewhere in the country. Justice representative Danny Witwer (Colin Farrell) comes to "observe" the goings on at Precrime, but he seems pretty interested in discovering flaws in the machine.
Though a star on the job, Anderton provides a kink in the works due to his messy home life. Someone abducted his son Sean six years earlier, and this led to the end of his marriage to Lara (Kathryn Morris) mostly because he threw himself so heavily into his work. Anderton also uses illicit drugs to ease his emotional pain.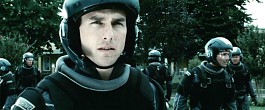 When Witwer discovers that fact, it looks like Anderton will run into trouble, but additional issues arise. At one point, pre-cog Agatha (Samantha Morton) freaks out during a nightmare and grabs Anderton. She brings up visions of an old drowning murder. These intrigue Anderton, who starts to investigate what occurred.
After he opens that can of worms, something troubling happens. The pre-cogs see a future crime in which Anderton commits a murder. Anderton suspects that Witwer set him up, so he goes on the lam. While he attempts to avoid capture by his cohorts, he also tries to get to the bottom of the matter. Along the way, he discovers the existence of something called a "minority report". Dr. Iris Hineman (Lois Smith), the person who "invented" pre-crime, states that the pre-cogs are never wrong, but occasionally they disagree, and the dissenting opinion becomes called the minority report.
From there, Report follows Anderton's attempts to work through his own apparent destiny and also find out what's behind the scenes of this seeming attempt to frame him. I saw Report theatrically over the summer and felt distinctly underwhelmed by it. I felt the movie came across as competent and watchable, but it simply didn't really engage me. However, although I continued to experience some problems with Report, I thought it worked substantially better during my second screening.
On the negative side, Spielberg seemed unwilling to fully give in to the dark side. Yes, Report provided a grittier and more dank look and setting than we've seen in the past, but Spielberg still lightened the load a little too much at times. Some comic relief seems fine, but Report tossed in too much levity, and these moments periodically came across as inappropriately goofy. They didn't actively counteract the tone, but they distracted me and took away from the movie's cold feeling.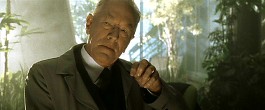 Part of that happened because Spielberg seemed to lack the inherent nastiness to pull off such material. The Kubrick influence came through substantially in Report, and I also saw signs of Paul Verhoeven's flicks. Both of those directors pulled off the kind of black humor Spielberg attempted in Report, mostly because they appeared more in touch with the darkness at its source. Spielberg still can't quite pull off the coldness necessary, some most of the comic scenes came across as somewhat forced.
In addition, Report also often felt like too much of an effects tour de force. Throughout the movie, we saw the way that different multimedia elements intruded into daily life. From animated and singing boxes of cereal to 3-D home videos to interactive advertisements, the film bombarded us with these pieces. In addition, Spielberg tossed in many other showy bits such as the risers used to send cops out of the station to moving plants to the complicated imprisonment at the Department of Containment. I thought the various effects elements became overwhelming and distracting at times. They added little to the piece and simply came across like they existed to dazzle us without any direction contribution to the story.
A few other flaws occurred, such as some bad foreshadowing when a video of little Sean stated "Gotta keep running!" and due to some self-consciously odd moments, especially when Anderton visited an eye surgeon. Despite these various complaints, I came to rather like Report during my second viewing. Even with the moments of excess, Spielberg and director of photography created a stylish and compelling environment that worked well for the story. I don't think he's created anything quite so monotone since the black and white Schindler's List. Though Report offered a color production, Spielberg drained it of most hues and made it quite striking in the visual sense.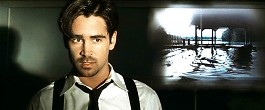 Report enjoyed a simply terrific concept, and it explored the topic nicely. The movie didn't ignore the philosophical issues related to the concept of arresting someone for something they haven't done; it remained an action flick at heart, but it got into the related subjects to a reasonably satisfying degree. It definitely offered more than the usual brainless experience, as it delved into some rich topics.
As one might expect, Spielberg dug into the action sequences with relish, and these came across as lively and compelling. It also helped that the actors displayed vivid personalities. Cruise and Farrell showed excellent chemistry, as the movie developed a strong and convincing antagonism between the pair. Actually, Farrell provided one of the movie's best elements, and not just due to his cool first name. He seemed bright and insightful as the Justice agent and helped give the film some depth.
Minority Report will never be one of Steven Spielberg's greatest flicks, but it stands as one of the best he's made in recent years. Even with some unfortunate excesses, the movie provides a nicely engaging and engrossing experience. Usually mysteries suffer on second viewing, but this one actually becomes more intriguing and involving with additional screenings. A rich and fun film, Minority Report deserves your time.
Minority Report appears in an aspect ratio of approximately 2.39:1 on this single-sided, dual-layered DVD; the image has been enhanced for 16X9 televisions. As I noted in the body of my review, Report featured a tremendously stylized picture that made it tough to rate. Overall, the DVD seemed to replicate the original material well.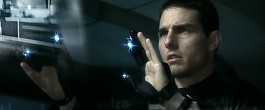 Sharpness generally came across as solid. A few wide shots displayed some light softness, but these issues never became significant, especially since the visual format made them fit neatly. Most of the movie remained distinct and accurate, however. Jagged edges and moiré effects displayed no concerns, but I noticed some light edge enhancement at times.
As for print flaws, the film showed some minor grit at times, but otherwise it appeared free from unintentional concerns. However, I must note that Report often included a tremendous amount of grain. For example, the scene at the eye surgeon's place showed scads of that element, and the flick generally featured a lot of grain during sequences in seedier places. Obviously I couldn't regard this as a concern, since the movie's supposed to display grain, but I felt I should mention it nonetheless.
Like I stated in the body of the review, Report featured a very desaturated image. It used the bleach bypass process to remove colors from much of the film, which left it with white-skinned actors and very subdued tones in general. The movie showed a cold, bluish palette for the most part. It warmed up a little at the Hineman greenhouse, as the natural setting displayed slightly stronger tones, but the colors remained quite desaturated. The only scene that offered genuine life came from Anderton's flashback to Sean's kidnapping; it featured bright and lively hues that seemed startling after all the coldness.
Contrast played an important role in Report, as Spielberg gave the movie a bright, blown-out look much of the time. It showed harsh white lighting on occasion, which made the contrast unusual. In any case, black levels looked dark and dense, while shadow detail was appropriately opaque but not too thick. Though the white light dominated some scenes, quite a few low-light sequences occurred as well, and those looked clear and distinct. Ultimately, the picture of Minority Report provided a vivid and accurate representation of the original material.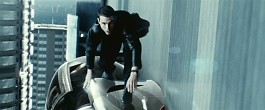 The Dolby Digital 5.1 and DTS 5.1 soundtracks of Minority Report also seemed quite satisfying. When I compared the two, I noticed virtually no significant differences between them. The DTS track showed slightly richer bass, whereas the Dolby mix came across as a little airier, but the pair generally sounded identical.
The soundfield presented an active and lively piece that constantly engaged the five main speakers. The film showed distinctive imagery throughout the movie that placed different auditory elements accurately within the spectrum and meshed them together nicely. Music provided strong stereo imaging, and effects popped up from the appropriate locations. Quieter scenes displayed natural ambience, while the many action set pieces involved engrossing and vibrant imaging. A number of segments stood out in that regard, but the chase scenes that involved vehicles seemed most impressive, as the different elements zoomed about the room effectively.
Audio quality also seemed positive. Speech consistently appeared natural and crisp, and I noticed no issues related to edginess or intelligibility. Music sounded bright and dynamic as the DVD neatly replicated the score. Effects packed a nice wallop when necessary, as these elements seemed clean and distinct at all times. Bass response came across as deep and tight, and the low-end added a good layer of depth and oomph to the package. I anticipate high quality from the audio heard in Spielberg movies, and Minority Report largely matched my expectations.
On this two-disc release of Minority Report, we find a batch of supplements. Since Steven Spielberg continues to refuse to do audio commentaries, we get no extras on the first platter. That puts all the extras on DVD Two, where we start with a section called "From Story to Screen". It splits into two featurettes. The Story, The Debate lasts nine minutes, 34 seconds and mixes the usual complement of movie snippets, shots from the set, and interviews. (Actually, all of this disc's featurettes will use that combination of elements, so assume that we see these three pieces unless I state otherwise.) We hear from director Spielberg, actor Tom Cruise, screenwriters Jon Cohen and Scott Frank, producers Bonnie Curtis and Gerald R. Molen. Spielberg and Cruise discuss their prior desire to work together and the origins of their collaboration, and we also hear about the writers' approach to the adaptation of the short story and some basic discussion of exposition and philosophical issues. The program sets up the movie relatively well and seems moderately interesting.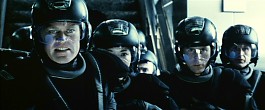 The other element of "From Story to Screen", The Players runs nine minutes, 25 seconds, and it includes remarks from Cruise, Spielberg, actors Colin Farrell, Max Von Sydow, Samantha Morton, and Kathryn Morris, and director of photography Janusz Kaminski. As with many of the other pieces, this one suffers from too many film clips, and we also hear too much general praise for Spielberg. We get some decent information about the shoot as well as as bland descriptions of the characters. Kaminski gives us some nice notes about his visual approach to Agatha, and the behind the scenes snippets seem engaging. Otherwise, "Players" comes across as somewhat superficial and unengaging.
"Deconstructing Minority Report" divides into five smaller areas. The World of Minority Report (An Introduction) takes nine minutes, 19 seconds and includes statements from Spielberg, Cruise, production designer Alex McDowell, director of photography Kaminski, composer John Williams, and producer Curtis. We hear about the "think tank" organized to envision a society of the future, the choice of Washington as a location, the approach to visuals in DC, Spielberg's use of the film noir visual language and his desire to film the "ugliest, dirtiest movie I've ever made", and also some notes about the score. Overall, "Introduction" provides a fairly general featurette that offers a decent look at the film as a whole.
Up next we see Precrime and Pre-cogs, an eight-minute and 19-second program. It includes comments from Spielberg, Kaminski, McDowell, special effects supervisor Michael Lantieri, costume designer Deborah Scott, and property master Jerry Moss. They go over the design of film, including the sets, visual clutter, the pre-cog sculpture, the pre-cog chamber, various costumes, and the weapon design. The show provides a quick but decent look at these topics.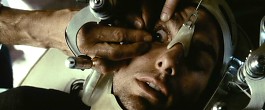 For specifics about The Spyder Sequence, we move to this five-minute, 22-second piece. It features McDowell, visual effects supervisor Henry LaBounta, sound designer Gary Rydstrom, John Williams, and Kaminski. It covers the visual design of the spyders, shows some rough CG animation and pre-effects plates, and it takes us through the various processes. The program seems somewhat superficial, but it offers some nice notes about sound design, scoring for the spyders, and problems related to camerawork and lighting.
Pre-cog Visions lasts four minutes, 51 seconds, and gives us comments from Spielberg, prevision creators Kurt Mattila and Matt Checkowski, Cruise, and science and technology advisor John Underkoffler. They discuss the concepts behind the previsions, memories of witnesses and their influence on the design as well as the interface for the previsions screen. It offers a good look at the approach to these distinctive visuals. Interestingly, it also gives us some glimpses of murder shots that seem not nearly as evident in the final flick.
The final component of this area, Vehicles (Of the Future) takes five minutes, nine seconds, and features Spielberg, pre-visualization supervisor Ron Frankel, Rydstrom, vehicle designer Harald Belker, McDowell, and Lantieri. As one might expect, they discuss the different vehicles, and we hear about the Mag-Lev cars, the Lexus and background cars, and the flying hovership. We learn about the visual and sound design in this quick but reasonably interesting featurette.
After this we move to "The Stunts of Minority Report". First we get The Mag-Lev Escape, which goes two minutes, 58 seconds and includes statements from Cruise and stunt coordinator Brian Smrz. While the behind the scenes shots still seem good, the verbal information comes across as puffy. We get a little about the mechanics of the stunts that involve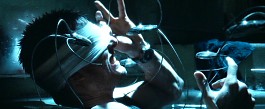 In The Hoverpack Chase, we get a two-minute, 59-second program that involves McDowell, Lantieri, Smrz, Spielberg, and Kaminski. We hear about the physical construction of the set for this scene as well as camera considerations and wire challenges. The "before and after" visuals seem cool, but the other comments appear less useful.
For the final stunt featurette, we learn about The Car Factory. It goes for two minutes, 47 seconds, and provides notes from Colin Farrell, Cruise, producer Curtis, and Smrz. It goes over the basic elements of that scene. Like the other segments, the comments seem somewhat flat, but the shots from the set offer some fine material.
The next section covers "ILM and Minority Report". Its Intro lasts four minutes, 30 seconds and features statements from Cruise, ILM visual effects supervisor Scott Farrar, ILM art director Alexander Laurant, ILM visual effects producer Dana Friedman, and Spielberg. Essentially this offers a general discussion of the scope of ILM's work, and it provides a reasonably useful overview of these topics.
From there we go into ILM's specific work on the film. Holograms takes three minutes, eight seconds, and features ILM computer graphics supervisor Barry Armour, ILM sequence supervisor Steve Braggs and ILM software developer Steve Sullivan. It provides a good little explanation of how they wanted the holograms to look and how they did it.
Next we learn about the Hall of Containment. It goes three minutes, nine seconds and includes Scott Farrar, ILM sequence supervisor Lindy DeQuattro, and Dana Friedman. As always, the behind the scenes shots offer the best moments, but this gives us a decent chat about the methods used to bring the Hall to life.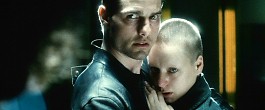 After this we get notes about the Mag-Lev in this three-minute, 11-second piece. We hear from Alexander Laurant and ILM sequence supervisor Thomas Martinek. They cover the Mag-Lev design process and its challenges as well as the execution of them. This gives us another nice chat about the topic, and it includes some good "before and after" shots.
Hovercraft/Hoverpacks takes three minutes, seven seconds and features Dana Friedman, ILM compositing supervisor Scott Frankel, and Farrar. We get a discussion of the creation of these elements and the mechanics that surround them. Again, the program seems brief but reasonably informative and engaging.
For the last "ILM" program, Cyberparlor goes one minute, 54 seconds and provides statements from ILM visual effects editor Michael Gleason. Another nice discussion, it's mostly fun to see the shots without the effects. The program also identifies the "conceited performer".
The last featurette, Final Report: Steven Spielberg and Tom Cruise runs three minutes, 56 seconds, and consists of comments from Cruise and Spielberg. Even though the disc touts this as an "in-depth discussion", don't expect anything substantial here. Mainly Spielberg tells us how great Cruise is while Cruise tells us how great Spielberg is. The program offers little of use and seems bland.
The remaining extras appear in the "Archives". Production Concepts breaks down into 13 subdomains, and one of those – "Vehicles" – then splits into three smaller sections. Each of these includes concept art, preliminary sketches, and storyboards. They consist of between six and 43 frames per section for a total of 291 images. The art seems interesting, but the display stinks. The screen features a large and essentially useless interface that fills almost half of the screen, which makes the images much smaller than they could be.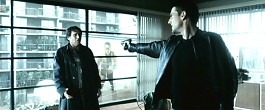 Next we find a collection of three Storyboard Sequences. These film the boards and run them alongside movie audio. We get looks at the "Mag-Lev Sequence" (two minutes, seven seconds), the "Alley Chase" (three minutes, 35 seconds), and the "Car Factory" (three minutes, 18 seconds). This presentation works well, as the film audio helps bring the art to life.
The DVD includes three trailers for Minority Report plus an Activision Game Trailer. The remaining pieces offer text extras. Cast includes short bios for actors Cruise, Farrell, Samantha Morton, Max Von Sydow, Kathryn Morris, Lois Smith, Peter Stormare, and Tim Blake Nelson. Filmmakers features entries for director Steven Spielberg, screenwriters Scott Frank and Jon Cohen, producers Gerald R. Molen, Bonnie Curtis and Walter F. Parkes, director of photography Janusz Kaminski, production designer Alex McDowell, visual effects supervisor Scott Farrar, editor Michael Kahn, costume designer Deborah Scott, and composer John Williams. All of these provide rudimentary but decent discussions of the participants.
In the Production Notes, we find 23 screens of text. These cover the origins of Dick's story, general considerations for the future society, and elements of the movie's creation. Overall these comments seem informative and compelling. Lastly, the booklet offers additional general notes about the film, but these don't expand on things much.
On the surface, Minority Report seems to provide a pretty nice collection of extras. The "Archives" includes decent text materials plus extensive art and other pieces, and the 17 separate featurettes add up to 83 minutes, 38 seconds of video footage. While the latter feature some compelling "behind the scenes" footage, the segments suffer from the inclusion of too many movie clips and too little concrete information. The interviews tend to remain rather superficial and they don't offer a lot of depth. In the end, Report provides a moderately interesting package of supplements, but it seems like a disappointment compared to the two-DVD sets released for many other prominent films.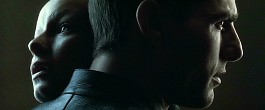 Despite the somewhat lackluster supplements, I definitely found a lot to like about the DVD release of Minority Report. The movie itself showed some weaknesses but it seemed generally intriguing and involving. It provided a compelling and lively piece of work that marks something nicely different from Steven Spielberg. The DVD features representative picture quality along with excellent sound and the decent but unspectacular set of extras. Ultimately, the movie seems very good, and the DVD replicates the film well enough to merit a recommendation from me.