NEW LINE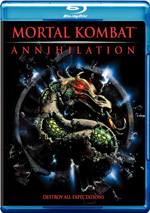 MOVIE INFO
Director:
John R. Leonetti
Cast:
Robin Shou, Talisa Soto, James Remar, Sandra Hess, Lynn 'Red' Williams, Brian Thompson, Reiner Schöne, Musetta Vander
Writing Credits:
Ed Boon (video games), Lawrence Kasanoff (story), Joshua Wexler (story), John Tobias (story), Brent V. Friedman, Bryce Zabel
Tagline:
Last time they were fighting for their lives. This time they're fighting for ours.
Synopsis:
A new era ... but for whom? The Mortal Kombat victory in the Outworld was supposed to give rise to a generation of peace on Earth. But never trust the word of the fiendish and the power mad. They've opened the portals linking their dimension to ours, and Earth will be overwhelmed – if a gutsy band of human heroes doesn't acquire new kombat skills that will crush Outworld's imaginative array of bad-ass warrior creatures. John R. Leonetti, cinematographer of Mortal Kombat and 2010's Piranha, directs the fighting fury of Mortal Kombat: Annihilation. Smash evil!
Box Office:
Budget
$30 million.
Opening Weekend
$16.771 million on 2140 screens.
Domestic Gross
$35.927 million.
MPAA:
Rated PG-13


DVD DETAILS
Presentation:
Aspect Ratio: 1.85:1
Audio:
English DTS-HD MA 5.1
Spanish Dolby Stereo 2.0
Subtitles:
English
French
Spanish
Closed-captioned
Supplements Subtitles:
None

Runtime: 95 min.
Price: $19.98
Release Date: 4/19/2011

Bonus:
• Trailers




PURCHASE @ AMAZON.COM

EQUIPMENT
Panasonic 50" TH-50PZ77U 1080p Plasma Monitor; Sony STR-DG1200 7.1 Channel Receiver; Panasonic DMP-BD60K Blu-Ray Player using HDMI outputs; Michael Green Revolution Cinema 6i Speakers (all five); Kenwood 1050SW 150-watt Subwoofer.


---
Mortal Kombat: Annihilation [Blu-Ray] (1997)
---
Reviewed by Colin Jacobson (May 13, 2011)

Since 1995's Mortal Kombat was the first successful movie adapted from a video game, it became inevitable that it'd inspire another first: the first sequel to a movie adapted from a video game.

Which we get via 1997's Mortal Kombat Annihilation. In the original film, Earth folk battled occupants of the Outworld to keep the latter from invading and taking over our planet. They succeeded – kinda.

It turns out you can't really trust a non-terrestrial baddie, so the Emperor (Brian Thompson) decides to follow his own rules. He takes advantage of an open portal to go to Earth along with his minions to battle the heroes from the first flick: Lord Rayden (James Remar), Liu Kang (Robin Shou), Sonya Blade (Sandra Hess), Johnny Cage (Chris Conrad) and Kitana (Talisa Soto). They have six days to fight the Emperor and his forces or forever lose the Earth to his domain.

While the first flick didn't exactly dole out character and story information, Annihilation really skimps on these elements. Basically it plops the characters on Earth and says "fight!!!" Even though it brings it new roles and themes along the way, it barely bothers with the pretense that it'll tell an actual story; sure, we find some soap opera melodrama, but none of it matters.

I don't mind the lack of plot, but the absence of quality filmmaking becomes a notable issue. I can find one positive here: some of the action scenes are actually pretty good. I thought the fights in the first movie were surprisingly dull, but a few of the set pieces in Annihilation boast a solid sense of flair.

Unfortunately, that's the only positive I can find, as virtually everything else about Annihilation stinks. Even though the sequel had a substantially bigger budget, it looks cheaper than the original. That one had a lot of tackiness about it as well, but it provided a more accomplished, professional appearance. The sequel feels like something shot for about $20, as little of its $30 million budget shows up on screen.

The extra bucks certainly didn't go to the actors. Only two castmembers return, as Shou and Soto reprise their roles. Remar takes over for Christopher Lambert, Hess fills in for Bridgette Wilson, and Conrad replaces Linden Ashby. The acting in the first flick wasn't good, but the sequel suffers from even crummier performances. All of them overact relentlessly, but not in a campy, fun way; their work is just bad.

Though it's hard to blame the actors since the film sticks them with such thin characters and ridiculous dialogue. I feel especially sorry for poor Lynn "Red" Williams; as Jax, he gets stuck with every Black Guy Cliché in the book. He's actually forced to say lines like "now that's what I'm talkin' about!" and "get some!" Ugh.

Add to this cheap effects and aimless direction. I can't say that Annihilation is a big step down from the original movie since it stunk as well and the sequel comes with some superior action scenes. Nonetheless, a turd is a turd is a turd; just because an earlier turd smelled bad as well doesn't make this one less stinky.
---
The Blu-ray Grades: Picture C-/ Audio B+/ Bonus D-
---
Mortal Kombat: Annihilation appears in an aspect ratio of approximately 1.85:1 on this Blu-Ray Disc. I didn't think the transfer was awful, but it was inconsistent and often problematic.
Like everything else, sharpness varied. At its best, the image offered reasonably good clarity and definition; while never razor-sharp, it could be fairly distinctive. However, more than a few exceptions occurred, and substantial parts of the movie came across as rather mushy and soft. No issues with jaggies or shimmering appeared, but light edge haloes materialized at times. Though I noticed no print flaws, grain could be unusually heavy at times.
Colors were a mixed bag. Some shots offered nice and vibrant tones, while others suffered from hues that seemed dense and heavy. Again, there was no consistency here; the movie would quickly jump from appealing colors to ugly ones. Blacks tended to be somewhat murky, and shadows were usually fairly thick; low-light shots lacked great visibility, though they were superior to those seen in the original movie.
I suspect that many of the image's problems stem from the source. A lot of the problems crop up in scenes that involved effects, so the softness/muddiness may result from the poor work done in that domain. Still, I also suspect that a transfer created with more care would've resulted in a more appealing image; I doubt this one got lots of effort that could've helped diminish some of the inherent flaws. Overall, this wasn't an unwatchable presentation, but its inconsistencies made it a "C-" at best.
On the other hand, the film's DTS-HD MA 5.1 soundtrack worked pretty well. With nearly non-stop action, the flick came with a loud mix that used the various channels in a satisfactory manner. Music was an aggressive part of the track, but lots of effects cropped up from the rear and side speakers as well. These added extra kick to the action and delivered a good sense of the environment.
Audio quality was fine. Again, this was a loud track – maybe a little too loud, to be honest, but reproduction seemed positive. Speech was reasonably concise, and music showed good punch and range. Effects were strong and powerful, with nice low-end. The track suited the movie.
Virtually no extras appear here. We get trailers for Annihilation and the 2011 video game version of Kombat. Nothing else shows up on the disc.
If you liked the original Mortal Kombat, will you enjoy Annihilation? Hard to say because I thought the first movie was so bad; its sibling couldn't fall very far. In any case, despite a few good fight scenes, Annihilation is an awful film. The Blu-ray provides pretty solid audio but suffers from erratic visuals and almost no supplements. Honestly, Annihilation should've just been a bonus feature on the Mortal Kombat Blu-ray; I can't imagine many will shell out $20 for this stinker.
| | |
| --- | --- |
| Viewer Film Ratings: 2.3333 Stars | Number of Votes: 6 |