IMAGE ENTERTAINMENT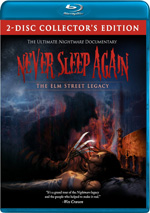 MOVIE INFO
Director:
Andrew Kasch, Daniel Farrands
Cast:
Heather Langenkamp, Wes Craven, Robert Englund, Various
Writing Credits:
Thommy Hutson
Synopsis:
Murderer. Dream Demon. The bastard son of a hundred maniacs. Any way you slice it, there can only be one man - one monster - who epitomizes those words: Freddy Krueger. For decades, he has slashed his way through the dreams of countless youngsters and shows no signs of ever resting in peace. A Nightmare on Elm Street star Heather Langenkamp is your dream guide in this thrilling "shockumentary" that takes you deeper into Freddy's realm than ever before, featuring exciting clips, never-before-seen photos, behind-the-scenes footage, conceptual art, publicity materials and exclusive new interviews with over 100 key cast and crew from every Nightmare, including Wes Craven, Robert Englund, Heather Langenkamp, Jack Sholder, Mark Patton, Kim Myers, Chuck Russell, Jennifer Rubin, Renny Harlin, Lisa Wilcox, Tuesday Knight, Stephen Hopkins, Kelly Jo Minter, Rachel Talalay, Lisa Zane, Alice Cooper, Patrick Lussier, Miko Hughes, Monica Keena, Brendan Fletcher, Ronny Yu and many more. So get ready for Freddy in the definitive account of modern cinema's eternal bogeyman and what has been called the most frightening and imaginative horror franchise in motion picture history!
MPAA:
Rated NR


DVD DETAILS
Presentation:
Aspect Ratio: 1.78:1
Audio:
English DTS-HD MA Stereo 2.0
Subtitles:
English
Closed-captioned
Supplements Subtitles:
English

Runtime: 238 min.
Price: $29.98
Release Date: 1/21/2014

Bonus:
• Audio Commentary with Directors Andrew Kasch and Daniel Farrands, Writer Thommy Hutson and Cinematographer Buz Danger Wallick
• Extended Interviews
• I Am Nancy First Look
• "For the Love of the Glove" Featurette
• "Fred Heads: The Ultimate Freddy Fans" Featurette
• "Horror's Hallowed Grounds: Return to Elm Street" Featurette
• "Freddy Vs. the Angry Game Nerd" Featurette
• "Expanding the Elm Street Universe: Freddy in Comic Books and Novels" Featurette
• "The Music of the Nightmare: Conversations with Composers and Songwriters" Featurette
• "Elm Street's Poster Boy: The Art of Matthew Joseph Peak" Featurette
• "A Nightmare in Elm Street in 10 Minutes"
• Trailer




PURCHASE @ AMAZON.COM

EQUIPMENT
Panasonic TC-P60VT60 60-Inch 1080p 600Hz 3D Smart Plasma HDTV; Sony STR-DG1200 7.1 Channel Receiver; Panasonic DMP-BD60K Blu-Ray Player using HDMI outputs; Michael Green Revolution Cinema 6i Speakers (all five); Kenwood 1050SW 150-watt Subwoofer.


[an error occurred while processing this directive]
---
Never Sleep Again: The Elm Street Legacy [Blu-Ray] (2010)
---
Reviewed by Colin Jacobson (February 25, 2014)

One of the all-time most successful horror franchises, the Nightmare on Elm Street films undergo examination via a documentary called Never Sleep Again: The Elm Street Legacy. Narrated by actor Heather Langenkamp, this nearly four-hour program covers the Nightmare series from 1984's original film through 2003's Freddy Vs. Jason.

When we address the first film, we hear from Langenkamp, filmmakers Wes Craven and Jack Sholder, New Line Cinema founder/CEO Robert Shaye, co-producer Sara Risher, assistant production manager Rachel Talalay, former New Line employee David Chaskin, mechanical special effects designer Jim Doyle, cinematographer Jacques Haitkin, special makeup effects designer David Miller, makeup artist Louis Lazzara, former New Line executive Jeff Katz, special effects assistant Lou Carlucci, composer Charles Bernstein, and actors Robert Englund, Amanda Wyss, Lin Shaye, Jsu Garcia, John Saxon, Charles Fleischer, and Don Hannah.

The show starts with the roots of the Nightmare story and elements of New Line's background. Next we hear about development for the first film, casting, characters and performances, and inspirations. Production topics include cinematography, sets and locations, Freddy's makeup and finger-knives, various effects, stunts, a few shooting specifics, the movie's ending, editing, music, and the film's release.

When we finish we the first movie, we look at the development of the initial sequel, casting and performances, stunts and action, various effects, the flick's gay overtones, inconsistencies/problems with the flick, some scene specifics, and the first sequel's reception. For these segments, we welcome new participants in addition to some of those heard already. We find line producer Joel Soisson, makeup and effects coordinator Kevin Yagher, special effects creator Rick Lazzarini, transformation effects coordinator Mark Shostrom, special makeup effects artist Bart Mixon, and actors Mark Patton, Robert Rusler, Kim Myers, Sydney Walsh, JoAnn Wilette, Clu Gulagher, and Marshall Bell.

Once we get to Nightmare 3, we learn of its development and scripts, cast, characters and performances, production design, photography and more effects, problems during the shoot, marketing the film, and the movie's reception. New speakers include filmmaker Charles Russell, production designer CJ Strawn, cinematographer Roy H. Wagner, stop motion animator Doug Beswick, rock band Dokken, and actors Ken Sagoes, Rodney Eastman, Penelope Sudrow, Jennifer Rubin, Ira Heiden, Priscilla Pointer, Brooke Bundy, and Stacy Alden.

The Nightmare 4 portion examines its development, the script and the impact of the writers' strike, influences and visual style, cast, characters and performances, effects, scene specifics, its release and the continued pop culture impact of Freddy. We bring in filmmaker Renny Harlin, cinematographer Steven Fierberg, key makeup effects artist R. Christopher Biggs, writer David J. Schow, special makeup effects designer John Carl Buechler, makeup effects artist Howard Berger, musician Alice Cooper and actors Lisa Wilcox, Danny Hassel, Tuesday Knight, Toy Newkirk, Brooke Theiss and Andrus Jones.

Before we move to the next movie, we detour to Freddy's Nightmares, a spin-off TV series. Here we discover writer/director William Malone and Mick Garris and director Tom McLoughlin. We get general notes on the series with an emphasis on stories, censor issues, and a general lack of quality.

When we shift to Nightmare 5, we locate comments from production supervisor Kool Marder, screenwriters Leslie Bohem and John Schipp, director Stephen Hopkins, and actors Kelly Jo Minter, Joe Seely, Erika Anderson, Whitby Hertford, and Beatrice Boeppel. This one covers the sequel's influences and development, story areas, cast and characters, makeup and effects, sets and locations, various challenges, editing/MPAA concerns, and its not-so-successful release.

As we move to Freddy's Dead, we find former New Line VP Mark Ordesky and actors Shon Greenblatt, Ricky Dean Logan, Lezlie Deane, Lisa Zane, Cassandra Friel and Tobe Sexton. Expect similar topics, as we go through development and script, cast, characters and performances, the film's John Waters influence, effects and makeup, shooting 3D, and the movie's release.

Going to New Nightmare, we examine New Line's decision to bring back the "dead" Freddy and Craven's return to the franchise, story areas and influences, cast and performances, makeup and changing Freddy, alterations to the script, and the movie's reception. This section introduces editor Patrick Lussier, cinematographer Mark Irwin, and actors David Newsom, Miko Hughes, Tracy Middendorf, and Fran Bennett.

Chronologically, the series jumps ahead almost decade to go to Freddy Vs. Jason. Here we add screenwriters Ethan Reiff, Cyrus Voris, Mark Swift, Mark Verheiden, and Brannon Braga, director Ronny Yu, and actors Kane Hodder, Monica Keena, Brendan Fletcher, Zack Ward, and Jason Mewes. We learn about development complications and script areas, cast and performances, story/character thoughts, more effects and makeup, deleted scenes, stunts, the film's release and potential extensions to the franchise.

Sleep comes with a coda as well that covers New Line – aka "The House That Freddy Built" – after the studio became obtained by Warner. It also considers the legacy left by the Nightmare series.

If I wanted to complain about Sleep, I'd pick on the one semi-perplexing omission: the franchise's 2010 reboot. Through the documentary's 238 minutes, we don't hear a peep about it. Obviously that's a conscious choice, as I suspect the filmmakers preferred to stick with movies from the original series, but it still surprises me.

Thus ends the "complaint" portion of this review, as everything else about Sleep succeeds. Indeed, this seems like a model for a well-structured examination of a movie franchise, especially in the way it balances the different entries. Normally shows like this favor one flick far above all others; for instance, The Alien Saga devotes about 45 percent of its running time to the first effort in that franchise.

This trend doesn't affect Sleep - at least not in such a substantial way. Yes, the first Nightmare gets more attention than the others, but it doesn't overwhelm the rest of the show. By my calculation, that portion of Sleep occupies only around 16 percent of the documentary, which seems perfectly reasonable, especially since an examination of a franchise's first film will include all the relevant backstory we don't need to discuss later.

In addition to the nice sense of balance, Sleep uses an appropriate format. Many documentaries suffer from their creators' desire to reinvent the wheel and find visual methods other than the standard mix of archival materials and interview shots.

If someone comes up with a good alternative, I'll embrace it, but I believe this format remains the "standard mix" for a reason: it works. No, it's not the most inventive presentation, but I don't watch a program such as this to discover varied, creative visual techniques.

Instead, I simply want to learn about the subject matter in the most concise, logical method possible, and Sleep does that. This doesn't mean it's turgid or dull in its presentation, as it can spice things up occasionally, and it shows a good sense of humor.

For instance, when we hear that a Freddy Vs. Jason character clearly came based on the "Jay" role from the Kevin Smith movies, we cut to an interview with Jason Mewes, the actor from Smith's flicks. I won't reveal what happens when he begins to chat, but it's a hilarious little snippet as well as a catty commentary on Freddy's thievery.

And that's just one of the program's acerbic elements. Fans shouldn't expect Sleep to slavishly praise everything about the franchise, as it feels free to criticize different elements and reveal problems behind the scenes. This never threatens to turn into a "dirt-fest", and it's clear that the show takes an affectionate look at the series; I presume this was a labor of love for the filmmakers, as I can't imagine folks who hate the films would work so hard to discuss them.

Nonetheless, we get a reasonably objective take on the franchise. This means useful criticism and a well-rounded view of the movies' creation. One can't call this a "no stone left unturned" piece, as even with 238 minutes at its disposal, it still needs to summarize much of the background, but it covers a good mix of bases.

It also comes with a strong roster of participants. Of course, one could complain about the handful of prominent Nightmare alumni who don't show up, but that's nitpicking. I can't blame the filmmakers because Johnny Depp wasn't available to discuss Nightmare, and Sleep offers so many of those involved that we barely miss the absentees.

All in all, Never Sleep Again ends up as a winner. This is a brisk, delightful documentary that keeps us entertained and informed across its long, long running time.
---
The Blu-ray Grades: Picture C/ Audio C/ Bonus A
---
Never Sleep Again: The Elm Street Legacy appears in an aspect ratio of approximately 1.78:1 on this Blu-ray Disc. This was a watchable image but pretty mediocre.
The biggest problem related to the brightness of the image. Many of the interview shots tended to be somewhat dark and murky, which made them less appealing than I'd like. Shadow detail was also bland, as these low-light "talking head" images leaned toward a dull, flat feel.
Sharpness was decent. The elements rarely looked especially distinctive, but they offered acceptable clarity. I got the impression the interviews were shot on less-than-ideal cameras, and that led to the majority of the softness; when the program went with photos and other elements, it showed much stronger delineation.
I noticed no issues with jagged edges or shimmering, and edge haloes remained absent. Colors were average. The hues never impressed, hut they showed reasonable clarity. All of this added up to picture that was watchable but no more than that.
Similar thoughts greeted the wholly unambitious DTS-HD MA Stereo 2.0 soundtrack of Sleep. Since it revolved around interviews, dialogue dominated the piece and remained centered. The comments were consistently natural and concise.
Virtually no effects materialized, but we did get constant background score. These elements stayed too quiet to offer much heft, but the music sounded fine. The score came across as reasonably accurate, and the program provided good stereo spread. Despite the track's lack of scope, it worked for the documentary.
If a nearly four-hour main documentary isn't enough for you, Sleep comes with hours of extras. On Disc One, we find an audio commentary with directors Andrew Kasch and Daniel Farrands, writer Thommy Hutson and cinematographer Buz Danger Wallick. All four sit together for this running, screen-specific look at the nuts and bolts behind the documentary's creation. We learn about interviews, editing, credit and interstitial design, and a myriad of challenges that came along the way.
If you worry that the guys won't have enough to say to fill four hours, fear not, as they stay chatty from start to finish. Actually, we do get some gaps, though those result from legal issues, I'd guess, as these sound like pieces edited from the original, not moments when the participants went silent. Only three or four pop up, and all but one last maybe 10 to 20 seconds. The exception comes during a segment about Ronee Blakley, so I assume the filmmakers offered some insights that might've been deemed legally unsound.
Anyway, the commentary stays involving and interesting most of the time. Occasionally it feels a little self-congratulatory, but not often, as the majority of the track delivers a solid look at the project. In particular, I like the thoughts about the various interview subjects, and the guys' opinions on the movies can be fun, too; they're passionate fans and it's good to view the project through their eyes. This becomes a consistently enjoyable piece. (And yes, they do comment on the bizarre interview with Lezlie Deane and her "human pet".)
All the remaining extras show up on Disc Two. First we find a slew of Extended Interviews. These fill a total of one hour, 40 minutes and 56 seconds and offer info from former New Line executive Robert Shaye, co-producer Sara Risher, mechanical special effects designer Jim Doyle, special makeup effects designers Bart Mixon and David Miller, special makeup effects artists R. Christopher Biggs and Mark Shostrom, makeup artist Louis Lazarra, makeup designer Kevin Yagher, line producer Joel Soisson, screenwriters Leslie Bohem, Ethan Reiff, Cyrus Voris, Mark Swift, John Skipp, David Schow, Brannon Braga, Mark Verheiden, and David Chaskin, cinematographers Roy H. Wagner, Mark Irwin, Steven Fierberg and Jacques Haitkin, makeup effects artist Howard Berger, former New Line VP Mark Ordesky, production designer CJ Strawn, former New Line executive Jeff Katz, filmmakers Wes Craven, Jack Sholder, Chuck Russell, Renny Harlin, Stephen Hopkins, Rachel Talalay, John Carl Buechler, Tom McLoughlin, William Malone, Mick Garris, and Ronnie Yu, and actors Robert Englund, John Saxon, Heather Langenkamp, Leslie Hoffman, Jsu Garcia, Don Hannah, Amanda Wyss, Mark Patton, Kim Myers, Clu Gulager, Robert Rusler, Ken Sagoes, Rodney Eastman, Stacey Alden, Ira Heiden, Lisa Wilcox, Jennifer Rubin, Nicholas Mele, Brooke Bundy, Tuesday Knight, Andras Jones, Brooke Theiss, Toy Newkirk, Danny Hassel, Kelly Jo Minter, Erika Anderson, Whitby Hertford, Joe Seely, Beatrice Boepple, Ricky Dean Logan, Lezlie Deane, Lisa Zane, Shon Greenblatt, Alice Cooper, Cassandra Friel, David Newsom, Tracy Middendorf, Patrick Lussier, Miko Hughes, Kane Hodder, Monica Keena, Brendan Fletcher, and Zack Ward.
That roster doesn't account for everyone heard in the main documentary, but it gives us most of them, and they provide a lot of good stories. The "Extended Interviews" act as a complement to the longer program and probably don't stand alone well; if you watch them first, I suspect a lot of the comments won't make a ton of sense.
But who would do that? Viewed as intended – ie, after a screening of Sleep - these interviews add a lot to our understanding of the filmmaking processes. We find many more interesting stories and not a lot of extraneous material; it's clear these segments were cut for time, not for content. Fans will enjoy the interviews and take a lot from them.
A preview for another project, I Am Nancy First Look goes for six minutes, 42 seconds. This gives us a look at a program that focuses on Langenkamp's experiences and POV. It looks moderately interesting but doesn't offer a show that I'm dying to see.
A slew of featurettes follow. For the Love of the Glove lasts 18 minutes, 16 seconds and includes notes from Bob Shaye, Rusler, Miller, Englund, Carlucci, Kruegear.com's Travis Cowsill, Razorglove.com's Chris Grantner, Knifegloves.com's Mark Petrie, Creativenightmares.com's Chris Burch, Eriq Chang, Anders Eriksen and Asia Eriksen, and collector Mike Becker. We learn about an original Freddy glove that went missing in 1985 and what happened to it. We also find a few other thoughts about other props. A few decent moments emerge, but this often feels like an ad for the guys who make gloves for fans.
During the 12-minute, 50-second Fred Heads: The Ultimate Freddy Fans, we hear from Craven, Englund, Katz, Cooper, Becker, Miller, Langenkamp, Berger, Newsom, Saxon, Lin Shaye, Wilcox, Garcia, Wyss, Talalay, Minter, and fans/collectors William Bassinger, Jared Campbell, Russ Collins, and Matt Militello. This is essentially a love letter to the fans and the franchise, but it's not especially interesting.
Part of a series, Horror's Hallowed Ground: Return to Elm Street fills 23 minutes, 10 seconds as it takes us to various Nightmare locations. HorrorHound Magazine's Sean Clark leads us through different spots and lets us compare them to their use in the movie. We also get some segments with homeowner Angie Hill and actors Amanda Wyss, Robert Rusler, Marshall Bell, Leslie Hoffman, and Heather Langenkamp. The program gives us a fun look at the spots from the first film, and the appearances by the actors bring good moments as well.
With Freddy Vs. the Angry Video Game Nerd, we find a five-minute, 30-second reel in which James Rolfe discusses a Nightmare-based Nintendo game. Rolfe remains irreverent and lets us see the game's flaws.
For a look at other media, we go to the 15-minute, 45-second Expanding the Elm Street Universe: Freddy in Comic Books and Novels. It provides notes from author Christina Faust, Jeffrey Thomas, Andy Mangels, David Bishop, Jason Craig, and Chuck Dixon. We learn of their works and how these developed the Nightmare characters. This delivers an intriguing look at the "expanded universe".
Next comes The Music of the Nightmare: Conversations with Composers and Songwriters. It fills 13 minutes, 40 seconds with details from Sara Risher, Wes Craven, Rachel Talalay, Renny Harlin, Tuesday Knight, Lisa Zane, rock band Dokken, and composers Charles Bernstein, Christopher Young, Craig Safan, and J. Peter Robinson. We get a mix of notes about music across the films. I like the content, but the editing leaves something to be desired, as the piece comes across in a jerky manner.
For the final featurette, we get the seven-minute, 31-second Elm Street's Poster Boy: The Art of Matthew Joseph Peak. Artist Peak discusses the five posters he did for the Nightmare series. We learn quite a lot about his decisions in this tight short.
In addition to a trailer for Sleep, we findA Nightmare in Elm Street in 10 Minutes. This actually lasts 10 minutes, seven seconds and shows a wide variety of actors from across the various movies as they re-enact lines from the flicks. Some of this already appears during the documentary's end credits, but it's still a fun recap.
I admit I went into Never Sleep Again with some trepidation, as I wasn't sure I cared enough about the Nightmare on Elm Street series enough to sit through a four-hour documentary. However, the show provided such a consistent delight that the hours flew by quickly. The Blu-ray delivers acceptable picture and audio along with a wealth of bonus materials. Nightmare fans will love this delightful, informative package.
| | |
| --- | --- |
| Viewer Film Ratings: 5 Stars | Number of Votes: 2 |