UNIVERSAL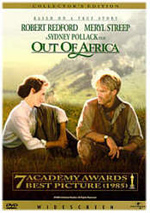 MOVIE INFO
Director:
Sydney Pollack
Cast:
Meryl Streep, Robert Redford, Klaus Maria Brandauer, Michael Kitchen, Malick Bowens, Joseph Thiaka, Stephen Kinyanjui, Michael Gough, Suzanna Hamilton
Writing Credits:
Karen Blixen (books, "Out of Africa", "Shadows on the Grass" and "Letters from Africa") (as Isak Dinesen), Judith Thurman (book, "Isak Dinesen: The Life of a Storyteller"), Errol Trzebinski (book, "Silence Will Speak"), Kurt Luedtke
Tagline:
Based on a true story.
Synopsis:
The most acclaimed motion picture of 1985 stars Robert Redford and Meryl Streep in one of the screen's great epic romances. Directed by Oscar winner Sydney Pollack, Out of Africa is the fascinating true story of Karen Blixen, a strong-willed woman who, with her philandering husband (Klaus Maria Brandauer), runs a coffee plantation in Kenya, circa 1914. To her astonishment, she soon discovers herself falling in love with the land, its people and a mysterious white hunter (Redford). The masterfully crafted, breathtakingly produced story of love and loss earned Oscars for Best Picture, Director, Screenplay (based on material from another medium), Cinematography, Original Score, Art Direction (Set Decoration) and Sound.
Box Office:
Budget
$31 million.
Opening Weekend
$3.637 million on 922 screens.
Domestic Gross
$87.100 million.
MPAA:
Rated PG


DVD DETAILS
Presentation:
Widescreen 1.85:1/16x9
Audio:
English Dolby Digital 4.1
French Dolby Stereo 2.0
Subtitles:
English
Closed-captioned
Supplements Subtitles:
English

Runtime: 161 min.
Price: $26.98
Release Date: 2/29/2000

Bonus:
• Audio Commentary with Director Sydney Pollack
• "Song of Africa" Documentary
• Trailer
• Production Notes




PURCHASE @ AMAZON.COM

EQUIPMENT
Sony 36" WEGA KV-36FS12 Monitor; Sony DA333ES Processor/Receiver; Panasonic CV-50 DVD Player using component outputs; Michael Green Revolution Cinema 6i Speakers (all five); Sony SA-WM40 Subwoofer.


[an error occurred while processing this directive]
---
Out Of Africa: Collector's Edition (1985)
---
Reviewed by Colin Jacobson (July 17, 2007)

Out Of Africa would seem to be the prototypical "Oscar" movie as it contains virtually every element that the Academy appear to favor. Let's go through the list: it's a lush, romantic period piece; it offers languid shots of some absolutely gorgeous scenery; it almost qualifies as an epic - though I think it needs more participants to make that grade - and it presents a mix of happiness and tragedy. Oh, it's also rather long, with a running time of 161 minutes.

Hmm... I think that's everything. No wonder it took the prize as Best Picture of 1985. Of all its competition that year, only The Color Purple came close to those attributes. It seemed far too controversial to win, especially since Spielberg directed it and he was still something of a persona non grata with the Academy at that time.

So Africa got its almost-inevitable prize, but did it deserve it? Ehh, maybe, maybe not. I can't say too much bad about the movie, but I can definitely state that it didn't do much for me; I thought it was a lovely piece but ultimately rather dull, as these extended Oscar-bait pictures are wont to be.

What's right about Africa? Mainly the natural gifts of the continent. The landscapes and various nature shots really are gorgeous, and they occasionally made me - someone not fond of the outdoors - consider the concept of visiting Africa.

The acting's generally good, though I must admit I tire of Meryl Streep's "accent of the week" routine. It's often hard to gauge how strong her performances are because it's so difficult to peer through her newest voice. Still, I can't legitimately criticize Streep for attempting to convey her character in a genuine way, and she does a fine job as Karen Blixen.

On the other hand, we have Robert Redford, who plays a British adventurer without the slightest hint of a British accent. Actually, I spent much of the movie wondering if the character was supposed to be British. I mean, I thought he was, since no other Americans were anywhere to be found, and the character has the awfully English name of Denys Finch Hatton, but Redford's performance confounded me.

In his audio commentary, director Sydney Pollack addresses that issue. Apparently Redford tried an English accent but he ended up being more distracting than it was worth. Perhaps, but I still feel Redford is all wrong for the part. Finch Hatton is supposed to be elusive and mysterious, but Redford is an awfully broad, gregarious actor; I never saw him as being as aloof and difficult to pin down as he should be. Someone like Ralph Fiennes would have been much more appropriate, although I may just feel that way due to the film's resemblance to The English Patient, a flick that seems to have stolen many pages from Out Of Africa's book.

The last major player in the cast is Klaus Maria Brandauer as Blixen's husband-of-convenience Bror. Pollack relates that he hired Brandauer for this role as a scoundrel and philanderer after he saw him in the James Bond film Never Say Never Again. He felt that Brandauer was able to play a terrible person who nonetheless seems likable to the audience, qualities he feels came through in Bror. Unfortunately, I disagree. No slam on Brandauer, but I always thought Bror was a complete jerk and I never felt the slightest affection for him. The character comes across very poorly, despite whatever the intentions may have been.

Ironically, this was ultimately good for the film, since it a) allows us to sympathize more with Karen and b) makes her affair with Finch Hatton acceptable. I've railed in the past about films like English Patient and The Bridges Of Madison County, pictures that make a virtue out of infidelity on the part of women. These kinds of movies bother me because you never see the same thing happen when a man cheats. In Africa, these affairs are treated more objectively. We think Bror's a bad guy for his actions, but Pollack doesn't slant the movie heavily against him as one would expect.

Similarly, Karen's relationship with Finch Hatton is portrayed in a "matter of fact" manner. While we sense how special it is for her, it isn't played up in the "greatest romance ever" fashion normally witnessed. For what it's worth, this factor makes these scenes much more palatable for me.

As for the rest of the film... Well, let's just say it didn't do much for me. It's clearly not a bad film, but I found Africa to be overly long and fairly monotonous. Characters grew and changed - well, except for nasty old Bror, that is - but time passed a little too quickly and events just seemed to happen a little too magically. I found the film watchable and mildly interesting at times, but that's about it.
---
The DVD Grades: Picture C+/ Audio B-/ Bonus B
---
Out of Africa appears in an aspect ratio of approximately 1.85:1 on this single-sided, double-layered DVD; the image has been enhanced for 16X9 televisions. The DVD offered an unspectacular transfer that replicated the film decently but didn't stand out in any way.
Sharpness generally looked pretty good, as most images appeared acceptably well-defined and clear. However, softness definitely crept into the picture on occasion. Some of this seemed to result from production design – a gauziness that could be seen in some of the romantic shots - but at other times the picture looked soft for no apparent reason. I noted no issues with moiré effects or jagged edges, but some light edge enhancement cropped up through the movie.
Source flaws created occasional distractions. Most of the movie came across as fairly clean, but problems occurred. I noticed some specks, marks, and blemishes along the way. Though not heavy, these could be somewhat problematic.
Colors appeared generally accurate and full, though some scenes tended toward a somewhat orange, overly warm hue that made Redford look even more tan than usual, which I didn't think was possible. The hues never excelled, but they seemed satisfactory. Black levels mainly appeared adequately deep, but they varied. Sometimes they appeared too gray and soft, and at others they could look too dark. Shadow detail usually seemed appropriate, though the occasional overly dark blacks sometimes made this area look too opaque. This ended up as a fairly average transfer.
The film's Dolby Digital 4.1 soundtrack worked pretty well for its era but never really excelled. Actually, the forward soundstage appeared pretty well-defined, with much stereo activity occurring. All three front channels offered some nicely spaced and separated audio. The surrounds were more limited, but the rear channels provided adequate reinforcement for the front.
Quality of the audio was acceptable but somewhat flat. I felt the track appeared thin and lacked much range, though it consistently managed to offer clear and distinct sound. Dialogue was easily intelligible but didn't seem quite natural because it came across as blah. Effects and music suffered from the same dull sheen; they were clean and listenable but the lack of warmth hurt them. All in all, it's a decent track for its age, but had it displayed greater range, I would have been comfortable giving it a higher rating.
When we move to the extras, first comes an audio commentary from director Sydney Pollack. He presents a running, screen-specific discussion. Pollack covers a nice variety of subjects, from historical facts to location issues to many facets behind both the technical and the creative sides of the production. We learn about casting and performances, casting and sets, and many other topics. The track does suffer from a fair number of gaps, but I found these somewhat forgivable due to the length of the film and also because most of Pollack's comments are very compelling. He repeats himself a couple of times but generally provides a lot of useful and illuminating information about the film.
More of the same appears in Song Of Africa, a 49-minute and 30-second documentary. We see interviews with Pollack, actor Meryl Streep, composer John Barry, screenwriter Kurt Luedtke, and biographer Judith Thurman. We also witness some brief interviews from the set itself - all with Pollack - plus some documentary footage from real life.
"Song" discusses historical aspects of the story, sets and locations, cast and crew, characters and performances, shooting in Africa, the score, and a few other production elements. Inevitably, it repeats some info from Pollack's commentary, but the historical perspective adds a lot. I also like Streep's comments, largely because she's a very entertaining storyteller. Though it's too bad more participants don't appear, this ends up as a solid program.
A few other supplements round out the package. The film's theatrical trailer appears, complete with cheesy, tres-Eighties synthesizer score; I guess Barry's music wasn't ready yet, but still...! With that terrible score, it's a miracle anyone went to see the movie. Decent biographies for Pollack, Streep and actors Robert Redford and Klaus Maria Brandauer can be found as well.
Finally, two sets of production notes complete the extras. The first is on the DVD itself and mainly covers details about the film's locations, while the second appear in the package's booklet. Those are more general and discuss the production's history and other global factors. Both are interesting and deserve a look.
While I can't whole-heartedly recommend Out Of Africa, I can't really steer you away from it either. No, the film didn't do a lot for me, but I can understand why a lot of others like it and why it's been so successful. The DVD itself is perfectly acceptable, with decent sound and picture and a few fine supplements. For those who enjoy this kind of film, Out Of Africa should make a nice addition to your collection. Others who are iffier toward the material may want to rent it first.
| | |
| --- | --- |
| Viewer Film Ratings: 4.4285 Stars | Number of Votes: 14 |